Skoki Lodge in Banff National Park was our destination one January weekend. You don't drive to Skoki because you can't. Instead you ski or snowshoe the 11 kilometres in, starting at Temple Lodge at the Lake Louise Ski Resort. And in the summer you hike in – that is unless you're Prince William and Kate, in which case you fly in.
How to get to Skoki Lodge
The trip into Skoki Lodge begins with a visit to Guest Services at the bottom of the Lake Louise Ski Resort. Sign the waivers, get the parking pass – that allows you to park steps from the lodge, pick up a map and your lift tickets for the gondola and chairlift rides and you're good to go.
The gondola ride comes next. It takes 14 minutes and offers up spectacular views of the mountains on clear days. On snowy days it keeps you warm. Then you download onto the chairlift. Fortunately, they stop it, so you can get securely settled in with packs and skis before continuing to the bottom.
After extricating yourself from the chairlift, ski to Temple Lodge, climb up the hill about 60 m to the right of the lodge and look for the Skoki sign on the left. That is the official start of your 11 km ski in.
Skiing to the lodge via Boulder and Deception Passes
Here's how you actually ski to Skoki Lodge.
This is not an outing I would recommend for inexperienced skiers. It's what I would call a moderately difficult trail, but challenges can occur with route finding in bad conditions, and more than a few people have trouble on the descent from Deception Pass to the lodge.
In fact one woman at the lodge called it Deliverance Pass but I think she was referring to the climb up to it. (I would also bring a topo map with me on my next visit to help with route finding in bad conditions.)
Afternoon tea at Skoki Lodge
Assuming you've arrived in one piece, you're most likely thirsty and hungry from the three to five hour ski in. The photo below is a sample of the mid afternoon tea that awaits your arrival.
What it doesn't show is the happy grins sported by the guests when they bite into the home baked goods. And you can't hear the sighs of contentment as people sip hot soup, herbal teas or lemonade. And you don't see the guests spread out around the wood stove in deep, comfortable chairs with a plateful of goodies in front of them. But that all happens.
The actual accommodations at the lodge are rustic
Rustic accommodation should be expected considering Skoki Lodge opened to skiers in 1931.
There is no running water. That means there are no toilets. Instead you can count on a cold porcelain toilet seat in an outhouse behind the main lodge. There are two – one for women and one for men.
Inside your room, whether it is the Honeymoon Cabin that we stayed in, the Riverside Cabin the Royals used or a room upstairs in the main lodge, you are going to need a headlamp to see what you're doing – at any time of the day.
It's dark in the rooms – no lights because there isn't any electricity, and the windows are small. But there are a couple of lanterns and there is a propane stove if you're in a cabin to keep you cozy.
Fortunately there is warm water available for washing – you just have to do it the old fashioned way with a bowl and a sponge.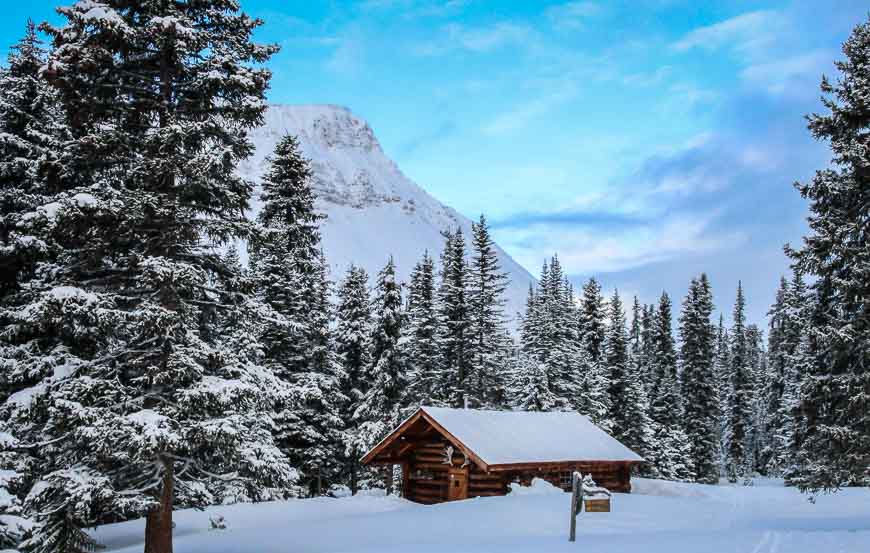 The meals at Skoki Lodge
Even if you ski four or five hours every day while you're at Skoki Lodge, do not count on losing weight. Blame it on Katie and her sidekick, Vanessa.
Katie has been looking after and cooking at the lodge for fourteen plus years now. In fact she wrote a cookbook and I can see why. Everything she makes is delicious, and it's all made from scratch in the small kitchen in the photograph below.
Breakfast at Skoki Lodge
The coffee is on beginning at 6:30 AM, though breakfast doesn't begin till 8:30 AM as the sun comes up. Start with a choice of homemade granola or a hot cereal. Our hot cereal was a rolled oat, flax seed, apricot combo that was as delicious as it was healthy.
Or you can just have yogurt and fresh fruit salad. Then there's the hot entrée – some sort of eggy affair on mornings we were there, plus bacon and fresh baked scones and muffins.
Immediately after breakfast, a lunch buffet is put out. Make your own sandwiches on fresh, homemade bread. Throw in a few cookies – ginger, chocolate chip or a peanut butter – M&M mixture, add in carrot sticks and fruit and chances are that will be enough to hold you until the mid-afternoon spread. Return to photograph above.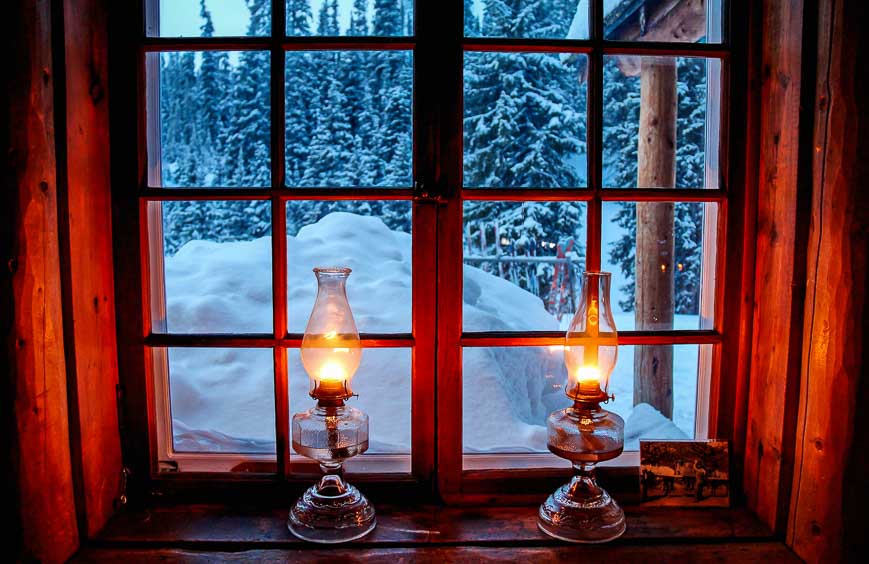 Dinner at Skoki Lodge
Dinner is served at 7 PM with the warm ambiance of candles and lanterns adding to the relaxed mood. There's a board in Skoki Lodge that shows the day's menu, though all dietary restrictions are seemingly accommodated.
One evening we had beef tenderloin, a sweet potato tart, baby roasted potatoes, oven roasted vegetables and a Caesar salad. Dessert was a fat piece of chocolate cake with melted Callebaut chocolate and a raspberry coulis. Wine was available by the bottle for $40 though some people brought their own in hydration packs.
Not only is Katie an amazing cook – so amazing that Prince William asked if she cooked on boats, but she is a lovely human being – full of warmth, vitality and eager to share her considerable knowledge of the area.
I'd go back again just because of her. Ryan and Vanessa, two of the other staff, were equally lovely and also happy to help in any way.
The lodge attracts the outdoorsy types so right off the bat there's a commonality with other guests. Conversation is easy and you wonder why you can't have the people you meet up here in your life at home. Last weekend there were guests from Banff, Calgary, Red Deer, Saskatoon and Whitehorse. Up to twenty people can be accommodated – in a variety of sleeping arrangements.
Lodge rates and information
Skoki Lodge charges a minimum of between $300 and $438 plus tax per person per night in the winter. That includes everything but a gratuity and wine. There is a two night minimum stay unless you make a reservation less than two weeks out.
Call toll free at 1-888-997-5654, or local at 403-522-1347 for reservations and information.
When you book, you are sent a packing list. Follow it but don't over-pack. It's very casual around Skoki Lodge, so you can leave the dress-up gear at home. The only thing I would add to their list is one shovel per group, as a just-in-case measure if something ever goes terribly wrong. A two night stay is ideal so you have the time to discover the beautiful country surrounding the lodge.
Skoki Lodge is open from the third week of December to mid-April and again in the summer.
For more information on Skoki Lodge, visit the website.
Skoki Lodge location map
More winter lodges in the Canadian Rockies you might enjoy
Click on the photo to bookmark to your Pinterest boards.