A weekend at Lake O'Hara Lodge in Yoho National Park is the perfect prescription to chase any winter blues you might have away. Lake O'Hara Lodge first showed up on my radar screen after reading an article several years ago in the Globe and Mail titled Our Favourite Places.
The photo and the description of the lodge and surrounding area stayed with me; and now after spending two nights up at Lake O'Hara Lodge, I understand why Ian Brown chose this place as his favourite.
Lake O'Hara Lodge for some of Canada's best Rocky Mountain scenery
I've spent a lot of time in the mountains – and without a doubt the scenery around Lake O'Hara Lodge ranks right up there with the best the world has to offer.
What little I saw on the weekend – as it snowed continuously one day – has moved this part of the Canadian Rockies into top place in my books for mountain scenery. And that's saying a lot.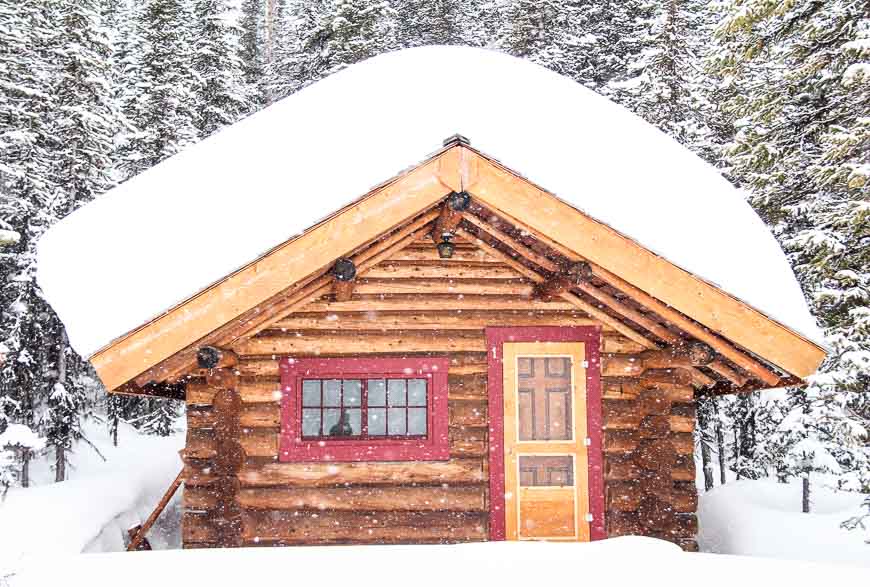 Location map of Lake O'Hara
Getting a reservation at Lake O'Hara Lodge
Unfortunately getting a reservation at Lake O'Hara Lodge on a weekend – even in the winter – can be problematic. The place is that popular and the season is short. Plus they only have room in the winter for 16 people.
In fact they close by late March and don't reopen until June. So there's a little competition and if you haven't been before you need to be flexible with dates. I contacted them in early summer and was offered my second choice of weekends – though it's much easier to get a weekday reservation. Or you could add your name to a cancellation list if you're prepared to drop everything and go.
Lake O'Hara Lodge was built back in the winter of 1925 -1926 by Canadian Pacific Railway (CPR). Their goal was to build a number of back country lodges as an alternative to Chateau Lake Louise and the Banff Springs Hotel.
It's been operating continuously since 1926 though ownership has changed over the years. Alison and Bruce Miller, the seemingly easy going couple who run the day to day operations are two of the part owners.
Getting into Lake O'Hara Lodge
To get to Lake O'Hara Lodge in the winter you must ski in eleven kilometres with a pack containing whatever clothes you plan to wear – and make those informal, a book, and all the safety stuff you should carry regularly anyway. Leave the computer and cell phone at home. There is no WiFi.
The skiing is easy and route finding a snap – quite a different experience from our ski into Skoki Lodge, six weeks earlier. You follow a fire road with an easy grade the entire way. It gets track set regularly – but it snows so much that there's a good chance you may be the one setting the tracks if you're early.
Still there are enough people going in and out it shouldn't be a problem. At around the five kilometer mark you'll find picnic tables, a good place to stop for a snack.
Stepping into Lake OHara Lodge, with the fire crackling and a friendly face to greet you, sets the tone for the weekend.
We're shown to our rooms – modest ones I might add, and given the rundown on the basics – meal times, when the sauna is hot, the honour system for beers, bathroom location – that sort of thing.
Be forewarned. There are only shared bathrooms in the winter – a male and a female one. They have a tub, shower and a few toilets plus all the amenities so you don't have to cart those up. In the summer you can rent lakeside cabins with private bathrooms.
In addition to the bedrooms upstairs, there's a lovely common area with comfortable seating, a library of books and a great view. In the morning you'll find coffee up there too.
The food is one of the highlights
The food is plentiful (three meals and a tea), inventive and delicious. Plus they'll cater to any dietary restrictions.
For breakfast you can choose granola or oatmeal, yogurt, fresh baked muffins and fresh fruit from the cold offerings. Then there are eggs cooked however you would like and one other hot entrée. I had banana bread French toast one day that was delicious. And real maple syrup of course.
For lunch they offer three types of sandwiches – a vegetarian option, a meat one and good old peanut butter. One day I had a hummus and avocado wrap, and another, a Gruyere and apple sandwich. My husband enjoyed a prosciutto with fig jam sandwich – on amazing bread.
They also put out an array of snack type items to go with your lunch – carrot and celery sticks, individual wrapped cheeses, a nuts and dried fruit mix, and home-baked goodies like fresh oatmeal-raisin cookies and brownies.
For drinks you can fill thermoses with hot tea and/or choose a thermos of cold lemonade. Nice touches in my opinion.
After a day outside
After a day of skiing come back to a mid-afternoon spread and eat all those calories you just burned off. Mini Croque Monsieur sandwiches were on offer one day and slices of thin crust pizza another. Then of course, there are cookies and sweet breads, nuts and fruit.
For a beverage, choose from an assortment of juices including my favourite, mango, or have a glass of hot Gluhwein. Once you're seated around the fire, friendly staff will bring you a cup of hot tea or a glass of scotch if that's more to your liking.
In only a few hours, dinner is served – family style in winter with everyone around a big table. But before you even arrive at the lodge, you're to let them know if you have any dislikes or allergies. That must be a headache in the summer with sixty guests to feed.
One night we had black bean soup to start, followed by a Vietnamese spring roll filled with vegetables and a peanut dipping sauce on the side, and a fillet of sockeye salmon on basmati rice with asparagus. With chocolate cake to finish. Are you full yet?
You've probably come up to Lake OHara Lodge to do more than just eat. In the summer the hiking is incredible. In the winter, a guided back-country ski or snowshoe is included in the price of your stay.
Before this trip I figured guides were not for me. They're for sissies.
But James, our guide, took us into country we never would have ventured into on our own, especially since we were new to the area and the avalanche risk was high. We had a glorious day in incredible snow. I only wish I had good alpine gear for the downhill bits.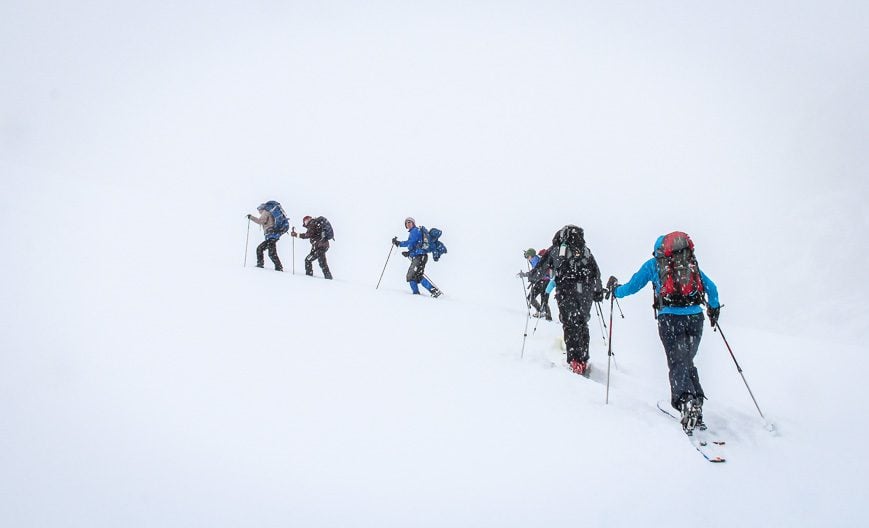 I had wondered before we came what the rest of the guests would be like. My sense after our stay, is that everyone visiting the lodge shares a love of nature and the outdoors.
Lake O'Hara Lodge is not a five star sort of place, even with the five star prices. It's a place to savour the outdoors with a comfortable bed, delicious food and really interesting, engaging people at the end of the day. And as a treat, it's definitely worth the money.
I'd go back in a heartbeat. Rates in the winter are $410.00 per person/night. (2020 prices) That includes, all meals, guide services and gratuities.
For more information visit the lodge website.
Further reading on where to stay in the backcountry
Click on the photo to bookmark to your Pinterest boards.