A cross-country ski trip into Shadow Lake Lodge in Banff National Park (now owned by the Alpine Club of Canada) sure makes the long winter season enjoyable. I try to plan trips well in advance throughout the winter so I always have something to look forward to. That's especially important in Calgary as the snow is usually flying by the end of October and it doesn't typically end until late March.
I decided I wanted to spend Alberta's Family Day weekend (a three-day weekend) up at a backcountry ski lodge, about seven months prior to visiting. I'd heard about Shadow Lake Lodge and decided that it would be worth checking out. It most certainly is.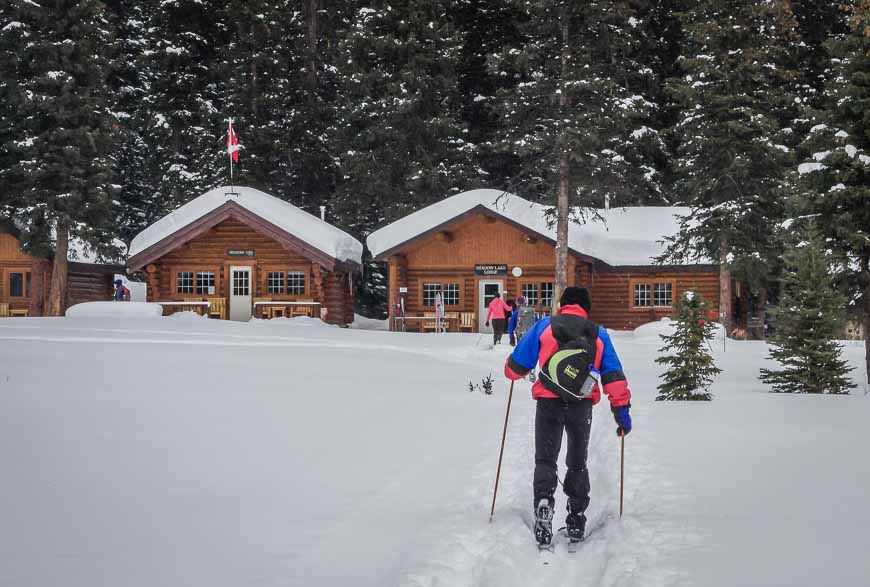 Cross-country skiing into Shadow Lake Lodge
Shadow Lake Lodge is in Banff National Park. It's only accessible on skis or on foot via a 14.4 km trail. The trailhead is located 19 km west of Banff just off the Trans-Canada Highway at the well signed Redearth turnoff. It's a straightforward and relatively easy trail for the first 11 km.
Then it's a steep climb once you reach the trail intersection to Shadow Lake. Some people walk this section. When you've grunted your way to the top, the rest is easy and in 30 minutes or less you'll be at the lodge. It took us less than three hours with a break for lunch to ski to the lodge from the highway.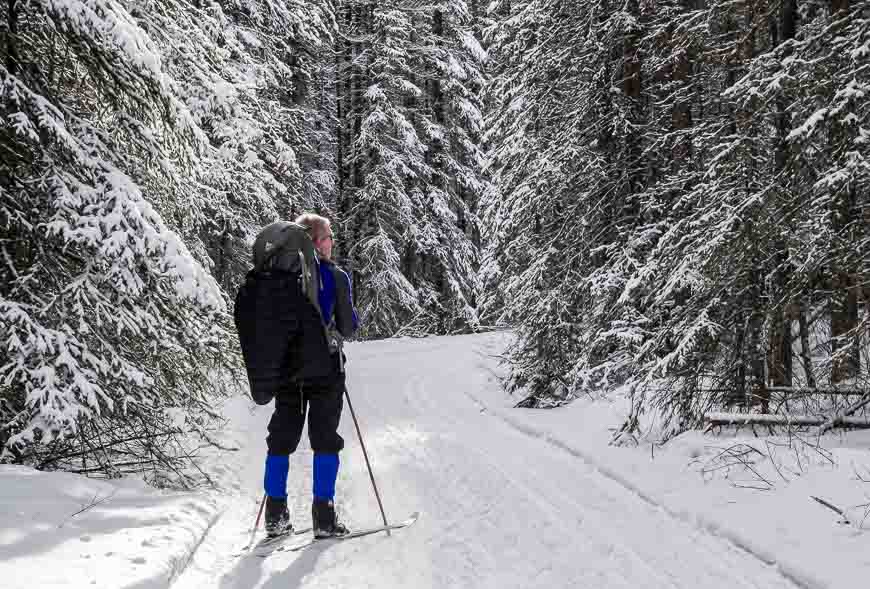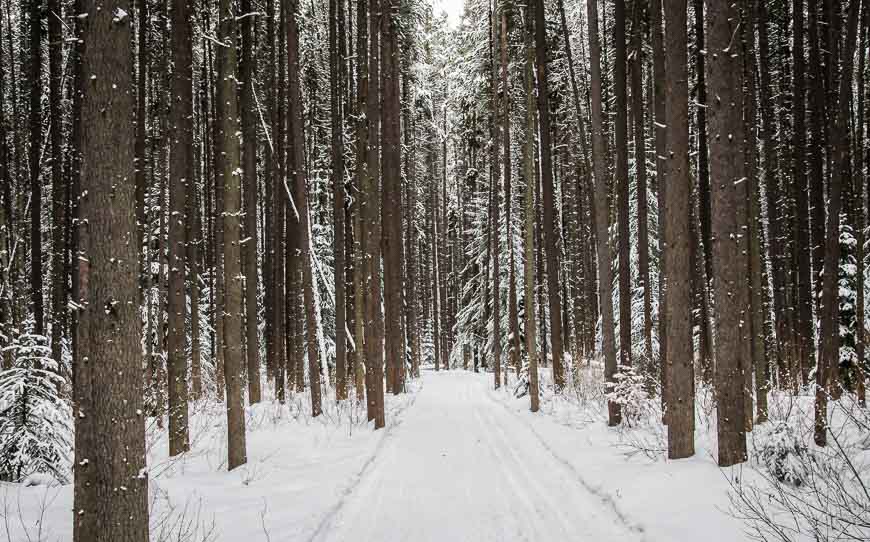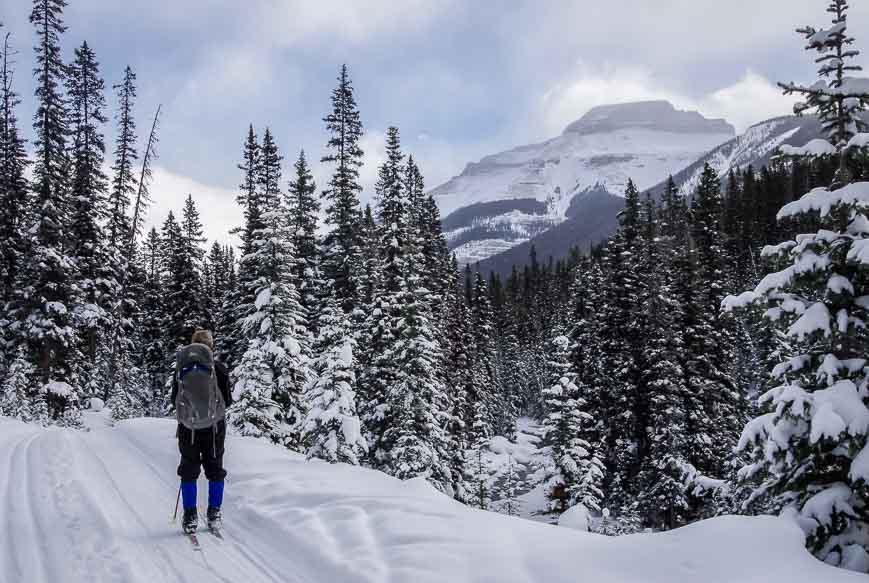 The cabins at Shadow Lake Lodge
The cabins at Shadow Lake Lodge offer rustic simplicity. Outfitted with a bed and night tables, they also boast solar powered lighting, a propane heater and a drying rack. There is a jug and bowl for washing up in the cabin – otherwise you need to walk out to the central shower. There are toilet facilities there too.
Apart from the dining room, there is a common room with a wood-fired stove and plenty of games, puzzles and books to keep you occupied.
The food at Shadow Lake Lodge
You will never go hungry at Shadow Lake Lodge. In fact despite skiing for hours every day there is the very real possibility that you will gain weight.
When you first arrive – around mid to late afternoon for most people – there is a tea. Think more in terms of the Brits version of tea. Not only is there tea and hot chocolate but assorted cheeses and crackers, veges, and dip and a wide assortment of cookies, bars and cakes. That has to last you for about another three hours when dinner is served.
Dinner is served family style – with eight people to a table. Dinner offers a good way to break the ice and meet people.
Every dinner starts with freshly baked bread and homemade soup. Then there is a buffet style main course with salmon, beef, chicken etc. offered as well as vegetables and salad.
Vegetarians are accommodated and the meals I saw looked mouth-watering. To end there is dessert and a hot beverage. I don't have photos of the food because it's on the dark side in the dining room but rest assured that the quality and caliber of the food is excellent. You can also purchase beer and wine.
Breakfast is served at 8:30 AM in the winter. It starts with a serve yourself buffet featuring a different type of porridge every morning, yogurts, granola, a giant and well composed fruit salad and homemade muffins. If that isn't enough to satisfy you then there is always the egg dish, pancakes, sausages or bacon and a never ending cup of coffee.
Lunch is a make it yourself affair. Right after breakfast all the fixings for sandwiches are set out along with GORP, bars, cookies and fresh fruit. Load up, fill a thermos and water bottle and off you go.
Day trips skiing &/or snowshoeing from Shadow Lake Lodge
There are several ski or snowshoe tours you can do from Shadow Lake Lodge. Snowshoes are available so you don't have to carry them up.
The easiest tour is a 1.9 km ski to Shadow Lake where you get a beautiful view of Mt. Ball if the sun is shining.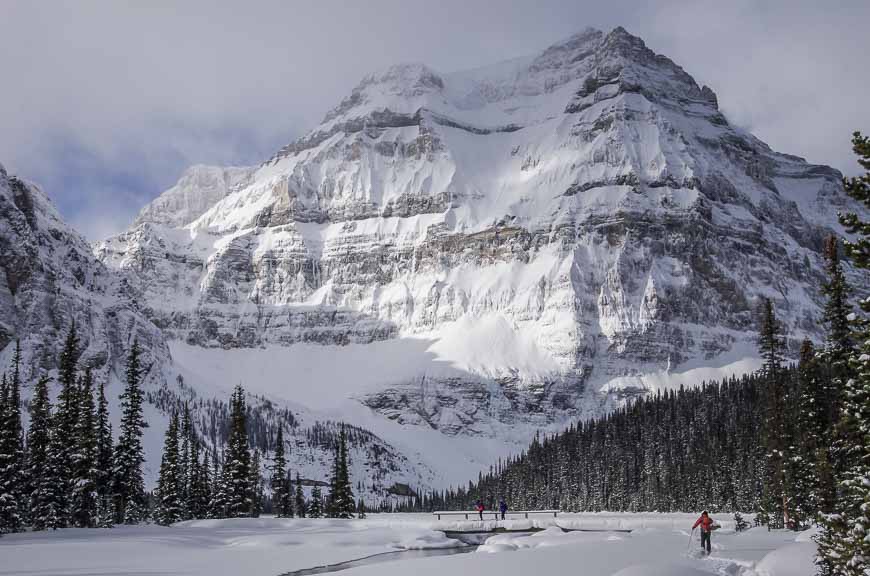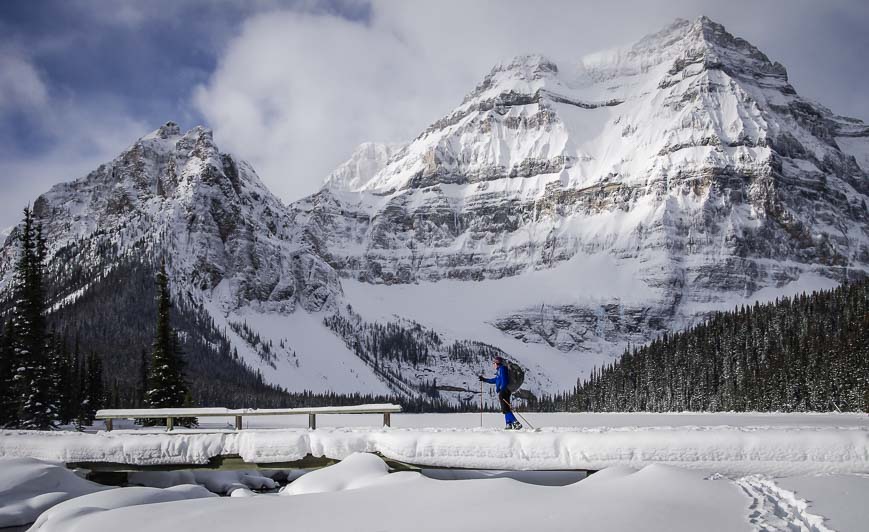 Day trip cross-country skiing to Haiduk Lake
From Shadow Lake Lodge you can continue to Haiduk Lake, 6.3 km further away. That was our plan for the day though we didn't make it quite as far as the lake.
The snow was very deep, the wind was howling and part of our group didn't have climbing skins for the steep part. So after 20 minutes of sweating, groaning and cursing we turned around. Next time.
Gibbon Pass snowshoe or cross-country skiing
Another option is to snowshoe or ski 3.1 km one way to Gibbon Pass from Shadow Lake Lodge. If it had been a clear day we would have done it before skiing out, but it wasn't and I didn't want to go without getting a view. I understand it's a steep climb up, so snowshoes are probably the better option.
Ball Pass, 2.7 km away, can also be visited as a day trip. It's located on the Great Divide between Alberta and British Columbia.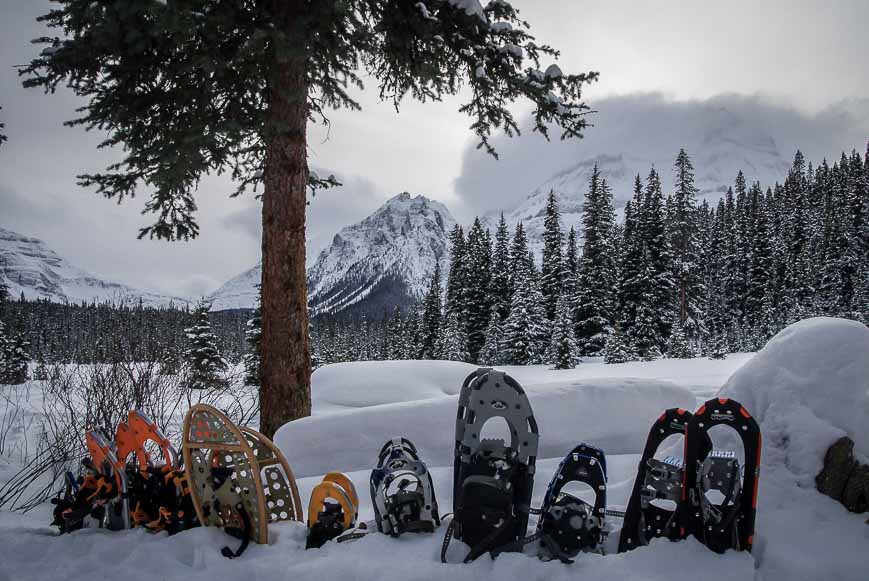 When is the lodge open?
Shadow Lake Lodge is only open from late January until the third week of March depending on the year. It reopens again in late June for the summer.
There is normally a two night minimum stay but you can check out their website to see if they have availability for one night at the last minute. Rates are $580.00 – $700.00 per cabin per night based on double occupancy in the winter. Summer rates are slightly more expensive. The rate includes accommodation and all meals.
For more information on Shadow Lake Lodge visit their website.
Location map of Shadow Lake Lodge in relation to Banff
Further reading on lodges that are great winter destinations
Click on the photo to bookmark to your Pinterest boards.