I was already a fan of Mount Engadine Lodge before I tried their new glamping tents. I'd been to the lodge twice before.
The first time I visited was on a winter trip before we'd even moved to Calgary where we lucked out with a weekend of live music. and the second in September a few years ago when we took my elderly mother-in-law, promising her moose sightings. "We" delivered with at least four moose seen in the meadows in front of the lodge.
What's changed since our last visit to Mount Engadine Lodge is the addition of five glamping tents along the approach to the lodge. They've been available since November 2018 and judging from our weekend trip are extremely popular, especially with people like myself who have an adventurous spirit – and a dog.
This post includes some affiliate links. If you make a qualifying purchase through one of these links, I may receive a small percentage of the sale at no extra cost to you. Thank you for your support.
Summary of the Mount Engadine Lodge experience
Opening dates: Mount Engadine Lodge is open year round. They offer a mix of accommodation including glamping tents, lodge rooms, and a yurt. Check in is at 3 PM and check out is at 11 AM.
Distance from Canmore: The lodge is about a 40 minute drive from Canmore via the Spray Lakes Road.
Dogs: Most – but not all rooms are dog friendly. They can visit the common area BUT they are not permitted in the dining rom.
Pricing: Room rates include three meals a day in addition to an afternoon charcuterie plate. You don't have to be an overnight guest to enjoy afternoon tea. It's served from 2 PM – 5 PM at a cost of $30.00 per person. More information here.
Cell service: There is WiFi in the main lodge. It's available from 7 AM – 11 PM. There is no cell service and no TV.
Why visit: Mount Engadine Lodge is located in an outdoor lover's paradise. Some of the best Kananaskis hikes are but a short drive from the lodge. Ditto snowshoeing experiences in winter. The High Rockies Trail is also a stone's throw away – and is a wonderful trail for mountain biking.
Amenities: You can look forward to a large outdoor fire pit and a big swing in addition to a wood-burning sauna. Indoors there are books and games.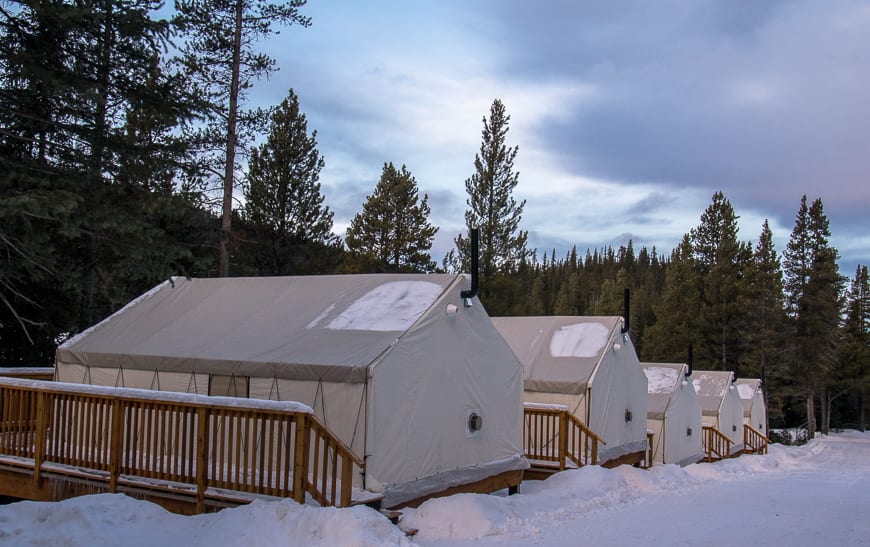 Mount Engadine Lodge glamping experience
If you've never glamped before I think you'd be pleasantly surprised at how luxurious the experience actually is.
Unlike most of the camping I do, where you can't even stand up inside the tent and a bathroom is usually a smelly outhouse, glamping here is pretty much like staying in a well-appointed hotel room, but with a mountain view.
Scroll down a few photos and the first thing you'll notice is a king size bed (with a super-comfortable mattress) and a thick duvet. In this part of the world night-time temperatures in the dead of winter can drop to the -25°C to -30°C range – not often but when they do, you'll still be warm and cozy.
The winter game changer in the glamping tents is the thermostat-controlled gas heater. It pumps out the heat – so hanging out on the two seater couch with your special somebody and a glass of wine will have you toasty in no time.
And the private bathroom has its own heater so you'll never be frosty when you step out of the shower. You'll smell good too with their lemongrass and mint Rocky Mountain Soap products.
Having said that, on frigid nights you'll be able to chill a bottle of wine in the far corners of the tent so a pair of slippers is probably something you'll want to pack. There is a supplementary heater – but we never turned it on.
The glamping tents are smaller than the lodge rooms and cabins – but chances are you won't be spending full days inside them anyway. The common areas at the lodge with their homey wood-burning fireplaces beckon, especially if you're a reader as they have a great book selection.
And all three meals along with their famous charcuterie plate at tea time are taken in the dining room in the main lodge. The rest of the time you'll want to be out exploring the truly fantastic mountain landscape – on foot, bike, snowshoes or skis.
The meals at Mount Engadine Lodge
If Mount Engadine could bottle the camaraderie they create around the family-style served meals, they'd be billionaires.
There are very few places in the world where conversation flows as easily as it does here. I don't know if it's the shared passion for the outdoors or what sparks the warm feelings – but what I do know is if you need new friends, come here for a few nights.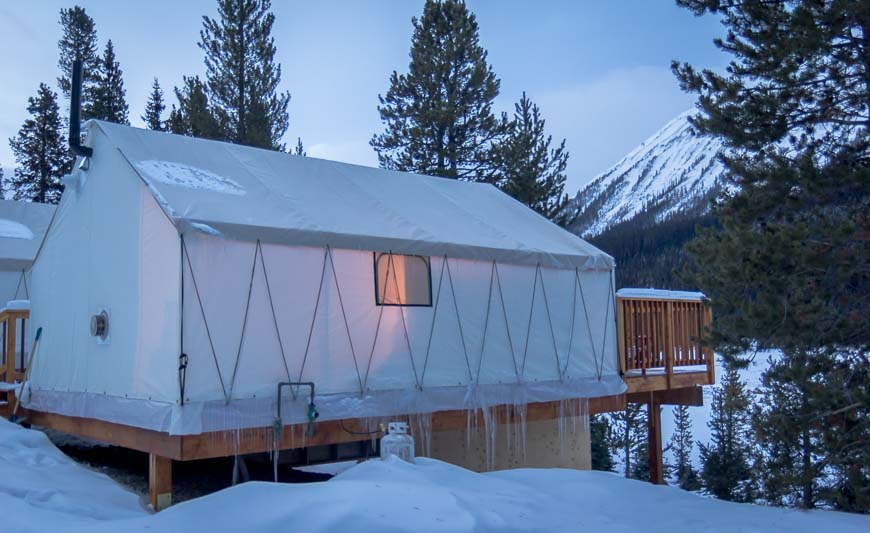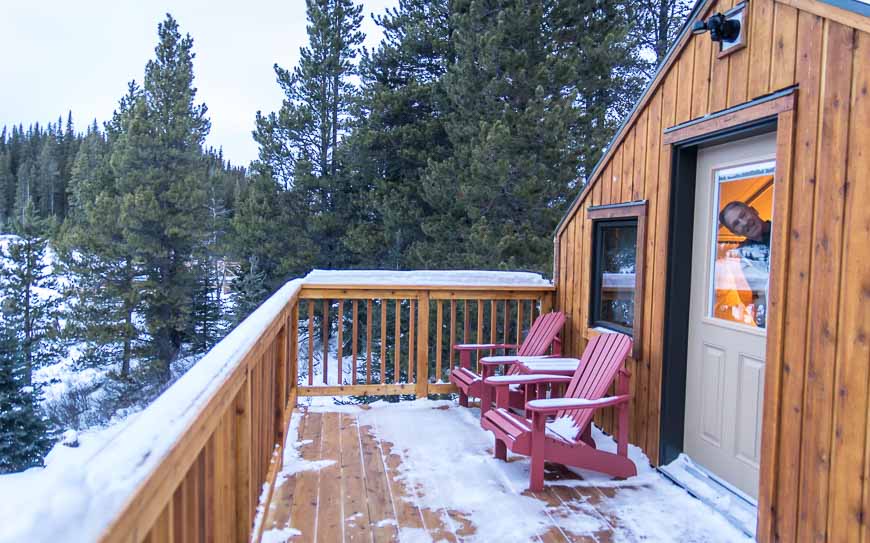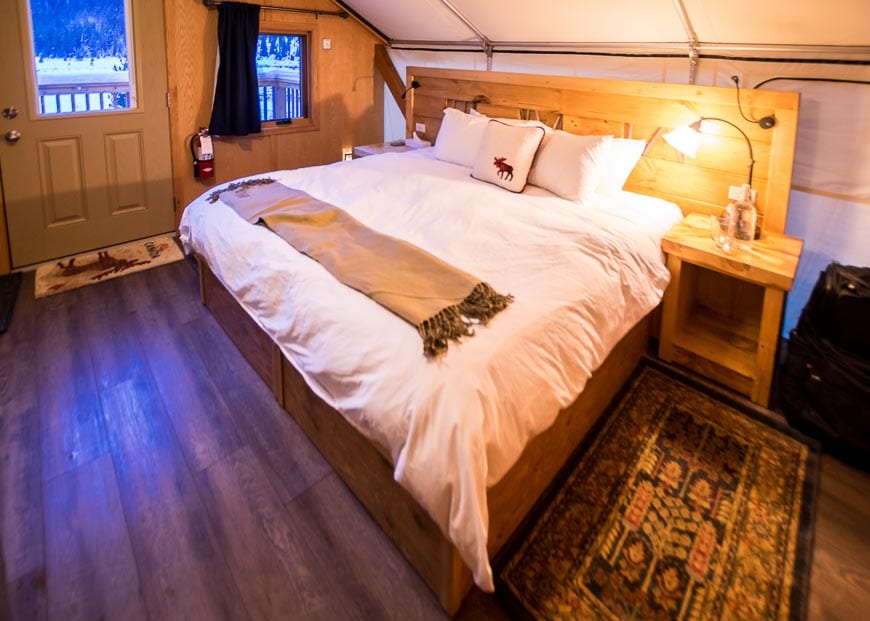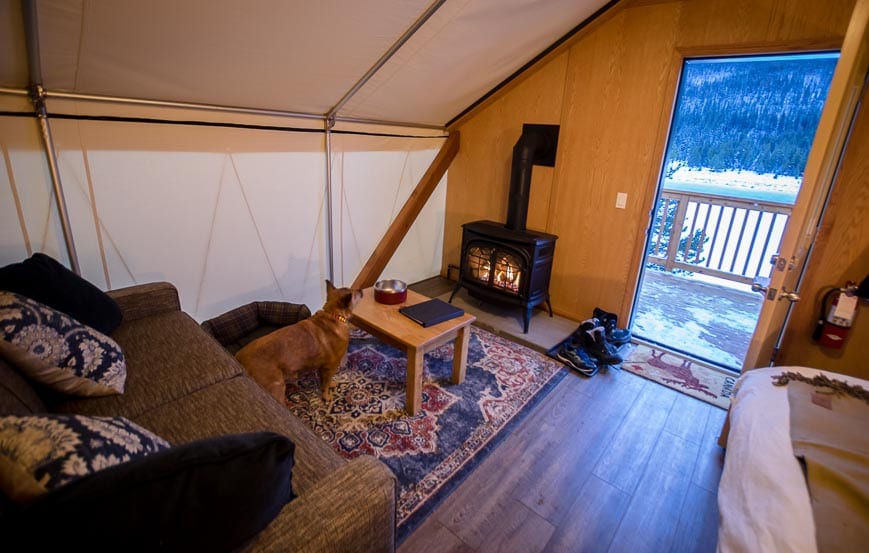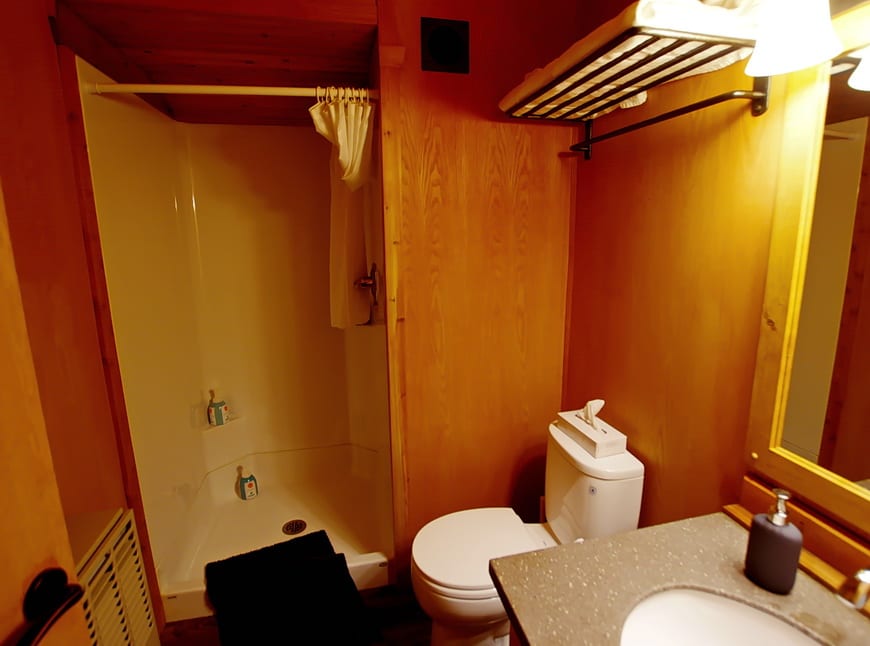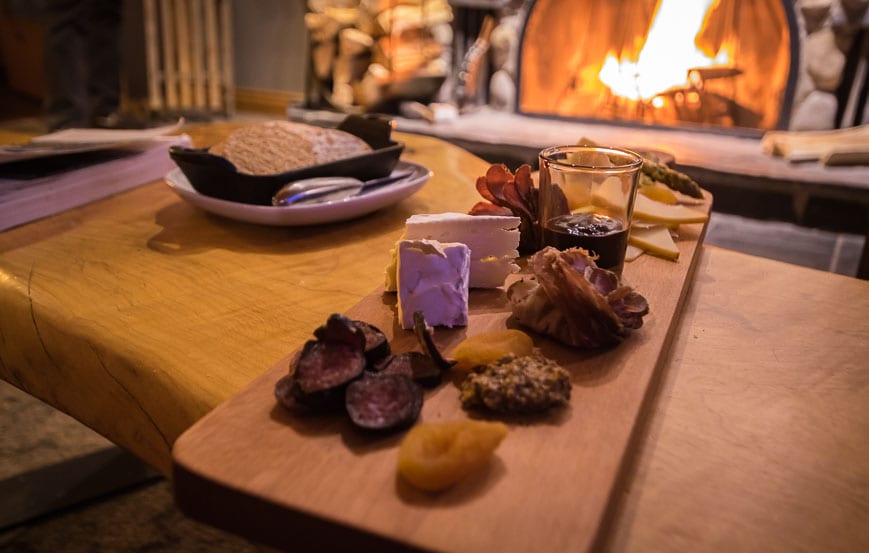 If you're just not a glamping type of person
If the glamping experience doesn't speak to you, there are lots of other options at Mount Engadine.
Lodge rooms are well-appointed and only a flight of stairs away from a cup of coffee or a glass of wine. And a couple of cabins with views over the meadows are but a 30-second walk away.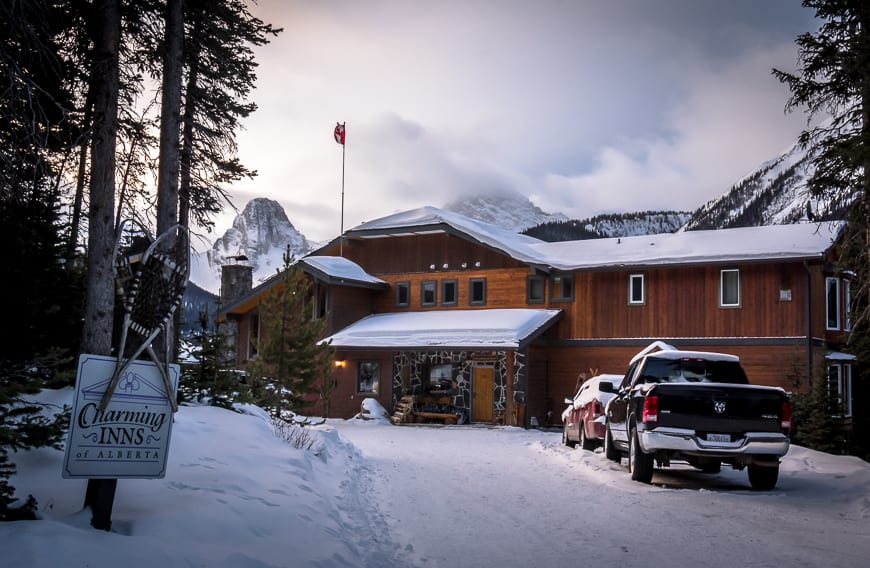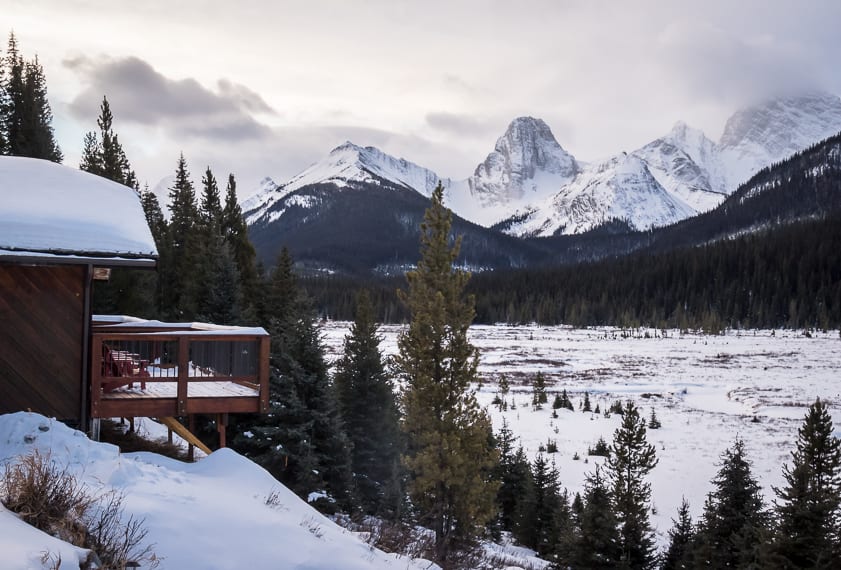 What can you do near the lodge?
If you love cross-country skiing and snowshoeing, you're in for such a treat as truly exceptional trails like Chester Lake and the Mt Shark trails are but minutes away.
Visit in the summer and the trailheads for some of the best hikes in the Rockies like Tent Ridge, Burstall Pass, Buller Pass, and the Headwall Lakes are also literally in their backyard.
On this trip we spent one day cross-country skiing on the Mount Shark trails, five kilometres away. You can also access the trail to the Bryant Creek shelter if you want a longer option.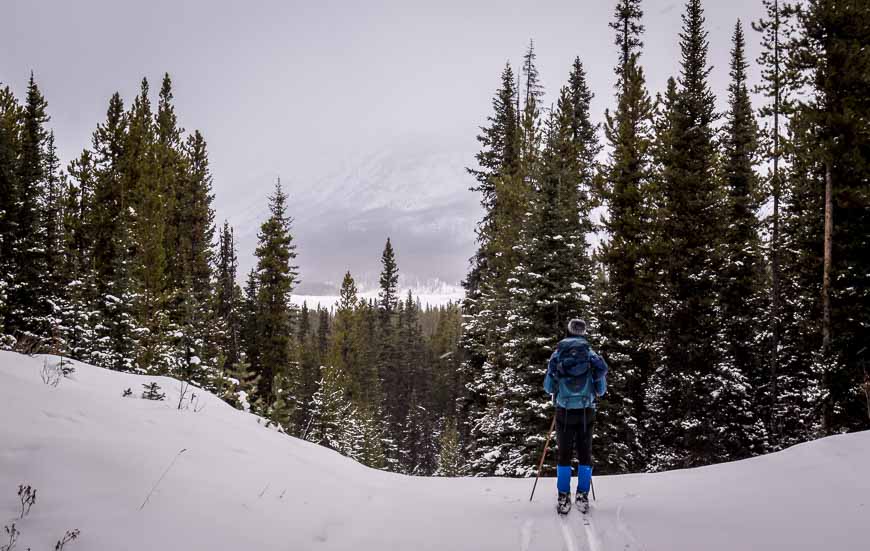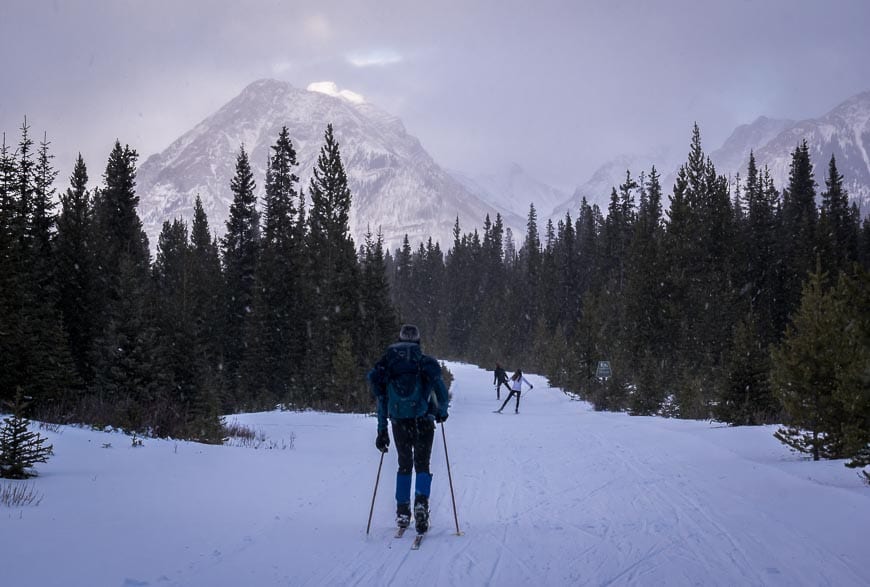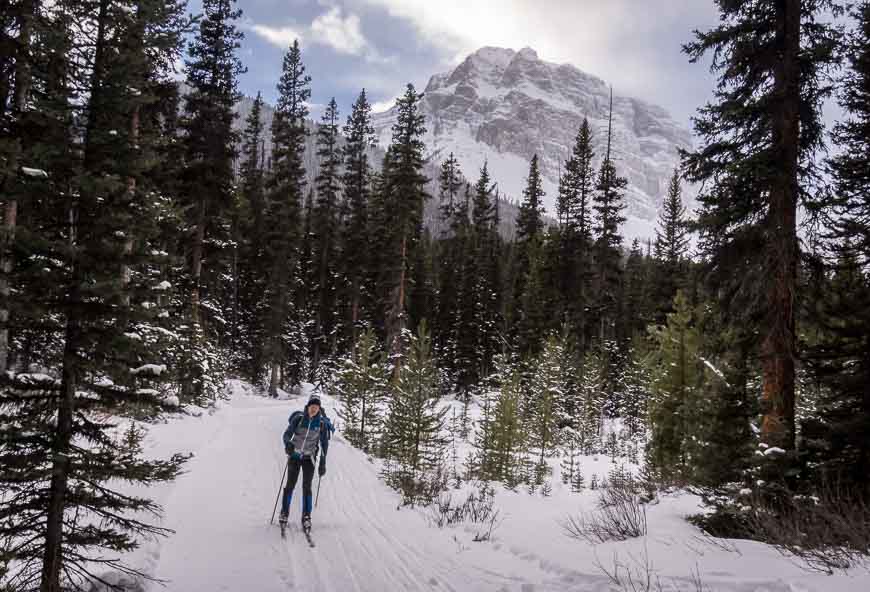 We also spent part of a Sunday morning snowshoeing on the nearby easy, family-friendly Hogarth Lake Loop. It will only take you one to hours to do the loop, depending on your pace.
And the trail to Chester Lake is a must do in summer and winter. On a bluebird winter day, it's hard to beat.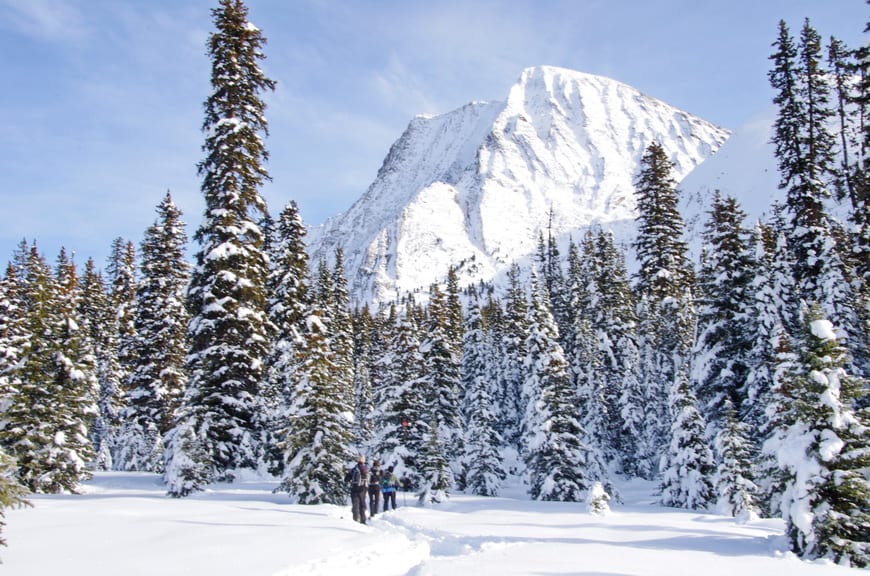 Things to know if you go to Mount Engadine Lodge
Complimentary snowshoes and Yactrax are available to guests of the lodge.
There is a wood-fired sauna available from 9 AM – 10 PM but staff need at least an hour to get it ready.
Housekeeping services are only provided every third day.
Dogs are allowed to stay in the glamping tents and cabins at a rate of $20/dog. Well behaved dogs can visit the main lodge but not the dining area.
Rates for all rooms and glamping tents include three meals per day and the fabulous afternoon tea. Glamping tents start at about $780/night double occupancy with all meals included.
Alcohol is additional. There is a corkage fee of $20.
For more information visit their website.
Booking a stay – either in glamping tents or at the lodge
You can book Mount Engadine online through this link. This is truly one of my favourite places to stay in all of the Alberta Rockies. I think anyone who spends a few nights here will be very happy.
Location map
Click on the photo to bookmark to your Pinterest boards.
Thank you to Mount Engadine for hosting my stay. As always I thoroughly enjoyed myself here and highly recommend the glamping experience.