The Hogarth Lakes snowshoe trail in Kananaskis Country is a great one to do if you just have half a day. Even though it's easy to do it as a day trip from Calgary, it's way more fun if you can stay overnight in the area so you can take advantage of some of the other trails – without a 90-minute drive in each direction.
While the Hogarth Lakes snowshoe trail doesn't get you into the same sort of jaw-dropping terrain that nearby the Chester Lake snowshoe trip does, it's still a worthwhile outing, especially when you're short on time.
This post includes some affiliate links. If you make a qualifying purchase through one of these links, I will receive a small percentage of the sale at no extra cost to you. Thank you VERY MUCH for your support.
Hogarth Lakes Snowshoe Loop summary
Distance: Approximately 4.5 km to do the full loop.
Elevation gain: 30 metres or 98 feet
Level of difficulty: Easy and family-friendly.
Time needed: 1 – 2 hours
Permit: Purchase a Kananaskis Conservation Pass before you go online or at the Kananaskis Visitor Information Centre. You can buy a single day or a yearly pass – good for two vehicles at the same address.
Dogs: Allowed but must be on a leash. Pack out any dog poop.
Cell service: Don't count on any service along the Smith Dorrien Road.
Map: Gem Treks Kananaskis Lakes and if you prefer a hiking app that works offline I recommend Organic Maps.
Don't forget: Even though the Hogarth Lakes snowshoe loop is easy, you should still pack the hiking essentials.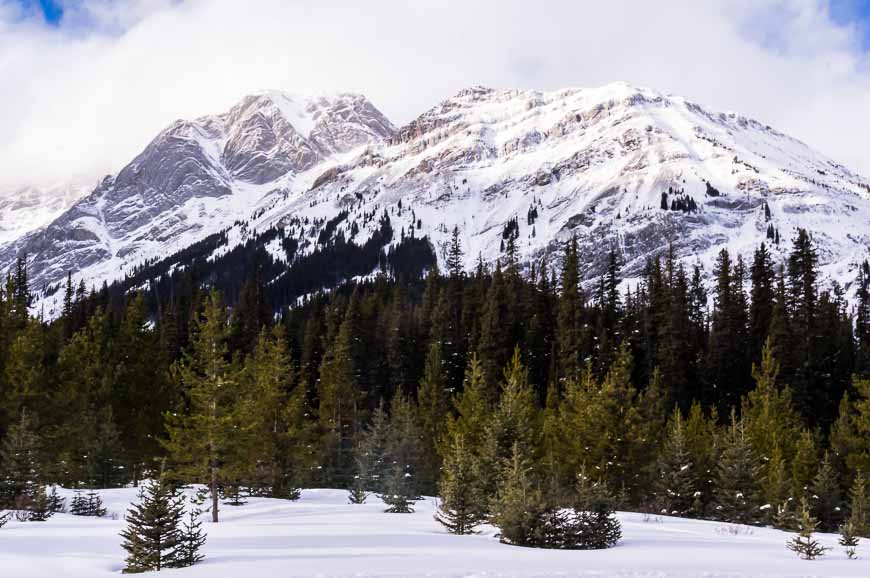 Trailhead location for the Hogarth Lakes snowshoe
The Hogarth Lakes Loop shares a trailhead with the Burstall Pass hike – which is signed on the Smith-Dorrien/Spray Lakes Road. It's directly across from the parking lot at the Chester Lake Trailhead – which is another supremely popular but more difficult snowshoe trail.
From the Canmore Nordic Centre it's 41.5 kilometres along the Smith Dorrien/Spray Lakes Road. From the turnoff to the Nakiska Ski Area turnoff, its 49 kilometres via Highway 40 and the Smith Dorrien Road.
Note: The Spray Lakes – Smith Dorrien Road is gravel and while it's plowed and sanded, expect winter driving conditions. The area is in a snow belt. I highly recommend carrying a snow shovel and an emergency car kit.
Recommended read: How to Survive a Winter Drive: 15 Tips for Safety
Best time to snowshoe at Hogarth Lakes
Because the Hogarth Lakes are located in a snowbelt, the snow comes early and stays late. In most years you can do the Hogarth Lakes snowshoe loop from the end of November until late April. Mother Nature is in charge, so for up to date conditions check in at the Kananaskis Visitor Information Centre on Highway 40 or check Alberta Parks trail reports for Peter Lougheed before you head out.
Check the weather forecast before you go – to see if it's too cold or if a winter storm is forecast.
Snowshoeing is always fun after a big dump of snow – but if there's a lot if can be tough going, especially with kids. This trail is well used, so if you go a little later in the day, chances are good someone will have gone before you and packed down the trail – at least a little bit.
Hogarth Lakes snowshoe description
One weekend we spent a couple of nights in the glamping tents in Mount Engadine Lodge off of the Spray Lakes Road in Kananaskis Country. On the first full day we took full advantage of the cross-country ski trails at Mount Shark.
But on the second day we were after something fast and easy before the drive back to Calgary. We had never snowshoed the Hogarth Lakes Loop and figured that would do the trick. It did.
If you're looking for a short, easy, family-friendly snowshoeing outing the Hogarth Lakes Loop snowshoe trail sure fits the bill. You can knock the 4.5 kilometres off in just over an hour if you're fast, and in a couple of hours if you're moving at a family-friendly pace.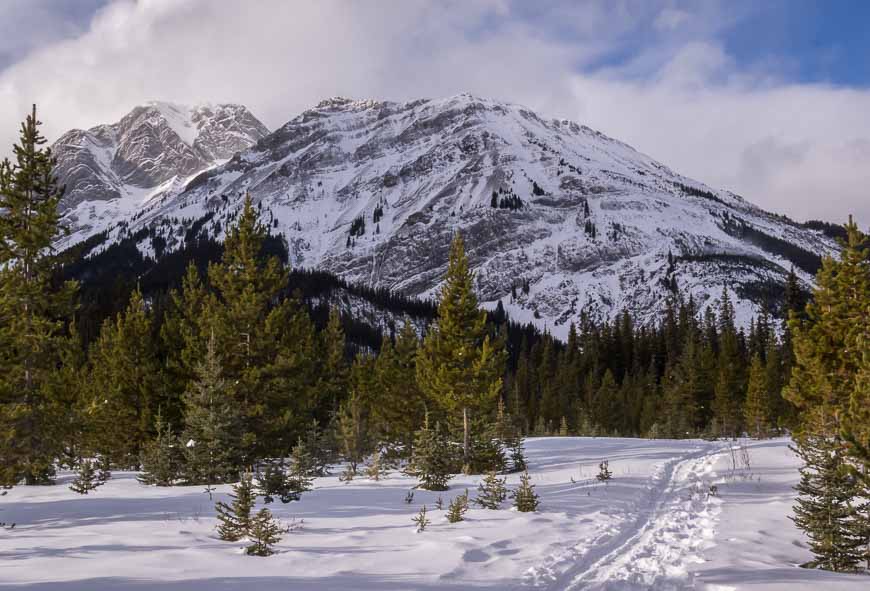 Signage along the Hogarth Lakes snowshoe trail
While there is signage along with snowshoe markers – which are orange diamonds usually on a prominent tree, along the Hogarth Lakes Loop, you still have to pay attention, at least if it's your first time on the Hogarth Lakes snowshoe trail.
We snowshoed in a counter-clockwise direction and in short order missed one of the bright orange snowshoe signs and ended up following the snowshoe tracks of others until we could see the parking lot off in the distance. Oops.
After retracing our steps, we noticed the orange markers in the distant trees and so managed to find the trail. Just a heads up. Perhaps we were enjoying the glorious mountain scenery just a little too much.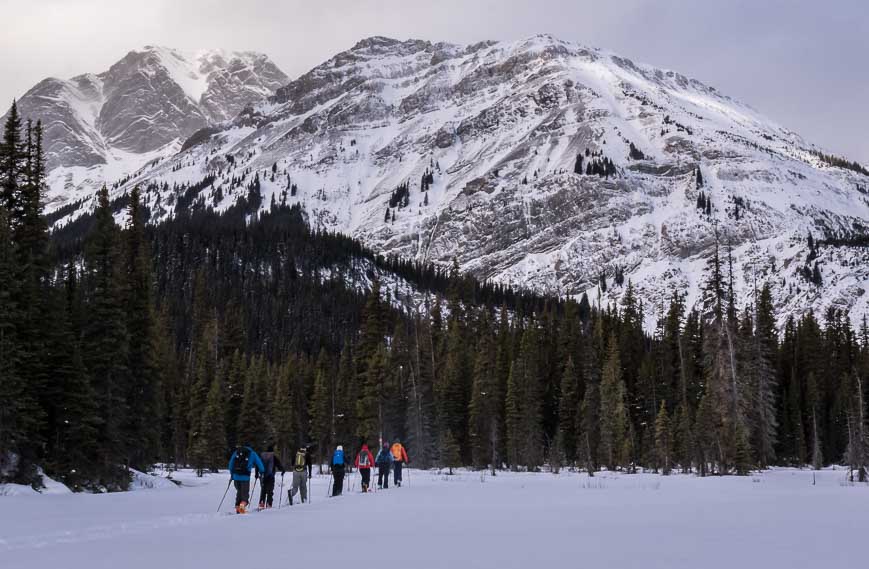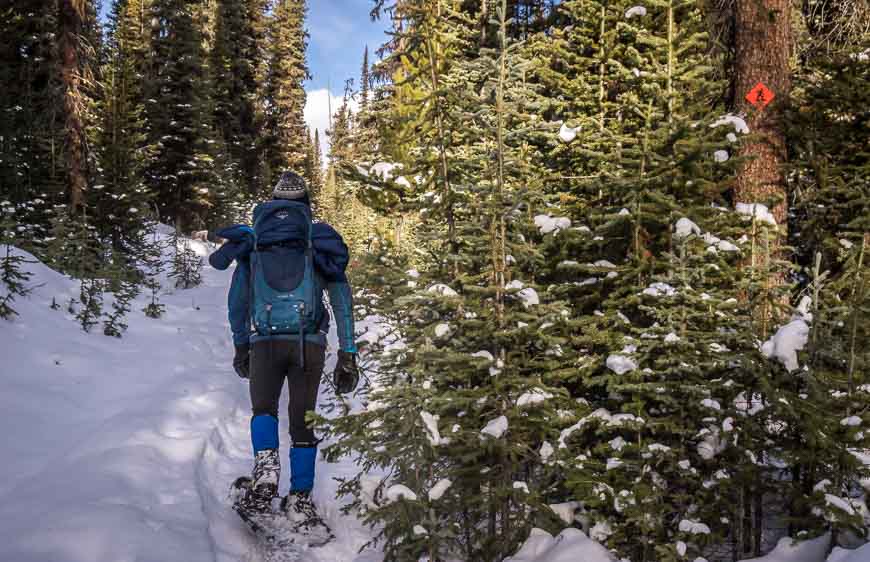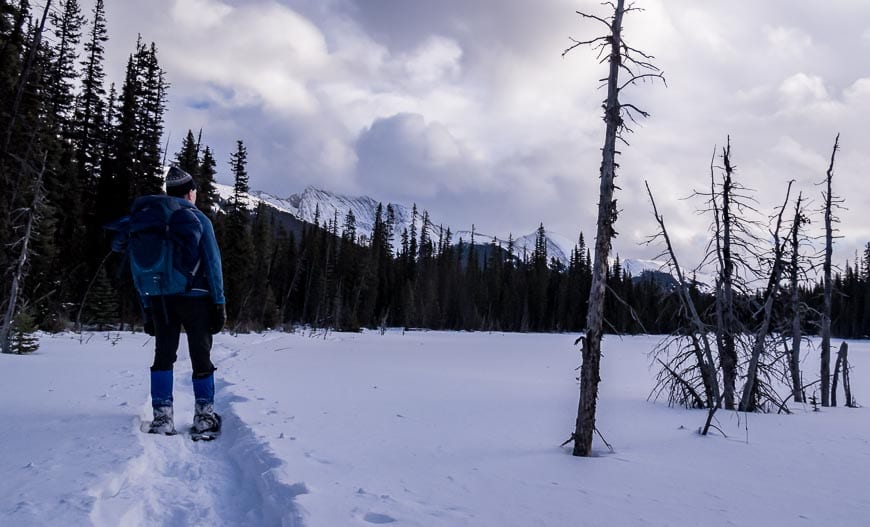 The Hogarth Lake Loop meanders through woods – which if its windy will be warmer – and skirts one of the lakes (markers were few and far between here) before returning to a wider, more traveled trail that heads to Burstall Pass. As you can see from the photos there is almost no elevation gain.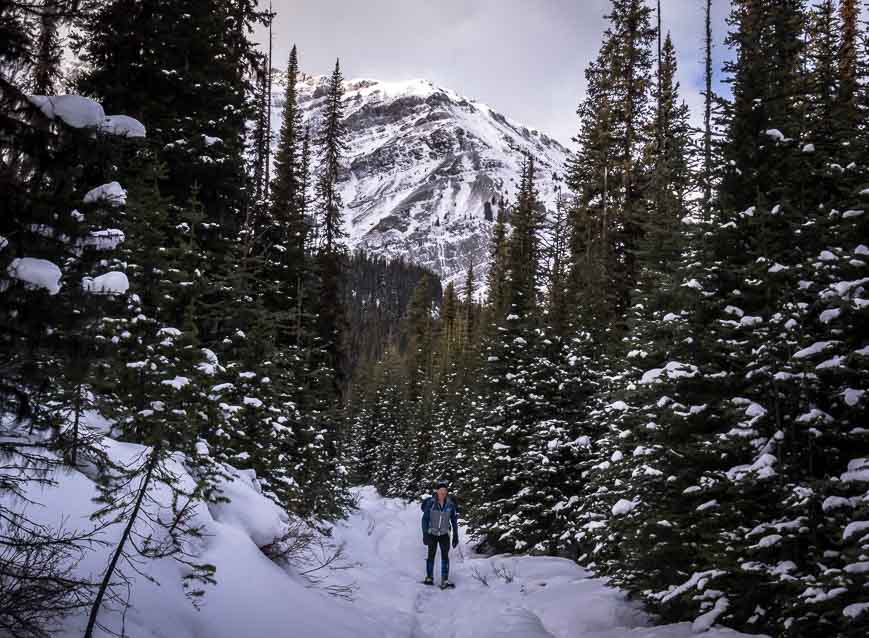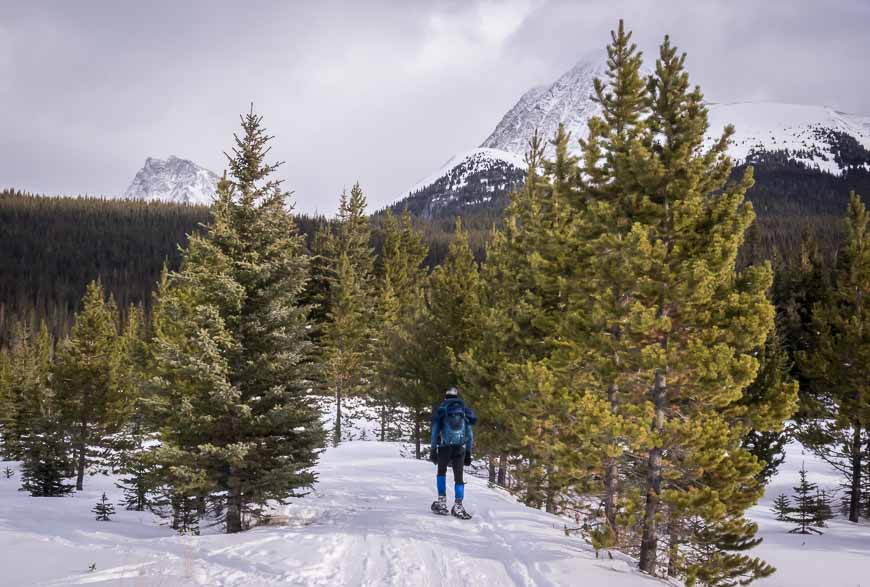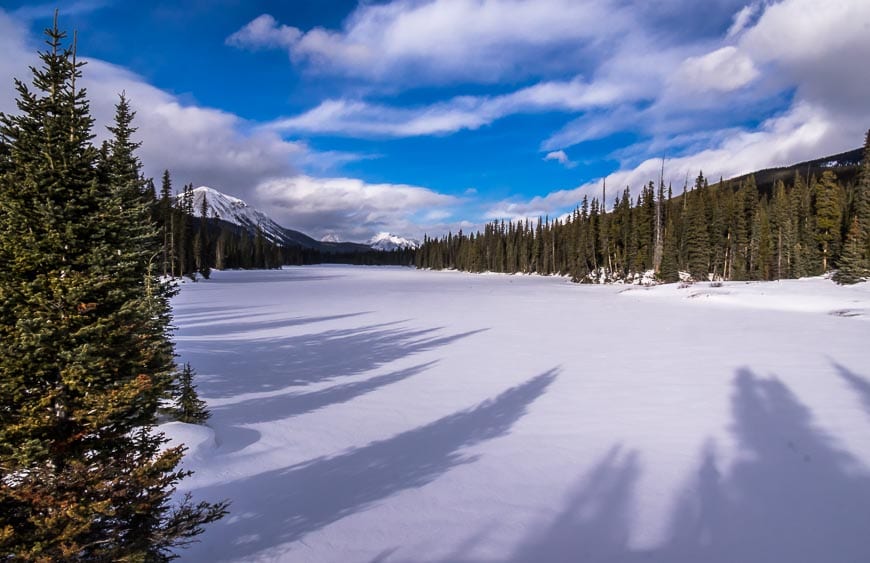 More ideas for snowshoe outings
For more ideas on easy snowshoeing trails in the Rockies I would recommend A Beginner's Guide to Snowshoeing in the Canadian Rockies.
I'd also recommend the following blogs:
Location map of the Hogarth Lakes snowshoe loop
Where can you stay in Kananaskis Country?
There are two other options for overnight stays in the Kananaskis area – winter camping at the Mount Kidd RV Park off of Highway 40 or a stay at the Kananaskis Mountain Lodge with its wonderful outdoor Nordic spa.
You'll find the Kananaskis Wilderness Hostel near the Ribbon Creek Trails. It's got a nice common area and a choice of private or dorm style rooms.
Interested in doing more outdoors in winter in Alberta?
Click on the photo to bookmark to your Pinterest boards.