The Chester Lake snowshoe in Kananaskis Country's Peter Lougheed Provincial Park is one of the prettiest snowshoeing adventures you can do in Alberta. It's also one of the most popular ones, so unless it's a cloudy weekday, expect some company. It's also a place where you'll find cross-country skiers though they use a different route up.
It's a full day trip to do the Chester Lake snowshoe from Calgary as the drive is a solid 90-minutes to two hours each way with part of it on the Smith Dorrien Road – which doesn't get the same attention as highways. If you want to splurge, I highly recommend a stay at nearby Mount Engadine Lodge so you can roll out of bed and be on snowshoes within minutes. Or stay in Canmore and knock an hour off your travel time.
More ideas here on where to snowshoe – Snowshoeing in Kananaskis – 9 Trails to Explore.
Chester Lake snowshoe summary
You'll need a Kananaskis Trail conservation pass to do this snowshoe outing. Buy a year long one if you're planning to visit Kananaskis Country more than six times in a year.
It's a 9.0 km return outing with 315 metres of elevation gain.
Allow 3 – 4 hours.
I'd rate this as easy if you snowshoe a lot but moderate for families. Kids 8 and older who snowshoe regularly should be able to do it.
Check trail reports before you head out!
Go prepared as this part of Alberta has almost no cell service. Take the essentials along with hand warmers and something hot to drink.
You might find this post – What to Wear in Canada in Winter on a -20C Day very helpful.
Don't forget the sun sets by around 4:30 PM in December. Plan the timing of your outing accordingly.
Updated November 2022. This post includes some affiliate links. If you make a qualifying purchase through one of these links, I may receive a small percentage of the sale at no extra cost to you. Thank you for your support.
Details of the Chester Lake snowshoe
Distance: 9 kilometres return
Elevation gain: 315 metres (1033 feet)
Time needed: 3 – 4 hours
Dogs allowed: Yes, on a leash
Map: Gem Trek Kananaskis Lakes
Finding the trailhead
Most people drive to the trailhead via Highway 40 from the Trans-Canada Highway – and not up the Spray Lakes Road from Canmore. There is a large parking lot at the trailhead, located on the east side of Smith Dorrien-Spray Lakes Road.
The trailhead is about 20 kilometres north of the turnoff from Highway 40 or 40 kilometres from Canmore. From Calgary, allow 90-minutes to two hours for the drive, depending on weather conditions.
If you're reluctant to make the drive without knowing what you're getting into check out the Kananaskis trail report online. Usually Chester Lake is one of the first places to get really good snow – but it's the drive there that can put me off.
Chester Lake snowshoe description
The trail to Chester Lake begins at the left hand corner of the parking lot. It climbs steeply for the first few kilometres through an evergreen forest that doesn't offer many views. Once you reach the large meadow, the aerobic workout is behind you. From the meadow, the Chester Lake snowshoe is just a gentle climb through the trees to another smaller meadow before reaching Chester Lake itself. Along the way there is one small creek crossing which gets covered in snow early in the season. The mountains absolutely sparkle in this area on a bluebird day.
Do make the side trip, even though it's a steep one – to Elephant Rocks, about a half a kilometre away. Giant-sized boulders have been dropped helter- skelter and the views from there are magnificent. Really the mountain views once you clear the trees are top-notch, especially on one of Alberta's bluebird winter days.
In total the trail climbs a not too difficult 355 metres.
Some people go up the snowshoe trail to Chester Lake and return via the cross-country ski trail, just for the variety – but if you do that, don't go near the skier's tracks.
If you want to see what Chester Lake looks like as a summer hike read The Chester Lake Hike in Alberta (+ Three Lakes Valley).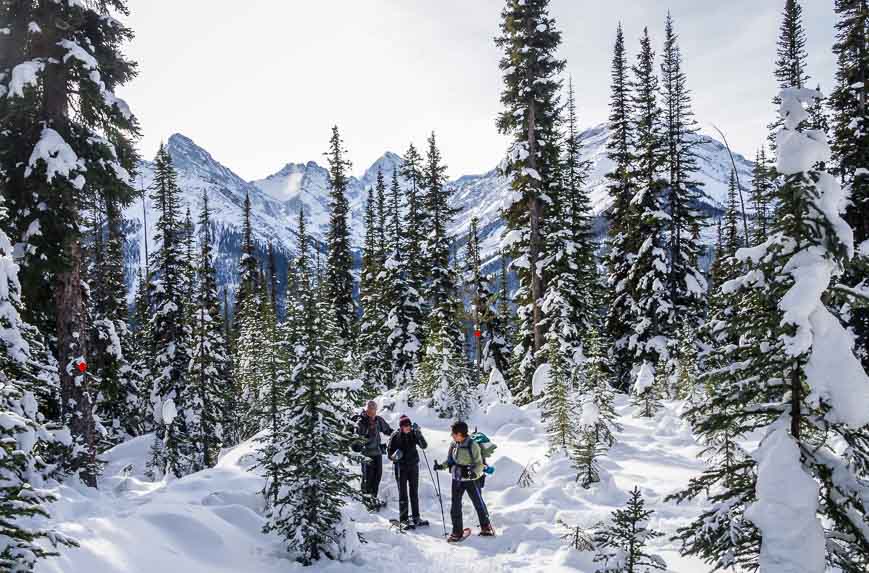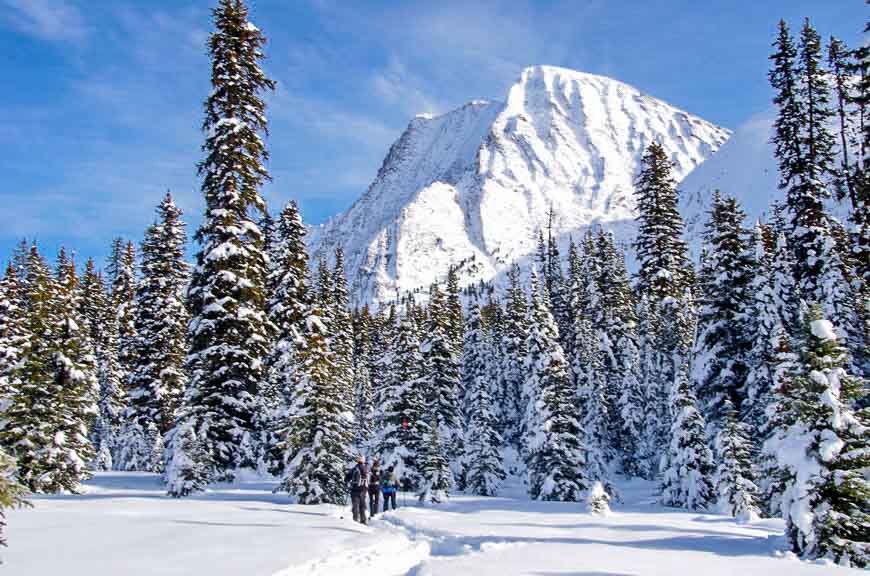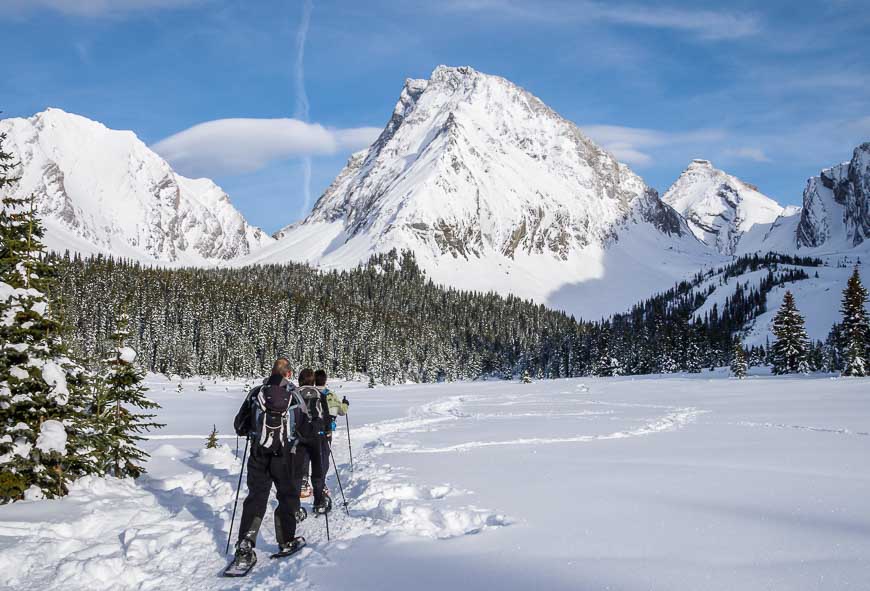 Snowshoes Rentals
There are several places to rent snowshoes whether you are coming from Calgary, Banff, or Canmore. Do a Google search to find the closest location to you. One of the places we've used on numerous occasions with out of town guests is Sports Rent on 16th Ave NW. For as little as $15 (2022 price) you can get a pair of good quality snowshoes – and if it's convenient for you, you can pick up the day before after 4 PM for the same price.
If you plan to snowshoe a lot, it's worth the investment in a pair of snowshoes as they typically last for a decade or more.
Check out MEC for their snowshoe selection or online at Amazon. I personally love my Atlas snowshoes as they aren't too big and they have a good claw for icier conditions. They are also easy to put on and take off.
Where to stay near Chester Lake
If you want to be spoiled spend a night or two up at Mount Engadine Lodge, literally a few minute's drive from the Chester Lake trailhead. It sure beats driving 90 minutes – 2 hours one way from Calgary first thing in the morning. They also offer a delicious afternoon tea.
Another choice would be in Kananaskis Village at either the Kananaskis Wilderness hostel or the Kananaskis Mountain Hotel – where the Kananaskis Nordic spa is located.
Location map
Further reading on snowshoe trails in Alberta
For more ideas on easy snowshoeing trails in the Rockies pick up a copy of A Beginner's Guide to Snowshoeing in the Canadian Rockies.
Click on the photo to bookmark to your Pinterest boards.