The Chester Lake snowshoe is one of the prettiest snowshoeing adventures you can do in Alberta. It's also one of the most popular ones, so unless it's a cloudy weekday, expect some company. Dogs are allowed on a leash too. It's also a place where you'll find cross-country skiers though they use a different route up.
It's a full day trip to do the Chester Lake snowshoe from Calgary as the drive is a solid 90-minutes each way. If you want to splurge, I highly recommend a stay at nearby Mount Engadine Lodge so you can roll out of bed and be on snowshoes within minutes. Or stay in Canmore and knock an hour off your travel time.
Updated February 2022. This post includes some affiliate links. If you make a qualifying purchase through one of these links, I may receive a small percentage of the sale at no extra cost to you. Thank you for your support.
Details of the Chester Lake snowshoe
Distance: 9 kilometres return
Elevation gain: 355 metres
Time needed: 3-4 hours
Dogs allowed: Yes on a leash
Map: Gem Trek Kananaskis Lakes
The trail to Chester Lake begins at the left hand corner of the parking lot. It climbs steeply for the first few kilometres. Once you reach the large meadow, the aerobic workout is behind you. From the meadow the Chester Lake snowshoe is just a gentle climb through the trees to another smaller meadow before reaching Chester Lake itself. The mountains absolutely sparkle in this area on a bluebird day.
Do make the side trip, even though it's a steep one – to Elephant Rocks. Giant sized boulders have been dropped helter- skelter and the views from there are magnificent. Really the mountain views once you clear the trees are top-notch, especially on one of Alberta's bluebird winter days.
In total the trail climbs a not too difficult 355 metres.
If you want to see what Chester Lake looks like as a summer hike read The Chester Lake Hike in Alberta (+ Three Lakes Valley).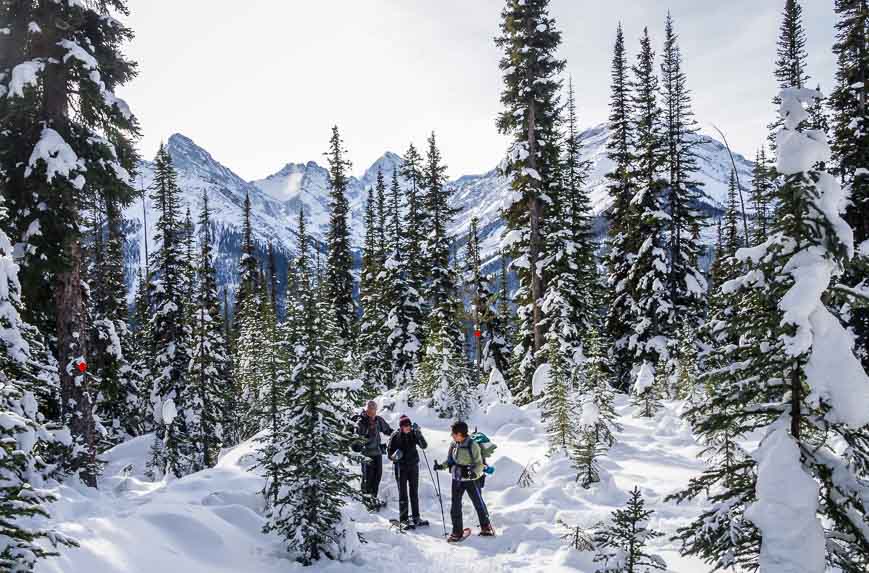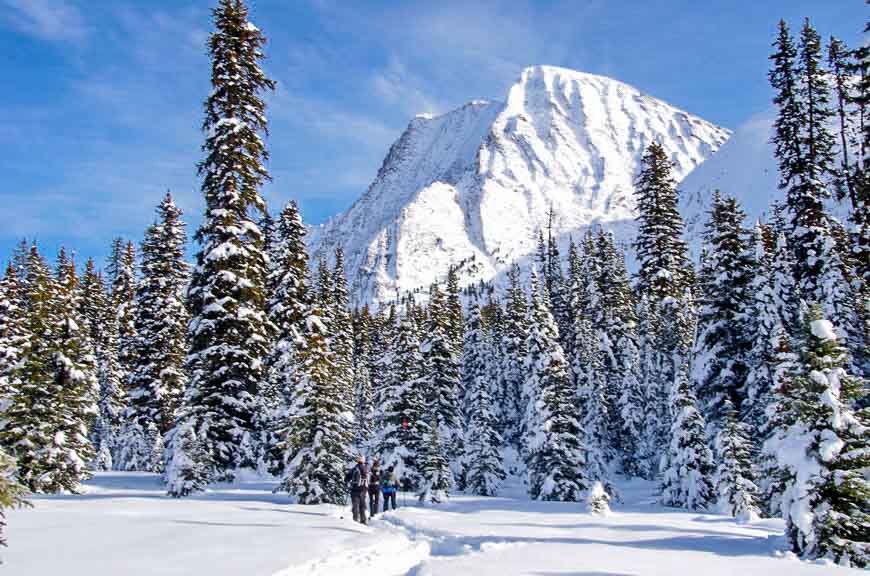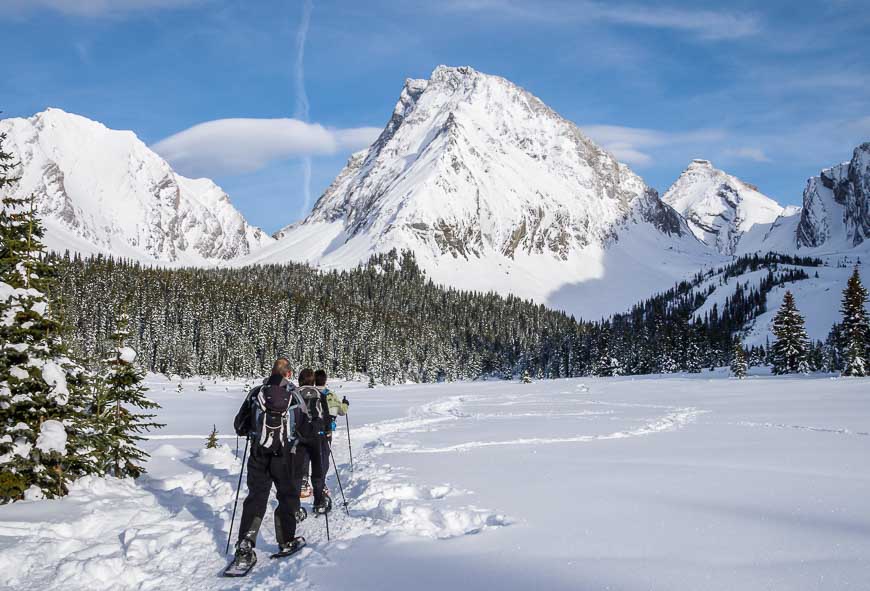 Where to stay near Chester Lake
If you want to be spoiled spend a night or two up at Mount Engadine Lodge, literally a few minute's drive from the Chester Lake trailhead. It sure beats driving 90 minutes – 2 hours one way from Calgary first thing in the morning. They also offer a delicious afternoon tea.
Another choice would be in Kananaskis Village at either the Kananaskis Wilderness hostel or the Kananaskis Mountain Hotel – where the Kananaskis Nordic spa is located.
Finding the trailhead
Most people drive to the trailhead via Highway 40 from the Trans-Canada Highway – and not up the Spray Lakes Road from Canmore. There is a large parking lot at the trailhead, located on the east side of Smith Dorrien-Spray Lakes Road.
It's about 20 kilometres north of Highway 40 – or 40 kilometres from Canmore. From Calgary, allow 90 minutes to two hours for the drive, depending on weather conditions.
I've done the Chester Lake snowshoe several times, always under great snow conditions. But if you're reluctant to make the drive without knowing what you're getting into check out the Kananaskis trail report online.
Further reading on snowshoe trails
For more ideas on easy snowshoeing trails in the Rockies pick up a copy of A Beginner's Guide to Snowshoeing in the Canadian Rockies.
Click on the photo to bookmark to your Pinterest boards.