Lady luck was on my side when I booked a couple of campsites for my three day backpacking trip from the Vista Lake Trailhead to Egypt Lake in Banff National Park for two reasons – timing and epic wildflower displays.
The first was a miscommunication between Parks Canada, my husband and me. The dates got confused and the campsites on the Egypt Lake hike weren't what we wanted. So we changed them and pushed them back a day – thereby missing a horrible rainstorm.
Secondly our timing was such that John and I caught the wildflowers – an epic, soul stirring, take-your-breath-away display, at their absolute peak.
NOTE: Check the Parks Canada website for trail updates. Campsites do get closed periodically if there is bear activity in the area. To book a campsite visit this page on the Banff National Park website.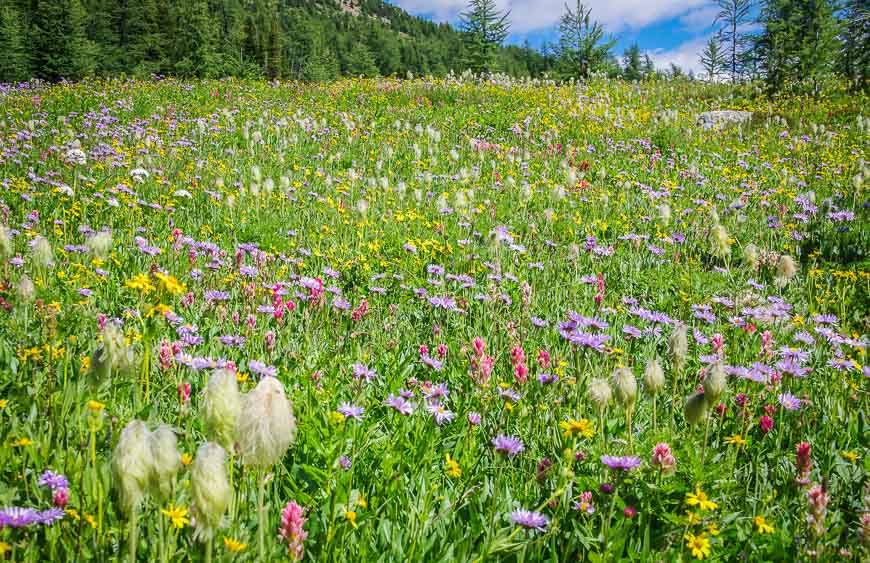 This post includes some affiliate links. If you make a qualifying purchase through one of these links, I will receive a small percentage of the sale at no extra cost to you. Thank you for your support.
Our 3-day, 42 km backpacking trip from the Vista Lake Trailhead across Gibbon, Whistling and Healy Pass via Egypt Lake to Sunshine Village is one of the best hikes you can do in Banff National Park.
I decided that a one way trip was the way to go to maximize our hiking pleasure. The plan was to drive two cars to the mountains and organize a car shuttle.
We'd leave one car at the parking lot at the Sunshine Village ski area and the other at the Vista Lake Trailhead, 8.4 kilometres southwest of Castle Junction on Highway 93. I talked my niece who was in Calgary for the summer and who has never been to Banff, to drop us off at the Vista Lake Trailhead, saving us a drive at the end of the trip.
Location map of the Egypt Lake hiking/backpacking trip
Our Egypt Lake backpacking trip in Banff National Park looks like this
Day one: Hike 19.3 kilometres from the Vista Lake Trailhead over Gibbon Pass down to Shadow Lake, Continue 5.3 kilometres to camp at the Ball Pass Junction.
Day two: Hike up Whistling Valley past Haiduk Lake to Whistling Pass. Descend steeply to the Egypt Lake campground. Total mileage of 10 kilometres.
Day three: Hike 3.0 kilometres up to Healy Pass and then descend 9.2 kilometres to the parking lot at Sunshine Village.
Day 1: Vista Lake Trailhead to Ball Pass Junction via Gibbon Pass
The first day was tough but beautiful. Right off the bat the scenery was excellent and continued that way until we began the steep, cheerless descent to Shadow Lake Lodge.
Highlights included Arnica Lake, Twin Lakes and the wildflowers and larches around Gibbon Pass. (This would be an amazing day hike to do in September when the larches change colour.) Shadow Lake itself is also beautiful.
The trail down to Shadow Lake Lodge (now owned by the Alpine Club of Canada) is very steep so watch your footing. Between Shadow Lake and the campground, it's mostly flat walking following a stream – pretty but not in an epic sort of way.
The Ball Pass Junction campsite is great – clean outhouse, private campsites and easy access to water. To bear proof your food you must hang it so bring a waterproof bag for that.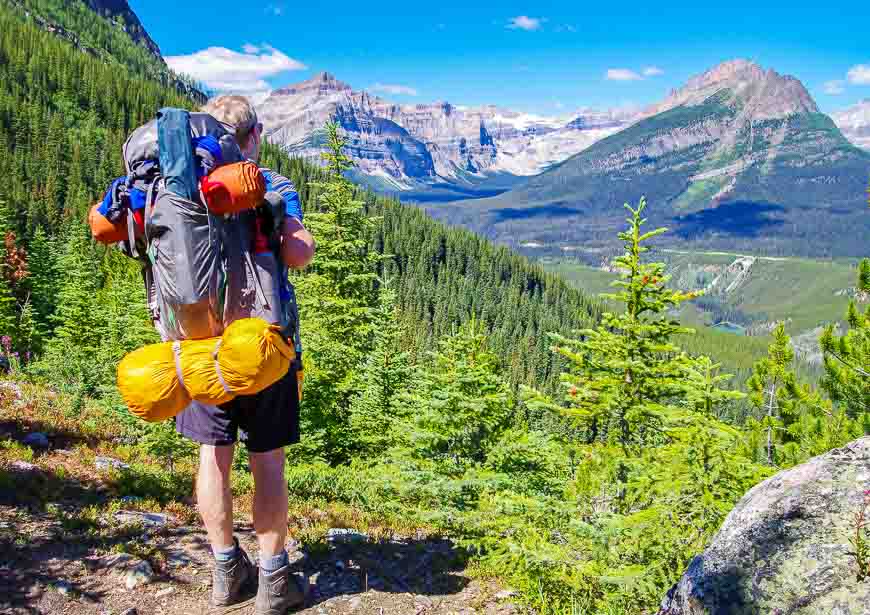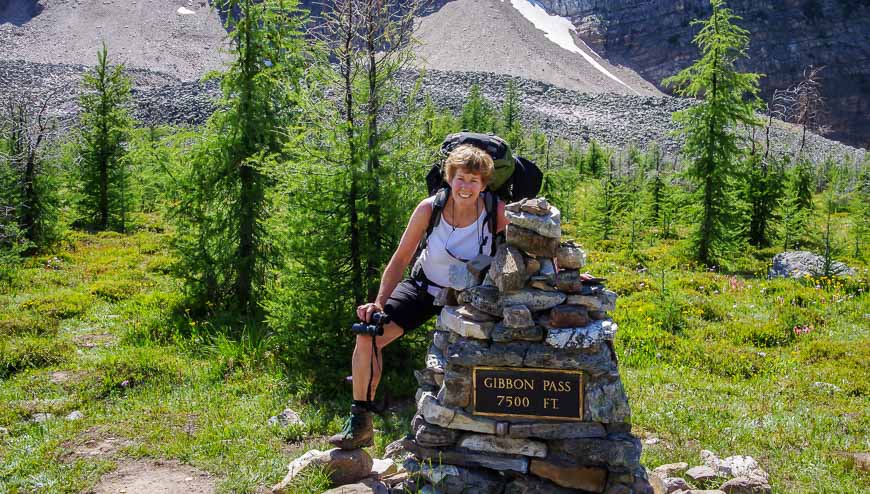 Day 2: Ball Pass Junction to Egypt Lake campground
Most of the hiking was delightful on the second day. There were plenty of peek-a-boo views as we made our way up the Whistling Valley Trail. You can see the pass way off in the distance.
Wildflowers were in abundance though they weren't as plentiful as at Gibbon or Healy Pass. Haiduk Lake is a highlight – and far prettier than better known Egypt Lake.
The climb up to Whistling Pass was steep at times and one patch of snow still remained. But the stellar views keep you going. The pass itself isn't big but it sure is pretty.
The initial descent from the pass is easy on the knees, the last 1.9 kilometres less so. Egypt Lake Campground is big and spread apart yet you can still have a neighbour within speaking distance.
The outhouse is disgusting and it's a hike to get to the cooking/food storage area. There is also a shelter – but I'd take my tent over the Egypt Lake shelter. It needs some TLC. Still, the campsite is in a good location as a staging area to other hikes and it's the easier choice for the second day out.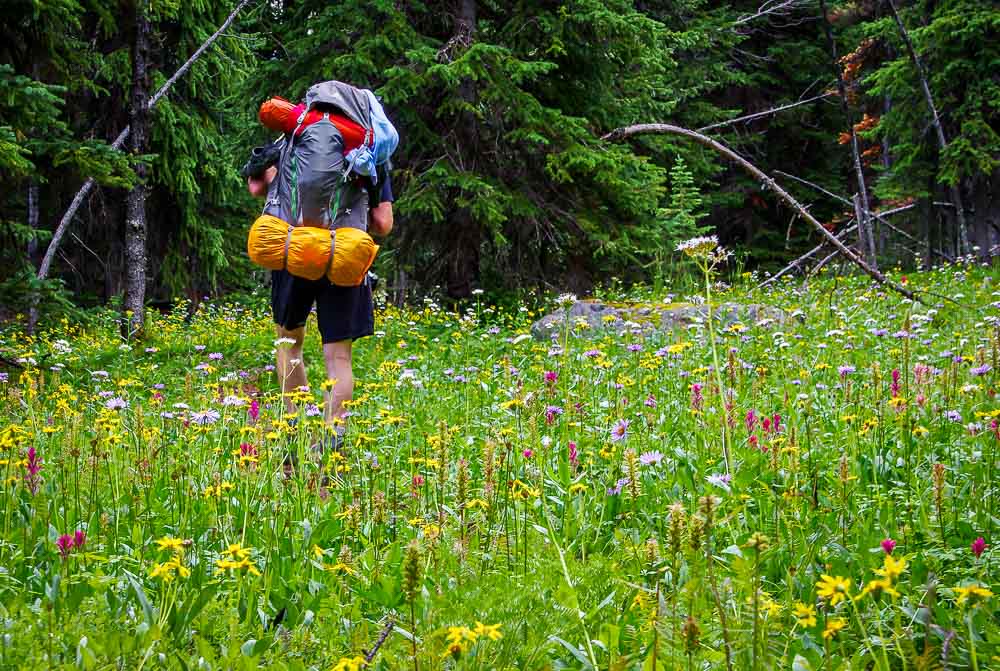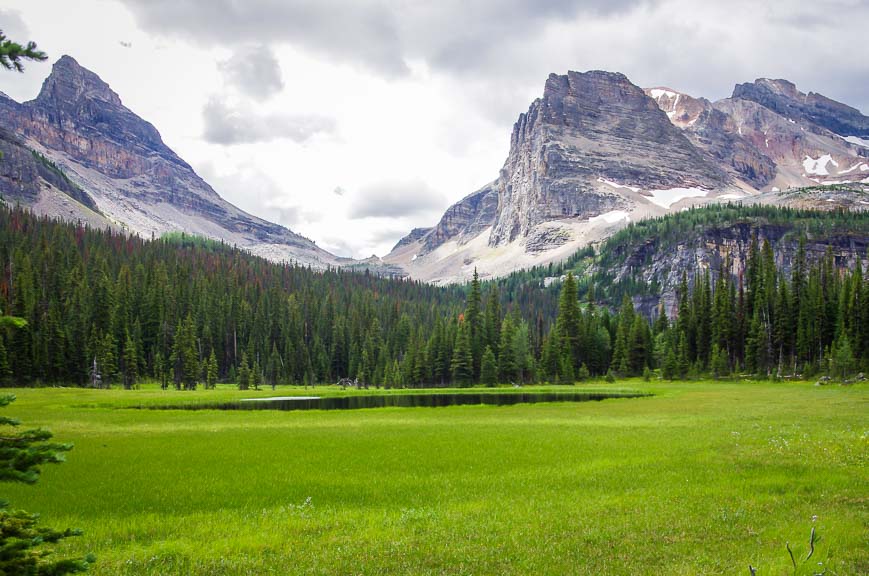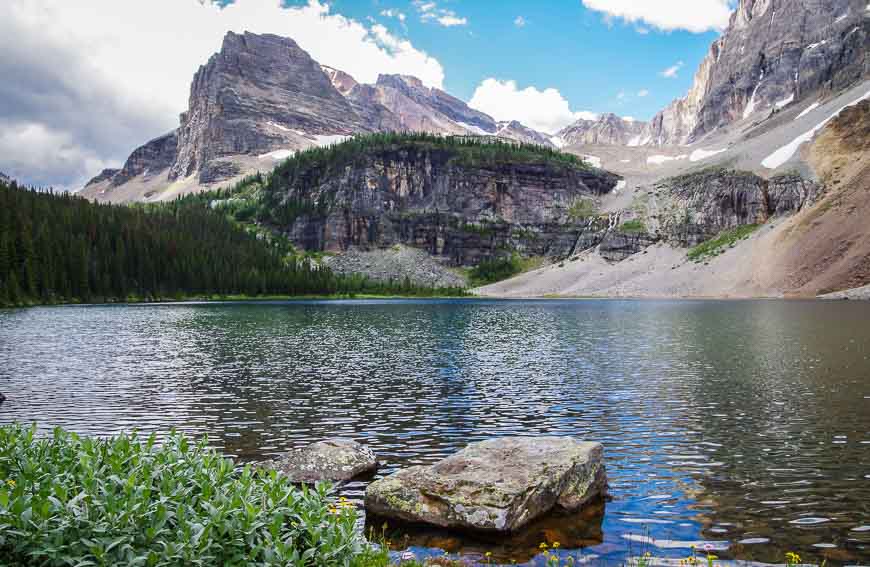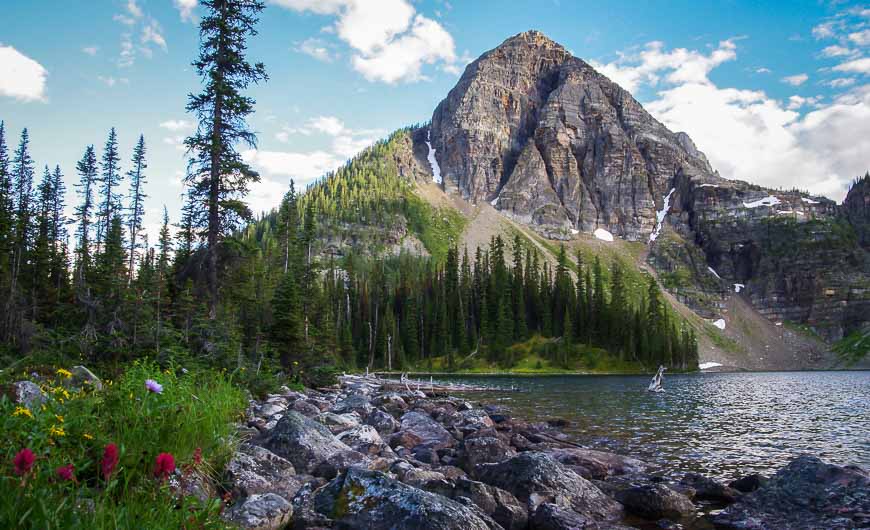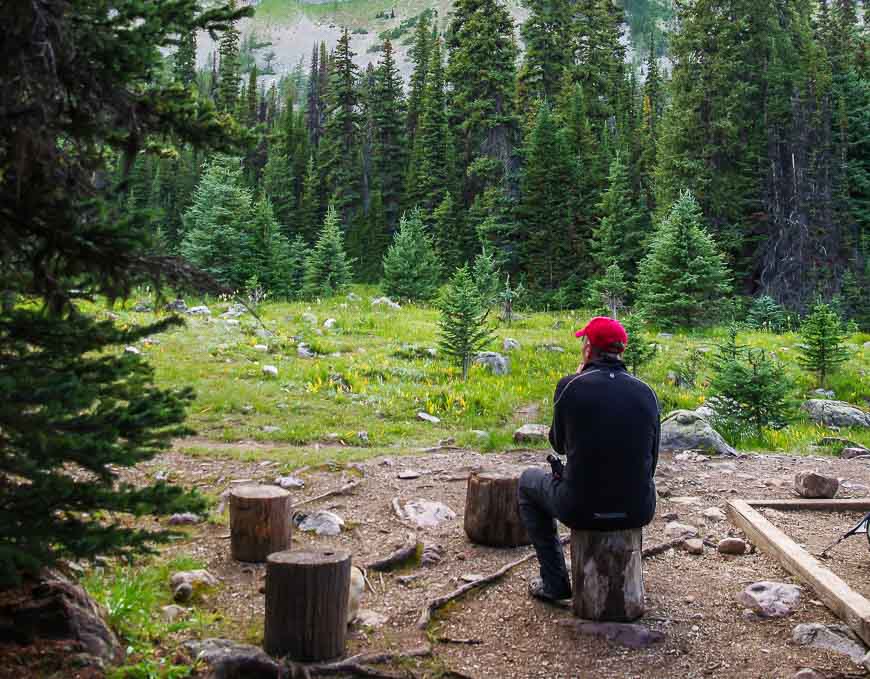 Day 3: Egypt Lake to Healey Pass and Sunshine Village
On the third day we waited out a thunderstorm before venturing from our tent. Fortunately it was over by 8 AM and we hit the trail by 10 AM.
It turned out to be an incredible morning of hiking. You can expect a sublime landscape from Egypt Lake to Healy Pass and beyond for several kilometres.
The wildflowers carpet the meadows – and quite literally can be seen for miles. They are at their absolute peak so make every effort if you want to see this world-class display to get up here in the the third or fourth week of July.
The last six kilometres aren't very interesting. But you can make good time as the grade is moderate. It was a relief to see the car – only because my feet and my shoulders were screaming at me by the end of the trip.
If you just want to see the wildflowers at Healy Pass
One option is to take the gondola and chairlift up from Sunshine Village and look for the Simpson Pass Trail. It's actually a little longer to get to Healy Pass this way but it would make a great loop as you could return down the Healy Pass Trail.
For day-trippers hike up the road from the Sunshine Village parking area. Its 9.2 km one way to reach the pass – though you don't have to go nearly that far to be in a world of wildflowers.
Useful information if you're interested in the Egypt Lake hike
Reserve your campsite as far in advance as you can through Banff National Park. There are several other options but unless you want to do and out and back trip you'll need to arrange a car shuttle.
Other trails that will eventually get you to Egypt Lake include Twin Lakes, Redearth, Honeymoon Pass Trail and Hawk Creek Trail.
Buy a topographical map so you can see your options. We were asked on a couple of occasions for route finding help – not that it's difficult but without a map it's hard to get the myriad of trails in the area straight.
All told we gained approximately 1675 m (5495 feet) of elevation over the length of the trip.
Assume you will be hanging your food so the bears can't get it. Carry bear spray in an easy to access holster. We were lucky and didn't so much as see bear scat. I have also put a bear container in my pack and it worked well.
Bring clothes for all weather conditions.
The mosquitoes were awful on several occasions, especially at the Egypt Lake Campground. Bring bug repellent, a head net and long pants. A sense of humour also helps.
Let someone know where you're going and when you're expected to come out.
Bring some way of filtering your water. We drank at least 3 litres each the first day when it was hot.
If you're interested in supporting me more consider purchasing 125 Nature Hot Spots in Alberta.
For budgeting purposes assume the following at a minimum: map ($15.75), campsite reservation for two ($50.90), national park pass ($10.00/adult/day), food and gas.
This is one stellar backpacking experience – though perhaps not the best one to start off with in the season like we did.
Further reading on backpacking – hiking trips in Banff National Park
Click on the photo to bookmark to your Pinterest boards.
Thank you to Travel Alberta for sponsoring this post. I'd do it again even knowing I'd get sore shoulders, hips, and feet.