When it's larch season in the Rocky Mountains, its time to do the Taylor Lake hike. You'll miss the horrific weekend crowds in the Banff and Lake Louise areas – especially around Moraine Lake area. What you get instead with a little effort – are outrageous scenes of beauty that words can't possibly describe. And I guarantee you will feel a sense of awe.
The Taylor Lake hike can certainly be done in summer – and it makes for a great snowshoeing trip in winter but it's fall when this area shines.
This post includes some affiliate links. If you make a purchase via one of these links, I will receive a small commission at no extra cost to you.
The Taylor Lake hike is at its best in larch season
Despite hearing about how bad the crowds could get our group of six was keen to go hiking. Two of the group had scouted out Taylor Lake a few weeks before and figured it would make a great destination come larch season. It most certainly did.
After living in Calgary for eight years and hiking a lot, I'd still call Taylor Lake one of the best larch hikes.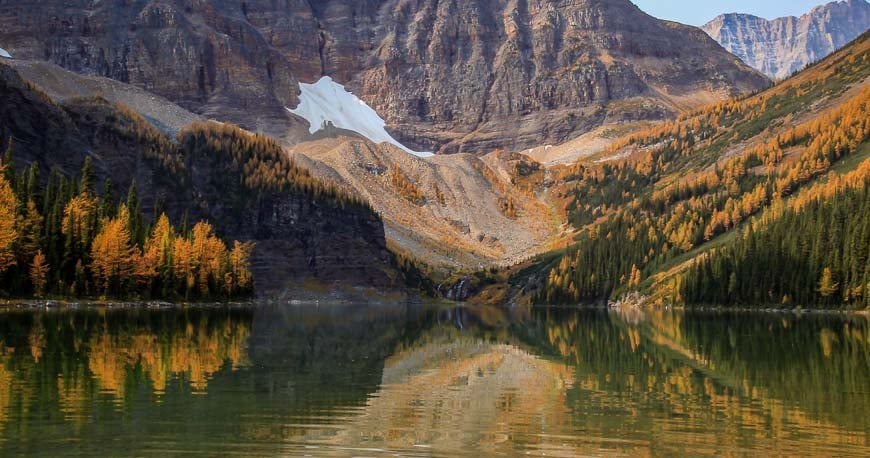 Taylor Lake hike details
Location: Banff National Park, 8 km northwest of Castle Junction off of Highway 1
Distance: 12.6 km return to Taylor Lake plus 3.6 km return to O'Brien Lake
Elevation gain: 595 metre or 1952 feet to Taylor Lake
Time needed: 4 – 6 hours
Difficulty: Easy to moderate
Map needed: Gem Trek Banff & Mt Assiniboine
Good to know: You need a National Parks pass.
What the Taylor Lake hike looks like
The Taylor Lake trailhead is close to Lake Louise but because you must hike 6.5 km one way just to get the views so there isn't too much in the way of crowds. Compare that to driving for a larch-filled views in parts of Banff National Park. That suited all of us just fine.
Although the parking lot was quite full we only saw six or seven groups of people over the course of a day.
The hike to Taylor Lake climbs 595 m (1,952 feet) over 6.3 km. It's not that interesting until you get to the lake as its primarily in the trees with peek a boo views. The trail starts off quite gently and then steepens around the 2.0 km mark.
Just before you reach Taylor Lake look for the signed intersection that leads to O'Brien Lake. I definitely recommend the side trip.
To return, retrace your steps to the parking lot. It took us 6.5 hours to hike to both lakes – but that includes a significant amount of time for lunch, exploring and photography breaks.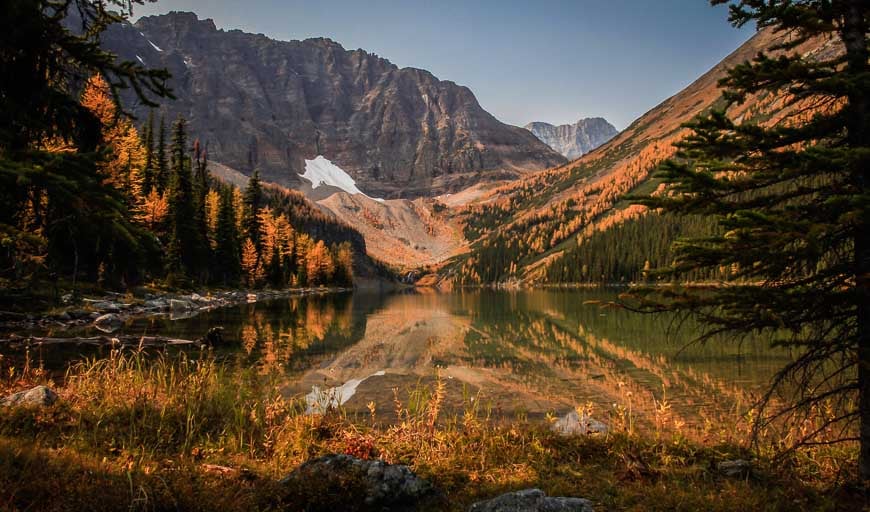 Have you heard of larch trees?
I never heard of larch trees before moving to Calgary. Their glorious needle like, yellow fall foliage is to the Rocky Mountains what the maple tree's red foliage is to eastern Canada – a feast for the eyes.
Larches are coniferous – but deciduous so they lose their needles every autumn. You'll find larches in mountainous parts of the world with cold temperatures – parts of Canada, Russia and Bavaria as examples. And interestingly the wood of the larch is so hard that it can resist forest fires in some cases.
The side-trip to O'Brien Lake
If you've made it as far as Taylor Lakes and you're not in a rush, add the side trip to O'Brien Lake. The signed junction is 200 m east of Taylor Lake. From there it's another 1.8 km one way to reach the lake.
The trail is less well maintained and quite soggy in places but the setting is spectacular – in a cirque formed by the east wall of Mt. Bell.
Ultimately the trail continues to Boom Lake but it's reportedly a rough trail and not recommended.
There is also a 10 km trail that curves around Panorama Ridge and ultimately connects with the Consolation Lake trail. But again it's not recommended. You're better off doing Consolation Lakes from the Moraine Lake trailhead.
Camping at Taylor Lake
There is a backcountry campground at Taylor Lake on the northeast shore. To reserve a site visit the Banff National Park reservations page.
Getting to Taylor Lake and O'Brien Lake
The trailhead to Taylor Lake is accessed from the Trans-Canada Highway, 8 km west of Castle Junction (get in the left hand lane but exercise caution crossing the east bound Trans-Canada Highway) or 17 km east of Lake Louise Village.
Don't forget
If you're hiking in fall I'd also recommend a warm coat as the weather can change in an instant. And a blow up seat cushion for lunch time, especially if it's damp can be a game-changer.
Take bear spray with you, even if the likelihood of seeing one is low – and know how to use it. Keep it accessible.
Check out the Banff National Park website for current conditions.
Take the 10 hiking essentials.
More reading on larch hikes in Alberta
Click on the photo to bookmark to your Pinterest boards.