Boom Lake is a turquoise beauty, sitting beneath 600-metre cliffs in Banff National Park. It's accessible on foot from as early as June until late October, though you may have to tromp through some snow at that time. The Boom Lake hike is easy but not as interesting as many in the park. The wide trail parallels Boom Creek, though you only see the creek at the start of the hike. Don't count on any views until you reach the exceptionally clear lake but some of the forest walking is very pleasant, especially in fall when there's some colour in the understory. And in places there are some dandy big alpine firs and Englemann spruce. There's also a boardwalk towards the end of the hike.
Boom Lake is also a fabulous cross-country skiing destination come the winter, through beware of avalanche chutes if you venture onto some sections of the lake.
If you're driving towards Radium Hot Springs on Highway 93 or you're staying at nearby Storm Mountain Lodge, then the Boom Lake hike is an especially good choice, particularly on a hot, sunny day as the Boom Lake trail is mostly in the shade.
This post includes some affiliate links. If you make a qualifying purchase through one of these links, I will receive a small percentage of the sale at no extra cost to you. Thank you for your support.
Boom Lake hike details
Total distance: 10.2 km (or 6.3 miles) return
Elevation gain: 175 m or 574 feet
Rating: Easy and dog-friendly with lots of water available
Time needed: 3 – 4 hours
Map: Gem Trek – Banff and Mt. Assiniboine
Best time to go: June to October
Boom Lake hike description
There are no navigation challenges on the hike to Boom Lake. It's a straightforward as they get.
Most of the hike to Boom Lake will be in the shade – so it's an ideal choice on a hot day. Early in the season or after a big rainfall you can also count on a lot of mud.
Start at the parking lot, passing a few picnic spots before you cross a wooden bridge over Boom Creek. If you have dogs, they'll probably want a swim in here before or after the Boom Lake hike. Continue on the trail as it veers left and starts to head up gradually through the forest. When I did the Boom Lake hike in early September, the understory was already awash in colour.
Well into the hike you'll pass a junction and a sign saying Taylor and O'Brien Lake. I have not heard anything good about this route (overgrown and hard to follow) so I wouldn't recommend it. However, I would suggest doing the Taylor Lake hike starting from the Trans-Canada Highway between Banff and Lake Louise, especially in the fall when larches are at their peak.
Read: The Taylor Lake Hike in Banff National Park
When you reach a boardwalk, you're getting very close to Boom Lake. From there the trail heads left and starts downhill on rougher terrain. The Boom Lake trail ends near the eastern end of Boom Lake beside a rockslide.
The rockslide is nothing but big boulders so it's hard to navigate. You'll find most people don't go very far in either direction from where the trail ends to enjoy a picnic with a view.
Fun fact: Boom Lake got its name because of a natural log boom that formed on a shallow rock shelf at the lake's outlet.
Map showing the Boom Lake hike
How to get to the trailhead
Take Highway 93 south from the Trans-Canada Highway at the Castle Junction intersection. Follow it for 7.2 km to reach the Boom Lake Picnic Area on the left (north) side of the highway.
Boom Lake location map
Trail conditions for Boom Lake
Check trail reports in Banff National Park before you go. They are regularly updated.
Swimming at Boom Lake
If you're someone who doesn't mind glacially cold water – and its a hot day, go big. Jump in, catch your breath, and then get out. Just be mindful of the fact that its a rocky shoreline and hard to get in and out easily.
What to take on the hike
Always carry the 10 hiking essentials.
Don't forget the bug spray in summer.
If you're prone to blisters, I highly recommend Compeed. It speeds up their healing too.
On an easy Boom Lake hike, I'd still recommend an inflatable seat cushion for a more comfortable stop at the lake and a few protein or energy bars.
Where to stay near Boom Lake

The closest place to stay is Storm Mountain Lodge. But you're also close to Castle Junction. There you could stay in the Castle Mountain Chalets or Johnston Canyon Lodge & Bungalows.

Baker Creek Mountain Resort is west of Castle Junction in a lovely location beside Baker Creek.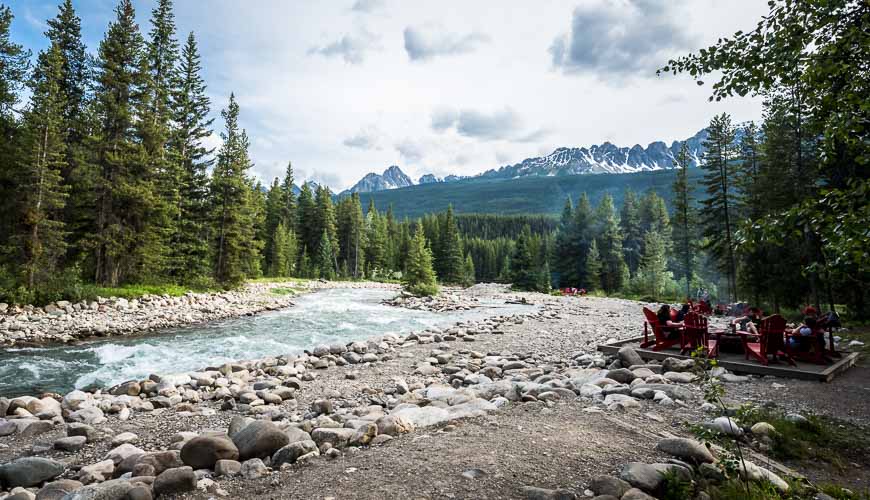 Further reading on hikes in Banff National Park
Click on the photo to bookmark to your Pinterest boards.