For those of you who love a dedicated bike trail (albeit a multi-use one), check out the scenic NorthStar Rails to Trails that stretches for 26 kilometres between Cranbrook and Kimberley, British Columbia. Along its length, you are treated to views of the Steeples range, the Purcell range, and pretty St. Mary's River. Visit in late September and October for breathtaking fall colours.
The NorthStar Rails to Trails, completed in 2010, is on a former CP railway bed and as such the grade is gentle. The elevation profile is mostly flat between Cranbrook and the St. Mary's River bridge. From there, it gradually climbs to Kimberley. If you're doing an out and back bike ride on the NorthStar Rails to Trails, I think you'll find it's a touch faster cycling back to Cranbrook – but who's in a rush?
Along the trail, which has been part of the Trans-Canada Trail since 2012, there's lots of signage so you'll always know where you are. Look for kilometre markers every kilometre painted on the asphalt. There are also bathrooms at three locations, kiosks, numerous interpretive signs, and bike repair stations in both Cranbrook and Kimberley.
The NorthStar Rails to Trails is primarily used in spring, summer and fall as it's not maintained in winter. However, in theory, if conditions are right, fat biking the trail could be a whole lot of fun after a snowfall.
This post includes some affiliate links. If you make a qualifying purchase through one of these links, I will receive a small percentage of the sale at no extra cost to you. Thank you very much for your support.
The experience on the NorthStar Rails to Trails
The NorthStar Rails to Trails is for everyone – families, solo cyclists, friends, commuters, and visitors alike. The cycling is easy, fun, and scenic. What a treat it is, when you don't have to worry about cars and you can focus on the landscape.
Note: If you're interested in more ideas of what to do in the Cranbrook – Kimberley corridor, be sure to visit the Rockies Exploring website.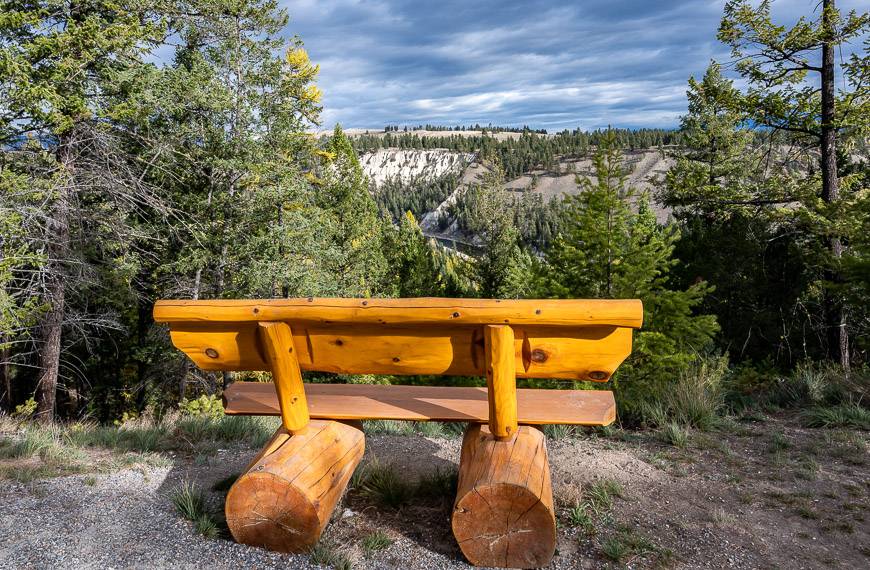 The bridge over the St. Mary's River
At about the halfway point on the NorthStar Rails to Trails, you'll cycle across a bridge over a scenic section of the St. Mary's River. For many this is a great place to turn around on an out and back bike ride, no matter what city you start in.
Whoever designed the bridge was smart as there are numerous cut-outs in the metal safety barrier that allow you to get unobstructed photos and views up and down the St. Mary's River.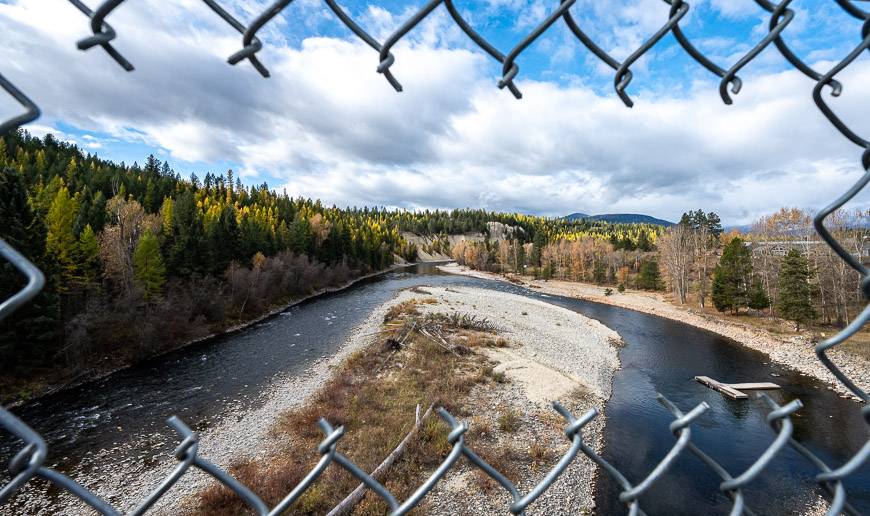 The bike ride on the NorthStar Rails to Trails from the bridge to Kimberley
On the way to Kimberley, you pass Wycliff and Marysville. Both have interpretive signs describing the history of the areas, especially as it relates to mining. I also noticed a sign along the NorthStar Rails to Trails related to the types of wildlife you might see.
Cycle the trail in mid-October if you want to see fall colours at their peak. I loved the hills close to Kimberley decked out with yellow larches.
What you should know before you bike the Northstar Rails to Trails
NorthStar Rails to Trail is a 3-season trail. It isn't maintained in the winter.
It's always a good idea to carry a few bike tools with you including a tire patch kit, a bike pump, and a multi-tool with a chain breaker.
Download a trail map here.
You can run into wildlife on the Northstar Rails to Trails, particularly deer, so stay alert. Consider carrying bear spray if you're cycling alone.
There's a short side-trip off the bike you can do in Marysville, close to Kimberley. Allow 10 -20 minutes to enjoy an easy stroll along a boardwalk to Marysville Falls. To get to Marysville you will have to cycle down from the main trail.
Where to eat in Kimberley
If you're cycling from Cranbrook to Kimberley and you're looking for something to eat, your best bet is to visit Kimberley's Platzl. The only downside if you're biking with kids is that you'll have to ride along the road for 1.6 km. Be very careful.
Once there, lock your bikes so you can wander around. There are loads of places for lunch including Stonefire Pizzeria, suitably named Pedal and Tap if you're in Kimberley after 4 PM, The Shed for beer and nachos after 3 PM and the Crème Cheese Shop offering excellent panini sandwiches. There are also a couple of places to pick up a coffee and baked good including The Snowdrift Cafe and Bean Tree Cafe.
I do remember from a previous visit picking up excellent lunch fixings, drinks and baked goods at the Kimberley Centex Market also called Stoke Market located at 521 Wallinger Avenue. It seems counterintuitive to go shopping at a gas station, but the place is a gem.
Where to eat in Cranbrook
The roads are busier around Cranbrook but if you can get off the main road, you should be fine. I highly recommend a visit to Hot Shots Cafe at 1294 8th Street North. Coffee and baked goods are excellent and their menu offers rice bowls, salads, wraps and other goodies perfect for refueling.
Bike rentals
In Cranbrook, you can rent e-bikes and get a latte at Northstar Bicycle Company. Gerick Sports offers ebike rentals.
In Kimberley you can rent bikes from Blackdog Cycle & Ski as well as an e-bike cruiser from Bootleg Bike Co.
Parking access to the NorthStar Rails to Trails
One look at the detailed map, and you'll see that there are numerous entrance points to the NorthStar Rails to Trail.
NorthStar Rails to Trails trailhead location in Cranbrook
In Cranbrook, I cycled from the Northstar Bicycle Company (where I picked up a rental e-bike) to Home Depot. If you go behind Home Depot and up McPhee Road about 10 metres, you'll find a paved trail with a sign saying Rotary Way within seconds of cycling. This is not the official trailhead, but it works.
Another option is to take Highway 95A towards Kimberley. Drive under the train overpass and turn left or south immediately onto Collinson Road. It's an industrial looking gravel road. Follow it for 200 m and turn right at a T-junction. Go left and follow it up the hill to the main Cranbrook Trailhead. It's on Google Maps here.
Between Cranbrook and Kimberley
There is parking beside Highway 95A near Wycliffe Airport Road. Closer to Kimberley near Stirton Road there's also some parking. Marysville and Chapman Camp are two other parking options.
NorthStar Rails to Trails trailhead location in Kimberley
The trailhead is located across from the Civic Arena just north of the intersection of Archibald Street and Rotary Drive. On Google Maps its here.
Further reading on cycling in British Columbia
A big thank you to Cranbrook Tourism for hosting my stay. You might also enjoy these seven Cranbrook area hikes I did on my visit to Cranbrook.
Click on the photo to bookmark to your Pinterest boards.