If you have a day in Whitehorse, one of the must do activities is a ride on the White Pass Scenic Railway – also called the White Pass – Yukon Route Railroad (WP & YR), a narrow gauge railway that runs 67.5 miles from Skagway, Alaska to Carcross, Yukon Territory. It's one of the most scenic train trips I've ever done.
The White Pass Scenic Railway was built in 1898 in just 26 months during the Klondike Gold Rush. The railway, an International Historic Civil Engineering Landmark, shares that title with notable sights like the Eiffel Tower and the Panama Canal.
Its initial purpose was to open up a transportation network in the north – which it did for many decades. But in 1982 when the mining industry collapsed, so did the railway.
The White Pass Yukon Route Railroad reopened in 1988 as a seasonal tourism venture and its growth has been staggering – from 37,000 visitors in its inaugural season to 400,000 passengers in 2015, thanks in large part to shore excursions for cruise ships that stop in Skagway.
How can you experience the White Pass Scenic Railway?
The present railway operates on 67.5 miles of the original 110 mile line. While most people pick it up in Skagway there are a number of ways to experience the White Pass Scenic Railway.
I hopped on in Fraser, BC – as I hadn't expected to ride the railroad and so didn't bring my passport. I rode it to Carcross while another couple who hopped on when I did, rode it to Bennett, hopped off to explore Bennett for over an hour and returned to Fraser.
Then there are those that have just finished hiking the Chilkoot Trail. They can get on at Bennett Lake and get off at either Skagway or Carcross depending on how they are going home.
All people can get off at Bennett Lake but depending on what direction you're traveling you may have anywhere from about 45 minutes to a few hours. There is enough time to hike a small section of the Chilkoot Trail.
I know I missed some exceptionally scenic sections on the White Pass Scenic Railway out of Skagway, including one piece where the railway climbs 3,000 feet in 20 miles at a grade of 3.9%.
I also missed the "cliff-hanging turns of 16 degrees" (my lunch time neighbour on the train said she had to close her eyes in this part), two tunnels and many of the bridges and trestles. But as you'll see in the photos below, I wasn't shortchanged by doing only a part of the White Pass Scenic Railway route.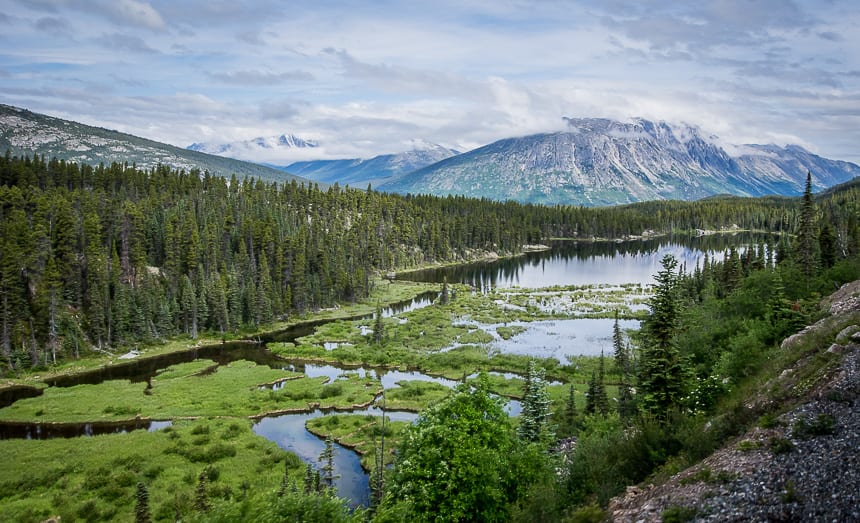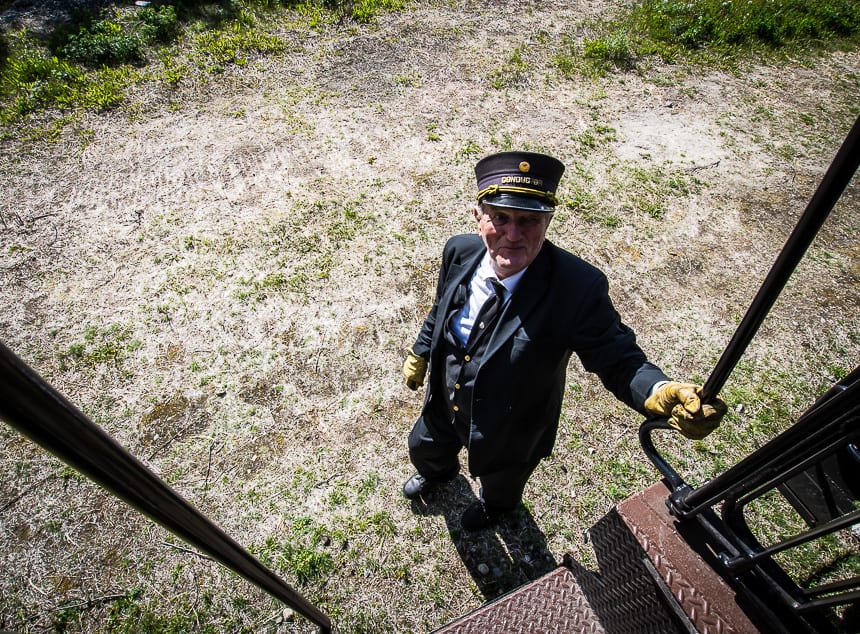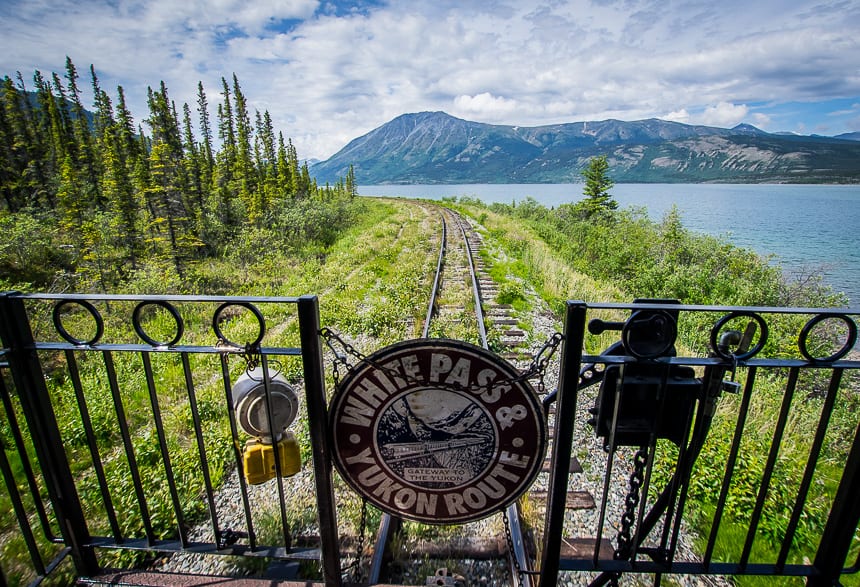 Carcross, Yukon – end point for the White Pass Scenic Railway
Carcross, Yukon with a population of around 301 people (based on a 2016 census) has changed dramatically since I last visited.
It's added a town square with a large number of cute pop-up type stores along the lines of shipping containers – but with way more character.
You'll find excellent ice cream, coffee and food including maple goodies like Yukon Whiskey Maple Butter from The Maple Rush. Parks Canada now has a space filled with lots of interesting historical photographs and if you time it right you can enjoy live music along with your ice cream cone.
There are loads of combinations and permutations of this trip so check out the White Pass Scenic Railway website to find one that works for you.
Important tip: Two things you should pay attention to when planning your train trip: 1)what day the train runs because it's not daily and 2) if you're coming from the Yukon remember that the schedule is on Alaska time and there is a one hour time difference.
Further reading on things to do in the Yukon
Click on the photo to bookmark to your Pinterest boards.
Thank you to Travel Yukon for kindly organizing this fantastic trip.