If you're looking for world-class mountain scenery in an area that doesn't get a lot of attention, then do the Grizzly Lake hike in the Tombstone Mountain Range, Yukon Territory. Starting at KM 58.5 on the Dempster Highway, the three to five day hiking trip takes you first to Grizzly Lake, and then to Divide and Talus Lakes. It's a wild, desolate, truly memorable landscape.
This blog only takes you on a stunner of a hike to Grizzly Lake in the Tombstones, a distance of 11.5 km with an elevation gain of 797 m (2,615 feet) one way. The next day we traveled about 10 km to reach Divide Lake, via Glissade Pass – and part of that hike was in a blizzard. It was memorable to put it mildly.
This post includes some affiliate links. If you make a qualifying purchase through one of these links, I will receive a small percentage of the sale at no extra cost to you. Thank you very much for your support.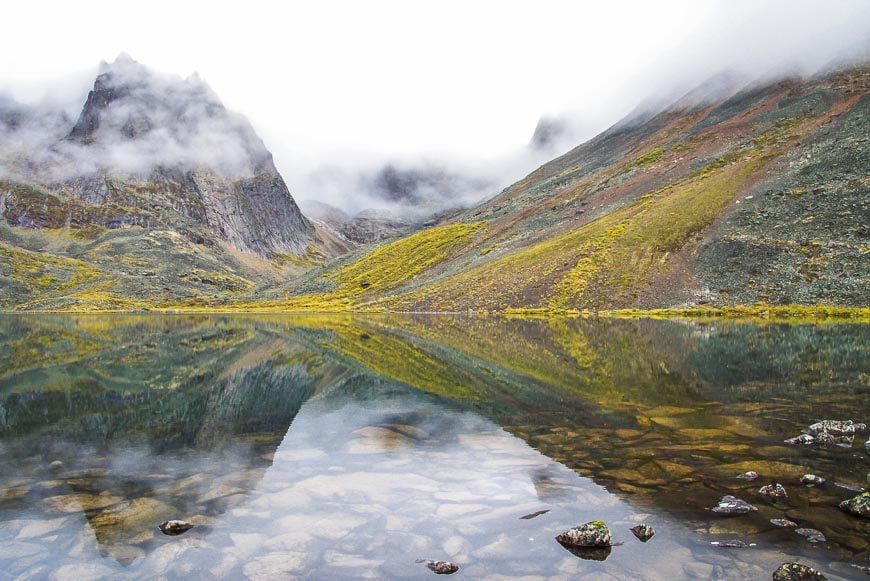 Grizzly Lake hike summary
Distance: 11.5 km (7.1 miles) one-way
Elevation gain: 797 m or 2,615 feet
Time needed: 5 – 8 hours
Level of difficulty: Moderate to hard depending on trail conditions and what sort of shape you're in
Bear country: There are grizzly bears. You need easy to access bear spray and all food needs to be carried in a bear cannister. (You can rent at the Visitor Centre.)
Backcountry camping: Yes – see below.
Grizzly Lake hike in the Patagonia of the North
The Tombstones have been called the Patagonia of the North – an apt title as you'll see when you get close to the mountains. Named for one of the mountains that is the colour and shape of a tombstone, the granite pinnacles have been eroded over time and sculpted into rugged peaks.
To reach them, you must hike through a challenging landscape that takes you up and down over lichen covered, talus slopes that can become extremely slick when wet.
The landscape though, is extraordinary – and I can safely say like nowhere else you've seen. Try to arrange your trip for late August when the boreal forest and alpine meadows combine to deliver a rainbow of fall colours. But go prepared for cold temperatures and snow. I had both.
Plan ahead for your Grizzly Lake hike in the Tombstones
You do need to reserve a backcountry campsite either online or in person – though you're taking your chances if you just show up at the park office.
In 2023, the Grizzly Lake Campground is open from June 29 – September 9th. There are 10 tent pads in total.
You need to watch a backcountry orientation video at the Visitor Centre before you start the Grizzly Lake hike.
Itinerary suggestion for the multi-day Grizzly Lake hike (plus Divide and Talus Lakes)
Hike to Grizzly Lake for the first night. Then go to Divide Lake for the next two nights. That way you can visit Talus Lake as a day trip without a heavy pack. Then walk all the way out from Divide Lake if you're a strong hiker. Otherwise, plan on another night at Grizzly Lake.
If you want it to be even easier you could do Grizzly Lake, Divide Lake, Talus Lake, Divide Lake, Grizzly Lake and then out. That would take you six days. There are lots of permutations and combinations but if you go late in the season be very aware that temperatures can plummet quickly. And by September 10th the Grizzly Lake Campground is closed.
Mandatory orientation for the hike
Everyone must take their food in a bear proof barrel on the Grizzly Lake hike – and it has to fit in your backpack. At the mandatory orientation (offered at 9 AM, 11 AM, 1 PM and 4 PM) you are given a barrel in return for a $60 cash deposit. The only downside is that you must drive back to the Tombstone Interpretative Center at KM 71 to return it at the end of the hike.
At the campsites at Grizzly Lake you'll find outhouses, cooking shelters, more bear boxes, tent platforms and barrels for grey water disposal.
Here's a look at the landscape you'll enjoy on the hike to Grizzly Lake. The Grizzly Lake trail is boot-beaten and easy to see.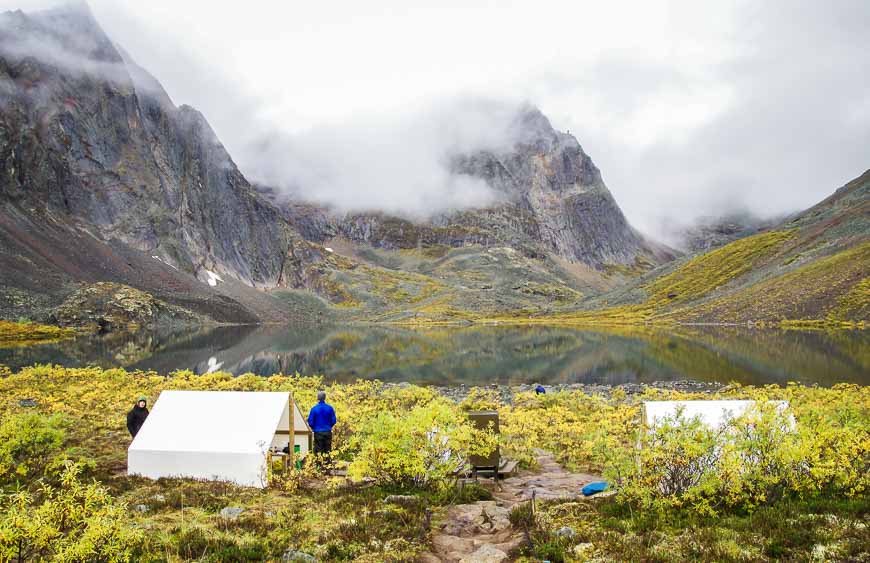 I'd rank the Grizzly Lake hike in the top five in Canada!
The people we met on the Grizzly Lake hike were either from Whitehorse or from Germany and Switzerland. I find it interesting that the Grizzly Lake hike is well known outside of Canada.
Although it's not a long hike to Grizzly Lake in the Tombstones, count on it taking between 5 to 8 hours. It is an area with grizzlies but I didn't even see so much as bear scat. Do carry bear spray. One nice feature the park offers is the ability to rent bear spray for a $12 deposit. Since you can't fly with it, this is very helpful.
Backcountry campsites are $18/night per tent pad in 2023.
Getting to the Tombstone Interpretive Centre
The Interpretive Centre is on the Dempster Highway at Km 71. Count on a 1.5 hour drive from Dawson City, 7 hours from Whitehorse and 12 hours from Inuvik in the Northwest Territories.
If you have further questions you can either email me through my contact form or email yukon.parks@gov.yk.ca. You can also call them toll free at 1-800-661-0408 ext 5648.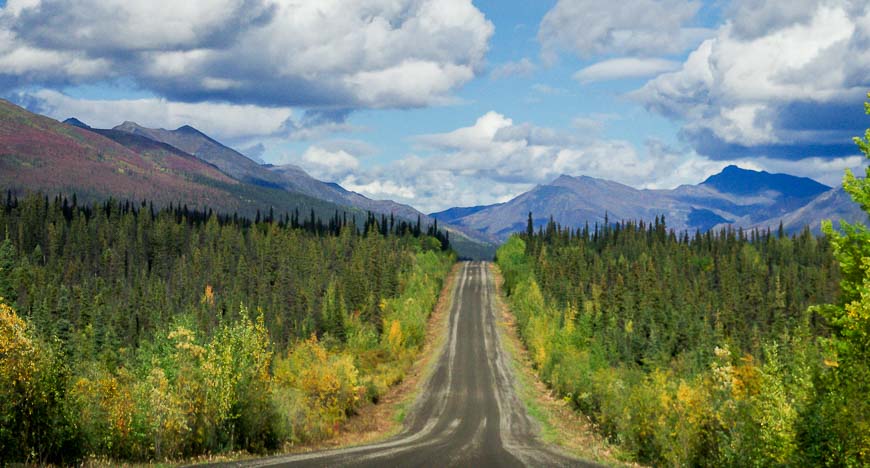 If you're a backpacker, this is one trip that deserves to be on your bucket list.
Location map of the Grizzly Lake hike
Further reading on the Yukon
Click on the photo to bookmark to your Pinterest boards.