The hike from Grizzly Lake to Divide Lake in the Tombstone Mountains is gorgeous but a little steep on the descent, and a bit slippery in places under wet conditions.
On our second day of a three day backpacking trip, John and I had a plan to hike up and over Glissade Pass, pitch a tent at Divide Lake and then continue to Talus Lake, eat dinner and return to our tent.
The total planned distance was about 16 km, but only six of the kilometres would entail carrying a backpack – so very doable in our opinion. But the day didn't work out as planned.
The hike over Glissade Pass in the Tombstone Mountains
Although it wasn't raining when we left our muddy campsite by Grizzly Lake, cloud cover was low and temperatures were on the cool side. Nonetheless, we decided to march up Glissade Pass and make a decision at that time.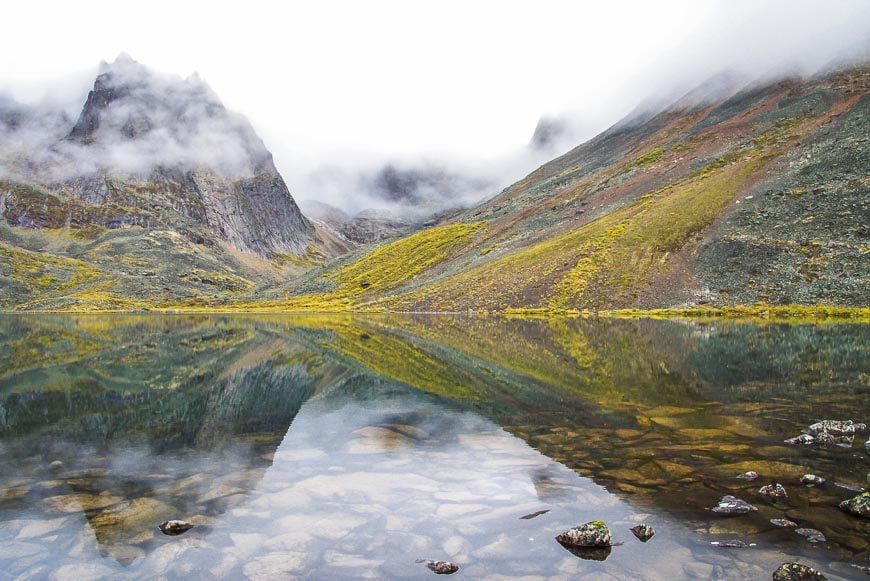 The hike to Divide Lake via Glissade Pass
Once at the top of Glissade Pass – after climbing about 400 metres, we were met with what initially looked like a near vertical descent. Snow was starting to fall and I was wondering (John wasn't) if it was the right move to continue forward. We decided – partly because we'd come so far – that we would continue forward.
The first 100 metres of the descent was the worst but then the going got easier. In about 40 minutes we were back on flat ground again. That's when we ran into a few people heading out – and with the snow starting to fall heavily – I rather envied them.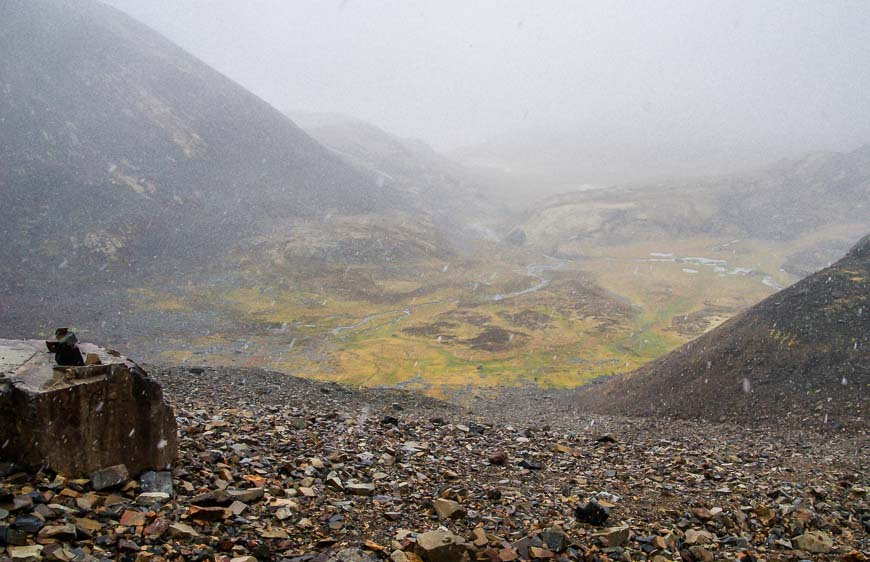 Finding the trail to Divide Lake
But we continued – in what was quickly becoming a full on blizzard. You could see a faint outline of the trail but we did miss one intersection and had to look around and eventually retrace our steps.
Although it was only about three kilometres to Divide Lake from the point where you swing sharply west, it felt a whole lot longer. Mountains were fuzzy and it was hard to see much. I put the camera away for most of this part of the hike since I couldn't keep the lens free of snow.
A warm welcome at Divide Lake
When we finally arrived at Divide Lake, we were enthusiastically welcomed by two guides running a week-long trip with Sea to Sky Expeditions. They were in the process of attaching tarps to the cooking shelter to keep the wind out – a brilliant idea – as it really made a difference to the temperature.
Under the tarp, the clients of the tour company – a super friendly group, squeezed together and immediately offered us boiling water to make hot drinks – which was just what we needed to warm up. We hadn't expected to meet a soul at this camp and so we were very happy to have some company.
Camping at Divide Lake in the Tombstone Mountains
After lunch, it was time to get the tent up. There are ten tent pads at Divide Lake – and all had about four inches of snow on them. By the time we had cleared the snow from the tent pad and actually got it up, we were both chilled to the bone.
It didn't help that I had packed only light-weight gloves so my fingers were numb too. The rest of the afternoon was spent in a sleeping bag in a tent – and no further discussion ensued about a return hike to Talus Lake.
By the time late afternoon rolled around, the snow stopped and the clouds started to lift but it was still bloody cold. (That night was probably in the neighbourhood of -10°C) Nonetheless, we took the time to wander around the area – and looking through the fog, we could only guess at just how beautiful the area would be under sunny conditions.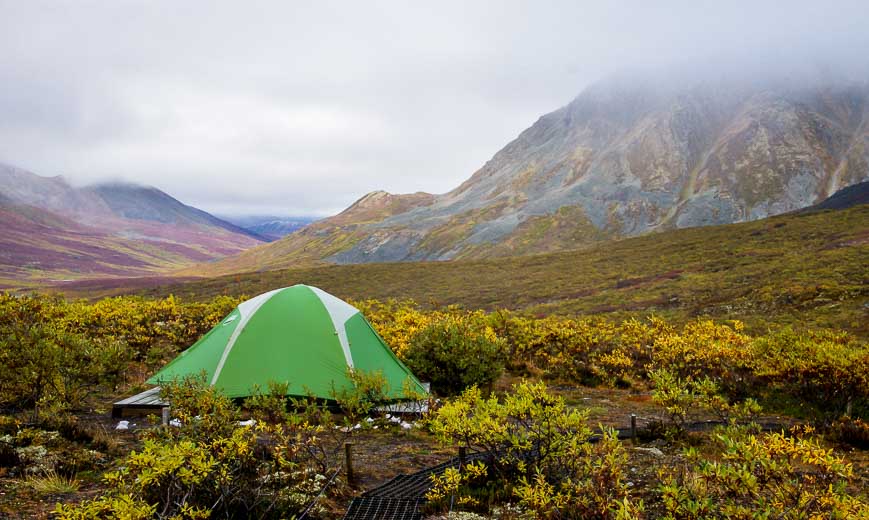 Dinner was a brief affair as the singular goal of the trip at this point was to stay warm. Still, we had some good laughs with the other guests – and secretly I was very happy that I didn't have another three nights out in a tent. I didn't envy them a bit.
As a side note we caught up with this group in Whitehorse about four nights later and had some good laughs and reminiscing about the snow and frigid temperatures.
Further reading on hiking in the Yukon
For more information on Tombstone Territorial Park visit their website. You must reserve the backcountry campsites.
Click on the photo to bookmark to your Pinterest boards.