The Northwest Territories offers some of the best canoeing in Canada. But almost all of the canoe routes require an expensive float plane ride. I wanted to do something that didn't cost a lot. With some help from Gary at Overlander Sports I put together an itinerary that only required a one hour van shuttle from Yellowknife to KM 55 on the Ingraham Trail (also known as Highway 4). The plan was to spend four nights and five days canoeing the Cameron River from just above the Cameron River Ramparts all the way back to Yellowknife.
This post includes some affiliate links. If you make a qualifying purchase through one of these links, I will receive a small percentage of the sale at no extra cost to you. Thank you very much for your support.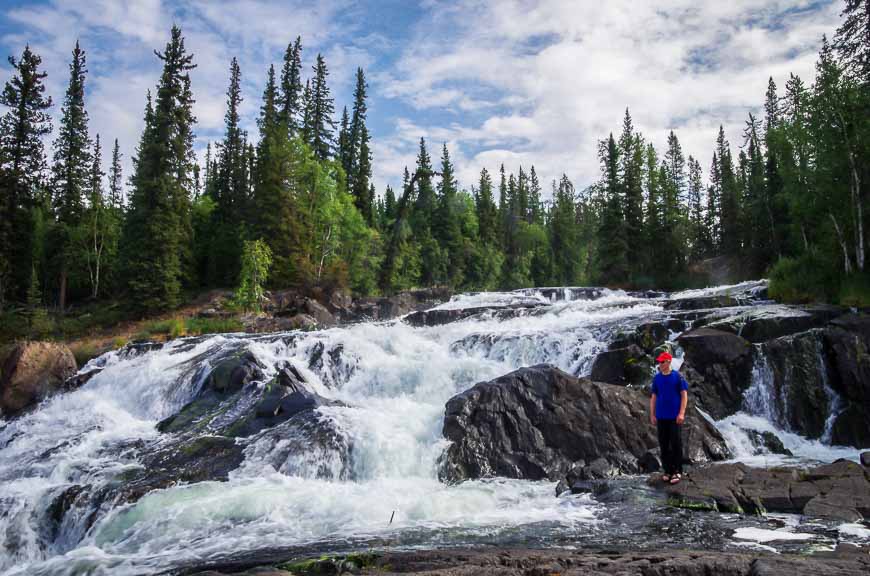 We launched on the Cameron River about half a kilometre above the Cameron River Ramparts. There's nothing like a portage within minutes of launching to question whether you made the right decision to canoe this part of the Cameron River. But within 25 minutes we were on the water again. And the Ramparts were well worth seeing.
It was back in the canoe for a short paddle until we reached another short set of rapids. They were way too shallow to paddle but it was a quick portage to get by them.
Cameron Falls takeout
From there it was 6.7 kilometres to reach the Cameron Falls takeout – which is on river right before the pedestrian bridge. Miss it at your peril.
After Cameron Falls it was a short paddle to where we made camp, on a headland before the rapids into Prelude Lake.
A worthwhile detour to Hidden Lake Territorial Park
The weather was so perfect and we figured we had the time, so we made a 24 hour detour to Hidden Lake Territorial Park. Access was via two portages, the first of which was close to the campsite pictured above.
The 24 hours in the park was one of the highlights of our summer.
Day three canoeing the Cameron River
Our third day out took us from Hidden Lake, along the full length of Prelude Lake (about 19 kilometres) to a fantastic campsite on River Lake. Prelude Lake is big and when the winds blow up, you could get easily get wind-bound for a day.
We had to pull over very quickly and find a place to put up our tent, as we encountered a huge thunderstorm, one we heard later had knocked out the power in Yellowknife.
From Prelude Lake you follow a slow flowing, peaceful river into River Lake. At the southwest end of River Lake there are numerous campsites on rocky points.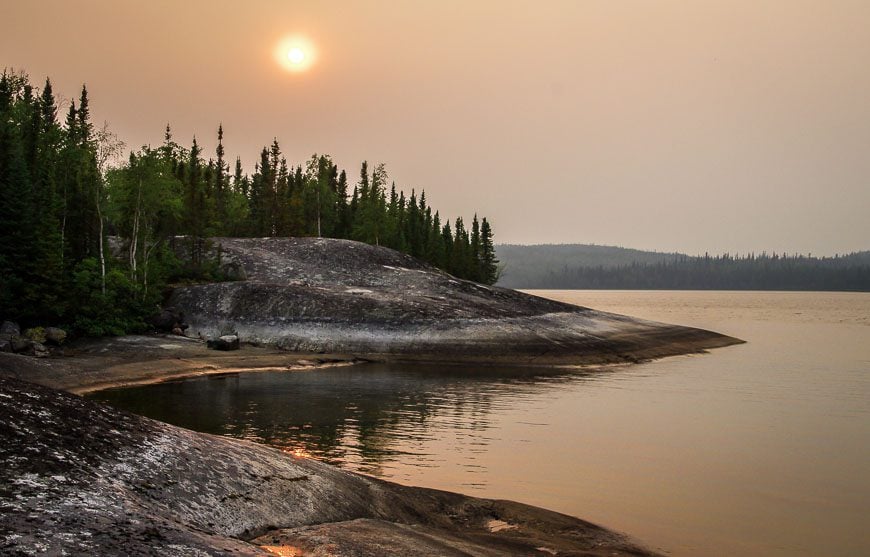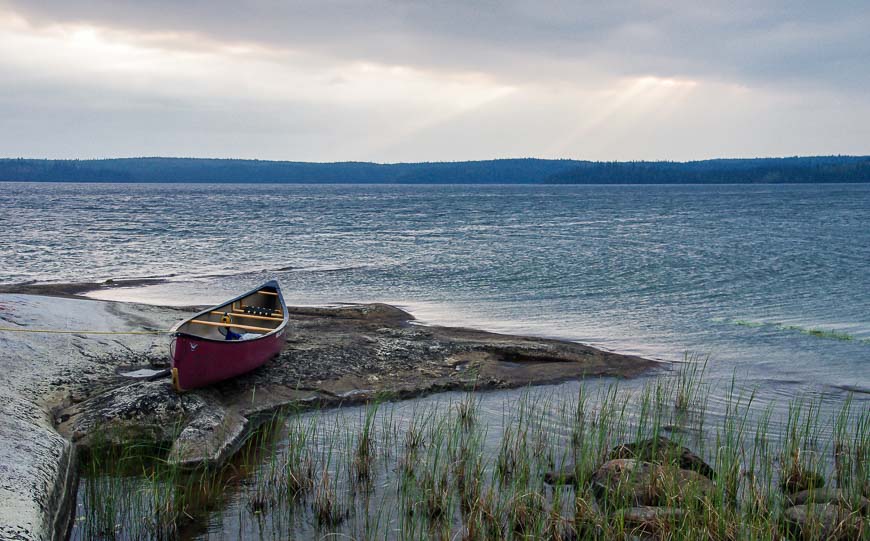 A tough paddle on Prosperous Lake
After a smoky night, one where we went to bed with our face covered with a towel, we woke to big winds. We knew it was going to be a tough day ahead as we had the sometimes treacherous, Prosperous Lake to paddle.
To get there we did two short portages around two waterfalls, followed by a paddle around an un-named lake.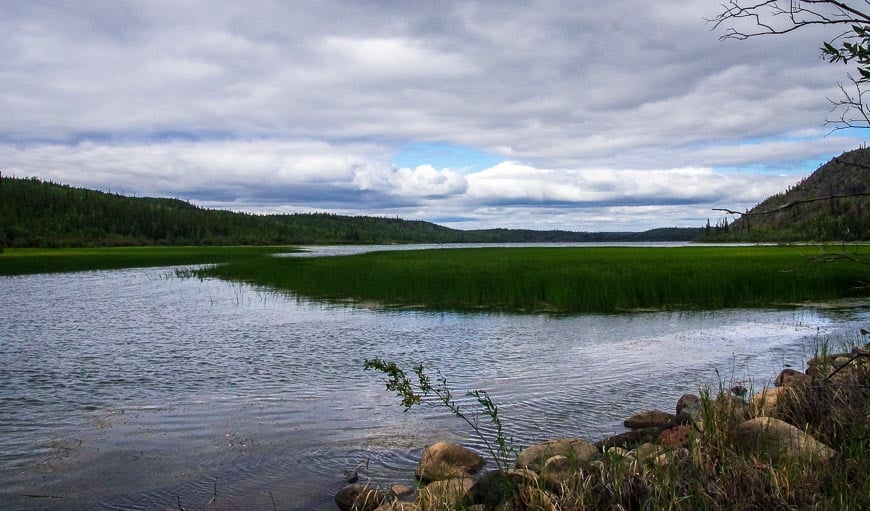 On our arrival at Prosperous Lake all we could see were whitecaps in the distance. Common sense took over and once again we put up the tent in the middle of the day – and had a three hour nap waiting for the wind to abate. It did eventually so we hurried out to take advantage of the relative calm.
Prosperous Lake has a huge reach so once we turned the corner out of the calm, we were back into whitecaps. Still, this time we continued with John doing his damnedest to steer a course.
Tartan Rapids
Another hour of hard canoeing put us at the Tartan Rapids – with signs of civilization once again. They were easy to portage and I was in no mood for trying to get the perfect line to get through them in a canoe.
After the Tartan Rapids portage we were on the Yellowknife River. The paddling was easy but it was at least an hour until we found a campsite. The one we stayed at was okay though it lacked the scenic quality of the others we'd enjoyed on the trip.
Canoeing into Yellowknife, NWT
Our final day of canoeing the Cameron River was easy from our campsite on the Yellowknife River until we got through Yellowknife Bay. Then we had a repeat performance with the wind. I counted strokes to keep my mind from thinking about flipping the canoe with a full load.
It was absolutely wonderful to see the Yellowknife skyline. We literally paddled to a residential community where we pre-arranged a canoe drop.
After unloading the canoe we picked up our bags and walked a few kilometres into downtown Yellowknife. It's not often you can do that on a canoe trip.
Canoeing the Cameron River requires the right mix of skills
Despite a few super hard days of canoeing the Cameron River, I loved this paddling trip and highly recommend it if you have the right mix of skills. Portaging skills should be good and you must be comfortable paddling on big lakes if you want to do the full canoe trip from the Cameron River Ramparts to Yellowknife.
There is the option of pulling out at Powder Point on Prelude Lake and organizing a return shuttle. And there's a pullout where you can get picked up, so you don't have to paddle any of Great Slave Lake.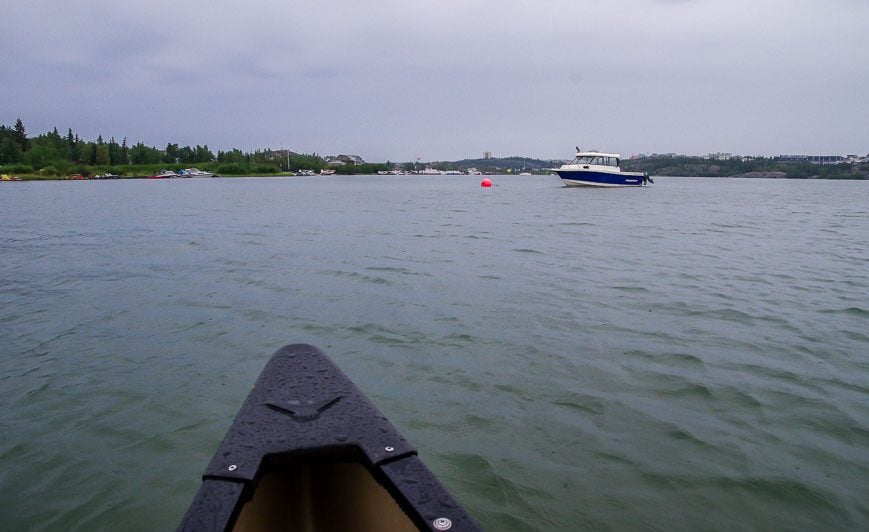 A few things to take on your canoe trip
If you get into trouble, it would be helpful to have a Garmin InReach Mini 2.
I recommend Gear Aid tenacious tape should you have any of your camping equipment malfunction. The last thing you need is insects getting into your tent through a hole.
A waterproof map case is hugely helpful.
Neoprene paddling gloves are a lifesaver on cold, windy days.
A solar charger power bank is useful if you're using your phone for photos and video.
Where to stay in Yellowknife after canoeing the Cameron River
Look for a mix of B&B's and hotels in Yellowknife.
Hacho House, is a B&B with a sauna and shared kitchen. It's rated exceptional.
Aurora Bayside Inn has views of the lake and an in-house restaurant. It's rated fabulous.
Great Slave Lakeside Bed and Breakfast offers a balcony with lake views, a patio, and outdoor fireplace. It's rated as exceptional.
Rent canoes and gear in Yellowknife
In 2023, you can rent canoes from Overlander Sports but you have to rent for a minimum of a week. You can also rent barrels. Camping is free and the shuttle service will run you approximately $1/kilometre but you must pay for their return trip.
Further reading on canoeing in Canada
Click on the photo to bookmark to your Pinterest boards.