A hike to the summit of Gros Morne Mountain, the second highest peak in Newfoundland, can be done via a rewarding and challenging 16 km hike. From just below the summit of the 806 m mountain, you can enjoy phenomenal views of Ten Mile Brook Pond and the Long Range Mountains, providing of course that the fog hasn't rolled in to obscure everything.
You can do the Gros Morne Mountain hike on its own (which is what most people do) but it's also possible to do it as an add on on the last day of the Long Range Traverse. You will have to change your mindset by the Ferry Gulch Campsite, because instead of a hike down to the parking lot you have considerable vertical to achieve the summit – followed by the full descent. Still it's well worth doing but you have to know you've just added at least another three hours of hiking to your day
Gros Morne Mountain – hike it as part of the Long Range Traverse
John and I did the hike to the summit on the last day of our Long Range Traverse. Instead of continuing down to the parking lot once we got to the junction by the Ferry Gulch Campsite (like most people do), we started climbing on a route that people use to descend Gros Morne Mountain.
Most people approach the mountain from a steep, scree filled gully that starts roughly 4 km from the parking lot. Before you start the slog up the gully, ask yourself if you can get off the mountain before dark as you've got another 8 km of tough hiking ahead of you. Many people turn around at the viewing platform here.
Are you up for a 500 metre climb to the summit?
If you decide to keep going, then you've got 500 m of climbing to get to the summit. Once above treeline, you're in a fragile Arctic-alpine environment. Tread lightly.
It's not recommended that you descend the gully, mostly because you don't want to send rocks flying onto hikers below you. Since we were the last people off the mountain, I actually wish we'd returned via the gully as it would have saved us a lot of time.
Our route up to the summit was very pretty in short order. From the Ferry Gulch intersection, it's a combination of hiking on good trails, boardwalk and stairs. All of it is well-marked, a welcome change after the Long Range Traverse – which offers hikers a navigational challenge with no marked trail.
You'll find fluorescent markers above treeline, put in place to help you get safely off the mountain if the fog suddenly rolls in.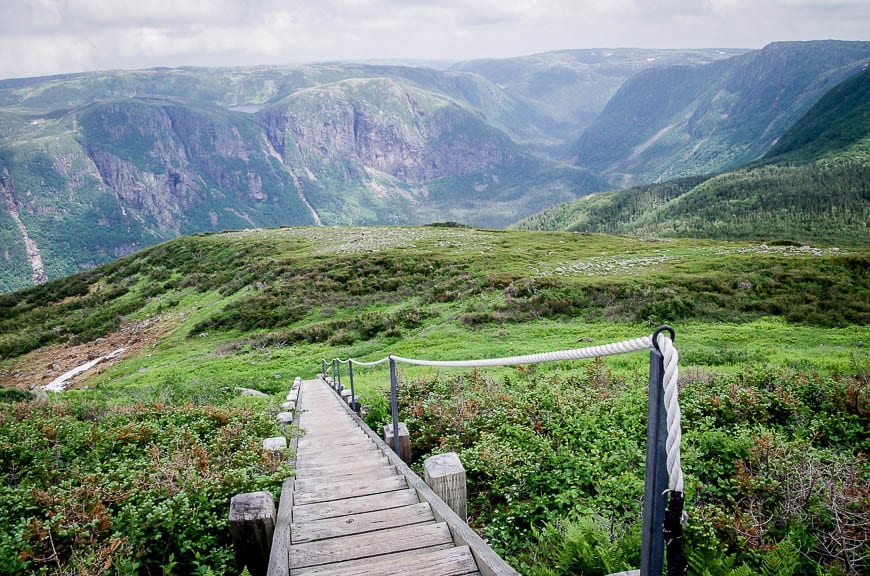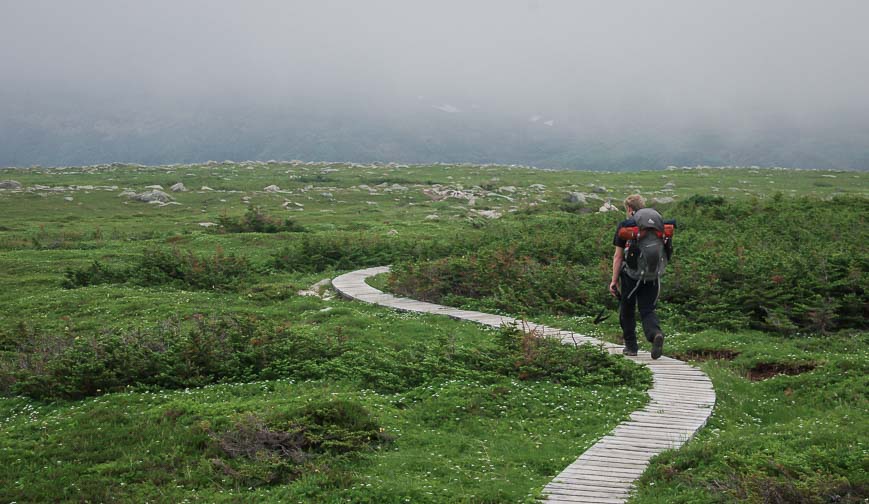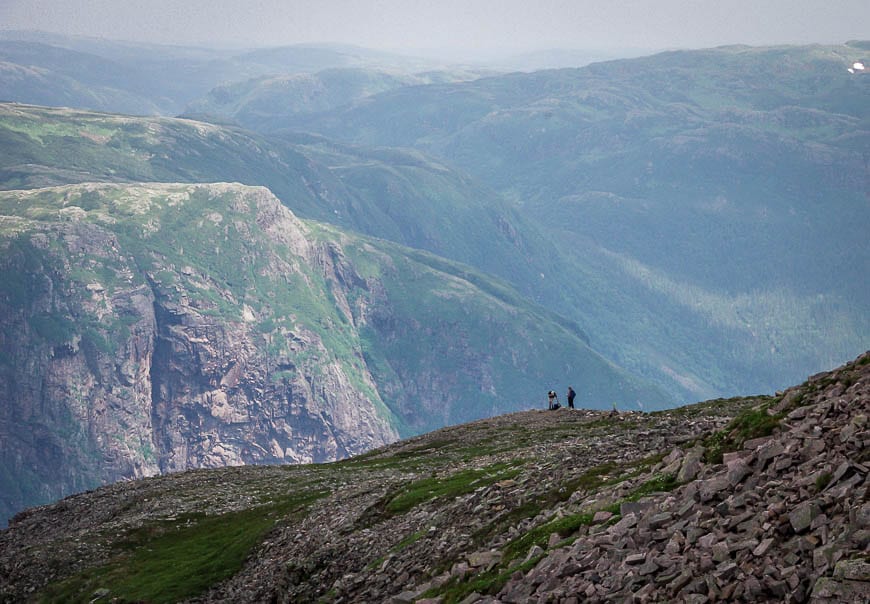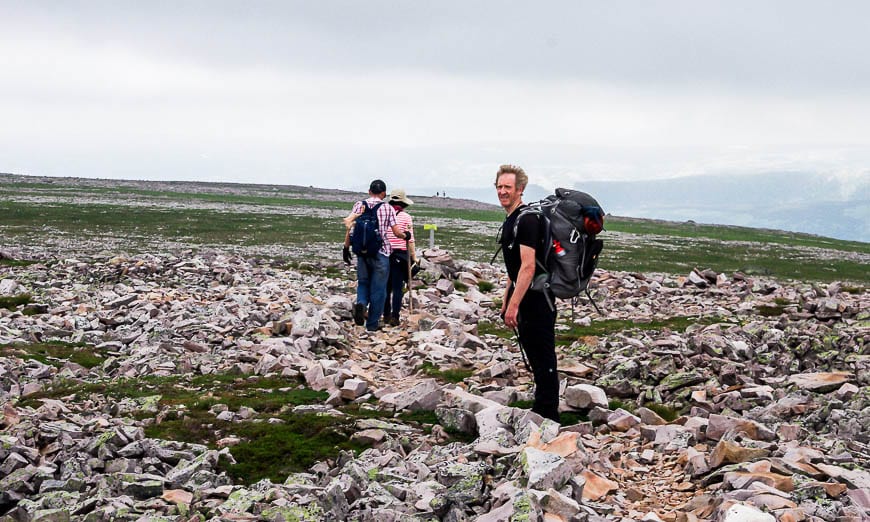 Ferry Gulch campsite to the Gros Morne Mountain trailhead
Our hike to the summit was an out and back hike rather than the loop most people do. The return to the Ferry Gulch Campsite was quite enjoyable. But, I was surprised at how tough going the hiking was all the way from Ferry Gulch to the viewing platform by the gully.
It's rocky with uneven footing and took far longer than I anticipated. I figured it was a two hour hike – tops – especially as it's only seven kilometres. But, it took us at least three hours.
Be warned that this part of the hike can get very hot in summer. Be sure to fill your water bottles at Ferry Gulch before starting off. Treat your water too or take a small filter.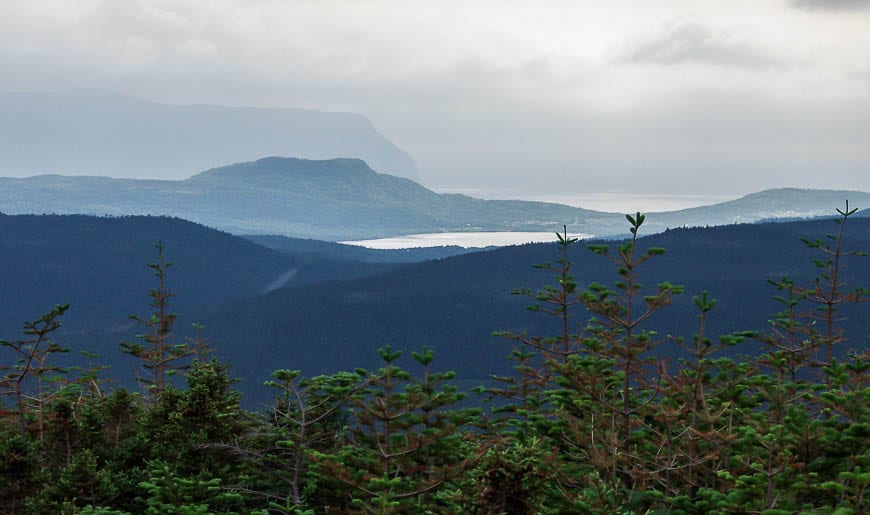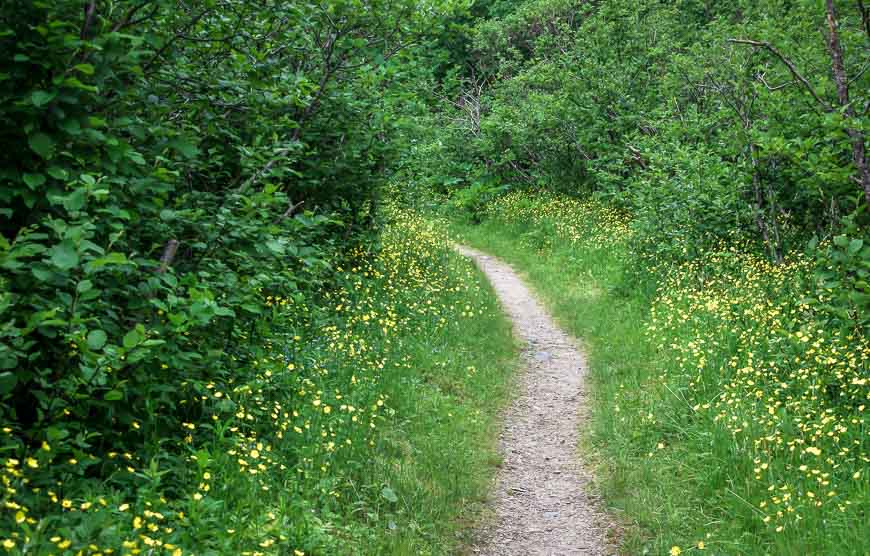 Go prepared on this difficult hike
All told, allow six to eight hours to do the full loop hike. Go prepared with a windbreaker and rain gear for the summit and extra food and a minimum of 2 litres of water per person. Proper footwear is a must as well. I wouldn't recommend this hike for kids unless they were used to doing long, hard hikes.
A pair of collapsible hiking poles will help those with bad knees.
Visit the Gros Morne National Park website for more information.
Further reading related to hiking in Newfoundland
Click on the photo to bookmark to your Pinterest boards.
Thank you to Go Western Newfoundland with help for part of this trip.