If you've got a kayaking trip planned, even for a day, then you'll appreciate this kayakers checklist – with roughly 100 items that you can't leave home without. The biggest difference between a short trip and a long trip, from my experience, is the amount of food and water I take. On longer trips I also take more repair gear.
You need to be very organized if you're planning a multi-day kayaking trip. Sometimes the stupidest mistakes – cue forgetting tent poles on one trip – can cause a great deal of trouble. I'm hoping the kayakers checklist solves that!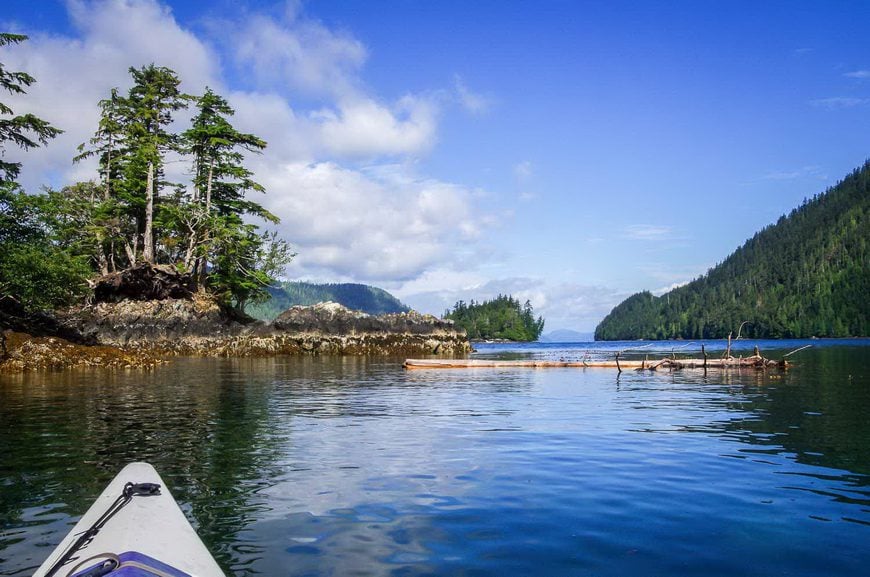 This post includes some affiliate links. If you make a qualifying purchase through one of these links, I may receive a small percentage of the sale at no extra cost to you. Thank you for your support.
Kayakers checklist – Camp Clothing
Capilene and/or fleece bottoms like this one from Patagonia (mine have lasted for 10 years)
Capilene underwear
Several pairs of socks – quick dry and/or wool like these merino wool ones
2 quick dry t-shirts – like this example
1 quick dry long sleeved shirt or turtleneck like this one from Patagonia
Full rain gear – including a hat
Synthetic or down puffy jacket like my absolute go to from Patagonia with a hood

Small

quick dry towel
Toiletries including sun screen, sun block and insect repellent
Wool or fleece hat
Warm gloves
Sun hat or ball cap
Footwear – sandals, old running shoes and/or rain boots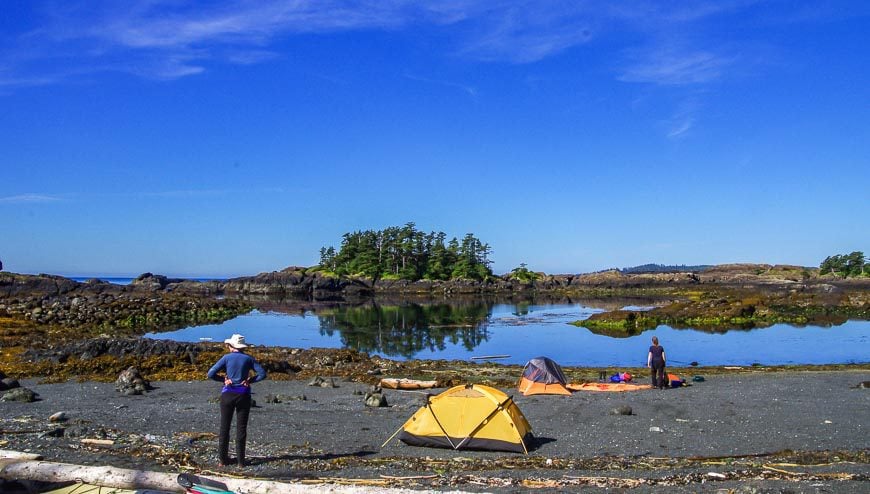 Clothing for kayaking
Capilene underwear
Quick dry shorts or long pants.
Capilene t-shirt
Wind-proof fleece jacket
Lightweight windbreaker
Water sandals with a strap, boots or old runners
Kayakers Checklist – Camp gear for a kayak trip
Stove with enough bottles of fuel and a repair kit.
Multiple lighters, candle, fire starter, waterproof container. In some places you'll be able to have a campfire.
Pots and pans
Cup and a bowl or plate – collapsible if you want to save space.
Sharp knife
Small cutting board
Grill and an oven mitt
Water containers – the collapsible ones made by Ortlieb are especially good as they fold into nothing when they're empty. Allow 3 L/pp/day.
Water filter, drops or purifying tablets like those made by Potable Aqua.
Ax or saw, sharpening file
Tent and poles.
Tarp and extra rope.
Sleeping bag and an insulated pad.
Thermarest chair for comfort in camp.
Emergency day trip kit including a flashlight, fire starter, matches/lighters, space blanket.
Kayaking (boat) gear
Paddle plus one spare
Spray skirt and cockpit cover (for long trips take a spare spray skirt)
Lifejacket with a whistle and rescue knife
Pump for bailing
Flares, waterproof strobe, Emergency locator like a SPOT
Tow rope
VHF Radio plus an extra battery
Weather radio
Chart with a waterproof chart case
Water bottle for kayak deck
Compass, GPS, tide tables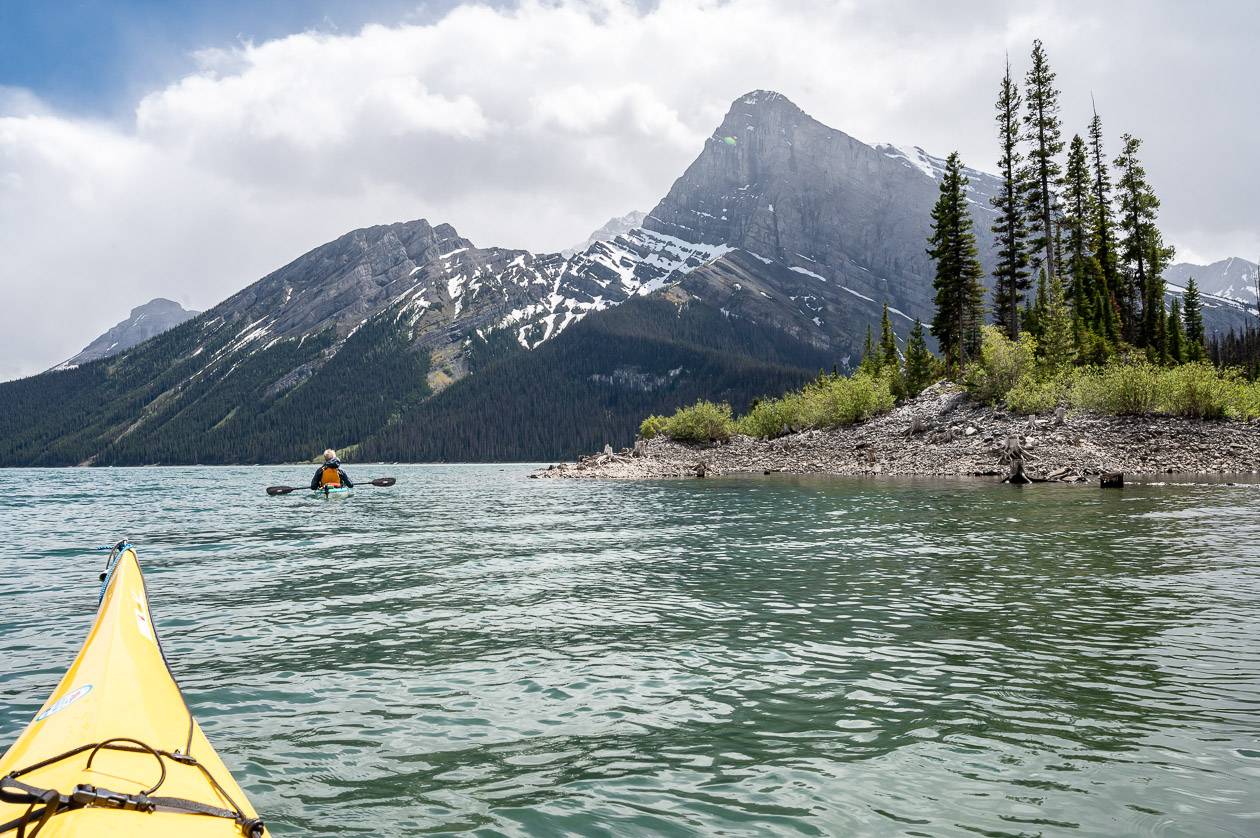 Kayak repair kit
Fiberglass repair kit
Duct tape, Aquaseal, five minute epoxy
Multi-tool and a multi screwdriver
Pliers with wire cutters
Rudder cable
Spare nuts, bolts and parts
Extra straps
Hack saw blade
Lighter
Bags for organization on a kayaking trip
It's usually best to use the same colour of bag on every trip you do. Do what works best for you.
Black hole bag for shlepping your gear from the car to the launch site – and a million other uses
Breakfast bags (yellow)
Lunch bags (green)
Dinner bags (black)
Snack bags (orange)
Dessert bags (red)
Condiments (small black)
Compost – not a bad idea to first line a bag with a green garbage bag.
Burnables
Waterproof bag for your sleeping bag (or use two green garbage bags) – take your sleeping bag into the store so you know it fits
Waterproof bag for clothes (20L)
Day bag and/or a deck bag
Large grocery style bag for shuttling small items between the kayak and campsite
Small day pack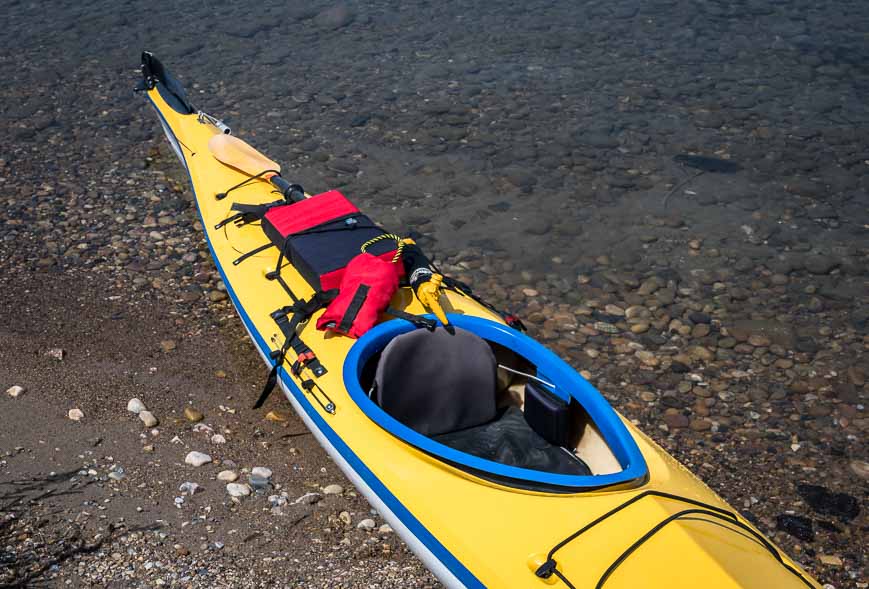 Kayakers Checklist – Optional kayaking gear
Paddling pants and jacket
Wetsuit, pogies, neoprene booties, neoprene gloves
Snorkeling gear
Fishing gear – hand line, lure, net, possible crab trap, license, fillet knife
Camera, binoculars, waterproof case
Waterproof watch
Alarm clock
Satellite phone
Bear spray if you plan to be in bear country
Kindle, books, cards, journal
Blow up cushion to sit on your kayak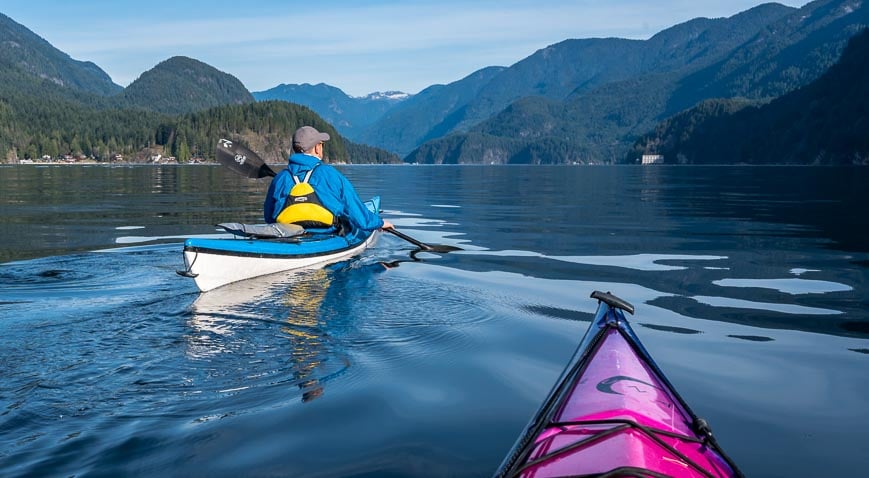 Further reading on kayaking or canoeing trips
Click on the photo to bookmark to your Pinterest boards.