Setting out from Gananoque, there are several options for a three-day 1000 Islands kayaking trip – primarily dependent on your experience, comfort level on the water, and location of the campsite or oTENTik cabin you've either reserved or are hoping to snag.
Camping is only permitted on islands that are part of Thousand Islands National Park. Reserve ahead where permitted (on Beau Rivage, Camelot, Cedar, Milton, McDonald, Gordon, Georgina, East and Central Granadier, Aubrey and Mulcaster Islands). Otherwise it's first come, first served and that will definitely influence where you end up on a 1000 Islands kayaking trip. You can reserve online via the Parks Canada website here.
You can also read about my one day kayaking tour in the 1000 Islands.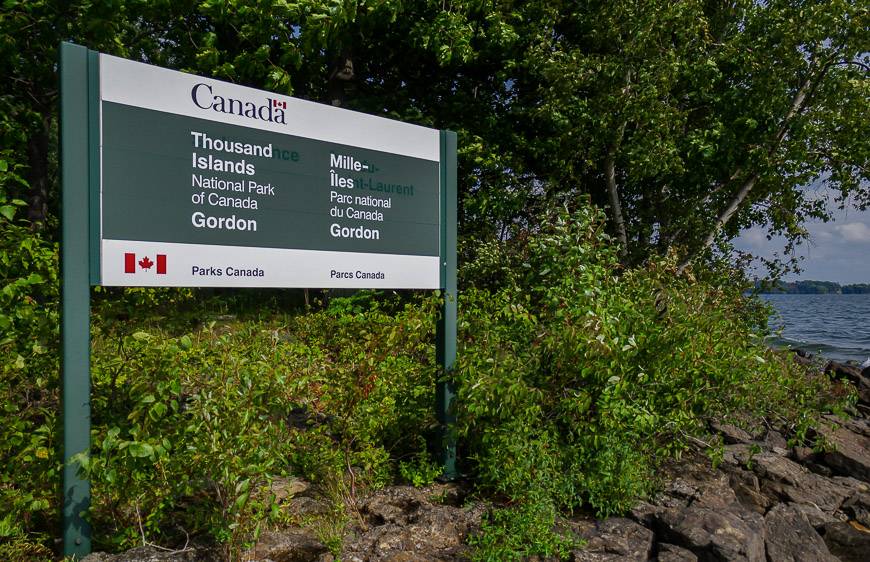 This post includes some affiliate links. If you make a qualifying purchase through one of these links, I will receive a small percentage of the sale at no extra cost to you. Thank you very much for your support.
1000 Islands kayaking – Gananoque to Gordon Island
Our trip took us to Gordon Island for the first night and then to McDonald Island for the second. On both occasions we stayed in oTENTik cabins.
The route to Gordon Island is straight forward if the weather is cooperative. Leaving on calm water, I thought we'd be able to beeline it to the island in under 90 minutes. But an hour in, and the wind blew in, as it tends to do on this section of the St. Lawrence River, so in short order we were riding waves with whitecaps.
Considering the water is much warmer here than where we usually kayak, neither of us were concerned. The paddling was challenging but fun though people new to kayaking might not enjoy this experience as much.
Gordon Island has dedicated landing spots for people staying at the oTENTik cabins accessed at the southwest end of the island. A couple of other docks are better suited to sailboats or motorboats as climbing up and out of the kayaks can be tough.
Spying a fisher (similar to a mink) at the first spot we pulled into, I was thrilled until I later learned just how vicious this animal can be.
There's a beautiful trail around the circumference of Gordon Island that takes you through magnificent stands of old oak trees. Look up – it's an inspiring sight. And don't miss your chance to enjoy one of Parks Canada's #sharethechair red chair moments either.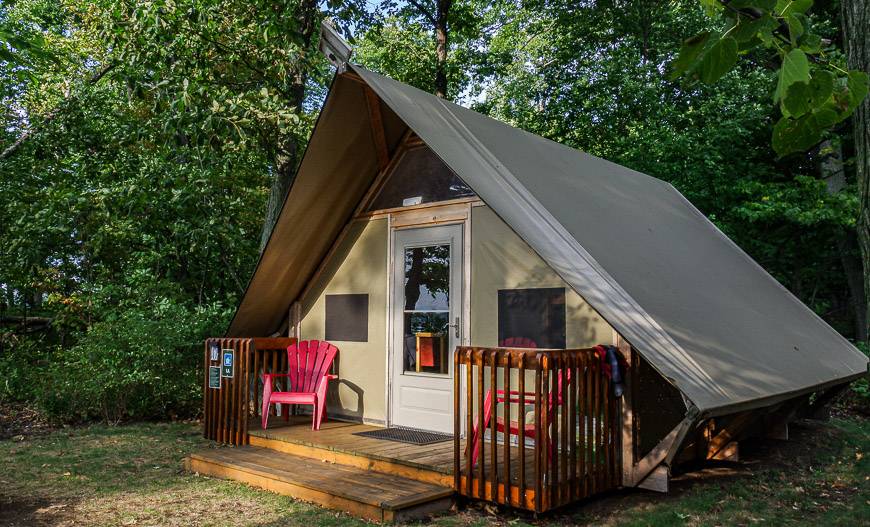 1000 Islands Kayaking – Gordon Island to McDonald Island via Mulcaster and Camelots Islands
On our 1000 Islands kayaking trip, the wind didn't let up until into the night so rather than fight the waves, we figured we'd stay put once on Gordon Island and then make the second day one of exploration on route to McDonald Island, even if meant five or six hours of kayaking.
Heading east initially we made a stop at Mulcaster Island, located in a maze of islands that are part of the Navy Group. From there it was scenic paddling past loads of cottages – almost all with Adirondack chairs on docks that looked very appealing.
Camelot Island is gorgeous and would be my first choice if I was camping. It's got a sense of space, lovely trails and some of the campsites are very private.
Beau Rivage Island is another excellent choice for camping though it's a little busier. Again look for the red chairs, sit back and enjoy the view.
Our route to McDonald Island included a rough crossing of about 25 minutes. We were bounced around like plastic yellow ducks in a fast moving rapid, a feeling a new kayaker would not appreciate in the least. The final stretch to the landing spot on McDonald Island was also busy with tour boats and motor boats creating quite a wake.
But once we were settled into our oTENTik on the island it was close to idyllic. John was in bird heaven – and got sight of a flycatcher he'd never seen before. I was happy to have a swim and chill on the pink granite rocks that are reminiscent of the Georgian Bay. It's definitely a busier island but people tend to congregate on the docks where the larger boats can moor. Stay away from there and you'll have plenty of peace and quiet.
1000 Islands kayaking – McDonald Island to Gananoque
Fast paddlers could probably kayak the McDonald Island to Gananoque section in 30 minutes. But take your time. It's still a pretty area and if you paddle too quickly the adventure will be over in very short order.
Where to stay in Gananoque before your kayaking trip

Gananoque is the take off point for most 1000 Islands kayaking trips. The town is filled with charming B&B's and some motels.

Some of the top places to stay include Seaway Manor B&B, Ruby Manor Bed & Breakfast and The Woodview Inn. All are rated superb or exceptional.

To make a campsite or oTENTik reservation call 1-877-737-3783 or visit the Parks Canada reservation page.
A few things to take with you kayaking the 1000 Islands
These are things I always take with me on short or multi-day kayaking trips.
Further reading on things to do in Ontario
Click on the photo to bookmark to your Pinterest boards.
Thank you to 1000 Islands Kayaking for the use of their kayaks and to Travel 1000 Islands for organizing all aspects of our stay.