If you live in or plan to visit the Toronto – Ottawa – Montreal corridor in summer then try to fit in a stop in the charming town of Gananoque so you can spend at least a day kayaking the Thousand Islands.
Gananoque is one of the gateways to kayaking the Thousand Islands – an archipelago consisting of 1,864 islands sandwiched between Canada and the United States in the St. Lawrence River. Of all the islands, just 21 are part of Thousand Islands National Park, formerly St. Lawrence Islands National Park.
1000 Islands Kayaking Day Tour
The first time I visited the Thousand Islands I did a full day kayaking trip with 1000 Islands Kayaking. Below is an idea of what you'll experience over the course of about 5 hours – including a long lunch break. Scott, the owner of the company sums the experience up nicely – accessible wilderness is what you get when you kayak through the Thousand Islands.
The Frontenac Arch Biosphere Reserve
Rocky granite islands, more reminiscent of the Georgian Bay area, windswept pines, and super clear water – thanks to the invasion of zebra mussels – greet you on a kayaking trip. When I visited in May, it was non-stop bird song too, a function of the fact that the islands are located in the Frontenac Arch Biosphere Reserve.
In fact it is the second most biodiverse area in all of Canada. Over 250 species of birds, 53 mammal species, 17 types of amphibians, 15 snake types and 98 species of fish have been observed.
A history lesson while kayaking
Apart from the peaceful, easy kayaking through the Admiralty Islands – past many a summer cottage, some on islands not much bigger than the cottage itself, there is the chance to get a taste of Canadian history. That's the beauty of a guided trip thanks to the knowledge of my guide Scott, owner for the past fourteen years now (as of 2020) of 1000 Island Kayaking.
Thwartway Island is a place where soldiers from World War II recovering from shell shock – post-traumatic stress disorder as we currently call it – would come to recuperate. When the camp closed the island was overtaken by forest and now boasts the largest intact ecosystem of all.
Half Moon Bay at the southeastern corner of Bostwick Island merits a stop. On Sundays in July and August afternoon church services are held. The pulpit is made of rock and the surrounding area is a quiet bay, more like a rock amphitheater and one that to this day holds spiritual significance for the native people.
Gull Rock – Don't miss the rusted out moorings left over from the days when massive rafts made of white pine and white oak were floated down to Montreal for shipment to Europe. You can see it on Gull Rock – a tiny speck of an island.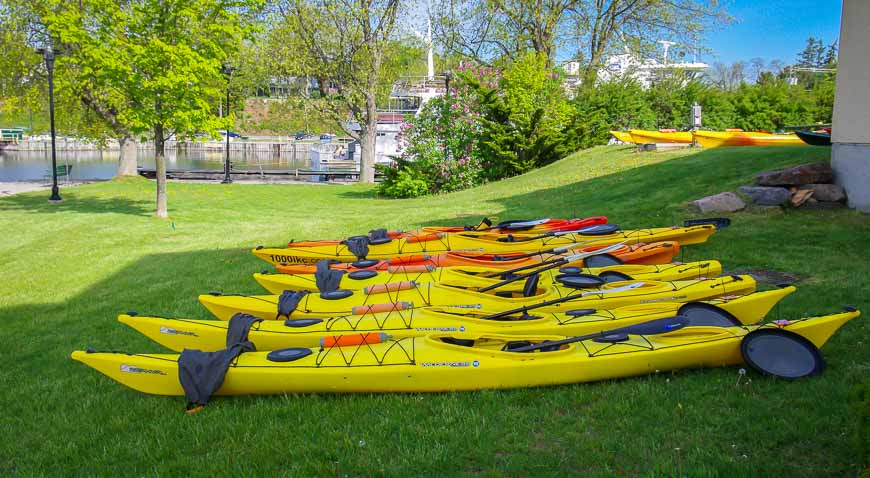 A gourmet lunch on the guided kayaking tour
One of the highlights of my day trip – apart from kayaking – was the gourmet lunch offered. It was healthy and delicious – with three types of bread, three types of meat and cheese including organic cheddar, vegetables galore, fruits and smoothie type drinks offered.
After lunch there was plenty of time to explore Beau Rivage Island.
From here we paddled over to McDonald Island – one of the busier Thousand Islands and had a chance to get out of the kayak. It's a pretty island to explore on foot. Even better would be spending a night in one of the oTENTiks, rented by Parks Canada.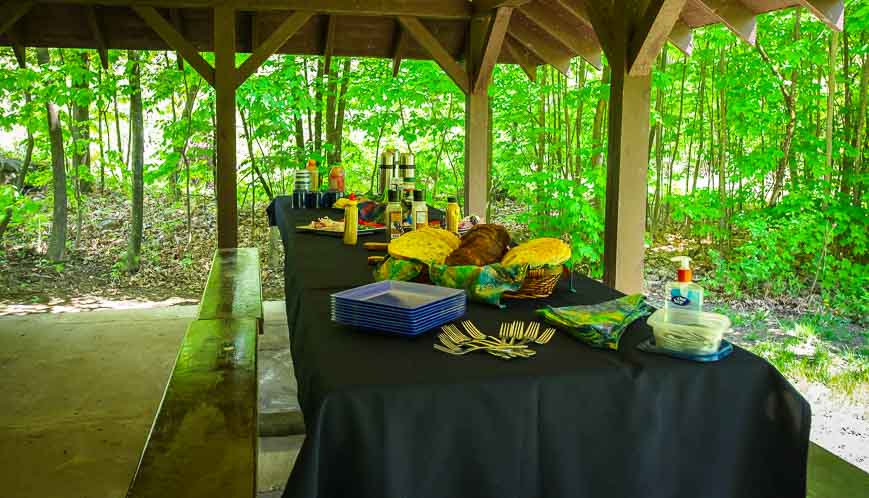 Don't miss the opportunity to explore the Thousand Islands if you're in the area.
Useful information about kayaking the Thousand Islands
Highlights: Warm water for summer swimming, beautiful islands, history, bird life, rocky landscape, biodiversity, interesting geology
Where: Gananoque is located on the St. Lawrence River, 150 km (93 mi) south of Ottawa, 300 km (186 mi) east of Toronto and 200 km (124 mi) west of Montreal.
Grade: Easy but moderate if the weather turns and the wind picks up.
Time Needed: A minimum of a half day and up to three or four days if you have the time to weave your way through the islands. Here's what a 3 day kayaking trip looks like.
When: Early May through to October
How: Bring your own kayak or rent one in Gananoque from 1000 Islands Kayaking and launch from the docks behind their headquarters.
Cost: Figure in kayak rentals. Primitive island camping permits are $15.70 per night and most are on a first come first served basis though you can reserve ahead of time on Beau Rivage, Mulcaster and Camelot Islands beginning in April.
Don't forget: Watch for storms that can arise quickly. Check yourself for black legged ticks. Cellphones work out on the water.
Interesting fact: To count as one of the 1000 Islands there are three criteria – the island has to have an area greater than one square foot, the island must remain above the water level on a year round basis and it has to support at least one living tree.
Further reading about paddling in Ontario
Click on the photo to bookmark to your Pinterest boards.