An early season 3-day Algonquin Park canoe trip is a great way to put stagnant paddling muscles to use. Ontario's premier wilderness canoeing destination gets more popular with every passing year. Part of its appeal lies in its proximity to the Toronto – Ottawa corridor. And because it's huge – 1.5 times the size of Prince Edward Island, there is something for every type of paddler – from easy to access lakes with busy campsites to challenging paddling and solitude.
There is literally a lifetime of Algonquin Park canoe trips and the exploring that goes along with them. Over 2,400 lakes and 1,200 km (745 mi) of rivers are linked through 2,000 km (1,243 mi) of canoe routes. But the park isn't just about the lakes.
Algonquin Park boasts one of the largest stretches of continuous forest in the southern part of Ontario. It's a magnificent spot in the fall when the maple trees are ablaze with colour. The park is almost as pretty in spring, with the fresh growth in a palette of greens, a feast for colour deprived, winter eyes.
This post includes some affiliate links. If you make a qualifying purchase through one of these links, I may receive a small percentage of the sale at no extra cost to you. Thank you very much for your support.
Algonquin Park canoe trip in the early season – what route should you choose?
The biggest challenge is in picking an Algonquin Park canoe trip is to find a route to suit your skill level. Nearly 2,000 backcountry campsites are at your disposal via 29 designated access points around the periphery of the park, with the more developed section of park accessed along Highway 60.
Before you go consider buying a couple of books that would help you with route selection. Both are written by Kevin Callan – a long time Ontario canoeist. The first – A Paddler's Guide to Algonquin Parkwill make planning easier; the second The Top 60 Canoe Routes of Ontario will give you plenty to dream about. Another recommended read is Canoeing Algonquin Park by Donald Lloyd.

For maps I highly suggest a map of the Algonquin Park Canoe Routes.
A 3-day Algonquin Park canoe trip in spring
I only had three days for an Algonquin Park canoe trip in spring but it whetted my appetite for more. Much more – though next time I'll do it in September when the colours are peaking and there's nary a bug in sight.
The ice leaves Algonquin Park at different times every year – sometimes as early as mid-April (1981) but it was May 15th in 1972. Lake Opeongo is usually ice free by April 30th and the smaller lakes before that.
I traveled with Wolf Den Expeditions as I didn't fancy a trip on my own – especially since my canoeing skills were a tad rusty. Over three days we paddled countless kilometres – I'm guessing around 30, did 16 portages and lifted bags in and out of the canoe so many times that my arms and back were talking to me for days.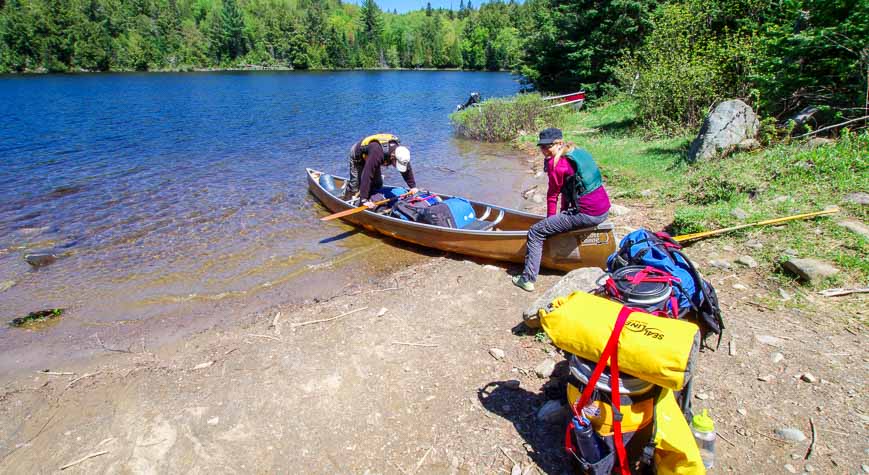 Our Algonquin Park canoe trip went like this
Day one – Smoke Lake – 240 m portage – Ragged Lake – 590 m portage – Big Porcupine Lake – camp
Day two – Big Porcupine Lake – 200 m portage – Bonnechere Lake – 175 m portage – Phipps Lake – 60 m portage – Kirkwood Lake – 715 m portage – Laurence Lake – Pardee Lake – 145 m portage – Harness Lake -1035 m portage to Head Lake – camp
Day three – Head Lake – 1640 m portage – Cache Lake – Tanamakoon Lake – 120 m portage – Sherif Pond – 320 m portage – Little Island Lake – 220 m portage – Kootchie Lake – 830 m portage to Smoke Lake – back to car
Highlights of my 3-day canoe trip in Algonquin Park – starting and ending on Smoke Lake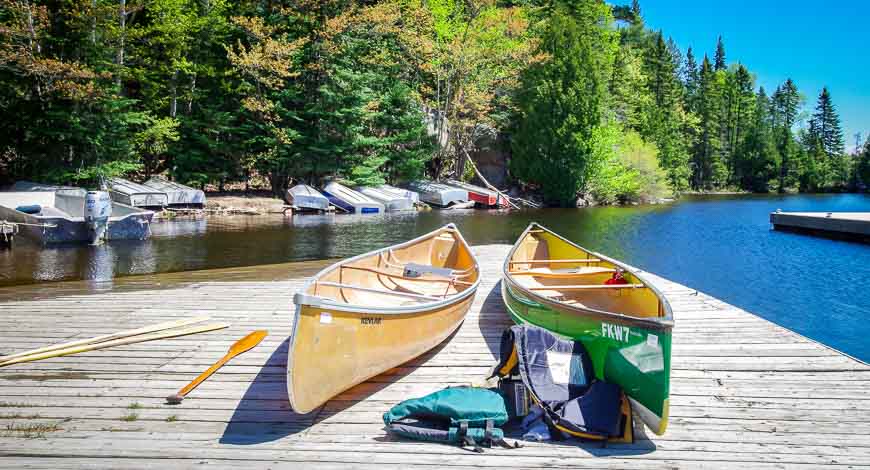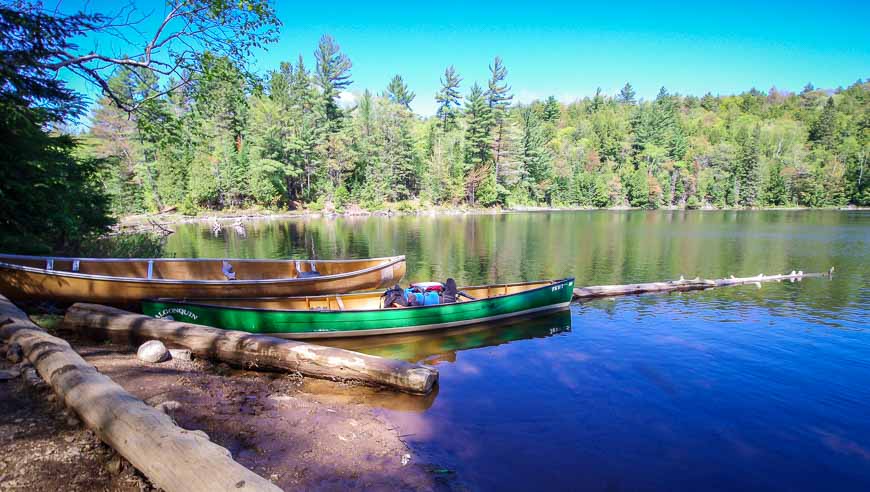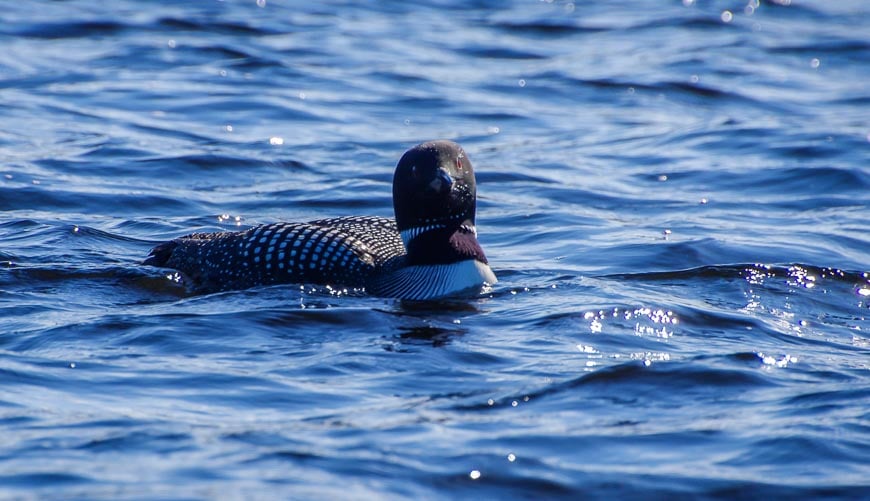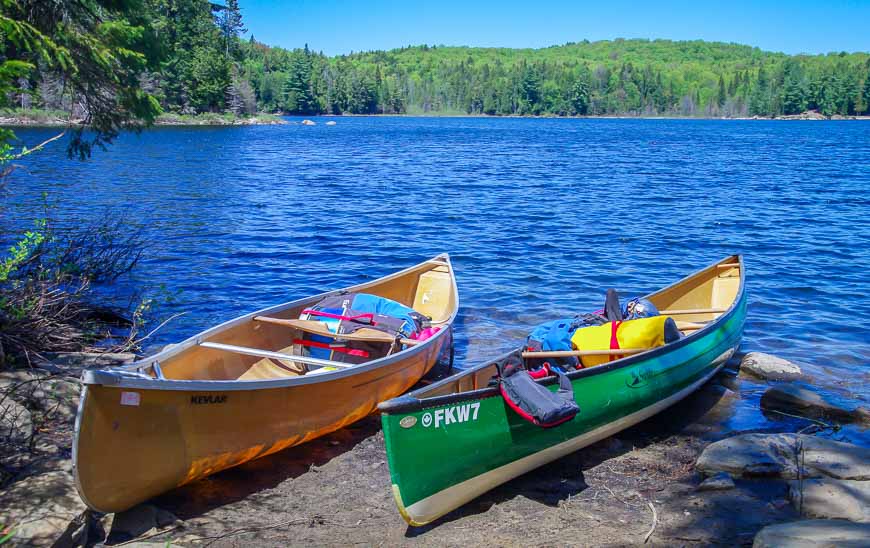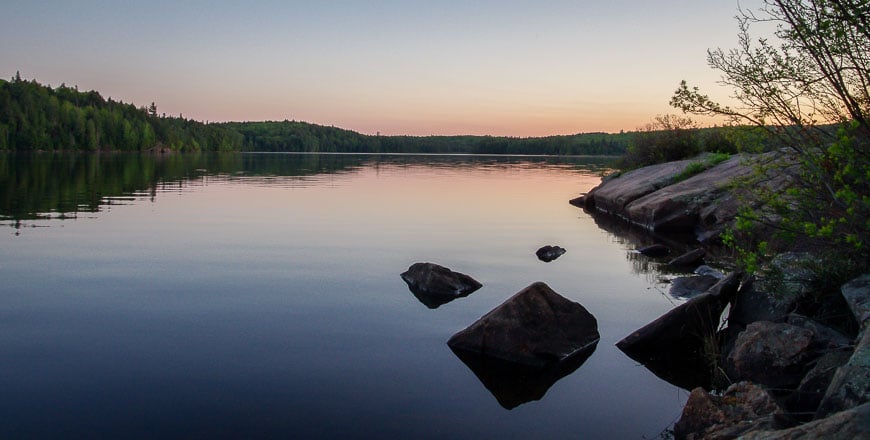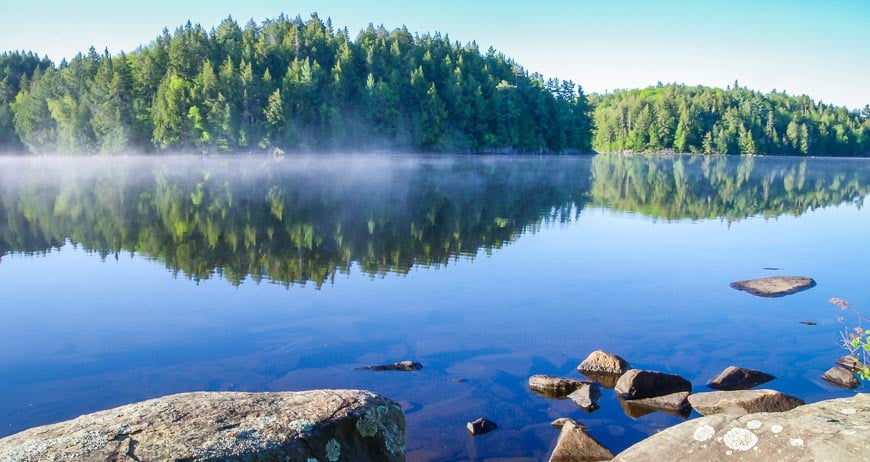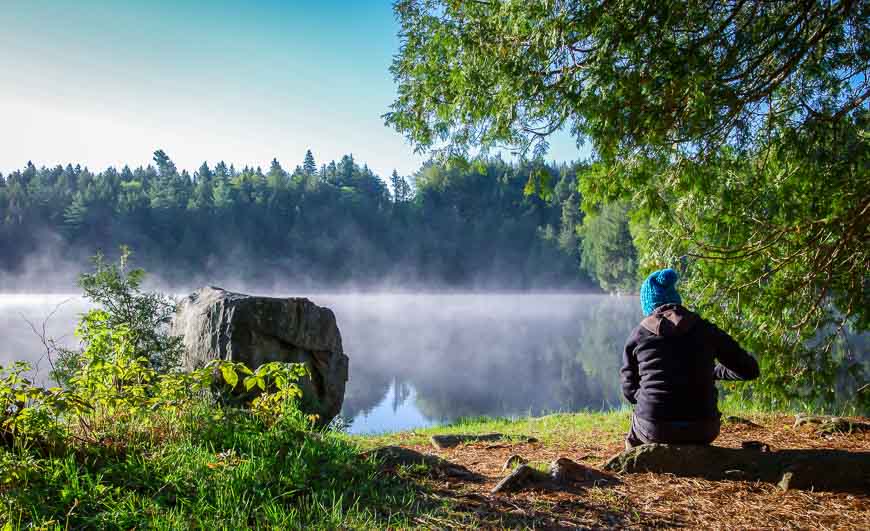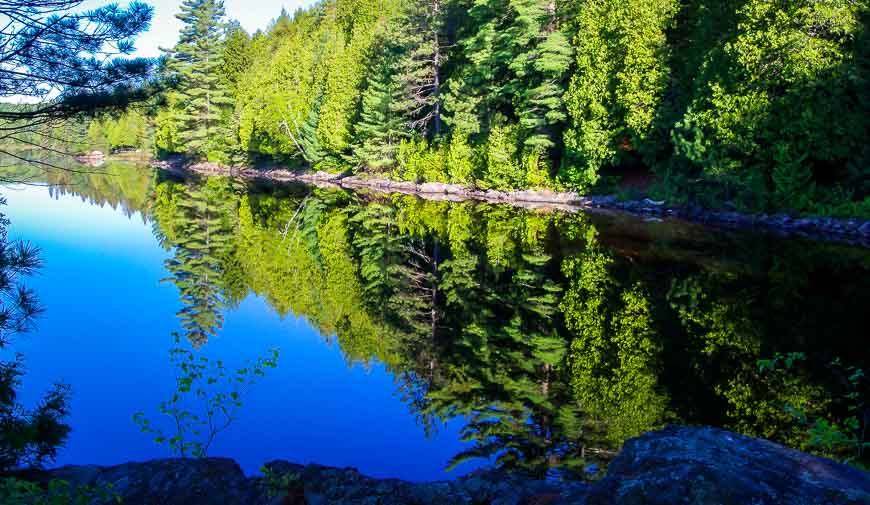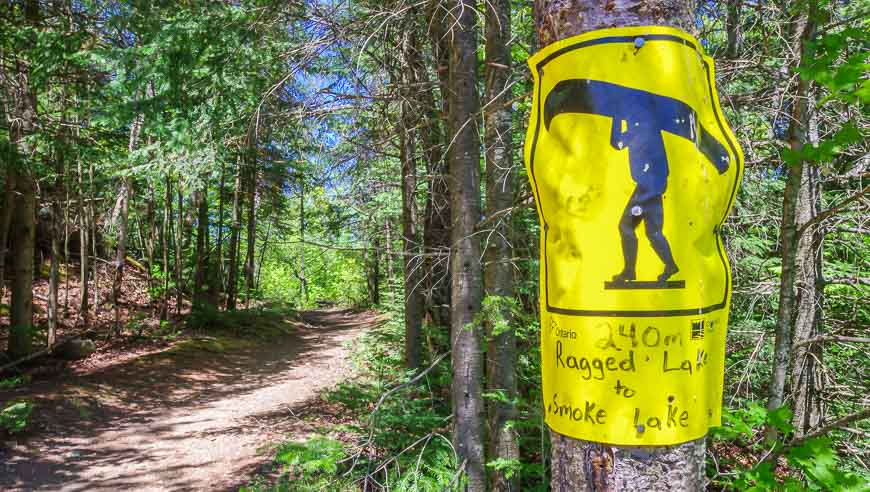 Beat the bugs in Algonquin Provincial Park
An early season canoe trip in Algonquin Park – before June when the bugs appear in full force – is really a wonderful outing. There's more colour in the woods than I thought possible – lime greens, red, brown and even some yellows with all the fresh growth.
You feel like you have the park to yourself – unless you run into a school group. It's quiet. It's peaceful. And with luck you'll see some wildlife. Our count for the weekend was three moose, three turtles and a huge variety of bird life. Every night we fell asleep to the call of a loon and what could be better than that?
A few useful items you might like canoeing in Algonquin Park
Further reading on things to do in Ontario
Click on a photo to bookmark to your Pinterest boards.