Mississagi Provincial Park, located just 25 km north of the city of Elliot Lake, has been called "one of Ontario's last true natural parks." The park offers visitors a chance to hike, canoe, bike, swim and enjoy nature in a park that aside from 60 front-country campsites, seven backcountry campsites and seven hiking trails is preserved in its natural state.
Mississagi Provincial Park features one of the best views in Ontario, an incredible fall foliage display (!!!) and the chance to get away from people. On my trip we had the whole of Helenbar Lake to ourselves!
Our plan for a two day visit to Mississagi Provincial Park focused on canoeing – but once we got to the park and spoke with staff members, we realized it would be a snap to include the hike on the Helenbar Trail to the viewpoint over the lake which you can read about later in this blog.
Mississagi Provincial Park canoeing
It was pretty darned simple to get out on the water. There are canoes (albeit heavy ones) you can rent that are located right beside the dock on Semiwite Lake. Parking is within eyesight so it's a quick operation to get unloaded, repacked and out on the water.
The canoeing was easy. We paddled parallel to the north shore of Semiwite Lake so we wouldn't miss the portage to Helenbar Lake. We needn't have worried as it was well-signed and very obvious beside a big beach.
I'm not one to impose myself on people but when a couple of twenty year old fellows hanging around the portage site with their friends asked if we wanted help portaging I said an immediate yes.
Normally John would balk at any help but he had a separated shoulder and I was pushing my luck just getting him into a canoe. The bottom line is that Alan and Callum saved us a good bit of time and energy.
Canoeing Helenbar Lake
It's a 400 m portage to reach Helenbar Lake – and an easy one compared to many that we did last summer in Quetico Provincial Park. Once on Helenbar Lake it was a short paddle across the lake to reach the one backcountry campsite. Unfortunately, it wasn't a great place for swimming (watch for leeches) but it did offer a nice big open area for camping.
After a delicious dinner, a glass of wine and the good company of old friends, it was time for an evening paddle. My friend Jo and I had a lot of laughs while exploring a swampy outlet where it got so narrow we couldn't paddle.
By the time we got out of there, the first stars of the night made an appearance. Normally I'd never paddle a canoe at night but we had zero concerns about motorboats and the water was dead calm. It was particularly beautiful looking into the heavens – watching the day fade away.
On the return trip the following day we retraced our steps, stopping half way along the portage trail to include the hike on the Helenbar Lake trail to the lookout.
Looking for the Gloster Meteor
We did take a bit of time to peer into the depths of the lake (it's shallow) to see if we could spot the wreckage of a Gloster Meteor, one of the first jet fighters in Britain. (Ask at the Visitor Centre for more detailed location information.)
The story goes that the pilot lost his way in a storm, ran out of fuel and crashed but survived for 26 days. At that point he heard an outboard motor boat over on Semiwite Lake, bushwhacked over to the lake and found a fisherman who helped him to safety.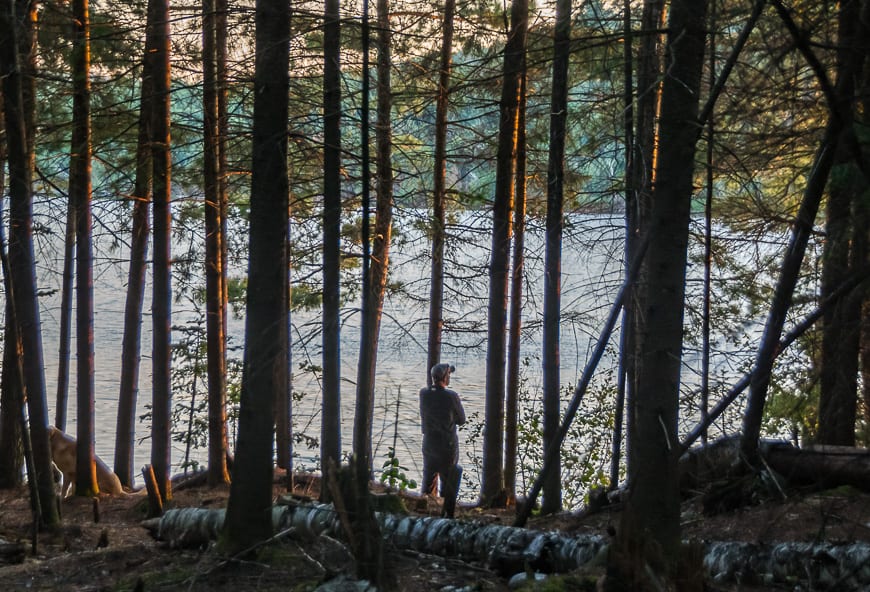 Hiking in Mississagi Provincial Park
You have the choice of seven trails in the park covering approximately 65 km. There are short ones like the Flack Lake Nature Trail – coming in at less than a kilometre while the 22 km McKenzie Trail is usually done as a two day backpacking trip.
We only did the out and back section of the Helenbar Lake Trail – starting from the portage trail and ending at the scenic lookout. If you started at the campground it would be a moderate 7 km hike.
All of our group thought it was a magnificent hike especially on certain sections through mature hardwood forest and of course at the lookout itself. It's a stunner – one of the best you'll find in Ontario, but stay well back from the edge as its slippery with pine needles. If you visit in the next couple of weeks the fall colours will dazzle you so plan a trip NOW.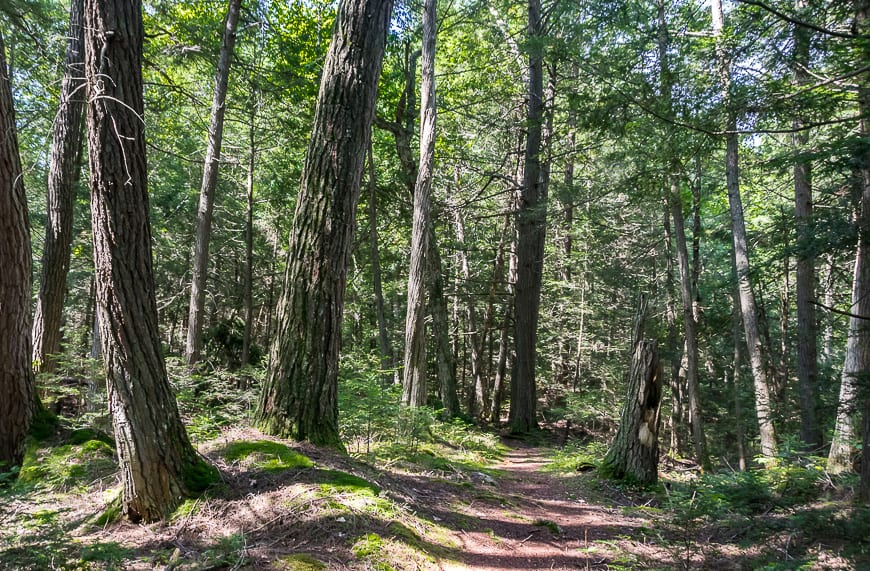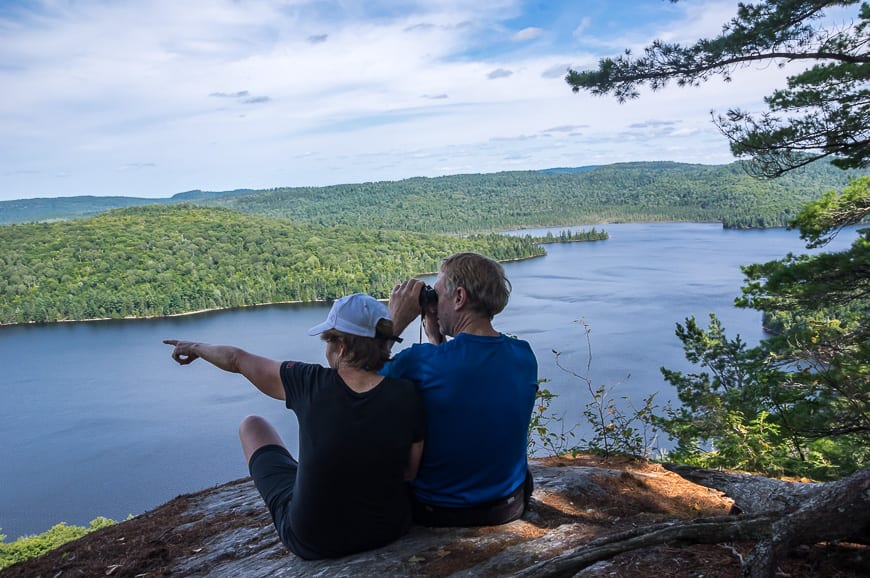 To see what a treat you're in for at the top of the hike check out this video.
For a weekend trip without the crowds you'll do well to visit Mississagi Provincial Park. For more information be sure to visit their website.
Location map of Mississagi Provincial Park (activities are rough approximations only)
Further reading on things to do in northern Ontario
Click on the photo to bookmark to your Pinterest board.
Thank you to Ontario Parks for your help on this trip.