For the better part of a week three of us – my friend Judy and husband John spent a lot of time checking the weather forecast for Ucluelet and Bamfield, two small towns on the west coast of Vancouver Island. We were trying to decide if it was worth making the day long drive to Vancouver from Calgary, then hopping a ferry to Nanaimo and continuing for another three hours to Salmon Beach – all so we could have a few days of early season kayaking bliss in the Broken Group of Islands in Pacific Rim National Park Preserve.
Before you go kayaking in the Broken Group Islands, be sure to make a campsite reservation. They go quickly in summer, so plan ahead. You can also join a sea kayaking tour in the Broken Group or stay at Broken Islands Lodge.
This post includes some affiliate links. If you make a qualifying purchase through one of these links, I will receive a small percentage of the sale at no extra cost to you. Thank you very much for your support.
How to access the Broken Islands
If you're driving, most people put in at Secret Beach, via a well-signed dirt road off the highway not far from Ucluelet. Many rent kayaks in Port Alberni and take the MV Lady Rose from there. That's actually a fun way to get to Barkley Sound and what we did the first time kayaking the Broken Islands.
For more and up to date information on camping in the Broken Group Islands visit the Parks Canada website here.
Don't forget to download a copy of the 7 day tidal predictions for Ucluelet.
If you didn't get a campsite reservation, there is still hope. Sign up and be the first to know when there is a cancellation for your desired trip dates by visiting Schnerp.
Our backup kayaking option if the weather was bad in the Broken Islands
We did have a backup plan and that was to kayak from Salt Spring Island up to Nanaimo, stopping to explore a number of islands over five days.
We decided to make the drive to Nanaimo from Calgary – but on the morning of the day we were planning to kayak we were still betwixt and between about what to do.
The forecast was so-so but after looking at a map showing a high pressure system moving in towards the Broken Group Islands we decided to go there.
I'm so glad we did. Despite driving through rain showers, by the time we arrived at the small community of Salmon Beach, it was merely cloudy though there was some wind.
Read: The Kayaker's Checklist: 100 Items to Pack
Our kayaking route in the Broken Islands
It took us a solid hour to unload our cars, pack the boats and park the cars…. Our destination was Clark Island, home to probably the nicest campsite in the Broken Group Islands.
I understand from one of the fellows that keeps the campsites up that in the summer you can have up to 60 people on this one island – not my idea of a wilderness experience.
The paddle took us from Salmon Beach across to Forbes Island. Then we had a couple of nautical miles of gnarly kayaking across the Loudoun Channel before the swells decreased.
We stayed on the outside of Page Island and Pinder Rock before heading in a more southerly fashion towards Clarke Island. It was with some relief that we landed on a beautiful beach about two and a half hours after launching.
My arms hadn't had such a workout in a very long time and literally ached. There were two men already camped on the island but that was it. (On the second night we had two young guys and on the third night we had the island to ourselves!)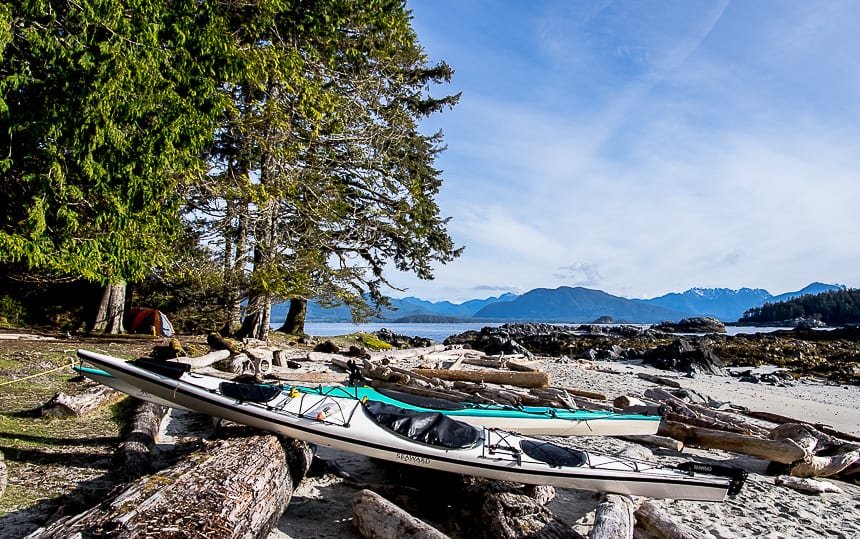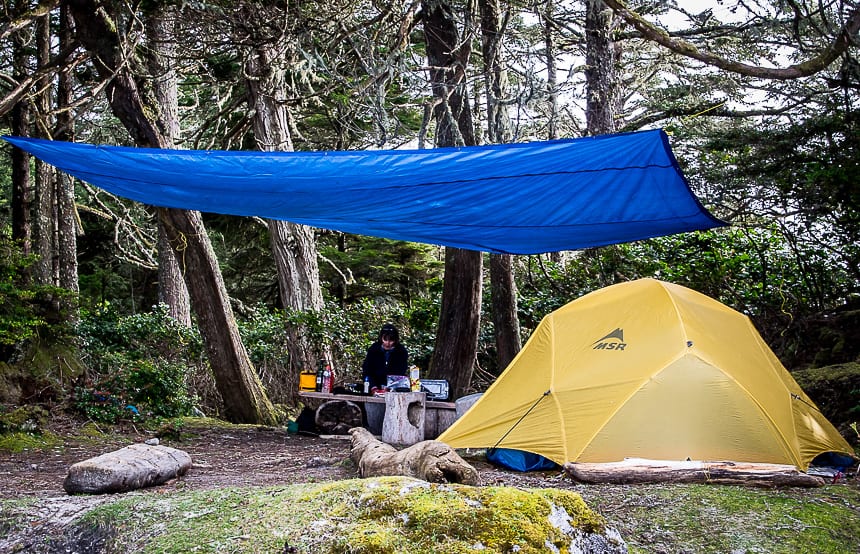 Day two hanging out on Clark Island
Our second day on Clark Island was a mellow one – filled with reading, beach-combing, snoozing in the sun and drinking bagged wine. It was perfection. I can't remember when I last had such a relaxing day. When you're kayaking the Broken Islands, relaxing after the paddle is always a pleasure.
Day three: Kayak from Clark Island to Dicebox Island
On the third day out we roused ourselves from the laziness of day two and opted for a day of exploration. We decided to head for a protected cove on Dicebox Island.
If we'd been a little braver we would have paddled the considerable swell on the outside of Wouwer and Howell Island to see a sea lion colony and interesting tide pools but we were happy with a more relaxed paddle.
But make no mistake. In the Broken Group Island the winds can come up in a heartbeat and turn glassy, calm water into a roaring machine that would test any kayaker. In fact later in the afternoon that's exactly what happened on the Loudoun Channel. The water was foaming with whitewater and under no circumstances would we have been able to paddle it. Wetsuits and drysuits come in very handy here as the water is extremely cold.
On the way back we did stop to check out the campsite on Gilbert Island. Avoid it if you can as it's dark and in the trees, though the trees here are particularly beautiful.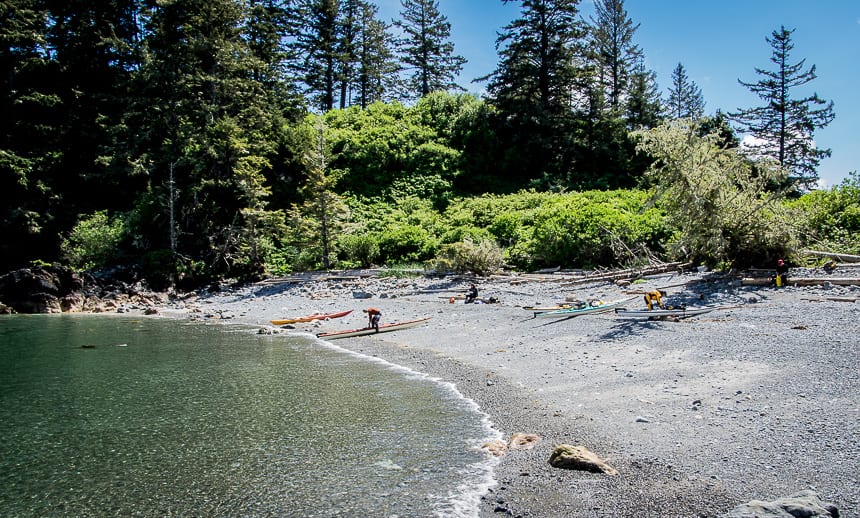 Wildlife you might see kayaking the Broken Group Islands
I last visited the Broken Group about 25 years ago. What I remember is almost a complete lack of birds or wildlife. That was certainly not the case on this visit.
We had three bald eagles sitting on air currents for 30 minutes at a time a few hundred feet from our campsite. We went to bed listening to the call of the Pacific loon.
And we woke to low tide and the plethora of organisms – most of which I can't identify – on the sea floor. We also enjoyed the antics of gulls, the movements of the resident pine marten (or was it a mink?), a curious seal that kept an eye on us for days and a couple of deer that had no fear related to humans.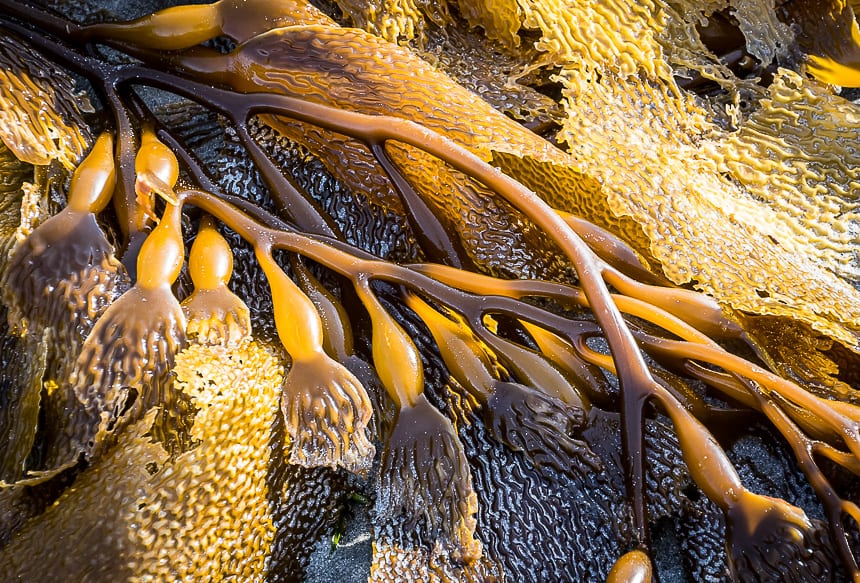 The fourth day kayaking the Broken Group Islands
We had plans on the fourth day to paddle to Hand Island for the night and then head back to Salmon Beach after that. But we woke to cool temperatures and rain.
The thought of packing everything up wet and then unpacking wasn't appealing. We also listened to the marine weather forecast via a radio Judy had brought along. (Always bring one!)
The winds the next morning were forecast to be 25 – 30 knots and we knew we wouldn't be able to kayak under those conditions, especially after we'd seen the size of the waves the night before.
We came to a group decision and decided to pack it in a day early. We also decided to make a hasty exit as the winds were forecast to pick up by noon and we wanted to be safely back on the beach.
Weather on a west coast kayaking trip
It's interesting how in our day to day lives we don't pay much attention to weather. We talk about it but don't get into the details. Out on a kayaking trip weather matters a great deal. It can be the difference between life and death.
You do watch for the ripples on the water indicating the start of wind. And you notice when the wind shifts direction. Rain and low temperatures are a recipe for hypothermia so you pay attention when you're miles from help.
For me that's all part of the appeal. Can I safely and happily put up with conditions that make most people uncomfortable? Sometimes, but I've been known to curse loudly and often when conditions change for the worse. Cue a very tough kayaking trip in the Broughton Archipelago.
The Broken Group of Islands are a fantastic destination in the shoulder seasons. Although the weather might be more predictable in the summer, I wouldn't want to deal with the crowds. But you should have kayaking and camping experience. If you don't, go with one of the many tour companies.
We were told that some days up to 120 people at a time head out to the Broken Group Islands. There are lots of tour groups that visit as well. I'd return again – in May, early June or September but I'd carry a marine radio so I could get weather forecasts.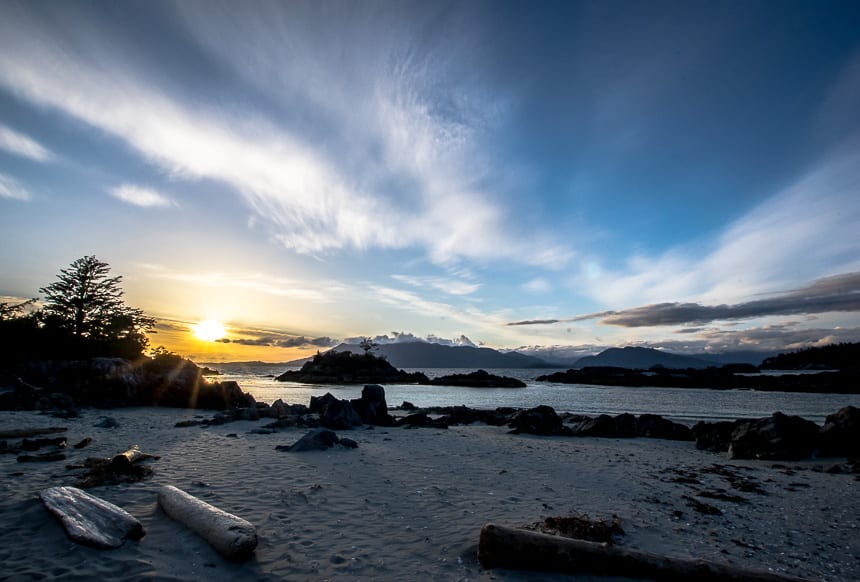 Location map of the Broken Group of Islands
Note: A chart is imperative for this trip!
Some things to take with you on the Broken Group kayaking trip
Kayaking gear
Camping gear
Camping regulations in the Broken Group Islands
Camping regulations are enforced by park wardens. People that don't follow them are evicted.
Keep the following in mind:
You can't spend more than 4 nights at any one campsite, and the maximum stay in the Broken Group is 14 days.
You must camp in designated areas only.
The maximum group size is 12. If it's bigger than that, then you must split into smaller groups and camp on different islands.
Unless your dog is a service dog, it is not permitted on any of the islands.
Further reading on kayaking trips
Click on the photo to bookmark to your Pinterest boards.