Kayaking Clayoquot Sound, on the remote west coast of Vancouver Island was my first ever sea kayaking adventure. That trip was the start of my love affair with the sport. Since then I, along with my husband, have done countless kayaking trips, primarily to spots off of Vancouver Island, though we've done some inland paddling as well.
It's a memorable experience kayaking Clayoquot Sound. To start with it's ruggedly beautiful with classic west coast mountain and ocean scenery. In addition the area is home to a number of stunning white sand beaches, though most are accessible via surf landings or a walk across an island.
It's also the site of one of the world's largest temperate rainforests. Back in 1993, Clayoquot Sound was the staging ground for the largest-ever act of civil disobedience in Canada.
Ten thousand protesters from both Europe and North America descended on the Peace Camp – set up to protect the massive trees of Clayoquot Sound.
This post includes some affiliate links. If you make a qualifying purchase through one of these links, I may receive a small percentage of the sale at no extra cost to you. Thank you very much for your support.
There are a number of ways you can explore Clayoquot Sound, depending on how much time you have and what kind of paddling skills you possess. In all likelihood your trip will start in Tofino – a great seaside town that deserves a few days as well.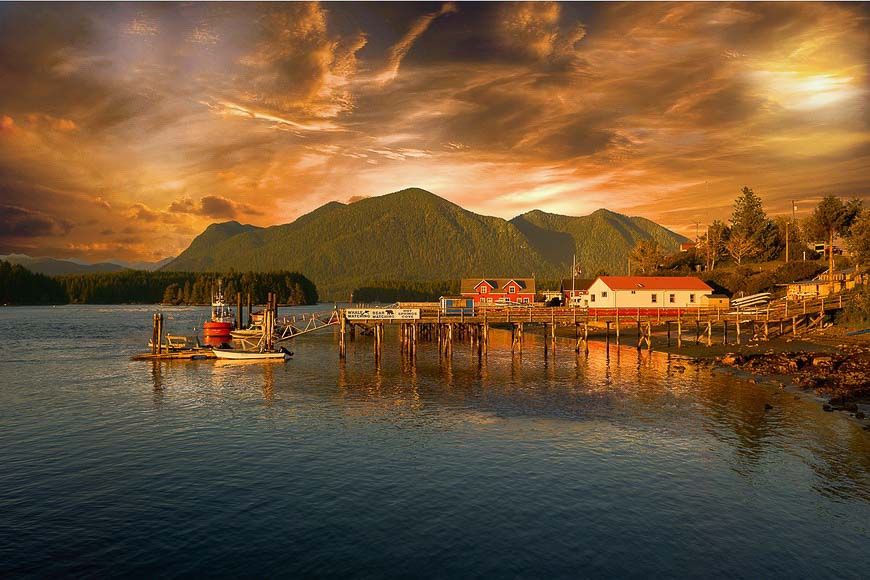 Kayaking Clayoquot Sound – route suggestions
Meares Island
If you only have a day, then plan to paddle to Meares Island. Do it on your own or with a guided group if you are new to paddling. Boat and sea plane traffic as well as currents can be challenging in Tofino's harbour. The goal of this short trip is to marvel at some of the oldest and biggest trees in British Columbia.
Once you've kayaked to the trailhead, it's a 3 km (2 mi) round-trip hike through the forest on a boardwalk to the famous Hanging Garden Tree, a western red cedar with a massive 18.3 m (60 ft) circumference.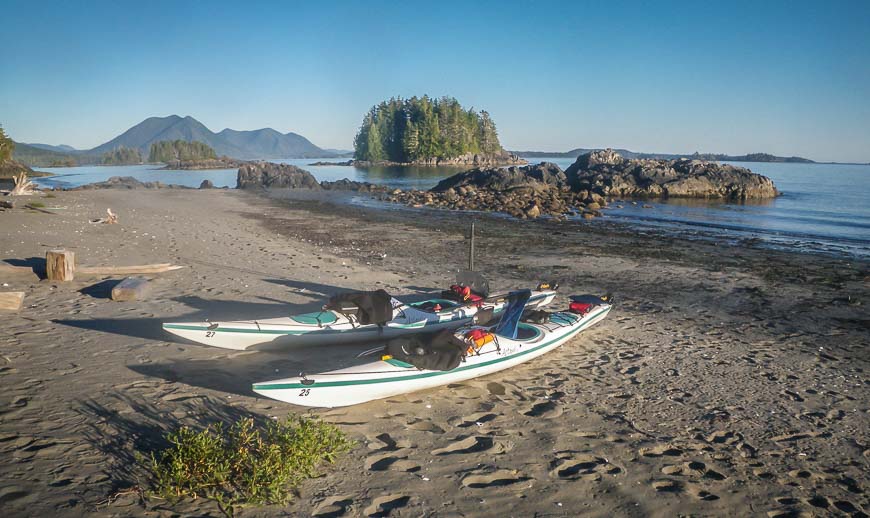 Circumnavigate Meares Island
If you have three days, a circumnavigation of Meares Island is possible. Or you can head to Milties Beach on Vargas Island and set up camp for a few days.
From there, walk across the island and enjoy the spectacular beach and the wildness of the area without any of the risk of a surf landing.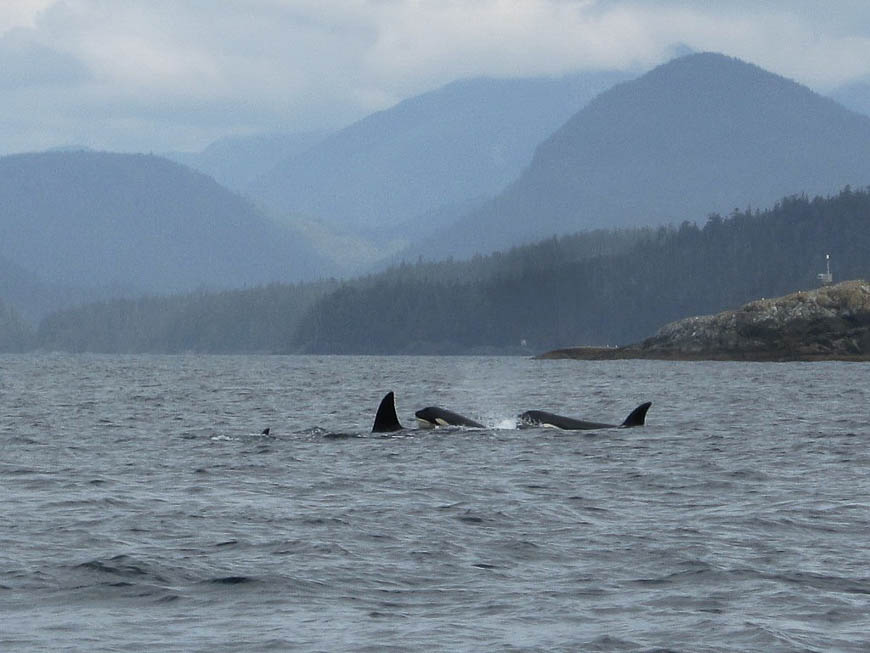 The best kayaking trip
But the best trip, providing you have at least five days is to head to Hot Springs Cove. There are two ways to do this trip. Either paddle on the mostly calm backside of Vargas and Flores Island, so as to avoid heavy swell and surf landings, or paddle the very beautiful outer coast.
But the outer coast requires excellent kayaking skills and it's not for the faint of heart. Don't attempt it if the seas are above 2 m (6.5 ft) or the wind is blowing more than 15 knots; definitely don't do it if it's getting dark or its foggy. There are not many safe landing spots.
As a staging area for Hot Springs Cove, aim for beautiful Halfmoon Beach on the northwest side of Flores Island. It's a great place to set up a camp for a few days.
From there, it takes about an hour to paddle to the Hot Springs. Bring money for a coffee and a baked goodie at the government wharf and a towel and bathing suit for the hot springs.
From the wharf, it's a 2 km (1.2 mi) walk along a most interesting boardwalk – inscribed with the names of boats and people that have visited – to the hot springs. Enjoy a long soak before retracing your steps.
Clayoquot Sound is the sort of place that will call you back repeatedly over your lifetime. I know I'm overdue for another visit.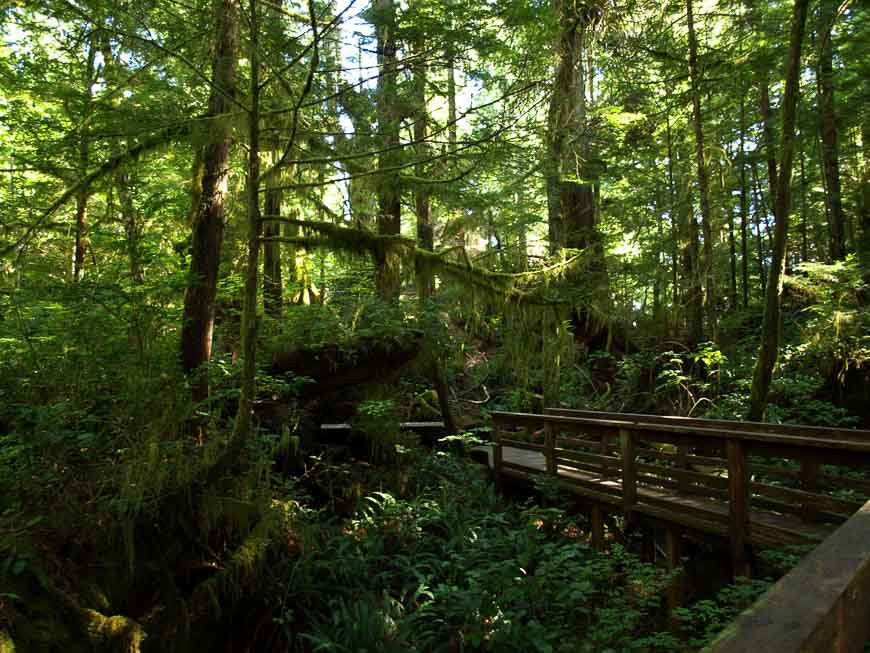 Useful information for a kayaking trip
The kayaking is moderate to difficult depending on if you paddle the inside passage or the exposed coast. Paddling against the current or in big swells increases the level of difficulty.
Start in Tofino on Vancouver Island located 315 km (196 mi) northwest of Victoria, and 200 km (124 mi) west of Nanaimo via Highway 4.
The kayaking is best in the summer but you can comfortably do it between May and October if the weather cooperates.
You can rent sea kayaks in Tofino right at the water's edge.
Do not land on Indian Reserve, marked IR on charts, without permission from the band office.
Bears are common on the mainland.
A number of companies offer tours in the area including Tofino Sea Kayaking, Majestic Ocean Kayaking and Paddle West Kayaking.
For more information visit the Tourism Tofino website.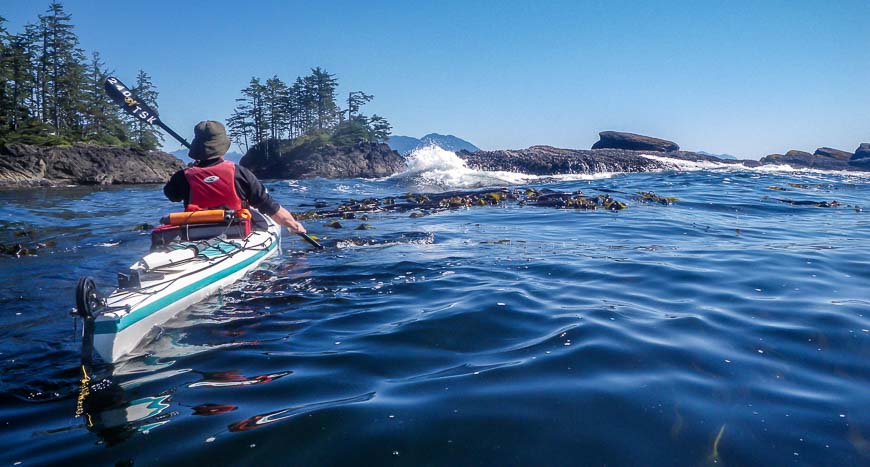 Things to take on kayaking trips
I'd highly recommend the following that I always have with me on multi-day paddling trips include the following:
For a full list of what to take check out The Kayaker's Checklist – 100 Items to Pack.
Where to stay in Tofino before or after your trip
Tofino has loads of great places to stay. Some of my favourites include the following properties – Middle Beach Lodge, Long Beach Lodge Resort and Pacific Sands Beach Resort.
For more affordable alternatives try Meares Vista Inn (my friend swears by this place) or Tofino Paddlers Inn right in town.
Further reading on kayaking trips in BC
Click on the photo to bookmark to your Pinterest boards.