Vancouver is lucky to be close to so much excellent sea kayaking. In fact within 90 minutes of downtown Vancouver there is plenty of sea kayaking to keep both novice and expert kayakers happy. Take your own or rent a sea kayak. If you're a bit nervous take advantage of a short lesson offered by most of the rental companies.
Described are 5 places to sea kayak within just 90 minutes of Vancouver. Some of the suggestions like Deep Cove and Sechelt can easily be turned into an overnight kayaking trip.
This post includes some affiliate links. If you make a qualifying purchase through one of these links, I will receive a small percentage of the sale at no extra cost to you. Thank you for your support.
Here's where you can sea kayak close to Vancouver
Granville Island's Vancouver Water Adventures offers rentals from Granville Island. Jericho Beach Kayak Centre offers courses, rentals and tours off of Jericho Beach.
For new kayakers the waters around Granville Island are easier to paddle though there is more boat traffic. A few hours in any of these locations provide a unique perspective of Vancouver.
Go kayaking out of Deep Cove
Deep Cove is 25 -30 minutes away from downtown Vancouver. Sea kayaking is on the beautiful waters of Indian Arm, a fjord worthy of up to two full days of paddling. The Deep Cove Canoe and Kayak Center is located in a quiet bay so novice paddlers can try out kayaks in a protected area before heading down the fjord.
There are nearby beaches for picnics too. On a weekend, Deep Cove is hopping and it's best to get there early to get a parking space. Book your rentals ahead of time to guarantee a kayak. You must rent for a minimum of two hours.
This is an easy place to bring your own kayak and head out for the day though overnight parking is available only on the streets if you plan to camp at the end of Indian Arm.
Read: 12 Great Things to Do in North Vancouver, BC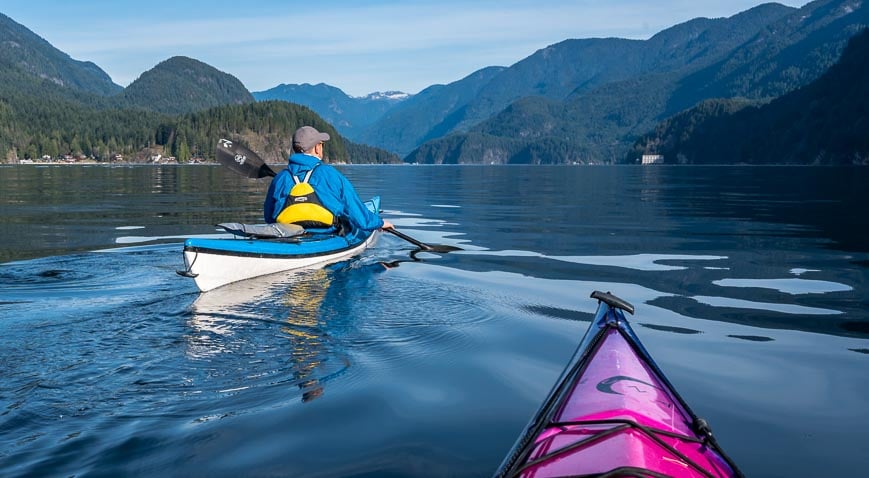 Bowen Island kayaking
Bowen Island is a twenty minute ferry ride from Horseshoe Bay. On a good day if you timed the ferries correctly you could make it from downtown to Bowen Island in just over an hour. On the dock beside the ferry terminal sits the Bowen Island Sea Kayaking Shop.
Put in a kayak right off the dock and explore Snug Cove and the coast around Bowen Island. The company offers two different three hour tours. The southern tour takes you to Apodoca Beach and close to seals. Look for bald eagles overhead. The northern tour showcases the mountains. A three hour rental is approximately $45 for a single and $65 for a double.
Read: A Day Trip from Bowen Island to Vancouver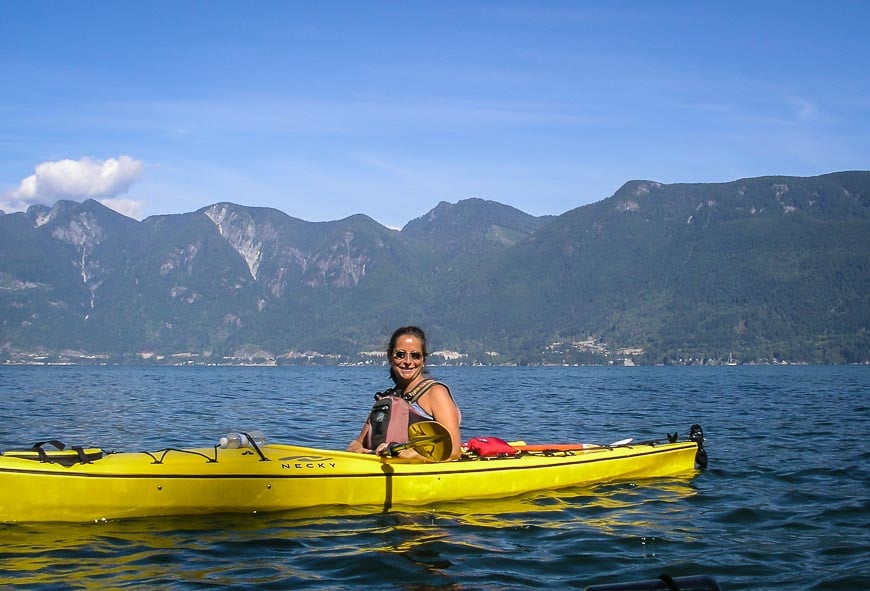 Kayaking in the Pasley Islands
The Pasley Islands are a fantastic destination and easily accessed from the western end of Bowen Island. They are an archipelago of 8 islands that make you feel that you're hundreds of miles away from a big city.
There is a terrific public beach on one of islands which is ideal for a picnic and swim. Bring your own kayak (good parking available) or rent a kayak from the Bowen Island shop but make sure to let them know that's it's the Pasley's specifically that you want to paddle. They do a full day tour for $120.
Do a kayak trip starting on the Sunshine Coast
Pushing the 90-minute envelope puts you in range of all sorts of paddling in and around the Sunshine Coast. It's only a 40-minute ferry ride from Horseshoe Bay to Langdale and then a 25 minute drive to Sechelt.
Bring your own kayak and explore the Sechelt Inlet for 2- 6 days. Otherwise paddle over to Bucaneer Bay on Thormanby Island for a day and plop yourself on the lovely beach for some summertime R&R.
You can rent from Halfmoon Sea Kayaks and check out the Secret Cove area with its quiet lagoons. Their rental price for four hours is $63.50 for a single and $95 for a double for up to 4 hours. They offer a wide range of tours as well – both day and multi-day.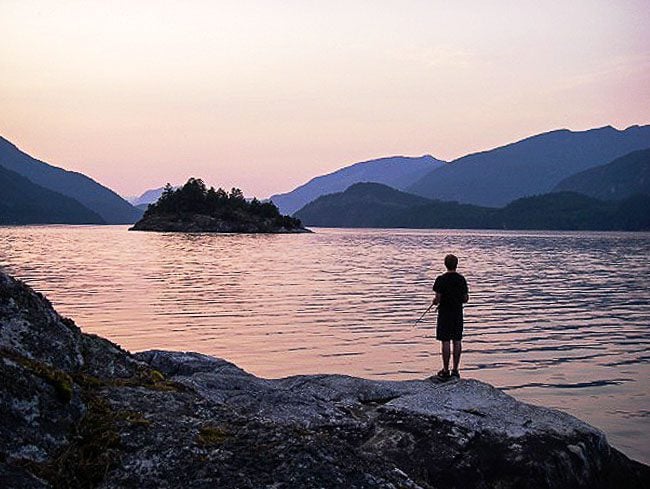 What I really love about kayaking near Vancouver is that you can practically do it year-round if you're properly attired (think dry suit in winter). I encourage you to get out and explore the beautiful coastlines of this province.
Some items to take on any kayaking trip near Vancouver
Further reading on paddling in British Columbia
Click on the photo to bookmark to your Pinterest boards.