With two long distance walks done in England and Scotland – the 70 mile Cumbria Way which bisects the Lake District in England and the 95 mile West Highland Way in western Scotland, I feel like I've got some on the ground advice worth sharing.
I was smarter than when I hiked the Dingle Way and the Kerry Way in Ireland with a fully loaded backpack. On this trip I organized a baggage service to move my big backpack every night at a cost of £7 per bag. I'll carry a day pack and that's it. Fortunately, that's an especially easy thing to do in the UK.
This post includes some affiliate links. If you make a purchase via one of these links, I may receive a small commission at no extra cost to you.
Here's a packing list for a long distance walk.
One large backpack (up to 70 L depending though on this trip didn't need that as I also had a day pack)
A day pack (will bring as carry-on)
An oversized bag that holds a wallet, book and electronics (carry-on)
Footwear
Broken in leather hiking boots (consider orthotics too)
Lightweight trail shoe (with extra laces)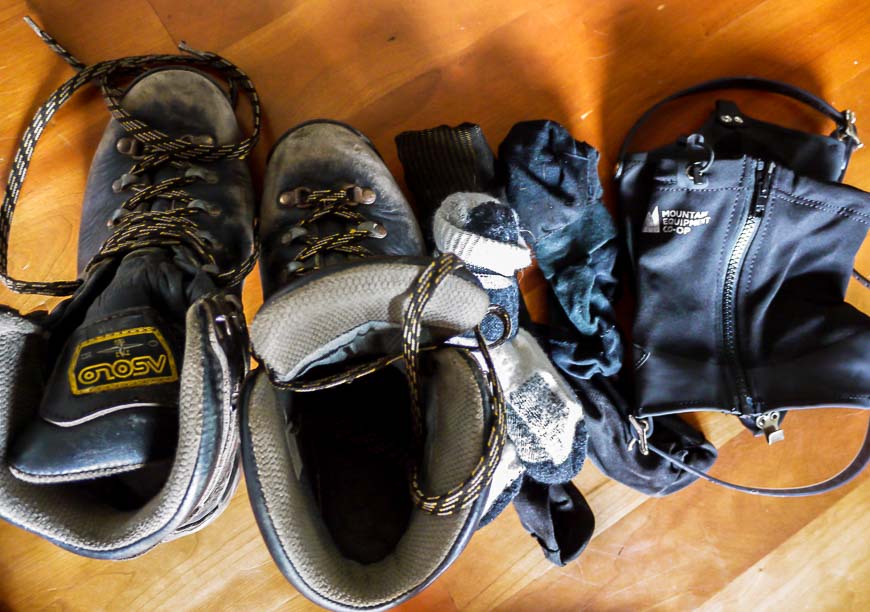 Clothing for a long distance walk in England and Scotland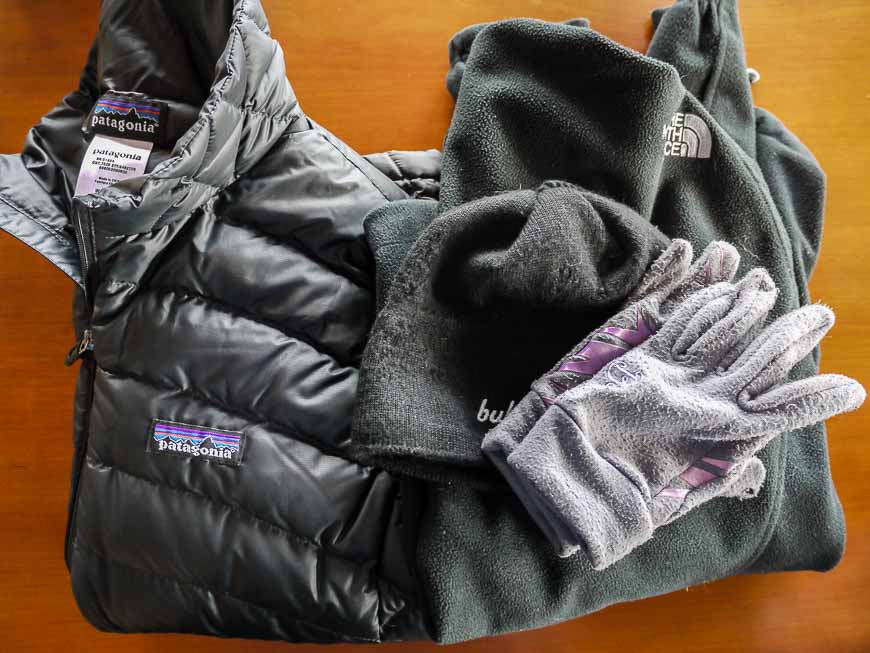 2 hiking t-shirts (I bring old ones I can pitch after a number of days)
Arm warmers – buy at a biking store – HIGHLY RECOMMEND – no need for long sleeve tshirts then. You could also bring leg warmers
1 dressier shirt and sweater
1 scarf
Ball cap
Warm hat, gloves
Bandana
Electronics
Computer that weighs under 2 pounds + plugs
Memory stick
SLR Camera
Plug adaptor for Great Britain
Phone
Miscellaneous
The 10 essentials
Rain cover for day pack (very important – lobe packs that have them built in)
Reading material – 5 books in my case. I tried to bring fewer but two will be read just on planes. I know most people will take a Kindle or put them on their phone. Bottom line – take more than you think you need.
Journal, maps, pens, markers
Two water bottles (you could bring flavoured crystals of some sort ); I'm not bringing a water purifier for Britain.
15 energy bars – one per day and one extra. These are hard to find overseas plus they're much cheaper to buy at home. Buy a variety and taste them before you leave.
Expandable clothes line + a small container of soap
Whistle
Eye shade – for the plane
2 pairs of reading glasses ($Cdn60 in London's Heathrow last year for 1 pair!)
Sunglasses
Half gaiters
Sunscreen + lip balm (may not even pull it out judging by the weather forecast)
Toilet paper + Kleenex
Extra Ziploc bags in different sizes
Dirty laundry bag
Tripod (maybe – because it's small)
Cloth for cleaning camera lenses
Collapsible hiking poles (optional)
Carabiner for the outside of a pack; it has all sorts of useful purposes including holding sandals
Passport, credit cards, ATM card, driver's license, insurance papers, cash (some in smaller notes if possible). Leave unnecessary cards at home.
First aid kit
It's not very big but it's got enough if we get into trouble. I highly recommend purchasing Compeed for blisters. It can be hard to find in drugstores but you can buy it online. It can be found everywhere in the UK and Europe.
Assorted blister aids – Band-Aids, moleskin, tape
Gauze and dressings
Antibiotic cream like Neosporin
Triangular bandage
Ace bandage and safety pins
Advil, Benadryl
Hand sanitizer
Emergency blanket (the ones that weigh 1 ounce that reflect your body heat)
Toiletries
What I'm bringing and what my friend is bringing is quite different. She has four types of cream alone – eye, face, body, sunscreen. I might just mooch. Don't forget the following:
Toothbrush and toothpaste
Small mirror
Contacts, glasses and eye solution
Earplugs – I've been warned by her husband
Makeup – depending on who you are
Small shampoo and conditioner bottles
Deodorant
Razor
Hairbrush (so obvious I usually forget it)
Tweezers, scissors, nail clippers, Q-tips
Prescriptions and/or vitamins
This list looks incredibly long but in fact I have chosen clothes that stuff into nothing and lightweight fabrics whenever possible. This trip is no beauty contest.
If we do any fine dining it will be in jeans and sandals. Certainly no one needs all the electronics I'm bringing but I plan to write blogs every few days. Once I start loading my bags I may fine tune just a touch.
I don't like Scotch but for those of you who would enjoy a wee dram, add a flask to your list.
Further reading on hiking in the UK and Europe