The Via Alpina in Switzerland is a long distance hiking trail made up of three distinct sections covering different parts of the country. John and I hiked six of the 20 one-day stages that make up the 390 kilometre red trail route.
This part of the Via Alpina hike starts in Vaduz in eastern Switzerland and ends in Montreux in the west. Over its length, it climbs 23,600 m (77,400 feet) and crosses 14 alpine passes. John and I hiked some of the prettiest stages of the Via Alpina from Meiringen to Lenz as described in greater detail below.
This post includes some affiliate links. If you make a qualifying purchase through one of these links, I may receive a small percentage of the sale at no extra cost to you. Thank you very much for your support.
Via Alpina in Switzerland – red section hiking info
The Via Alpina hiking trail isn't just in Switzerland. In total there are five routes covering roughly 5,000 kilometres and linking eight alpine countries – France, Italy, Monaco, Switzerland, Austria, Germany, Slovenia, and Liechtenstein. The three sections that wind through Switzerland include the blue, green and red trail.
The red trail is the only one of the five routes that includes all eight alpine countries as you can see in the photo of the map below.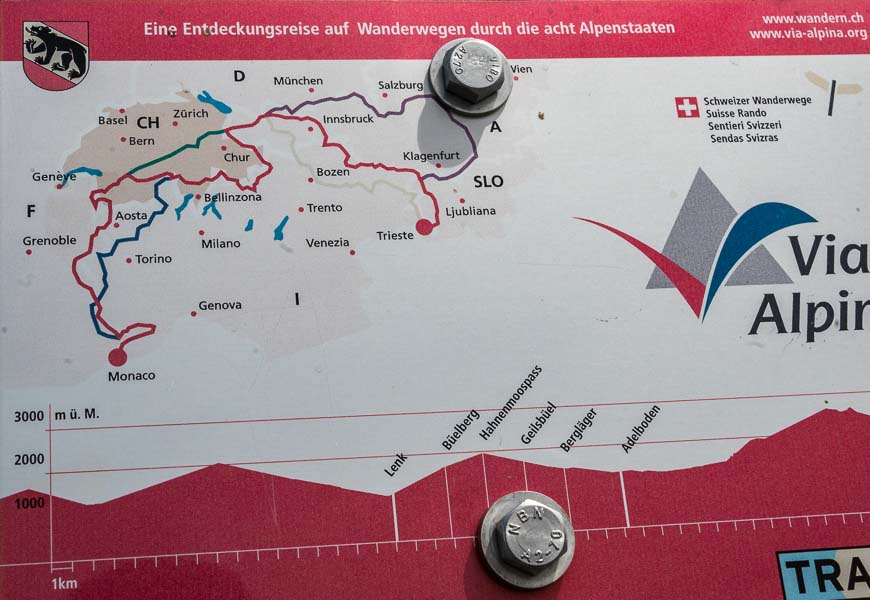 Be prepared for a long read. I want to give you a sense of just how stunning the scenery is. To that end I've included lots of photos and an accounting of how our days on the Via Alpina in Switzerland unfolded.
Luggage transfer and other details on the Via Alpina hike in Switzerland
On the six day hike, all we had to do was carry our day pack and get to the next hotel. Eurotrek, a tour company, looked after moving our bags every day, and providing us with trip notes and maps. Should we have had an emergency, they were there to help.
Location map of the Vial Alpina in Switzerland hike + where we stayed
Click on the three dots in the right hand corner to email a copy of the map.
Meiringen – our starting point for the Via Alpina in Switzerland hike
The pretty town of Meiringen was our starting point. We made our way directly here by train after landing in Zurich. The plan was to spend a few days exploring the area at a relaxed pace so we could get on the time zone.
Meiringen makes a great base for some lovely half and full day outings including the Aare Gorge and the steam train to Brinzer Rothorn.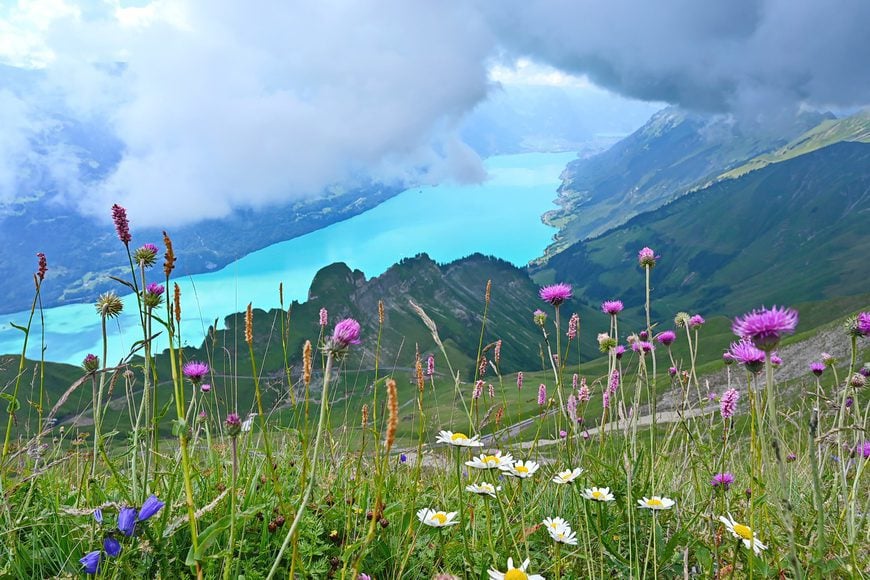 Day 1: Meiringen to Grindelwald on the Via Alpina in Switzerland
We cheated on the first day though in fairness our trip notes told us to start the hike to Grindelwald with a bus ride to Hotel Rosenlau. I'm so glad we did.
The distance from Meiringen to Grindelwald is 23 km – and with that you climb 1,500 m and descend, 1,100 m – a rough start to a hiking trip. The scenic bus ride up to the hotel knocked off 9 km, 800 m of elevation gain and 520 m of descent, turning the day into a very manageable one.
With a shorter day we were able to start with a walk through the truly stunning Rosenlaui Glacier Gorge. The water doesn't flow through here – it roars. It's a magnificent spot filled with scary looking whirlpools, waterfalls and wildly eroded rocks. It's definitely worth the 30 minutes it takes to visit.
We didn't take a tour of Hotel Rosenlau but our trip notes speak to "romantic halls, creaking bedchambers …. where Tolstoy, Nietzsche and Goethe once trod."
When we finally got around to hiking it was about 11 AM. Fortunately, it turned out to be an easy, beautiful day with no real steep sections on a well-maintained trail.
In no time we were above tree line, admiring cows and their reflections in ponds near the pass at Grosse Scheidegg. We saw loads of cyclists join hikers at the hut for lunch after their tough climb from Meiringen but we continued on to find a quiet spot with a view of Wetterhorn.
The trail turned to road as we got closer to Grindelwald and the views went from beautiful to staggeringly gorgeous. Grindelwald looks over the Eiger – a storied mountain if there ever was one.
We had to refer to our trip notes to find our hotel (Hotel Kirchbühl) for the night. What a treat it was to arrive and see the view we got from our room.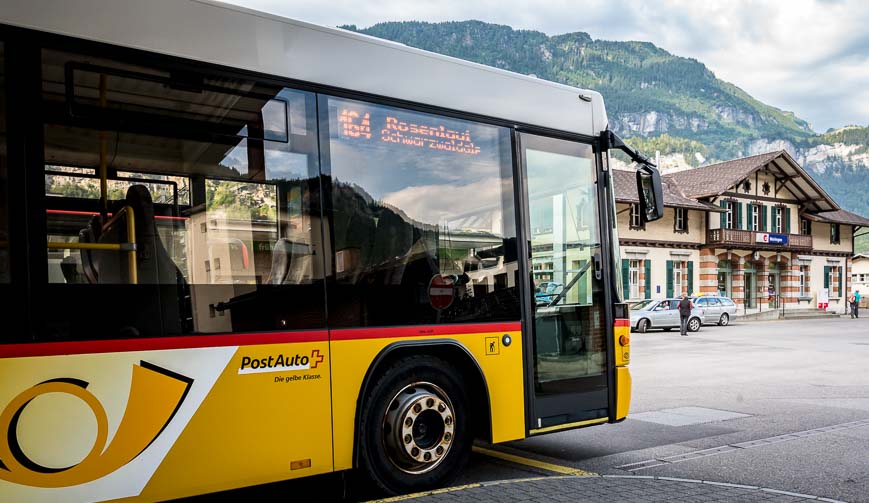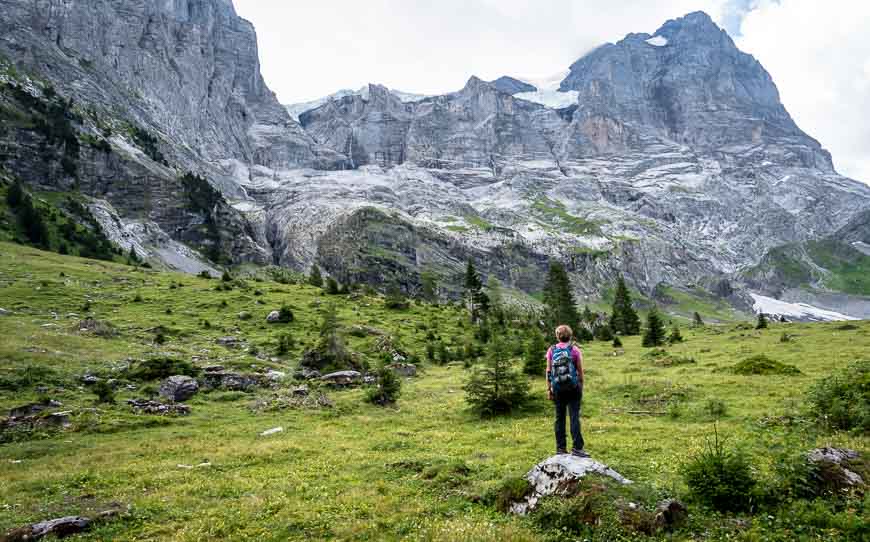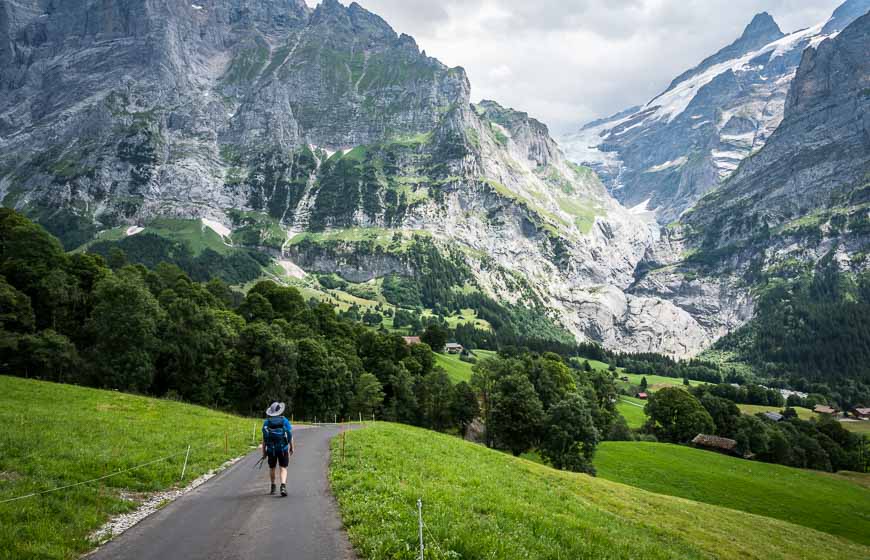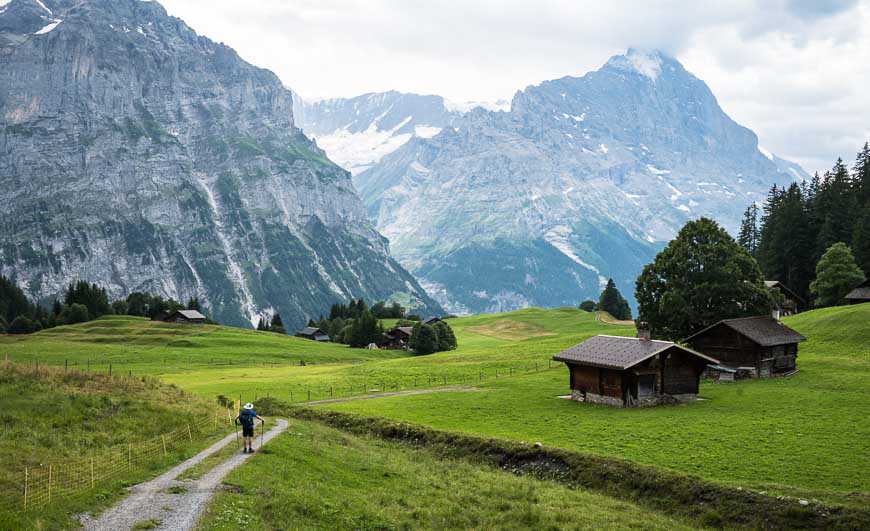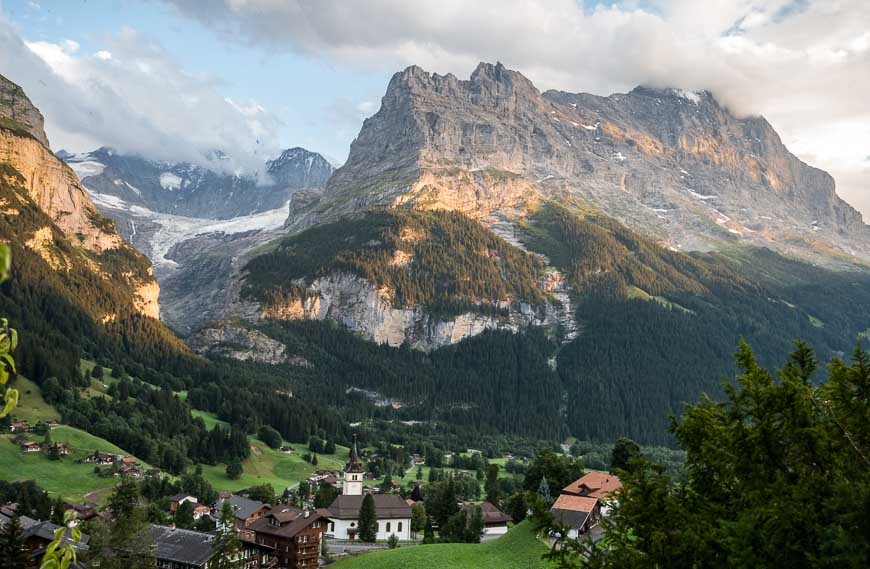 Day 2 on the Via Alpina in Switzerland: Grindelwald to Wengen
Today's hike started with a steep descent through the town of Grindelwald – followed by a steep ascent on a road and wide track to Kleine Scheidegg.
Over the 3-hours it took us to climb 1,230 m our attention was riveted on a helicopter carrying cement to a place high up on a mountain. The transfer of cement to a bucket and round-trip by helicopter took only about 5 minutes. It was actually fascinating to watch.
Kleine Scheidegg at the pass is a busy spot, especially with trains coming up from the valley below and some continuing all the way up to a point high on the Eiger. Our trip notes say "after 16 years of construction, The Jungrau Railway was inaugurated on Swiss National Day in 1912 and at 3,545 m remains Europe's highest railway station to this day."
The train ride, while largely in tunnels still offers stupendous views of the Sphinx Terrace, the Jura and the Aletsch – Europe's largest glacier. And there are several places where you can get off to take in the incomparable beauty. I wish we'd had the time to make the trip!
As a major tourist hub, Kleine Scheidegg is filled with restaurants, cafes and small shops. We stopped for lunch here and enjoyed the riveting view of the world-famous Eiger, Mönch, and Jungfrau towers. When one of the world's great rock climbers makes an attempt to climb the sheer north face of the Eiger you can be sure all eyes are focused on their every move from here.
From the pass we continued steeply down for 760 m to Wengen, with one refreshment stop along the way. We made it to the hotel with a few minutes to spare before the skies opened…for hours.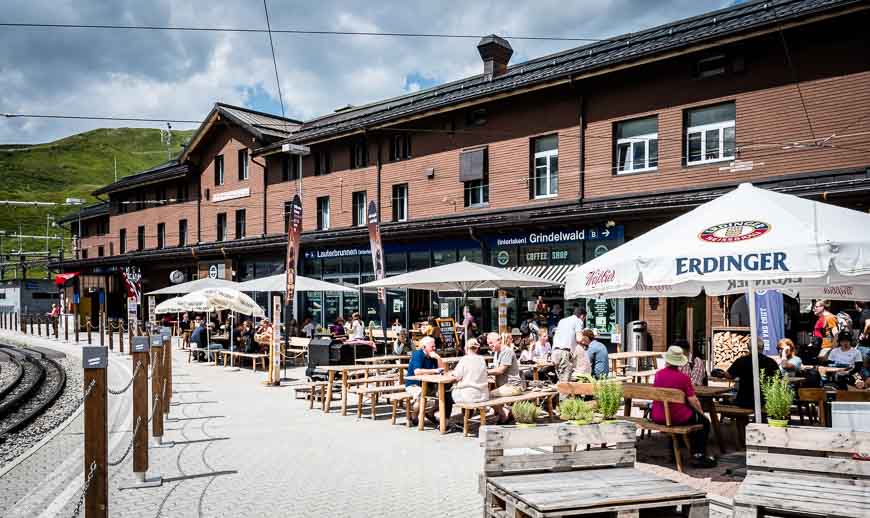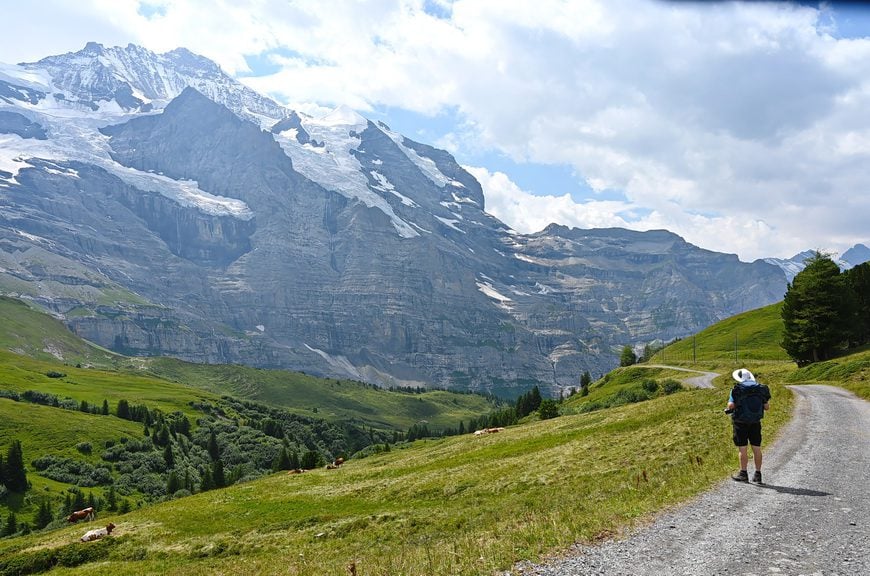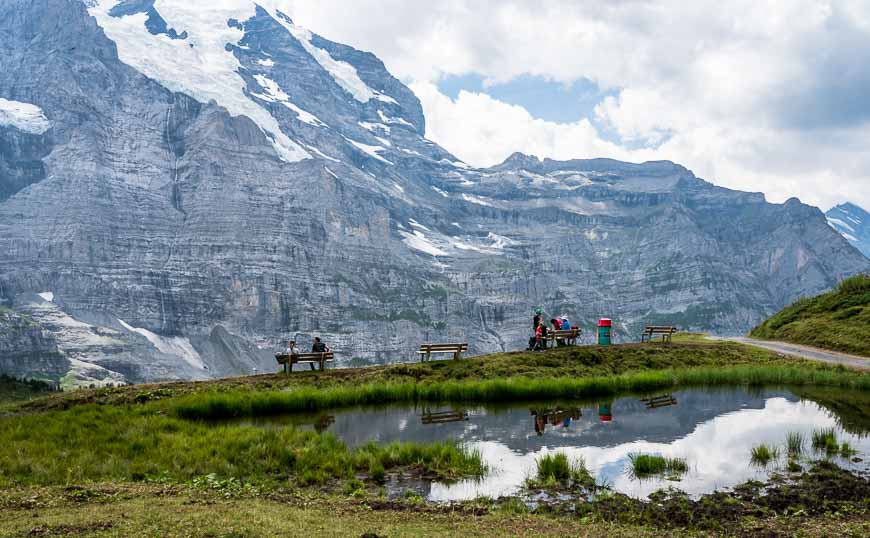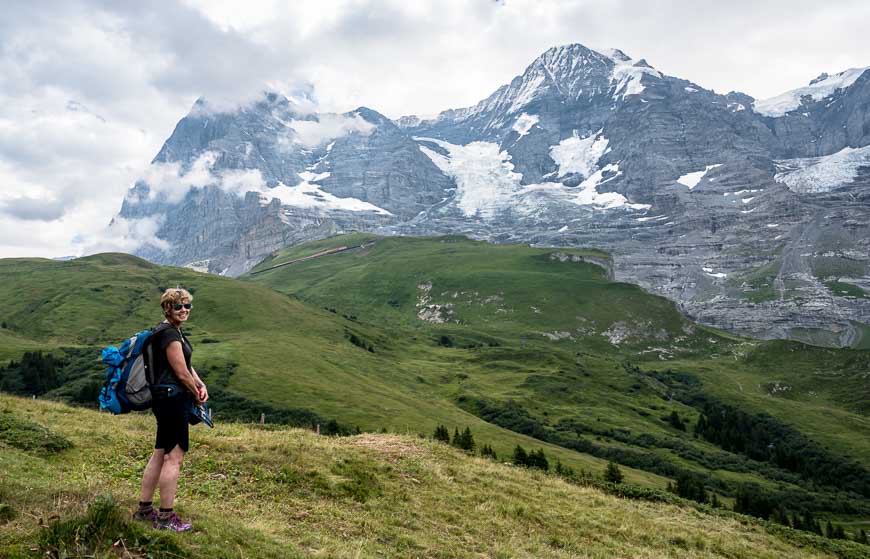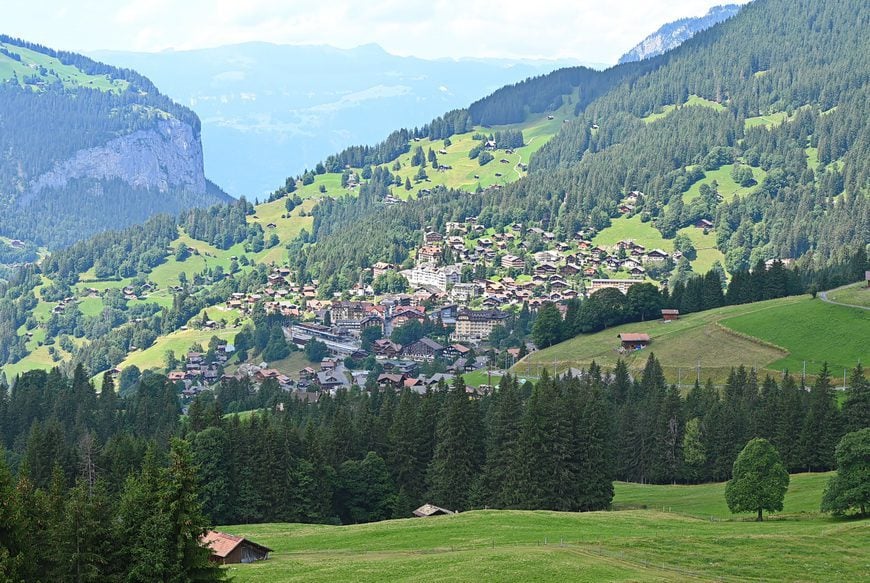 Day 3: Wengen to Griesalp via Lauterbunnen and Murren
If we'd focused on the trip notes we might not have even got out of bed. We were in for a long, partially rainy day.
First we had to descend 500 m to Lauterbrunnen before the day really got going – and that would take us 75 minutes. From there it was to be a 10-hour hiking day covering 20.5 km with 2,090 m of up and 1,495 m of down. Wow!
I think John and I are in reasonable shape but that's a big day no matter how you cut it. It was an even bigger day for John who chewed his pain killers like they were gummi bears because of a bum hip. (Six weeks after this trip he had a hip replacement!)
In the trip notes it mentions that you can shorten the walk with a cable car up to Grütschalp and from there you can walk or train it to Mürren. By doing that we'd knock off three plus hours of rainy, not so interesting hiking. Our Swiss Travel Pass came in handy again – providing free access to the cable car in Lauterbrunnen. At the top we walked off, saw a train and hopped on – because it was right there.
In short order we were in Mürren – normally a very pretty car-free town with superb views of the Eiger, Mönch and Jungfrau. Interestingly Mürren, the highest altitude inhabited village in Canton Bern, became famous along with Schilthorn in the James Bond movie – On her Majesty's Secret Service.
Our next stop on the Via Alpina in Switzerland trail was going to be Rotstock Hut – about 2.5 hours ahead. The trail – if it had been sunny, would have been positively glorious. Even in the mist and the rain it was beautiful though there were several long sections where the trail narrowed and we had to be careful to avoid the white wires of an electric fence.
The hut was a beauty though a tad unwelcoming. We had hoped to get something warm to drink but it appeared that you had to have lunch reservations. We ended up eating in the entrance way surrounded by dripping coats.
From the hut it was to be another couple of hours and 600 m or so of climbing to get to Sefinenfurgge. The rain had let up and visibility improved after lunch enough that we both enjoyed the lush, green landscape reminiscent of Ireland.
Plodding on the Via Alpina in Switzerland, I did take time to admire the wildflowers as we climbed ever higher. The last bit switch-backed through black scree to arrive at a small pass with a very steep set of stairs on the other side.
Our descent of close to 1,400 m was tough – especially because you had to pay close attention to your footing. Once down to the main road the hiking turned delightful. We passed well-appointed Swiss homes and waterfalls galore on the hike down a misty, moody valley.
It was with some relief when we ended up in Griesalp – ready for a hot meal and a glass of wine. In chatting with a couple of Californian fellows we'd met early on the trip at dinner we learned that they avoided the pass because of the poor weather.
Our trip notes provide bad weather alternatives that would have entailed a train back to Interlaken and then onto Spiez, follow by a bus and a 2.5 hour hike. I'm happy we didn't alter our plans.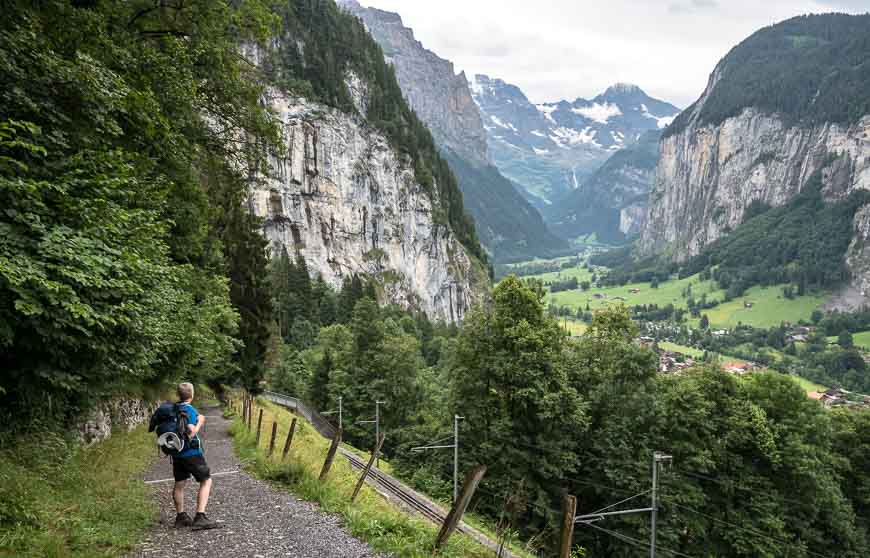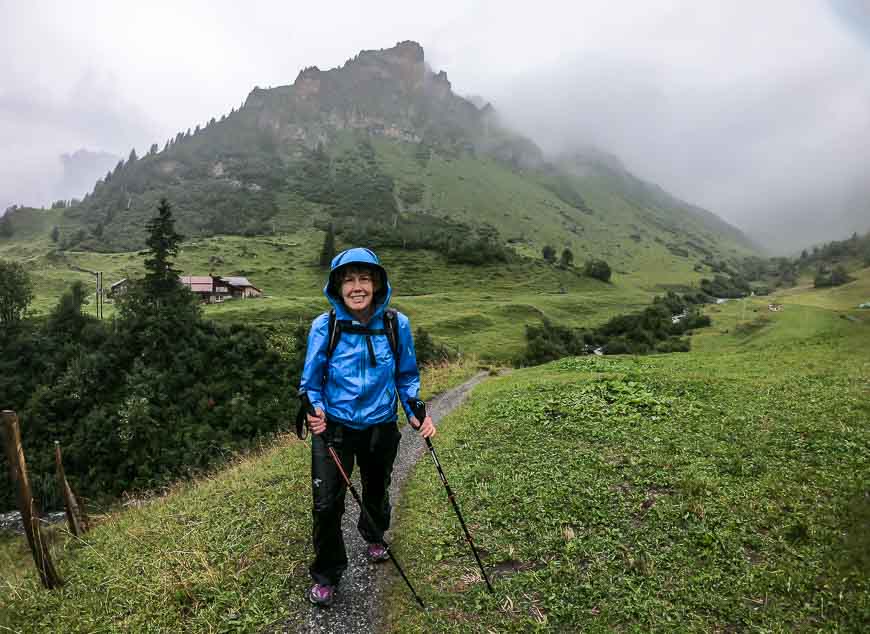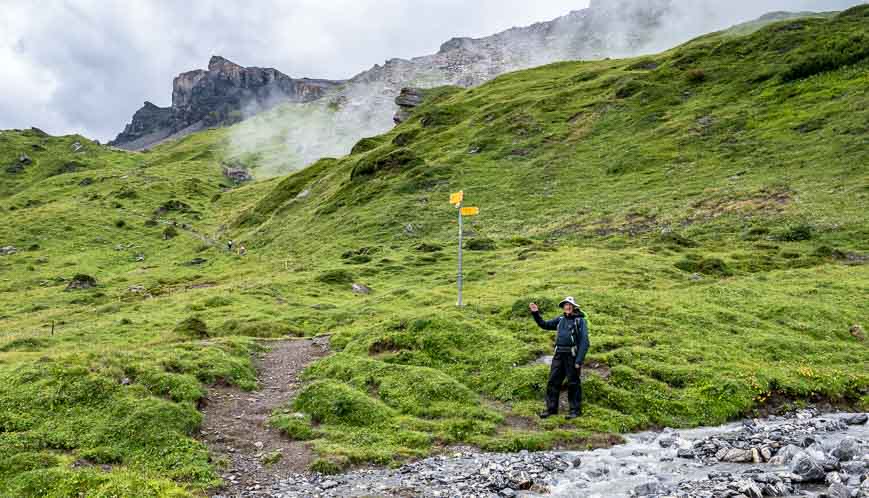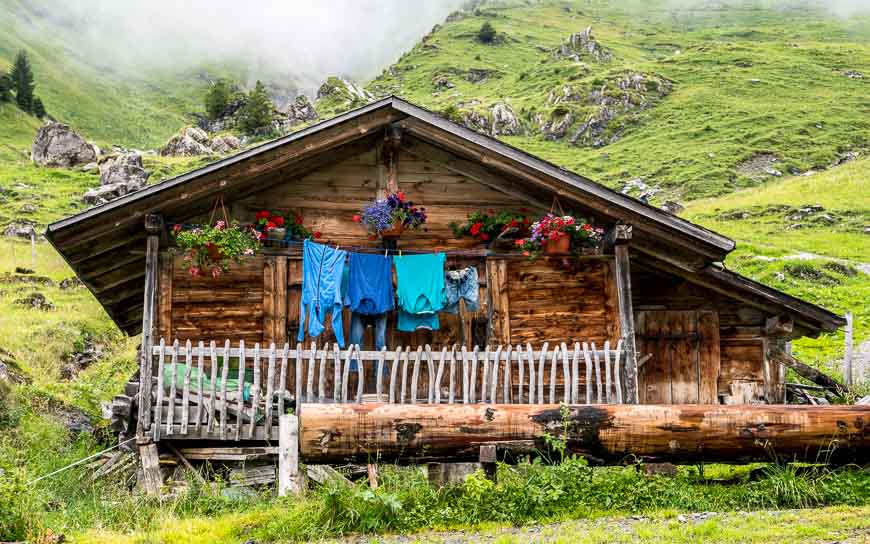 Day 4: Griesalp to Kandersteg
Day four was to be the hardest of the six days but my favourite. It started with a walk on an educational nature trail as we left Griesalp. Ninety minutes later we emerged from the woods and arrived at a restaurant. We didn't stop but you should note that it's your last chance to get another morning jolt of caffeine or just to rest before the climbing begins in earnest.
From the restaurant the trail climbs 1,000 m to Hohtürli with the final stretch on a set of steep wooden stairs. It's hard hiking but it sure is spectacular. When you finally top out, you're at the highest point on the Via Alpina in Switzerland at 2,778 m or 9,114 feet.
It's worth continuing another 50 m up to reach Blümlisalp Hut. You can buy lunch, snacks and drinks here, hang out on the oversized benches just admiring the setting or even hike a little further for close-up glacier views.
The descent is far more gradual than the ascent. However those with a fear of heights might not like the drop-offs you can see in the photos. It's not as terrible as it looks but on a poor weather day I'd choose the bad weather alternative route. (A chairlift to Ramslauenen from Grisealp and then a 17-km hike on the route 56 Lötschberg Panorama trail.)
With glaciers so close you feel like you can touch them, you may want to lie down like one man we saw to savour the view from a different angle.
On the way down to Oeschinen Lake – a deep blue mountain lake you pass a mountain restaurant at Oberbärgli – where you can get a drink or something light to eat. We did and it felt good just to sit for a while. We stopped again at the lake, with me wading in to cool my now swollen feet.
We had read that there is a cable car that takes you down to Kanderstag from the lake but we opted to keep walking. It was only another hour down on a road with some beautiful waterfall views. The trail took us right by the front door of our hotel – Belle Epoque Hotel Victoria.
Check rates and availability of the Belle Epoque Hotel Victoria located right on the Via Alpina in Switzerland.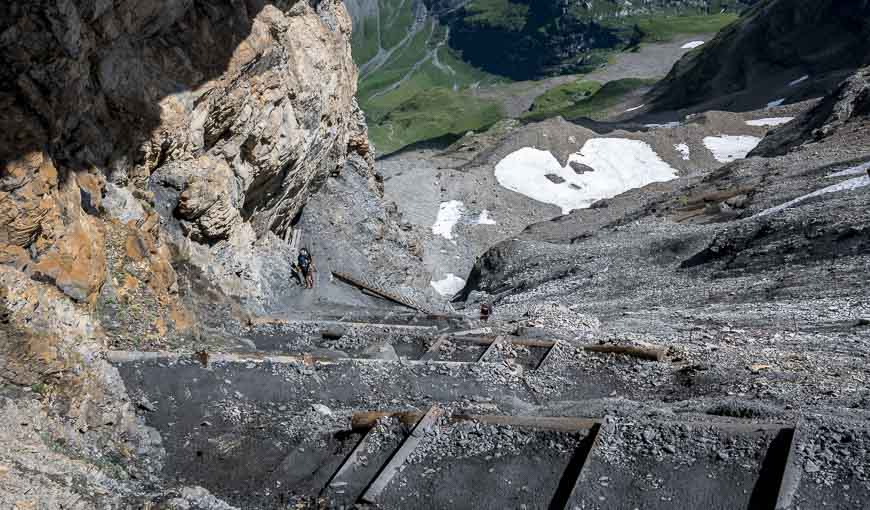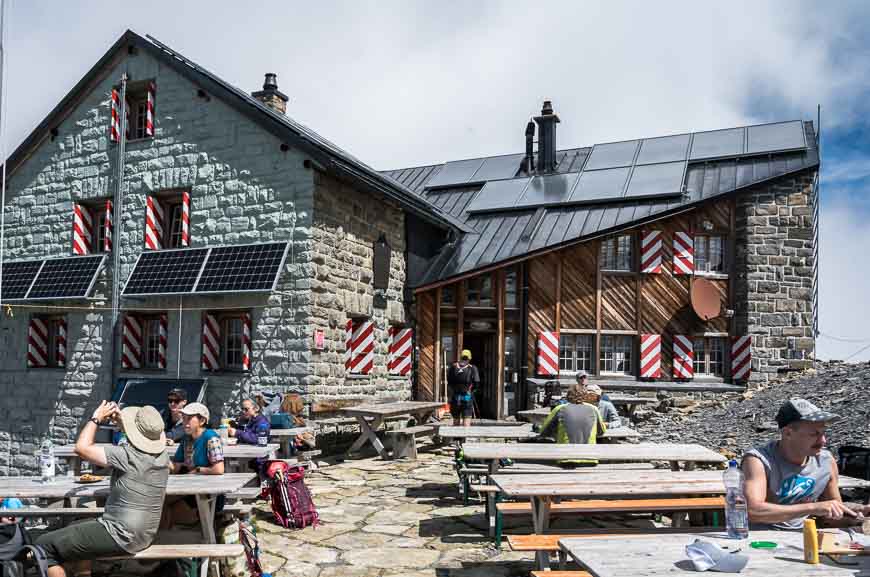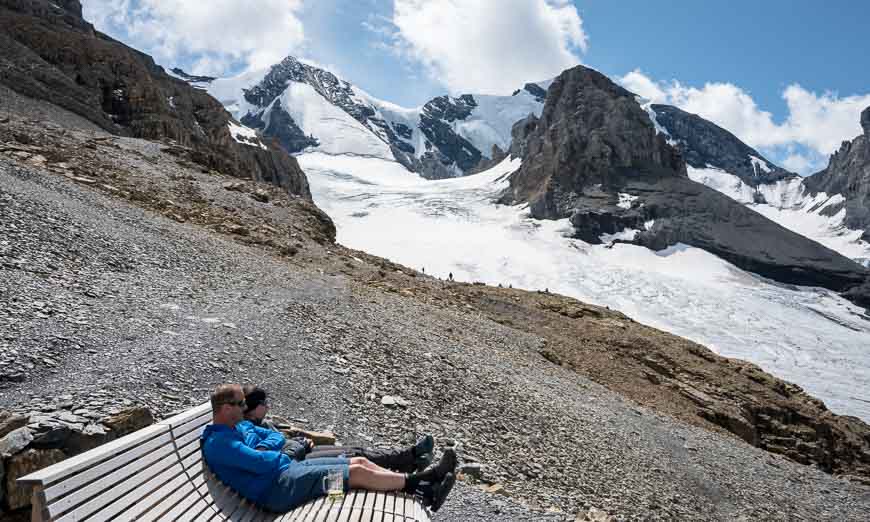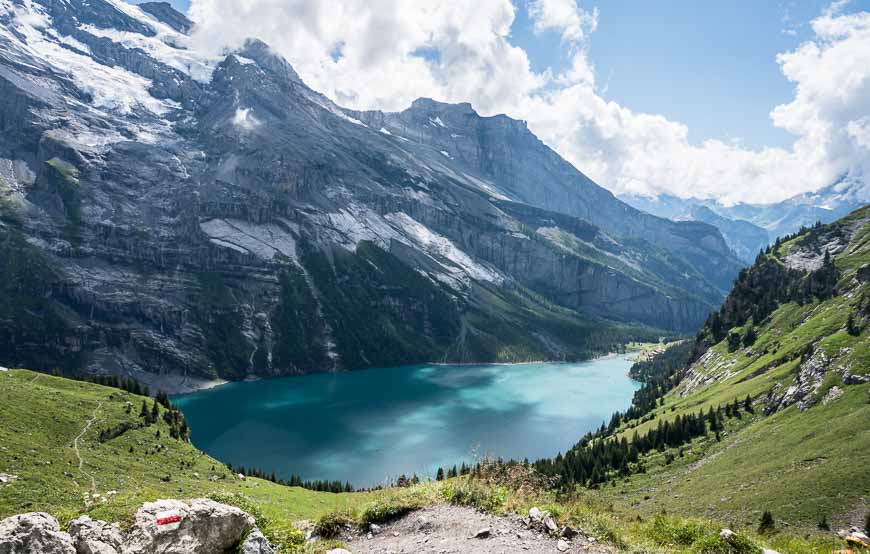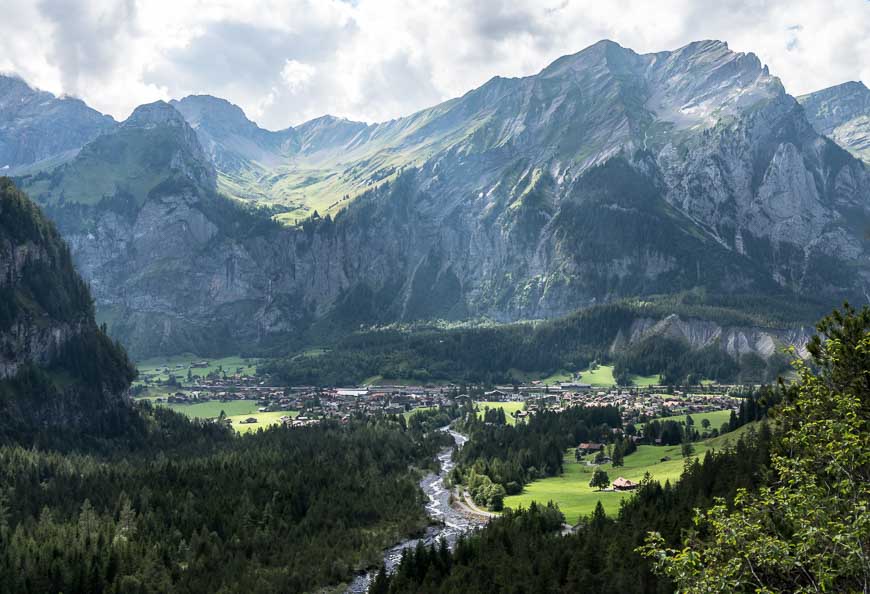 Day 5: Kandersteg to Adelboden hike
I was tired after a couple of tough days so it didn't take long for me to find a shortcut. From the charming town of Kandersteg – home to loads of traditional wooden chalets, we walked a short distance to a cable car. It was a small one with room for about six people. It didn't move quickly but it was faster than my uphill gait.
We knocked about an hour and 750 m of uphill walking off the day's hike – making it a 6.5 hour hiking day instead of a 7.5 hour one.
We did pass a sign – like many we'd seen, warning about getting too close to cows with their nursing calves. If people get close – and many do for the photo op, the cows can become quite nasty. Use common sense.
The ascent to Bunderchrinde is via Alp Alpschele – where you're likely to see Simmental cows. You can get a drink here and on a clear day admire the view of sparkling Oeschinen Lake. Continue on a gradual climb to the pass with its interesting layered rock formation. We stopped for lunch here to take in the view – and to avoid the descent, the steepest and nastiest of them all so far. I don't know how I would have got down without poles!
Once we were into the scree it was fine but the initial part of the descent on a rainy day would be brutal. Take the bad weather alternative. (Hike the path to Frutigen and then hop a bus to Adelboden.)
I hadn't looked at the map in enough detail in the morning but it sure became apparent when we got to Adelboden that we hadn't finished the climbing for the day. It was up and up and then up some more to our hotel – Bellevue Parkhotel & Spa with the best view in town. I admit to whining a bit through here.
Our evening dining experience here was one of the best. The hotel's outdoor terrace is charming and the views sublime. We were very lucky to score a table outside.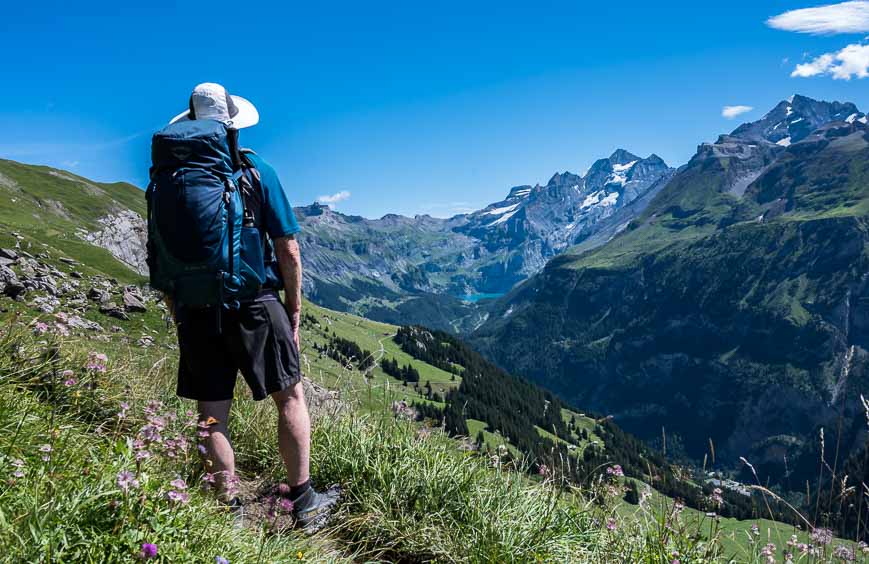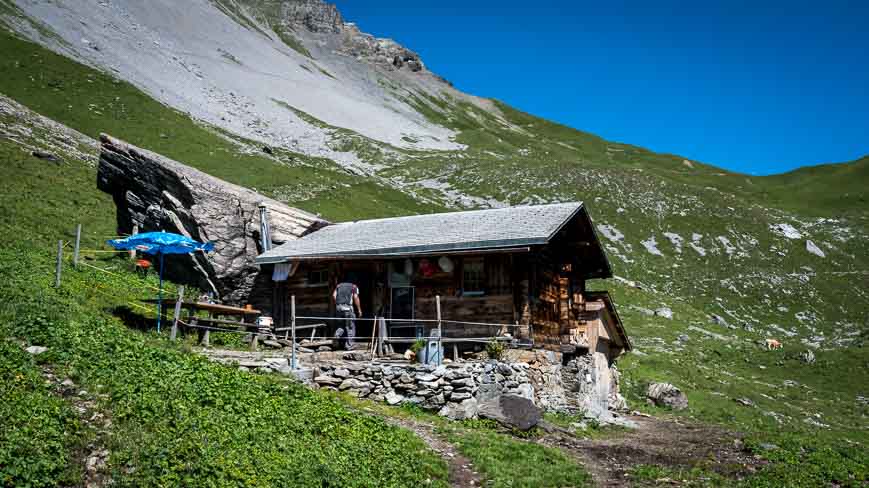 Day 6: Adelboden to Lenk on the Via Alpina in Switzerland
The last day of hiking was my least favourite. Part of that can be attributed to the weather. But for the better part of the hike we were either in a viewless section of forest or walking through a ski area. Neither were uplifting. Granted the ski area was lush and green with some nice views but after what we'd experienced, it was something of a letdown.
In total we hiked 14 km, climbed 720 m and descended 1,000 m. It felt like nothing at all compared to what we'd been doing. It took us all of four hours. We met our Californian friends just outside the cable car. They'd basically said screw it and took the cable car up to the top. We never saw them again.
Our trip ended at Hotel Kreuz, about a 10-minute walk from the railway station.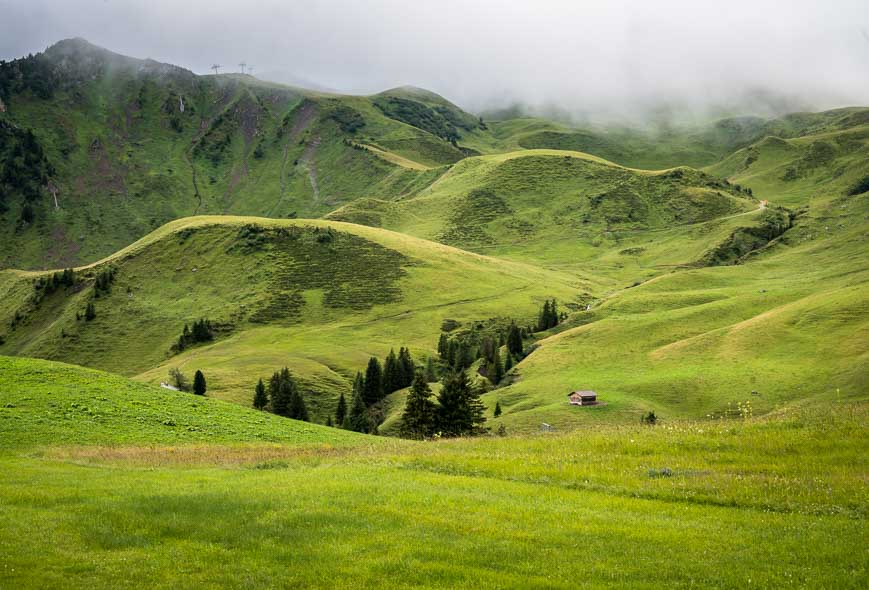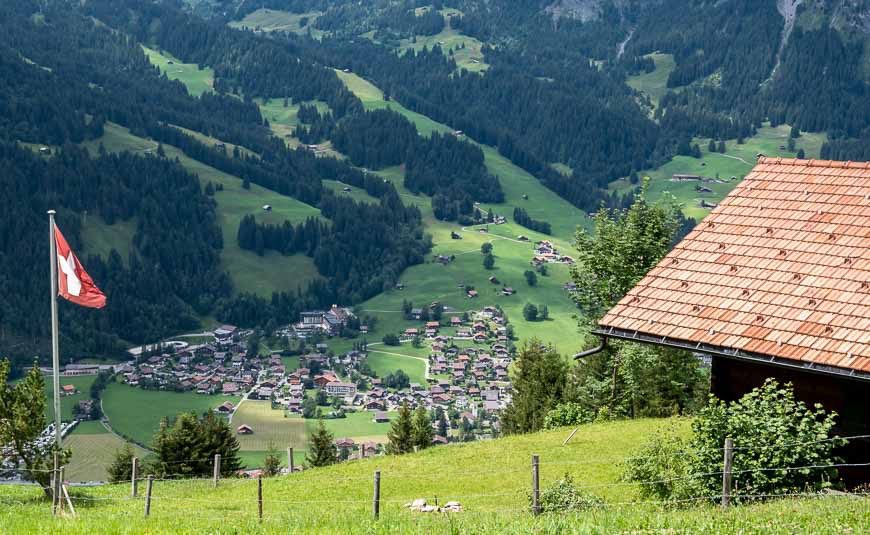 Where to stay on this section of the Via Alpina in Switzerland
We stayed in the following places. Some were excellent (see the notes), while others just lacked character. Book hotels early if you're doing this trip on your own especially in summer as rooms fill quickly.
Meiringen
In Meiringen I highly recommend Hotel Victoria for the rooms, food, ambiance and location.
Grindelwald
In Grindelwald we found our hosts at Hotel Kirchbühl to be generous and friendly. Cold drinks awaited us in the room and a cocktail with a view of the Eiger was offered before dinner, the only place on the trip where this happened. It was pretty darned sweet to throw open our bedroom windows and look upon this beauty of the Eiger.
Wengen
The Hotel Silberhorn in Wengen has an excellent location on the Via Alpina and it's beside a grocery store. But the hotel itself is bland, though serviceable for a night.
Griesalp/Kiental
In Griesalp/Kiental we stayed at Griesalp Hotels on the small town square. Although the rooms are simple we quite liked it and the food was good. Nice atmosphere with lots of trekkers.
Kanderstag
The Belle Epoque Hotel Victoria in Kandersteg offers great views, large, comfortable rooms, and a nice dining experience. Its location right on the trail is ideal.
Adelboden
The Bellevue Parkhotel & Spa offers some of the best views in Adelboden. The rooms are modern and comfortable. If it's a nice night try and have dinner on the terrace. It's magical.
Lenk
Our last hotel – Hotel Kreuz in Lenk had decent rooms with lovely views from our private balcony and very friendly check-in service. The food is bad but service is excellent.
Further information Via Alpina in Switzerland hike
The Via Alpina in Switzerland is one well-marked trail. Do not despair about getting lost – unless you happen to be caught in a thick fog high on a mountain top. Plan ahead so that is unlikely to happen.
It's easy to pick up lunch supplies at the local grocery store or bakery. Some of the hotels will make a packed lunch for you too. Carry Swiss francs, not Euros on the hike.
I just learned about this trail in the spring of 2019. I can't believe how the hike flies under the radar. It's world-class and a great choice for a long-distance hike. A good alternative to the popular Tour du Mont Blanc.
Show up in shape as every day there's a significant ascent and descent and daily mileage is often over 20 km.
For more information about the full hike through the eight alpine European countries visit the Via Alpina website.
Thank you to Eurotrek for trip notes and moving our bags but especially to Switzerland Tourism for hosting us.
Click on the photo to bookmark to your Pinterest boards.