The best part of hiking the GR221 in Mallorca is the hike from Valldemossa to Sóller. It is the longest and toughest day on the GR221 but for us it was also by far our favourite day. The scenery is superb in the morning, especially high in the mountains on what is called the Archduke's Path above Deia. And come mid-afternoon as we started to fade, out of seemingly nowhere appeared a manor house with beautiful gardens, comfortable chairs and delicious refreshments.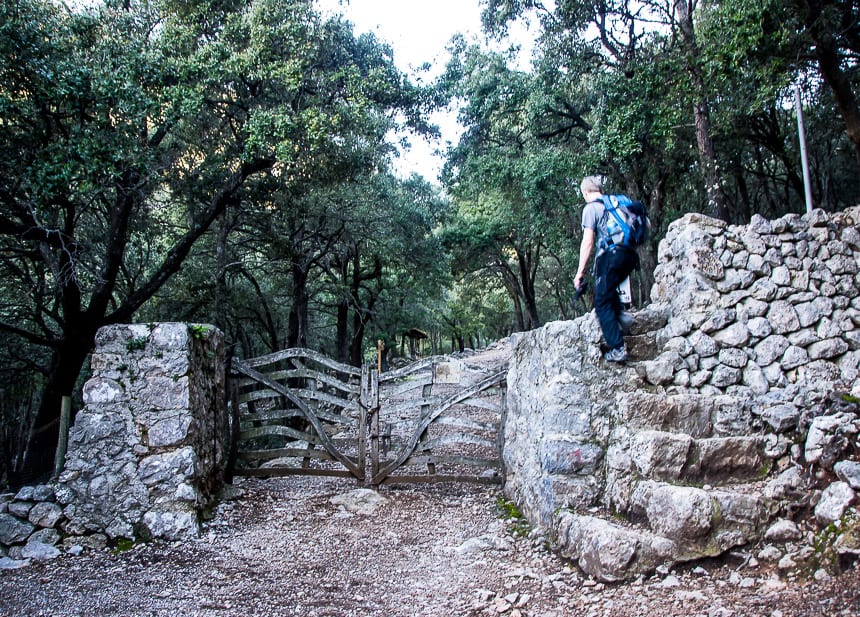 This post includes some affiliate links. If you make a qualifying purchase through one of these links, I may receive a small percentage of the sale at no extra cost to you. Thank you very much for your support.
We had wanted to get an early start but in Spain they don't really do early. Most B&B's serve breakfast starting at 8:30 or 9 AM. The one we stayed at in Valldemossa seemed a little shocked when we said we had to be on the road by 9 AM at the latest.
The route from Valldemossa to Soller on the GR221
The Archduke's Path is not recommended in bad weather as it would be very easy to get disoriented on top of the mountains when the fog rolls in. It was hard enough finding the markers in bright sunshine!
From the minute you leave Valldemossa you're climbing! The grade is actually quite moderate and the trail is very well marked. After a solid 90 minutes of hiking we reached Refugio des Cairats. It's closed to the public but it does have picnic tables. From there the trail heads uphill to tree line and then continues to zigzag with views of the Mediterranean getting better and better with each passing step.
We had a couple of mountain bikers on our tail starting about 15 minutes before the refugio. We were able to keep ahead of them until we reached the flatter sections on the mountain. Once they made it to the high point, it was easy sailing and they were but specks in minutes.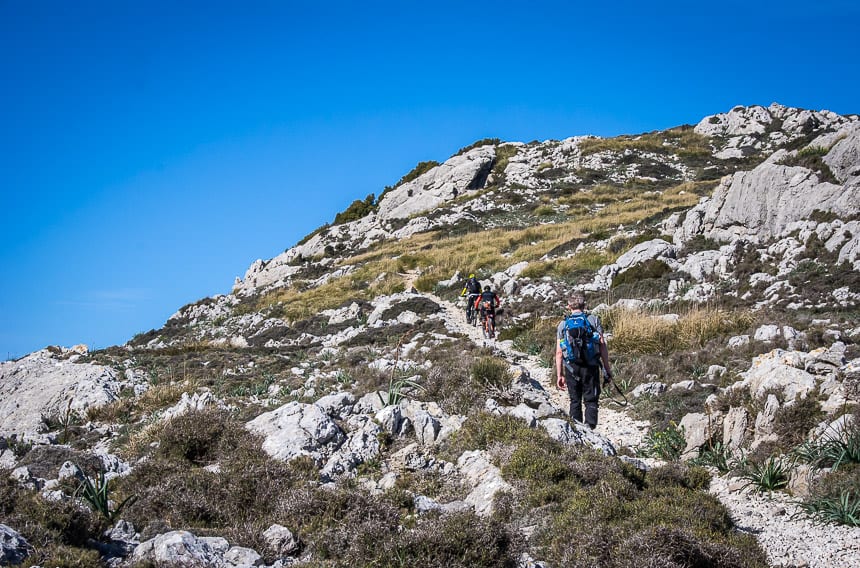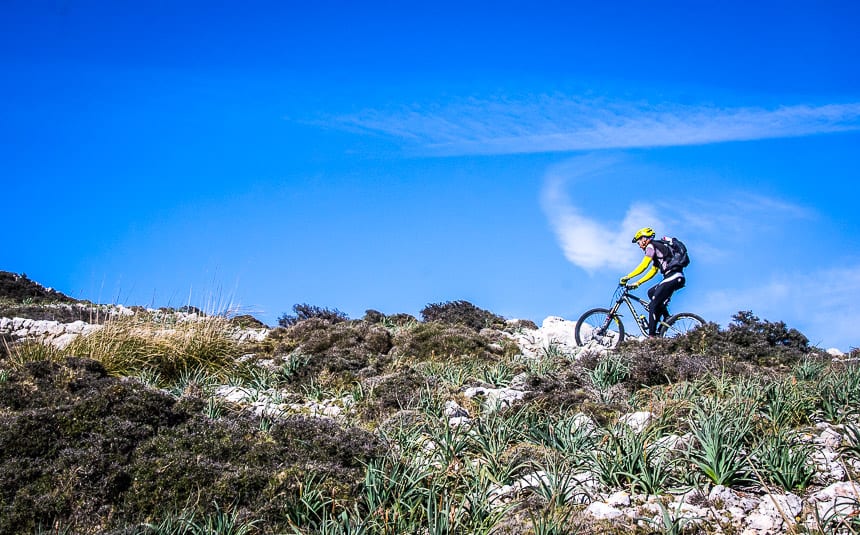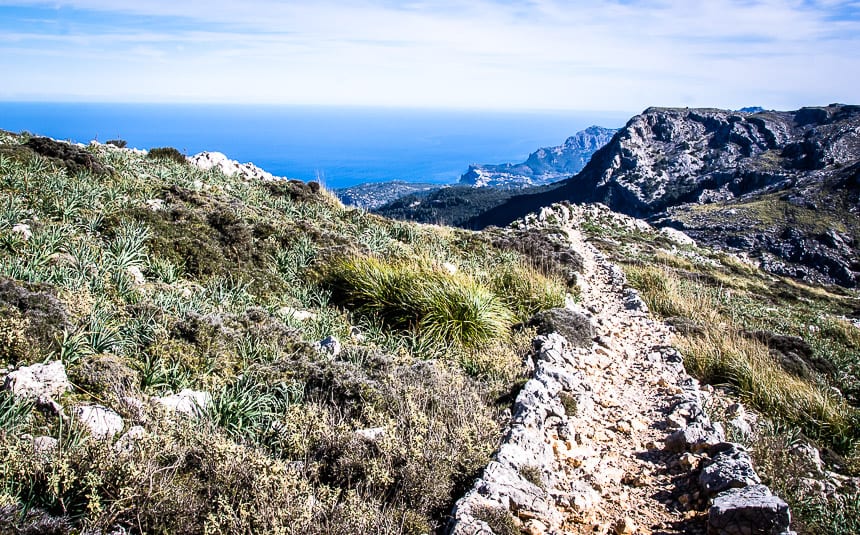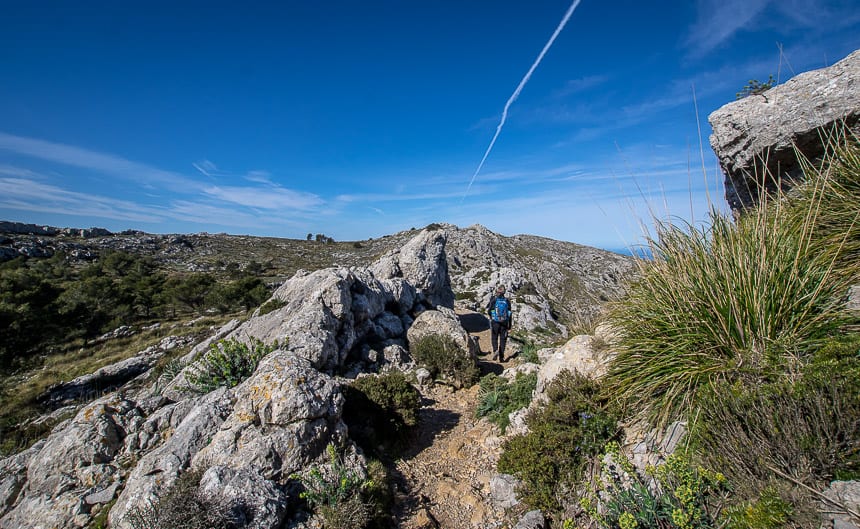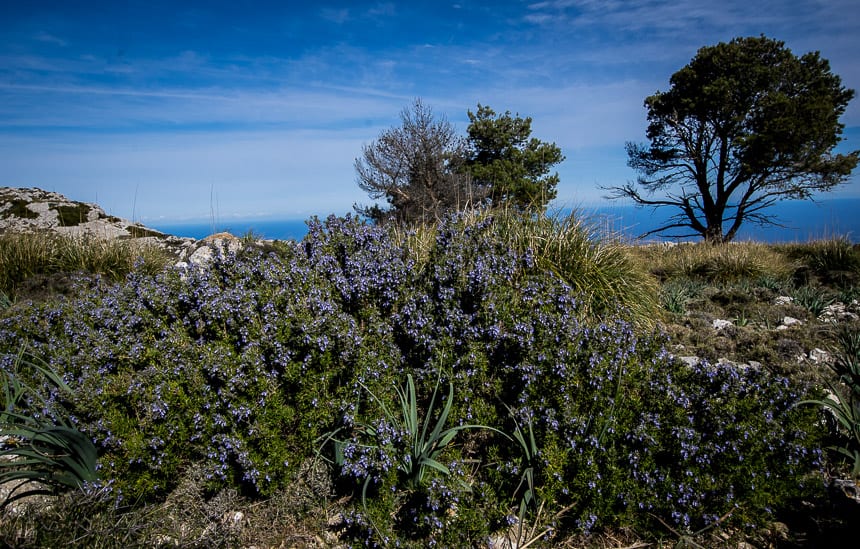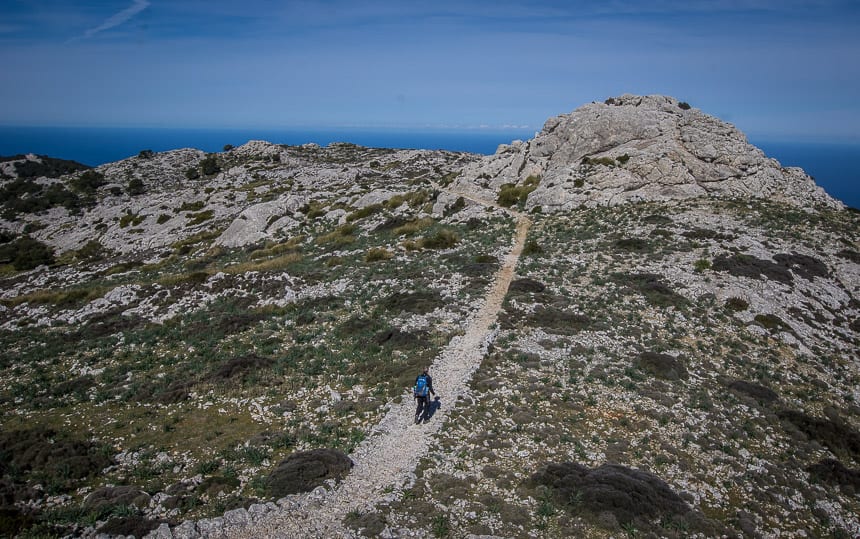 The descent to Deià
After our 2-hour ascent and a little time to enjoy the views on the summit of Puig Gros it was time to descend the best part of the GR221. Initially the trail is obvious as you head for a plateau but then the directions we had weren't matching too well with reality. John had noticed some people ahead of us (who had done this before) peeling off to the left on a descending trail so we followed them. That was the right thing to do.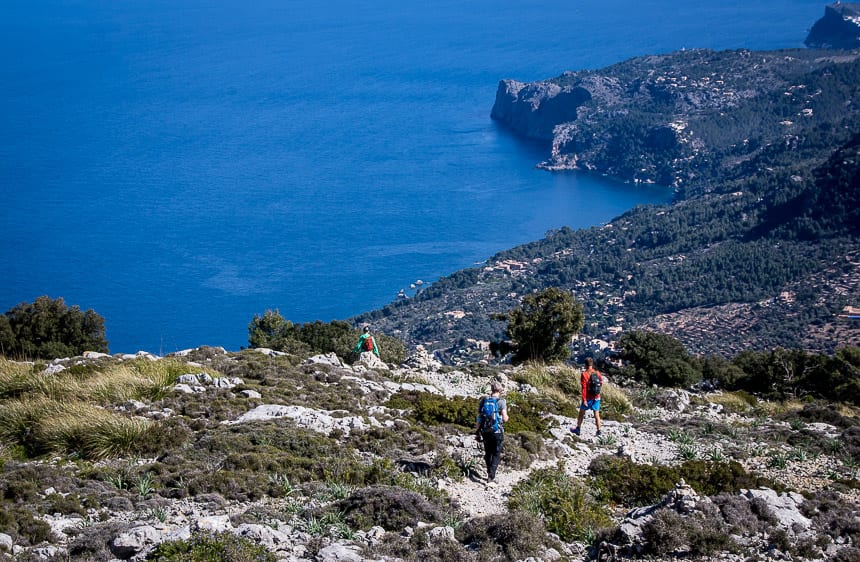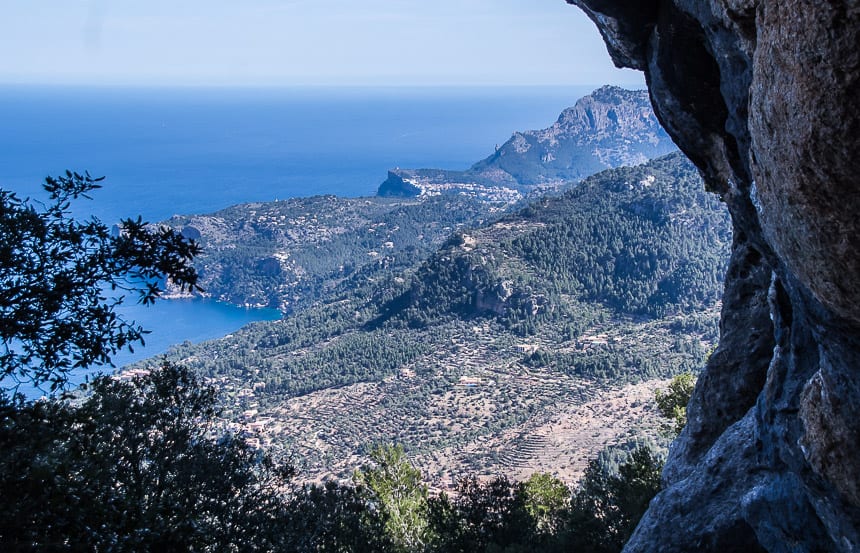 Though the descent was steep, the terrain was alright for walking. I'm always nervous of ball-bearing sized rocks after badly spraining an ankle in Turkey but for the most part the footing was excellent.
On the descent we passed abandoned charcoal burner's sites, including one with a bread oven and old groves of untended olive trees. Once we got close to Deià, flowers popped up as did the sheep.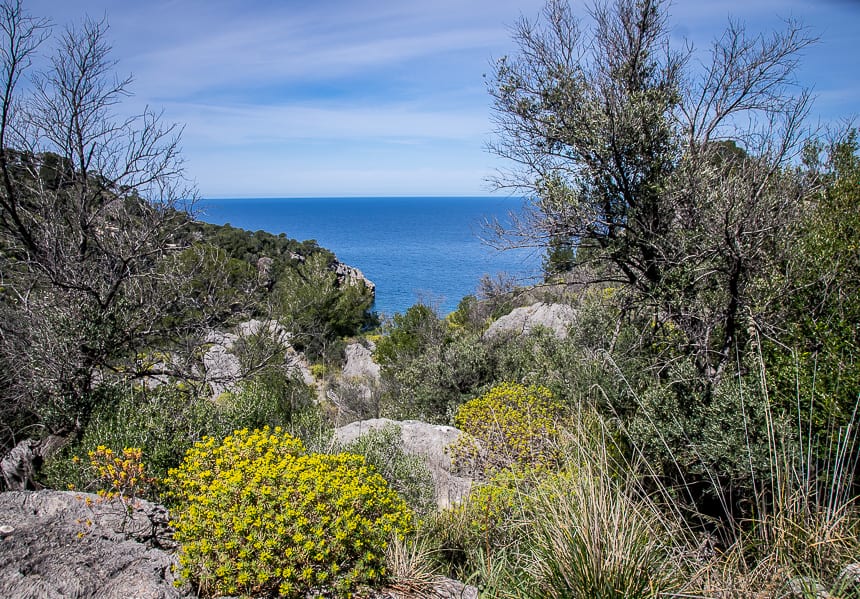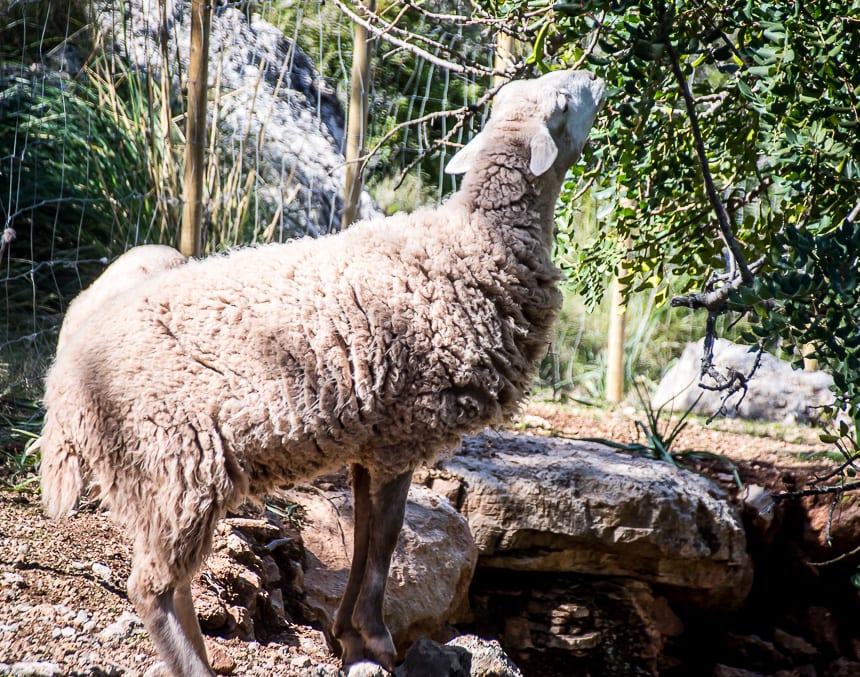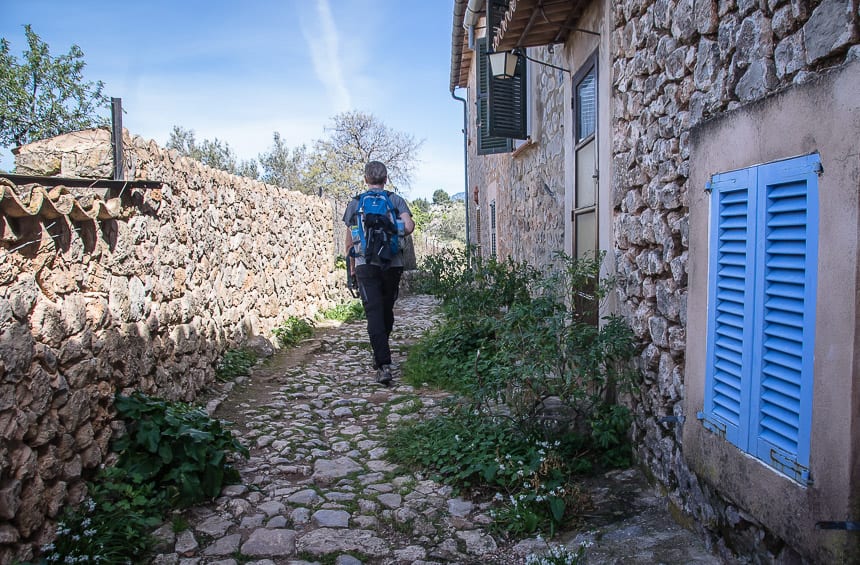 Should you call it a day in Deiá?
Many people call it a day once they reach Deiá. They find a good restaurant, enjoy a long lunch and then take a bus into Sóller. Deiá sits in a gorgeous location between Puig des Teix and the Mediterranean and as such is one of the tourist hot spots on the island.
At one point it was the home of Robert Graves, a poet and author. His home is now open to the public. (His affairs with women make for interesting reading.)
We elected to walk through town and find a quiet place to enjoy our lunch before continuing. It's a three hour hike to get from Deiá to Sóller. By mid-afternoon it was hot (I can't imagine doing this hike in summer!) and although the scenery was pretty it wasn't anything like what we'd seen in the morning.
After another two hours of hiking we arrived at Finca Son Mico and Can Prohom, a manor house that made its money from olive oil production. Plan on parking yourself here for a while with a glass of fresh-squeezed orange juice and a slice of lemon cake. Choose a view, a cozy bench under a flowering tamarack tree or a reprieve from the sun in the shadow of the house.
The last hour of hiking the GR221 to Sóller
Then it's just an hour of easy walking down to Sóller. We took a path called the Cami des Rocafort, a cobbled path that twists downhill and eventually meets up with the GR221 – but there's no one on it.
Cross the railway line of the Palma to Sóller train. It's been pulling wooden train carriages for over 100 years – and would be a sight to see but we weren't interested in waiting. In minutes you're into Sóller with its pretty square and abundance of nearby hotels.
For a fabulous option, book Hotel El Guia.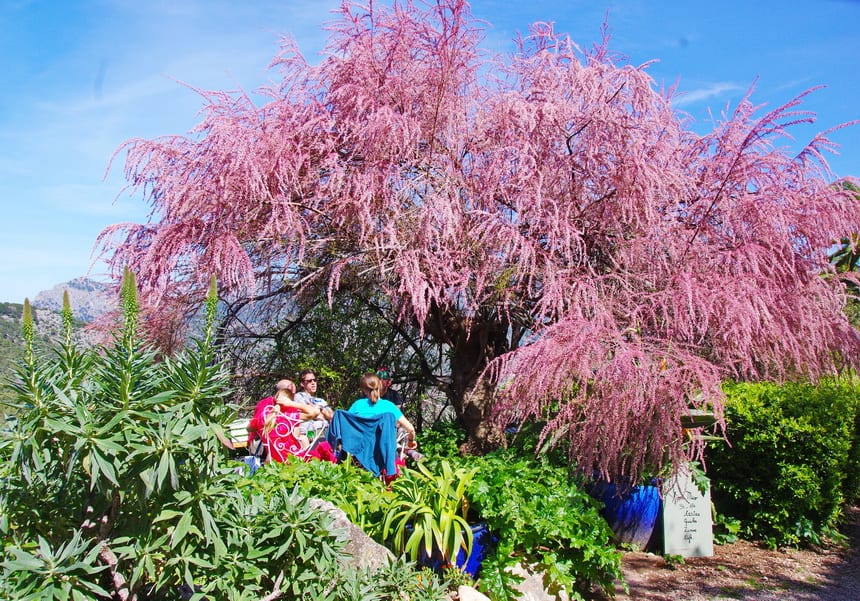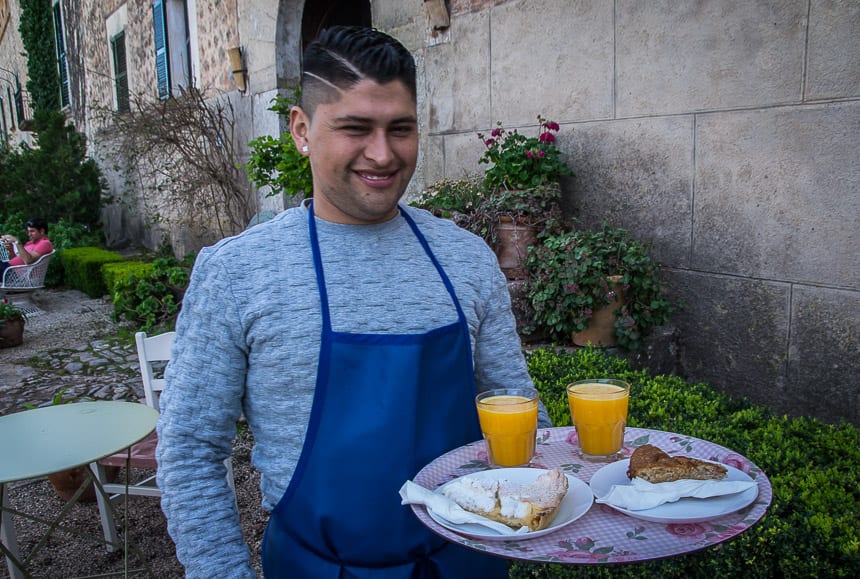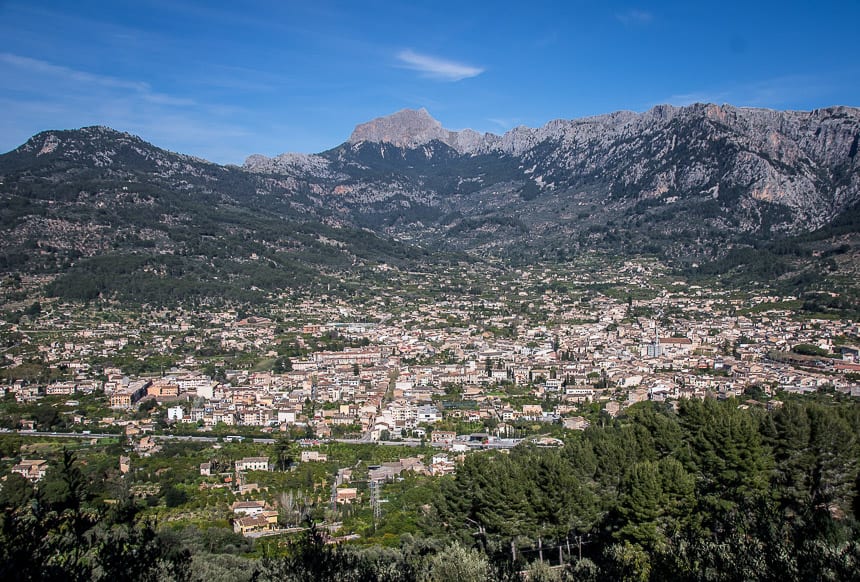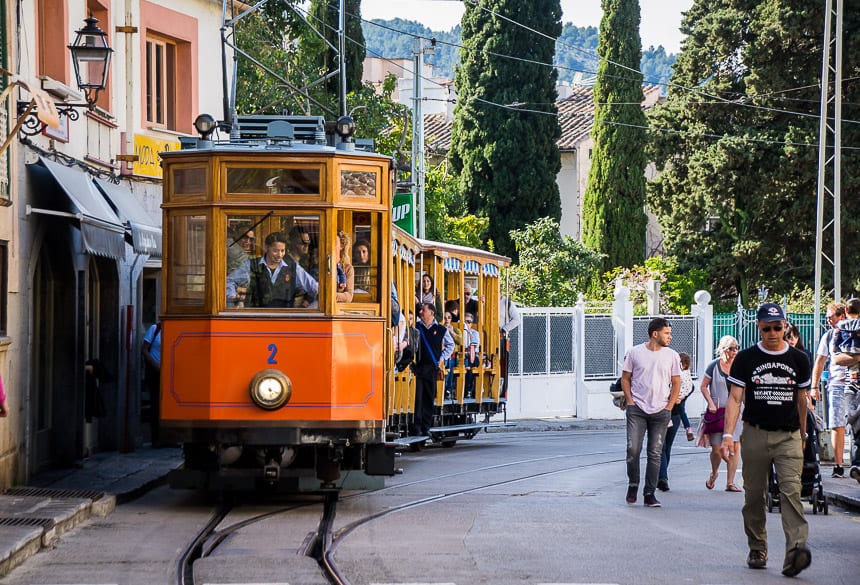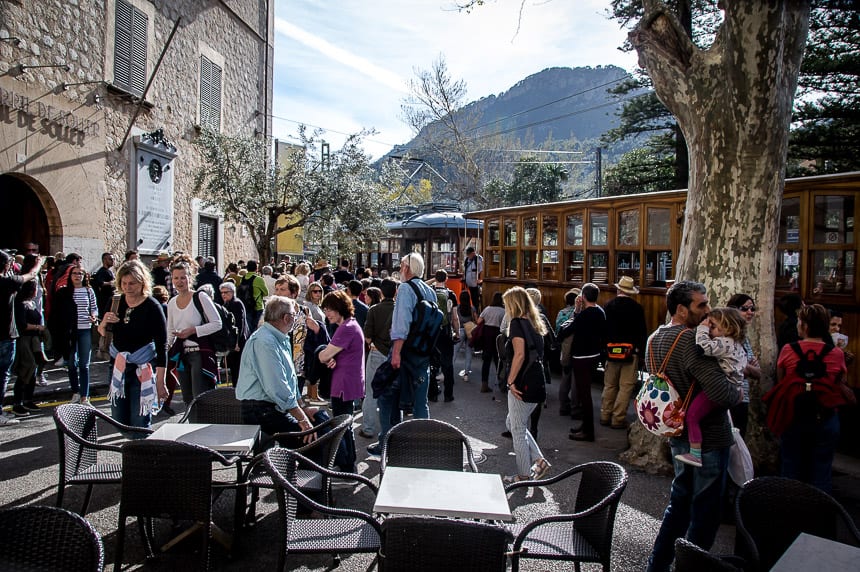 It took us about eight hours to hike the roughly 24 km (14.9 miles). Most of the vertical gain of about 1,200 metres (3,937 feet) took place in the morning. If the weather is onside and you're in decent shape it's very doable to hike the GR221 in Mallorca between Valldemossa and Sóller in a day.
The tour company we used for the Gr221 in Mallorca
We booked with On Foot Holidays out of Britain. It was the second time we'd used them (the first was for the Lycian Way in Turkey) and I'd use them again for multi-day hikes like this that we did at the very last minute or in countries where the language or the logistics might be more of an issue.
Further reading on hiking the GR221 in Mallorca
Click on the photo to bookmark to your Pinterest boards.