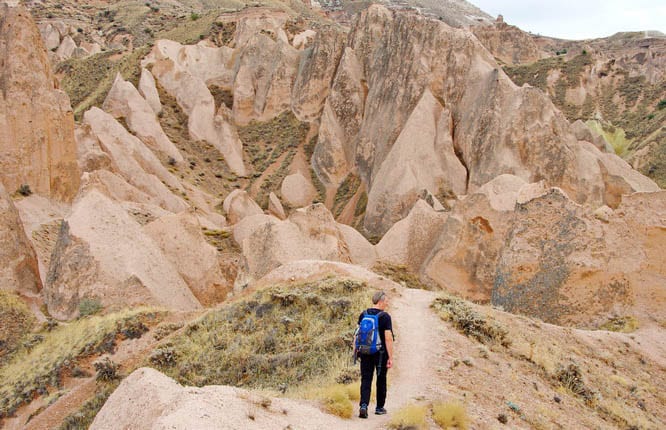 A Trip to Rose Valley Cappadocia for Incredible Hiking
Turkey's Cappadocia region is justifiably famous for its fairytale landscape of wild rock formations and cave dwellings that date back thousands of years. Although ballooning is considered to be one of the best ways to appreciate the landscape, exploring the Rose Valley on foot at your own pace is a wonderful way to experience it.
Hiking in the Rose Valley Cappadocia
The Rose Valley figures prominently in most tours of the Cappadocia region. I figured our group of four would need a guide to explore the area properly but as it turns out that is incorrect. It's easy to do on your own and itsa lot of fun to explore at your own pace. And it's free.
Our day started with a drop-off at the trailhead for the Rose Valley, courtesy of the owner of the Sultan Cave Suites Hotel in Göreme (where we stayed for three nights). Your other option to get to the trailhead is a taxi ride. You can pick up a map from your hotel or Turkish Heritage Travel in town which will give you an overview of the trail but go prepared to explore. Signage isn't great but it's hard to get lost.
Note that Cappadocia by hot air balloon is another option if you're not that into hiking.
Finding the hiking trails in the Rose Valley and Red Valley
We started at a fork that pointed to the Red Valley in one direction and the Rose Valley in the other. We chose to do the Red Valley first and ended up coming back on the Rose Valley trail – though not by design. The two valleys run parallel to each other and are connected by a trail. Just start walking and see where you get to.
We found it helpful to climb some of the hills to get an overview of the area. What surprised me most was the fact you we were never far from civilization. There were loads of views over to Göreme and on one section of the Rose Valley trail we could see Çavusin cave village. You could actually see trails leading to the village so it would be easy to bail if you wanted to.
Over the course of the day we explored the two valleys, winding our way between tight rocks, pulling ourselves up through narrow spaces and walking wild valley trails where orchards and grapes are grown. We explored the inside of one very old church and admired many a pigeon stoop.
I'm no expert on pigeon poop but reportedly the stuff makes incredible fertilizer and that's part of the reason the tomatoes taste so fantastic.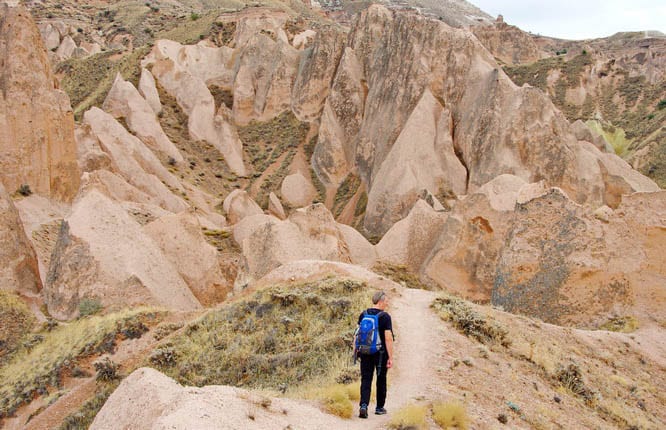 A hike up the Meskendir Valley
Once we finished with the Rose and Red Valleys we elected to continue up the Meskendir Valley to the highway where we figured we could walk back to Göreme.
The fellow pictured below had set up a shop providing fresh-squeezed juice at the entrance to the valley. We couldn't resist a glass of pomegranate juice – a superfood as it turns out – and something we looked for on all our hikes on the Lycian Way at the end of the day.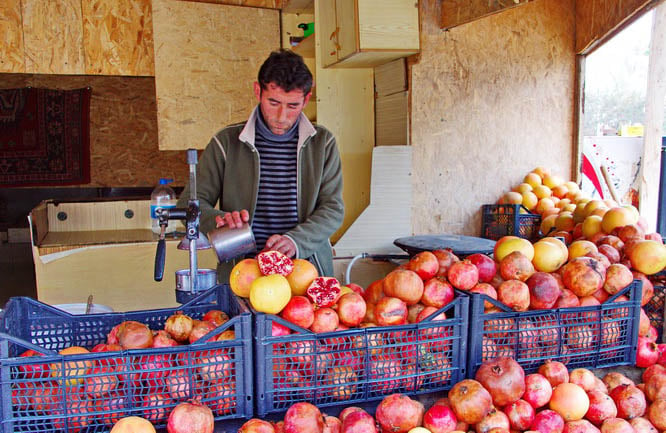 It was an easy walk of about 4 kilometres up the valley. Again it surprised us with a cafe in what felt like the middle of nowhere – and then an open air art gallery. Although it's considered shoulder season in late October, we did meet a number of hikers.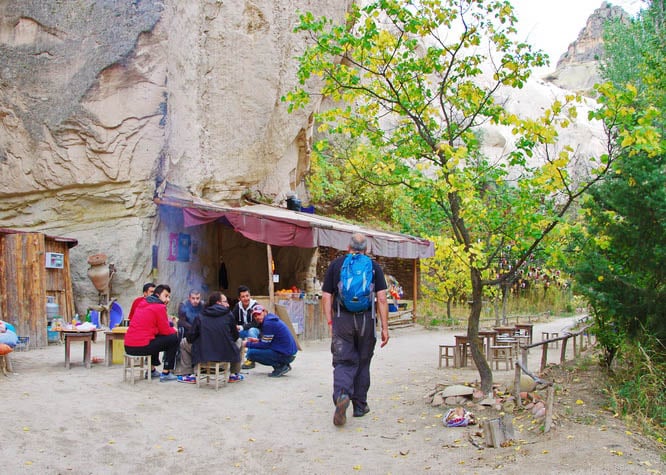 Where the trail from the Rose Valley ends
The trail ends basically at a rubbish dump a hundred metres from the highway. By the time we got to the highway it was close to 5 and the sun sets by 6 PM.
Even though we didn't have a very good idea of where we were going, we walked in what felt like the right direction. It turns out it was. Along the way we picked up a stray dog so his safety was a concern near the highway as well. (On the Lycian Way some hikers had stray dogs join them for multiple days.)
Eventually we found someone who told us where we needed to go and with his instructions we all figured we'd be hiking back in the dark at the rate we were going. But within minutes along came an empty taxi – so we got back to Göreme in 10 minutes or so – before the sun set.
After hiking the two valleys we could have walked back to Çavesin and grabbed a taxi from there but I think the Meskendir Valley is well worth exploring.
If you visit this fascinating part of Turkey – which is a UNESCO World Heritage site – don't forget a lunch and water. In summer the temperatures are very high so you'd want an early start. Late October turned out to be a great time to visit – cool at night and very comfortable during the day.
Further reading on Turkey