High on my wish list while in Turkey was to stay in a cave hotel in Cappadocia. I thought it would be an exotic yet romantic experience. It did not disappoint – and in fact the three nights in a cave hotel was one of the highlights of our two week trip.
Staying in a cave hotel in Cappadocia is unique – and for me it was like nothing else I'd ever experienced. I loved the homey touch and the warmth of the Turkish textiles on the floors and walls in our hotel room. And even though we slept in a cave hotel in Cappadocia, there was a small window to the outdoors with otherworldly views of Cappadocia's famous fairy chimneys. From Calgary to Cappadocia in one very long traveling day is the stuff of dreams. Unique and a must-do experience I think.
This post includes some affiliate links. If you make a qualifying purchase through one of these links, I will receive a small percentage of the sale at no extra cost to you. Thank you very much for your support.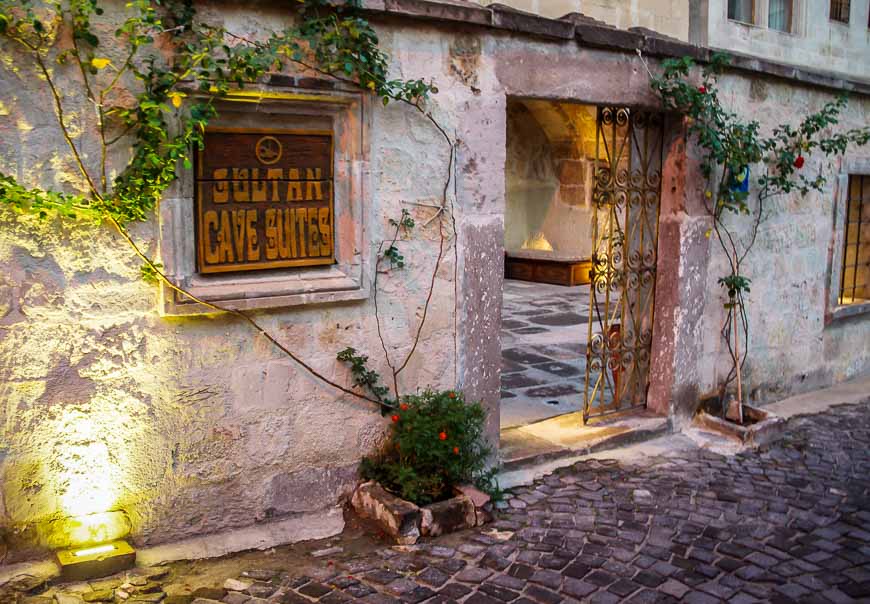 Cappadocia is honeycombed with caves. Many were built by hand in the soft volcanic rock hundreds if not thousands of years ago. The caves have been used as homes, monasteries, churches and now hotels. In Göreme alone there are over 30 cave hotels offering everything from one star to five star accommodation.
We chose to stay at the Sultan Cave Suites Hotel. I don't remember how we found out about it but it turned out to be a great choice and a wonderful way to start our two weeks in Turkey. We organized an airport transfer ahead of time from the Kayseri airport, about an hour's drive away for only 10 Euros per person.
Upon arrival and after nearly 24 hours of travel, it was a relief to be offered a comfortable chair, a cup of tea and a dose of the famous Turkish hospitality in a room oozing history and covered in gorgeous rugs. Our host, one of the owners of the hotel previously ran a rug shop in Saint John, New Brunswick so his English was impeccable. With some suggestions from him, we had our days in the area figured out before we even got to our room.
Our cave hotel in Cappadocia
We had chosen Room 325 from the photos on the website of the Sultan Caves Hotel. I'd decided that windows in a room were an important feature as I didn't want any feelings of claustrophobia.
First impressions were great of our cave hotel in Cappadocia were great. The room had an exotic feel to it with beautiful pillows covered with colourful Turkish fabric and what looked like antique chairs along with warm, Turkish throw rugs underfoot.
Toiletries were provided (one of the few places we stayed in that did) along with a hair dryer. In the room there was a cleverly disguised mini- fridge, a small TV, and a couple of chairs. WiFi was surprisingly good for a thick walled room.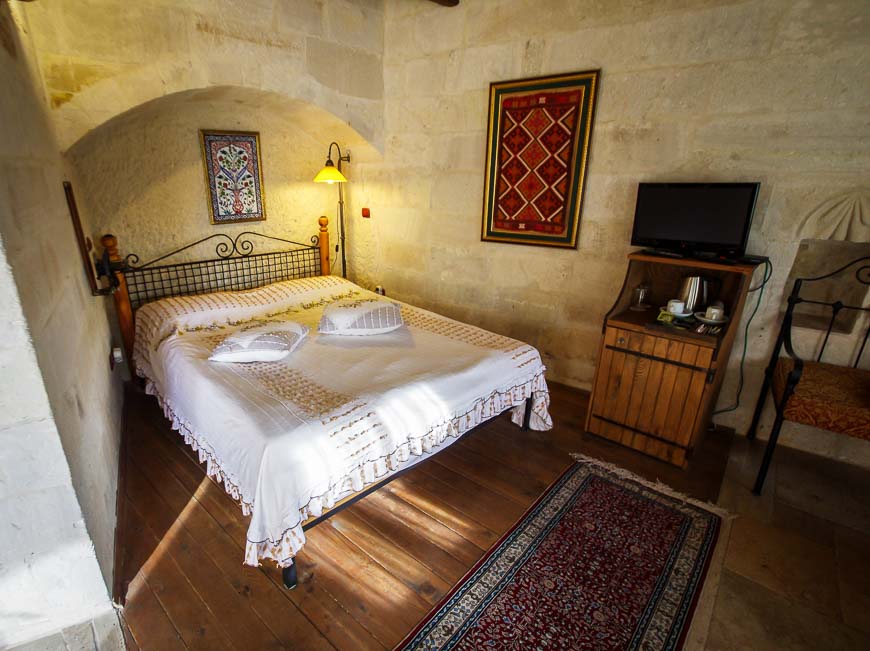 Directly across the street was the landscape we had come to experience – spectacular pillars that gave you the feeling you were in a fairyland. It was very beautiful a night as well with the lights of distant villages blinking in the distance.
Breakfast was included in the price of the room (80 Euros per night with a 10% discount if you paid cash). It was an incredible spread with over 50 items including big junks of honeycomb, jams galore, cheeses, olives, meats, fruits, yogurt and assorted breads.
We also elected to have dinner at the onsite restaurant (Seten Anatolian Cuisine Restaurant) on two occasions. Considered to be one of the best places to eat in town, it was a terrific choice. On the first night when we fumbled with sleep deprivation and bad Turkish, we ended up with a full appetizer dish for all of us.
It wasn't what we had planned but in hindsight it was a great choice and an introduction to what a mezze platter contained. It also made us realize we didn't need to order four main dishes on top of appetizers.
Wine pours here were generous – and appreciated. Overall the restaurant had a really warm, welcoming vibe to it, attentive friendly waiters, superb views and delicious food – at about half the price you'd pay in a big city in Canada.
What was interesting about this hotel is that the rooms were spread along a section of street. In between our room and the main part of the hotel there was another cave hotel – Hotel Mithra. I can't even begin to imagine land ownership here with houses attached such as they are.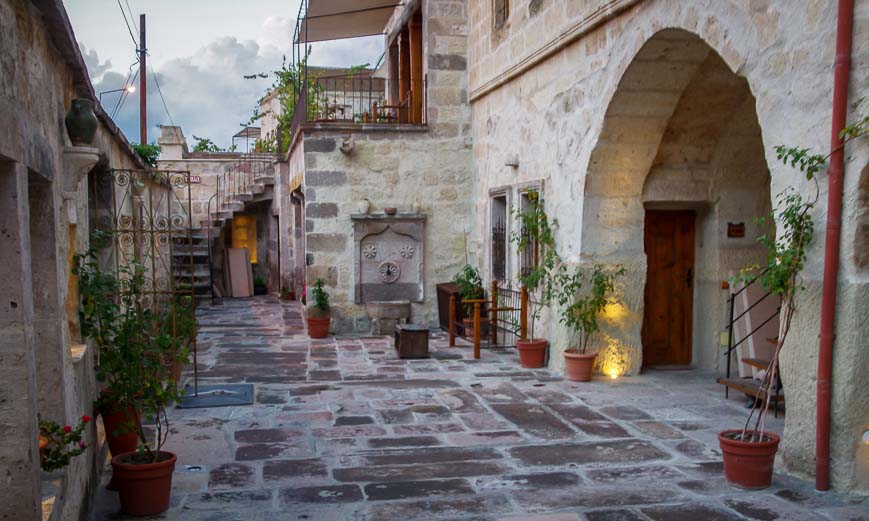 What sets this hotel apart from others I think is the helpfulness of everyone working here. On our second day in Turkey we wanted to hike in the Rose Valley so at a time that was completely convenient to us we were dropped off with a map at no charge. In this day and age who makes such efforts?
This is not a sponsored post. I was not given any special treatment. It's just a terrific hotel to land in for several days while you visit the region. It felt cozy and warm – exotic and romantic – all the things I was hoping I'd feel with a stay in a cave hotel in Cappadocia.
More cave hotels in Cappadocia you might like
Other choices when it comes to cave hotels that are highly rated include Artemis Cave Suites, Lunar Cappadocia Hotel and the Aydinli Cave Hotel.
Further reading about things to do in Turkey
Click on the photo to bookmark to your Pinterest boards.