I've done two trips to Turkey now. The first trip over 30 years ago took John and me to Istanbul at a time of military rule when police carrying AK47's roamed the streets. That didn't affect us as travelers one iota as it turns out. Our recent trip took place within two weeks of the Ankara bombings – so our group of four were all a little reticent to go. Again, there was nothing on the ground that gave us any pause for concern over the two weeks we were in the country.
Interesting facts about Turkey
I put together this list of 40 observations and interesting facts based on traveling twice to the country along with some research.
Turkish people are very hospitable
1. The Turkish people are some of the most hospitable people I have ever had the pleasure of meeting in the world. When people ask me my favourite country in the world to travel to I say Turkey, even with its crazy politics.
2. People were unfailingly helpful and generous and we found they had a great sense of humour. On election day – when we were all on high alert, one gentleman ran after us with freshly baked bread. On another occasion while admiring olives drying in a front yard Ali – the owner, disappeared and then reappeared with a freshly picked pomegranate for each of us. The only downside is these things are about double the size of what you buy in North America and added about a pound of weight to everyone's pack.
A surprising amount of English is spoken in Turkey
3. We found even in the smallest of villages that people had a smattering of English. They also loved it when you at least tried to speak Turkish – even if you butchered it.
Food in Turkey
4. Turkey is one of seven countries that can feed itself.
5. This breakfast that we shared with a local family offered mostly home grown food including freshly laid eggs, olives, vegetables, home-made jams from fruit grown on the property, and fresh fruit (pears, oranges and pomegranates). They bought the tea, cheese and honey locally. Rather impressive compared to much of North America.
Yogurt is a big deal – one of the weird but interesting facts about Turkey
6. It took some getting used to but we found yogurt was primarily used in savoury dishes rather than sweet dishes. Manti – little ravioli with a garlic yogurt sauce is a great example. One of our most memorable meals we ate in Turkey included carrots and walnuts in a garlic-yogurt sauce. I thought I'd died and gone to heaven.
Pomegranate season is in the fall
7. Its pomegranate season in the fall. In the most unlikely of places we came across pomegranate juice stands – usually towards the end of a hiking day when we were thirsty and in need of a break. It's a superfood and something I'll be including more in our diet now that we're home.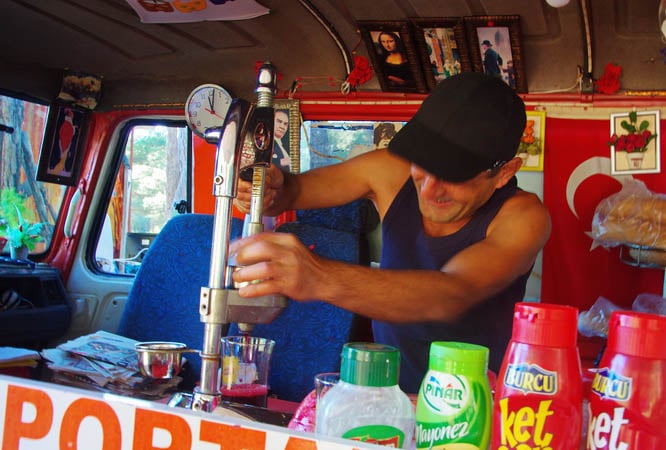 There are no laws prohibiting cats and dogs in restaurants in Turkey
8. Be prepared to share your dining experience at the casual restaurants with cats and dogs. On one occasion we counted 16 cats and three dogs trying to get a part of our meal. There's nothing like a cat fight at your feet!
A Turkish breakfast feels like lunch to a North American
9. Breakfast is not what we North Americans are used to. Expect tomatoes, cucumbers, olives, cheeses and bread with an interesting selection of jams. Sometimes there is fresh fruit – melon or oranges and on one day we lucked out with some fattening, though very delicious doughnut kind of bread.
Turkish coffee
10. Turkish coffee is around but it's a one gulp caffeine blast served in doll-sized cups with not a large coffee in sight. UNESCO has recently declared Turkish coffee an Intangible National Heritage. More often than not we were offered instant Nescafé or tea. If you're a real coffee addict bring some good stuff and make it in your room, especially in small towns where tea reigns supreme.
Turkish people love their sweets
11. The Turkish people like their sweets though I found overall their diet was incredibly healthy. We sampled fresh baklava where we could find it. We also tried Turkish apricots in simple syrup, pumpkin in syrup, figs in syrup….do you see a theme?
12. Water was potable everywhere we traveled but bottled water is common – and so is the garbage left behind with way too many bottles marring the landscape.
13. We never had a female serve us meals except at a hotel that was run by a woman and she did everything. Females were always in the back cooking.
Greenhouses produce a huge amount of food in Turkey
14. I have never seen so many greenhouses in my life – especially close to the coast. We peered inside and saw peppers and eggplant grown. We heard that a lot of produce is exported to Russia.
15. The fruits and vegetables have such flavour – something many of us in North American have forgotten about. We saw pigeon roosts specifically designed for collecting pigeon poop to be used for fertilizer. That may help explain the amazing flavour.
Food and drinks are reasonably priced…if you're a tourist
16. Food and drinks – apart from airports and airport hotels were about half the price of what we pay in Canada. Even better – you don't need to play with decimal points and weird math when dealing with Turkish lira. There are roughly two lira to a Canadian dollar.
17. There was never any smoking inside restaurants – a surprise and a treat.
Transportation in Turkey
18. Flights within Turkey are dirt cheap. We flew twice on Turkish Airlines. Both flights were 90 minutes long, on time and they offered full meals that were way better than anything we got on an Air Canada international flight for $38 Canadian each way.
Two security line-ups at airports in Turkey
19. There are two security line-ups at airports. The first one is a general one for everyone entering the airport while the second one is the one we are more used to – though you don't have to take out computers and toiletries so the process is very speedy.
20. One of the interesting facts about Turkey that I hope changes is that we never saw a car seat in the country.
21. Rarely did we see women driving – and if we did they were younger.
22. Although you're not supposed to talk on a cellphone when driving, the rule isn't enforced as it was a common sight.
23. Passing on blind curves is de rigeur. Thankfully none of our drivers ever tried it.
Random and interesting facts about Turkey
24. When John and I visited Turkey in the early 80's we couldn't get over the sight of stooped ladies sweeping sidewalks, stores – whatever needed sweeping with a broom akin to a large whisk. It didn't have a handle so you could stand up straight. Fast forward 30 years and there are no improvements. This is one of those give your head a shake and do something that's more ergonomic.
25. We saw Turkish flags everywhere – perhaps because we were there over the elections or maybe they're patriotic and just love their flags.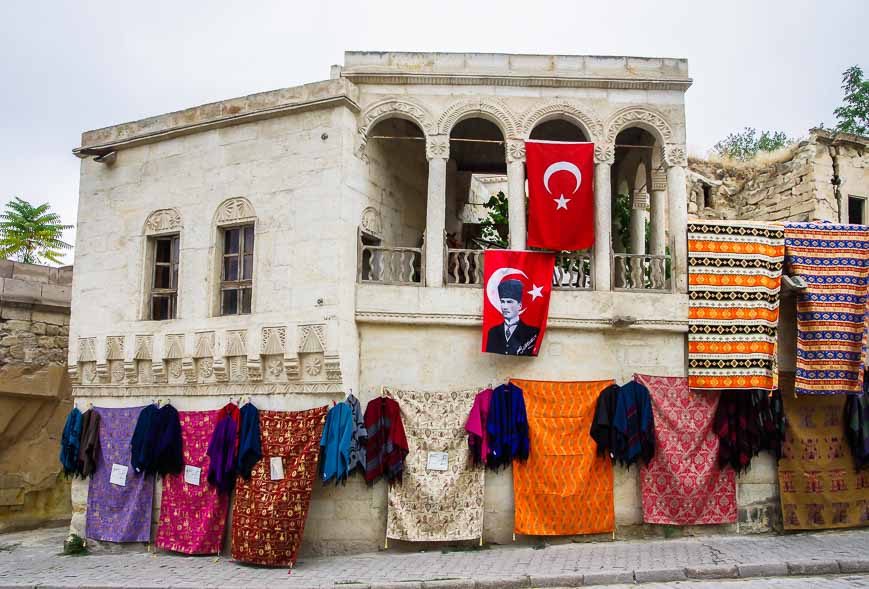 26. Cell coverage is excellent in Turkey. Even in what felt like the middle of nowhere we usually had coverage. WiFi is generally good. There were only a few places that had spotty or no service over the two weeks we visited.
27. One of the interesting facts about Turkey is the way banks of ATM's are all lined up together in cities. What a great idea! We could take money out in Turkish lira or in Euros.
28. The colour of the water in Turkey is like nowhere else I've been. We spent a few days in Kekova on the Turquoise coast and marveled at the water – a rich navy blue with turquoise highlights. Surprise there with the name.
29. The Turkish people we met were generous in their attitude towards the Syrian refugees. I don't know if that's the case in the cities where the crisis has hit hardest. So far Turkey has accepted about two million refugees and the comment that struck a chord with me was "What would I do if the tides were turned?"
Mosques and fountains in Turkey
30. There is a mosque in every small – and I mean small centre we walked through or visited. There are always fountains nearby – a plus for travelers as well.
31. The Turks know how to vote. There was an 85% turnout for the election. They had the results that day.
32. Chinese visitors now hold the number one spot for visitors to Cappadocia – and by accounts most of them love balloon rides. In Antalya, the Russians came in droves for the beaches and sunshine.
Interesting facts about Turkey – it has a lot of borders
33. Turkey borders eight countries. Syria and Iraq are to the south. Greece is west, Bulgaria northwest, Georgia northeast and Iran, Armenia and Azerbaijan to the east. That's a lot of borders to control!
34. Despite the fact it was only early November, we closed four hotels on our way through – and this with weather being very comfortable during the day but cold at night. The water was still swimmable in Kekova but the Ankh Pension where we stayed for a few nights stayed open only for us.
Where's the wildlife in Turkey?
35. We saw lots of skittish birds but we never say any wildlife – not even a squirrel at least on land while in Turkey. In the ocean we saw a couple of good-sized sea turtles.
Turkey is home to one of the world's great walks
36. While hiking the Lycian Way, one of the world's premier hiking trails we frequently met Ukrainians and Russians. I don't know how they got on when they saw each other. We also met a fellow who had walked all the way from Holland and was continuing on to Nepal. Who knew the mountains were so rugged and the trails so steep in this part of the world?
37. The use of head scarves and dressing seemed to correlate with age. We saw everything from hot pants to baggy pants – really all manner of dress and no different than what you'd see in downtown Toronto.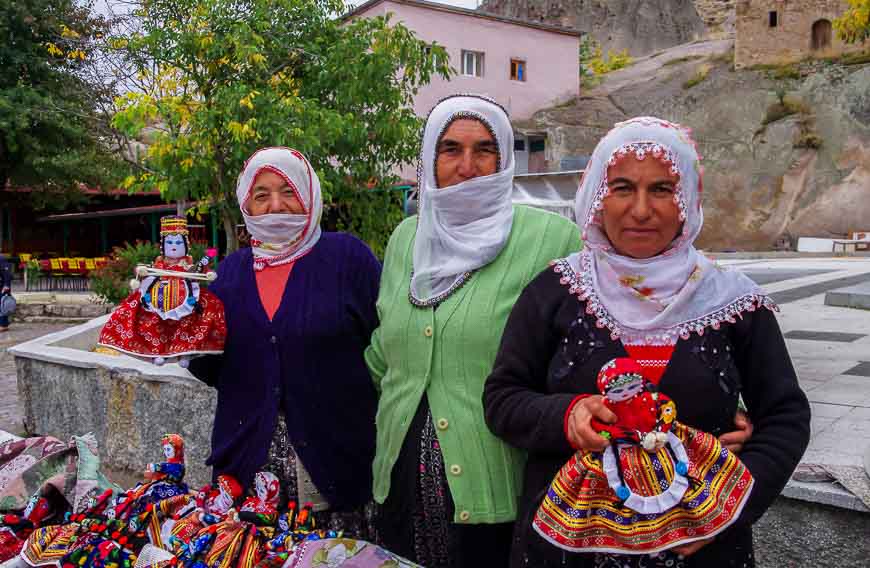 Safety on job sites is missing in Turkey
37. I'm guessing there isn't much in the way of Workmen's Compensation. We saw workers without hardhats, not tied in when working on scaffolding and a group in a bucket going up a road to a job-site.
History is everywhere
38. In Turkey you are surrounded by history everywhere you go. On our second trip we saw churches that were thousands of years old in Cappadocia to tombs on the hilltops in Kekova to the beautiful ruins of ancient Phaesalis on the coast.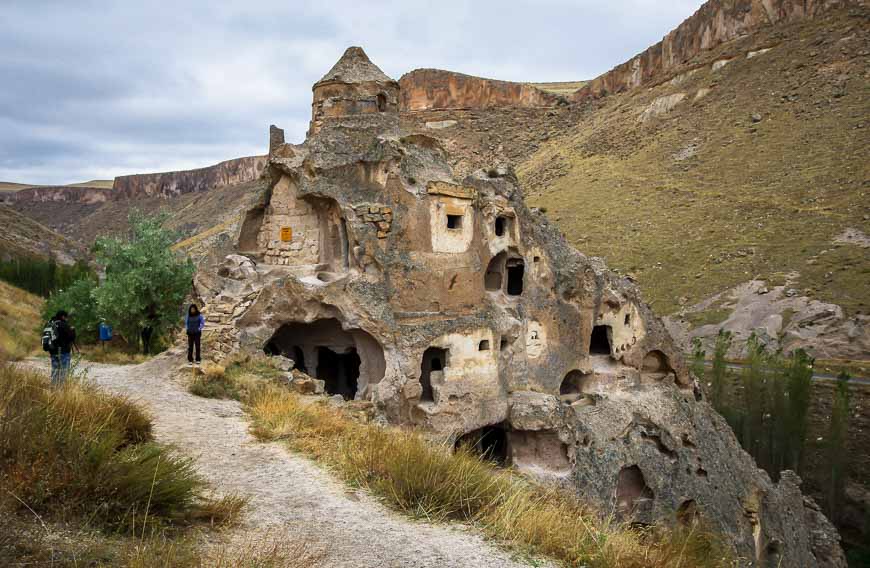 39. Ankara is the capital of Turkey.
40. Turkey's population in May 2020 is estimated to be 84,187,945 – a lot for a country with a landmass that is 13 times smaller than Canada.
Almost everything about Turkey that we saw we liked – especially the people, the food and the landscape. Granted we didn't get into politics or human rights – touchy subjects that we avoided though I know feelings run strong about these subjects.
For more information about traveling to Turkey visit the Go Turkey Tourism website.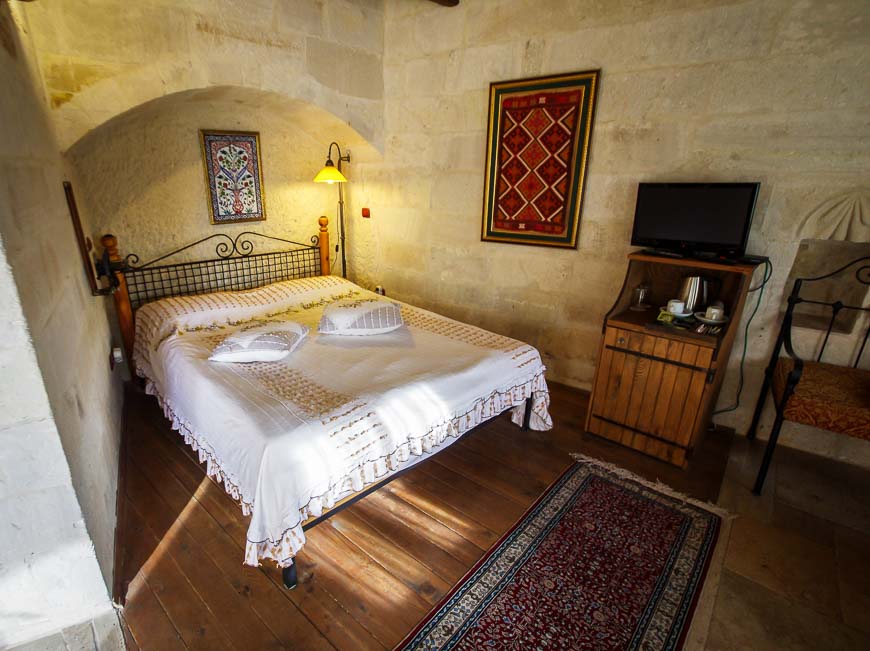 More reading about interesting facts in other countries
Click on the photo to bookmark to your Pinterest boards.