Hokkaido is the northernmost and least developed of Japan's four main islands. It's famous for hot springs, volcanoes, ski resorts, and beautiful national parks. With unspoiled nature you can look forward to a host of memorable, unique things to do in Hokkaido in winter.
These 10 fun things to do in Hokkaido in winter are all recommended based on my personal experiences. Many were once in a lifetime experiences, and all were truly memorable. Hokkaido, Japan may not be on your radar, but after my visit, I'd say it really ought to be if you enjoy unspoiled nature.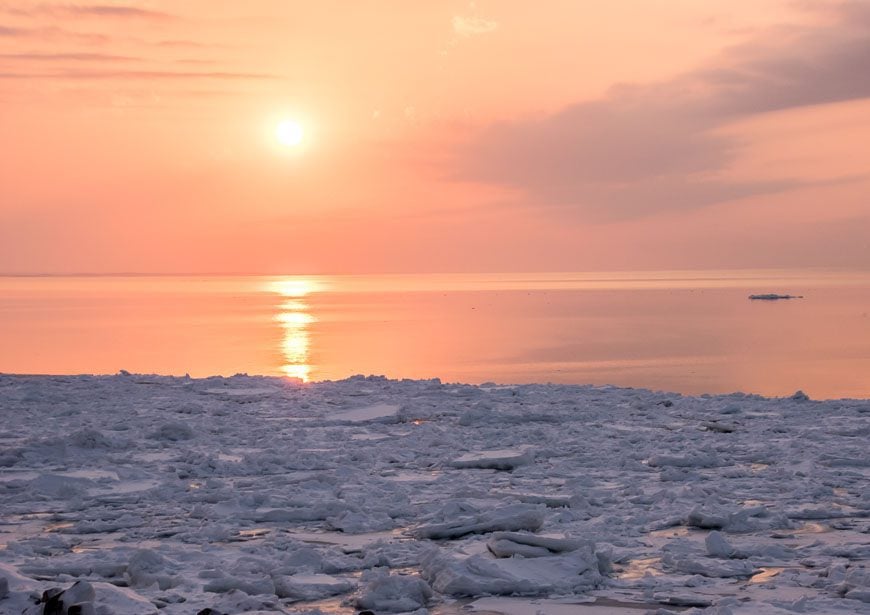 This post includes some affiliate links. If you make a qualifying purchase through one of these links, I will receive a small percentage of the sale at no extra cost to you. Thank you very much for your support.
Approximate location of things to do in Hokkaido in winter
How cold does Hokkaido get in winter?
If you live in Canada, northern Europe or the northern US states, then you will feel right at home in Hokkaido. It gets cold. Winter temperatures in eastern Hokkaido on average are about -4ºC (25ºF) but when the Arctic air rolls in, temperatures can plummet to -30ºC (-22ºF). I visited in late February and enjoyed average temperatures – and no nasty cold spell.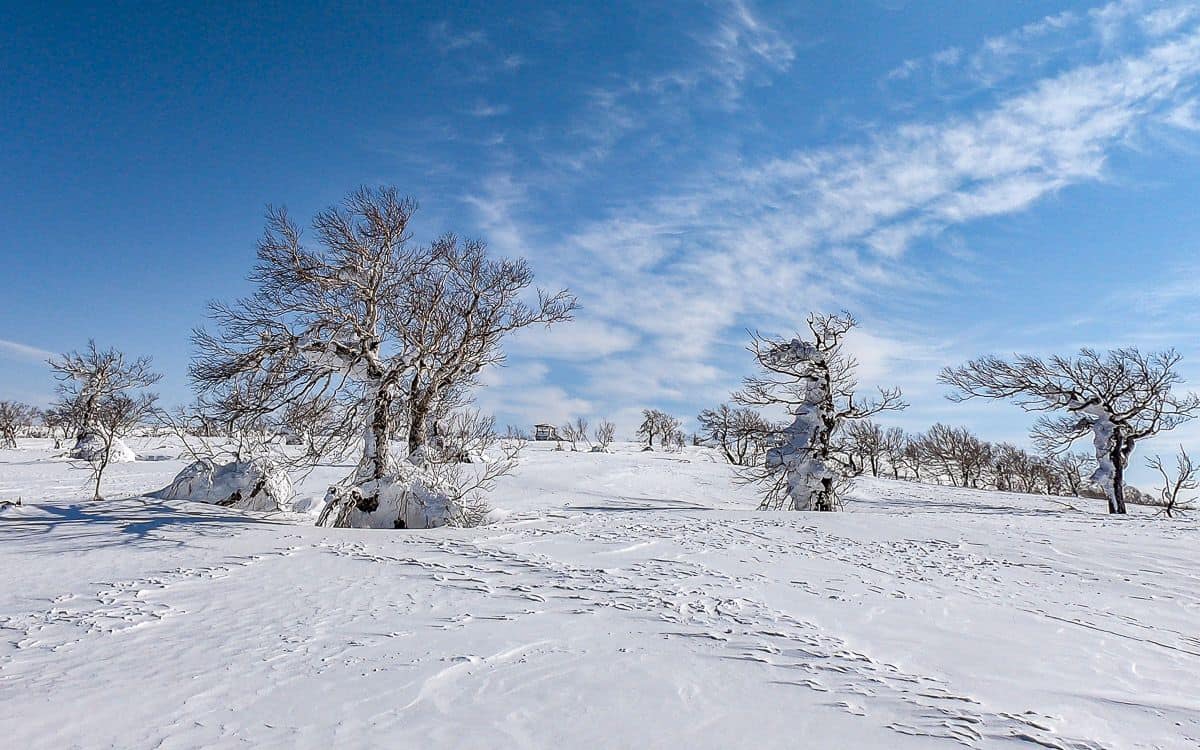 Is it worth a winter visit to Hokkaido?
Visiting Hokkaido, Japan in the depths of winter might not be at the top of your bucket list. But winter is a marvelous time to visit for a number of reasons.
There are unique things to do in Hokkaido in winter you won't find anywhere else – like drift ice walking, which may sound lame but turned out to be one of the most memorable things I did. The downhill skiing and snowshoeing is out of this world – and very pretty.
After a day outside, nothing beats slipping into the hot, soothing waters of an onsen. That winter experience in itself is addictive. And Hokkaido is not busy in winter, so you won't be fighting crowds. I think you'll have to come see for yourself what a fantastic winter destination Hokkaido is – and I don't think you'll find it wanting.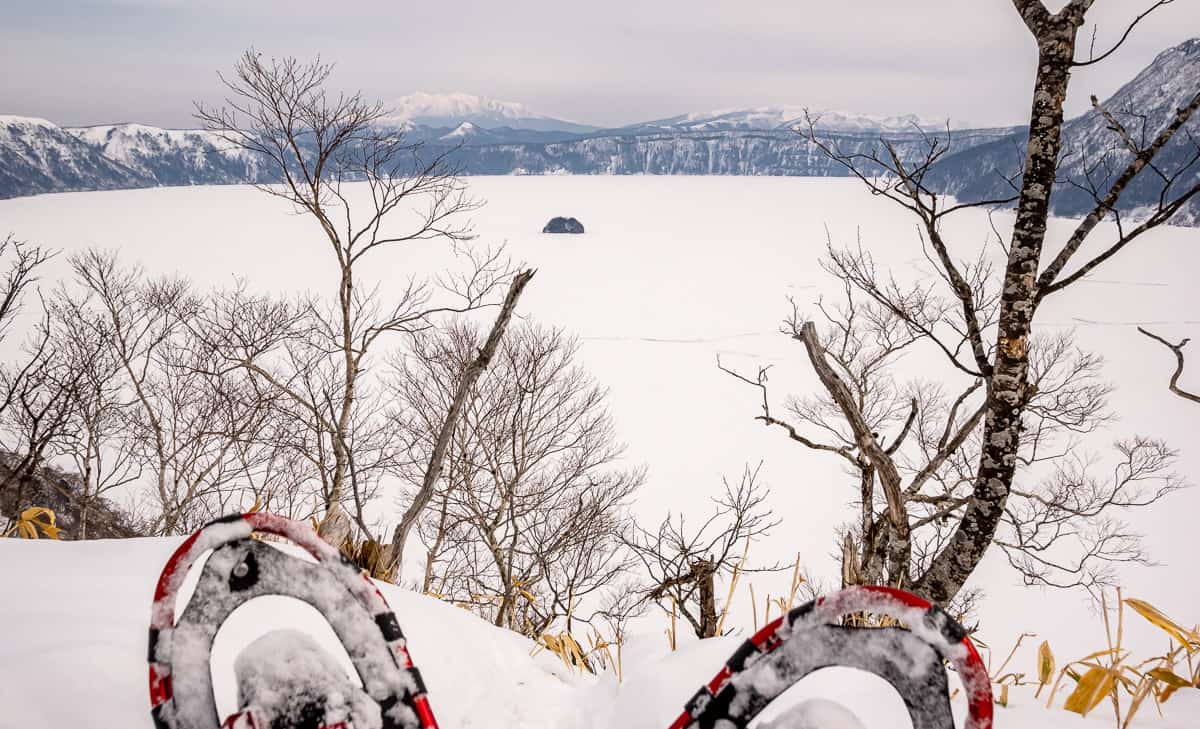 10 unique, fun things to do in Hokkaido in winter
1. Walk on the drift ice – one of the amazing things to do in Hokkaido in winter
If you're looking for an easy though thrilling experience, I highly recommend walking on the drift ice in the Sea of Okhotsk.
Drift ice forms off the coast of Russia every winter once the temperature drops. The ice drifts for some 1,000 kilometres to arrive on the eastern side of Hokkaido, sometime in late January, bringing with it plankton.
Plankton is nutrient-rich so it sets the stage for some interesting nature viewing opportunities – especially of the Yezo brown bear which thrives in Shiretoko National Park. If you're lucky you might see a few of the 400 – 500 bears that live here between April and mid-fall. Don't worry about them in winter.
The real thrill of the drift ice experience is a quick swim – though that word conjures up images of swimming strokes like the front crawl – when in reality you're just floating in your dry suit. It's breathtaking and initially terrifying but once you catch your breath, it's an intoxicating experience and one I highly endorse.
Over a week of outdoor adventures, the drift ice walking was one of my favourite things to do in Hokkaido in winter. You only need a couple of hours and it's easy to arrange a guided tour if you stay at one of the hotels in Shari.
Where to stay to experience drift ice
I highly recommend the Kitakobushi Shiretoko Hotel & Resort. Their rooms look out to the sea – as does the hot tub in the onsen.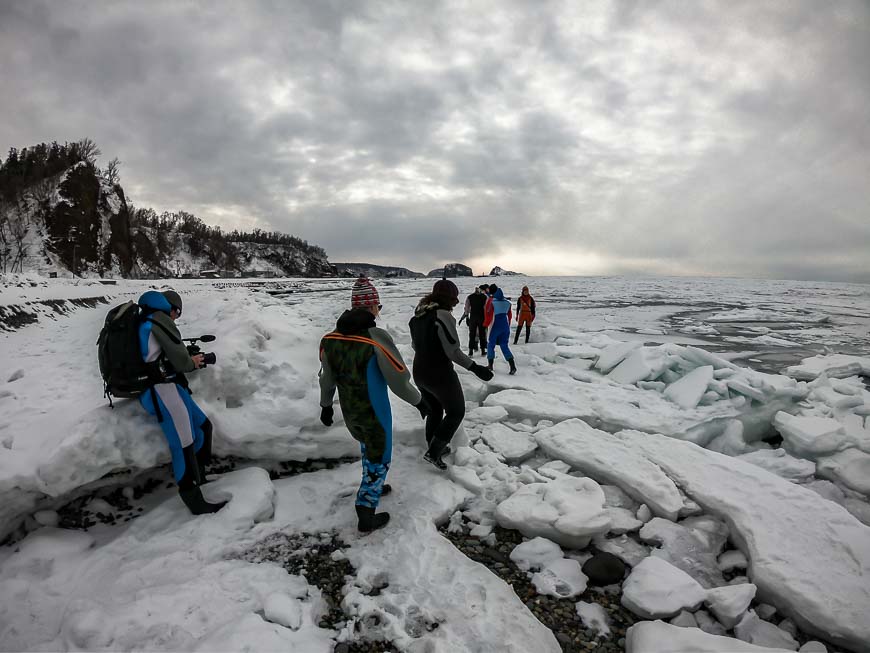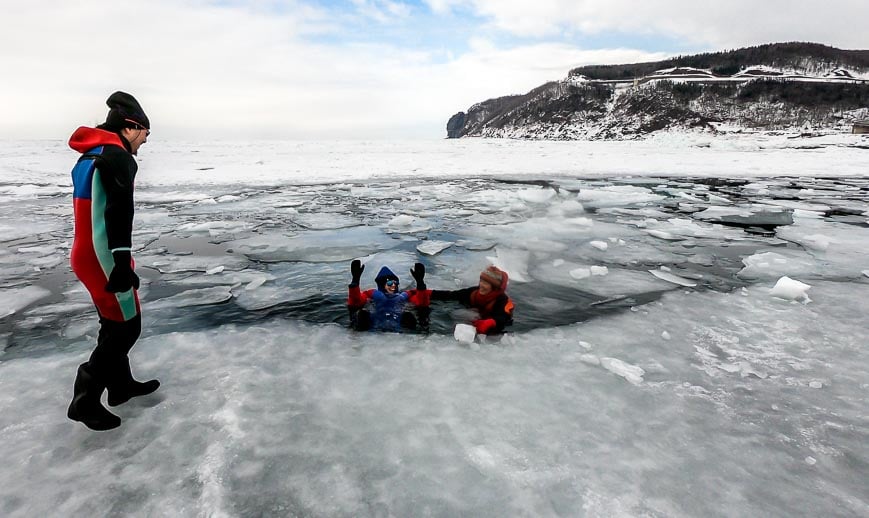 2. Enjoy the onsen experience – one of the most pleasurable things to do in Hokkaido in winter
Soaking naked in an onsen was one of the unexpected highlights of my time in Hokkaido. It's not that I don't love a good soak in warm water, but doing it naked in front of strangers is a whole other experience.
Sometimes I'd go early in the morning (it helped that I wasn't on the time zone) so that there would only be a few other women present. At other times there would be dozens of women around and even kids. They start them young in Japan – and it would appear that they are way more comfortable with their bodies – wrinkles, warts, scars and all.
A good soak in an onsen is a thoroughly relaxing, in the moment experience that I couldn't get enough of. Fortunately most of the hotels we stayed in had an onsite onsen. And just so you know, there are men's and women's sections – at least at the places I stayed in on Hokkaido.
Read: Getting Naked in Japan: The Onsen Experience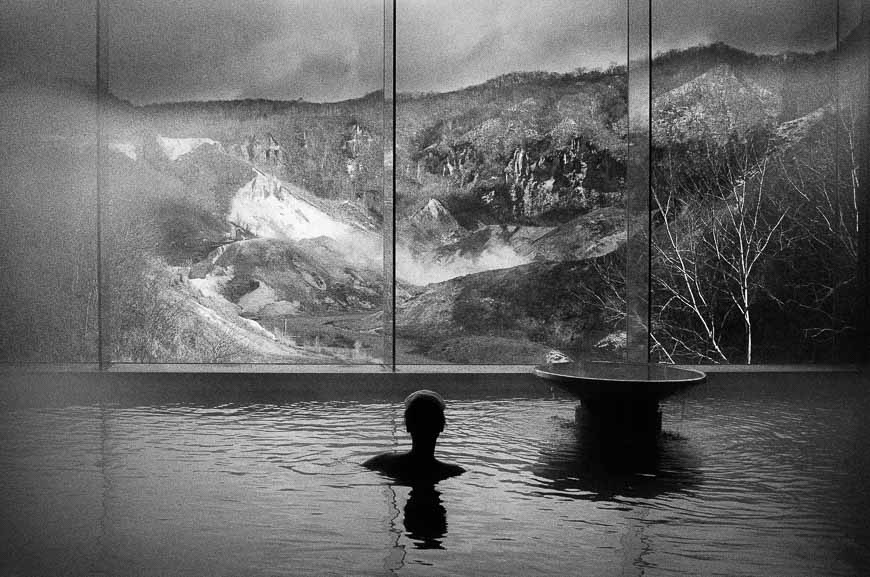 3. Visit the Akan International Crane Centre in Hokkaido
Three of the 15 species of cranes in the world are primarily found in Japan including the Tancho crane pictured below. At one point the cranes could be found all over the islands of Honshu and Hokkaido but hunting and loss of habitat decimated their numbers. The exception was a small, non-migratory flock in eastern Hokkaido.
The Tancho cranes – which came very close to extinction are now protected in Japan as a Special National Monument. At the Akan International Crane Centre, called the "birthplace of the artificial feeding program," the wetlands provide a wintering area for large flocks of cranes. The centre is also a place for both crane research and public education. Today there, are approximately 1,500 cranes.
The public can visit between 9 AM and 5 PM daily. The crane centre is just a 20 minute drive from Lake Akan.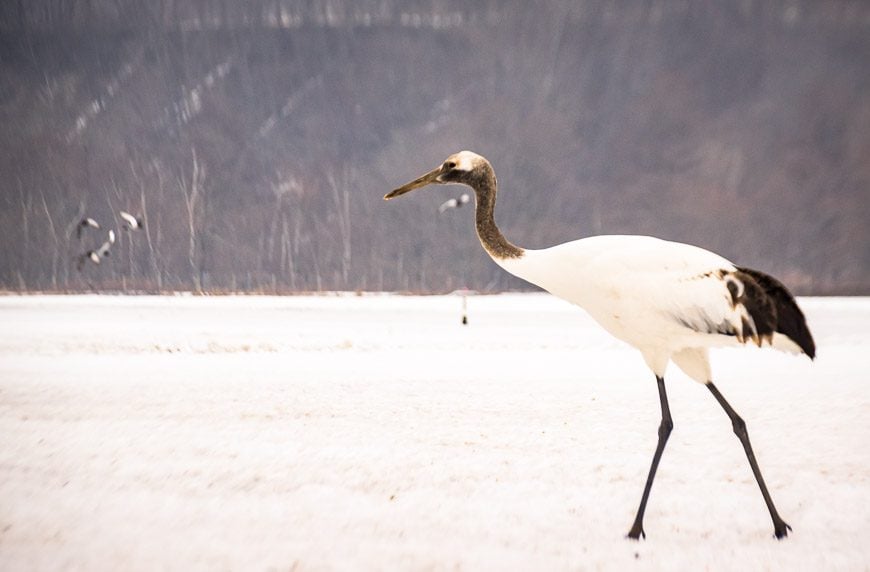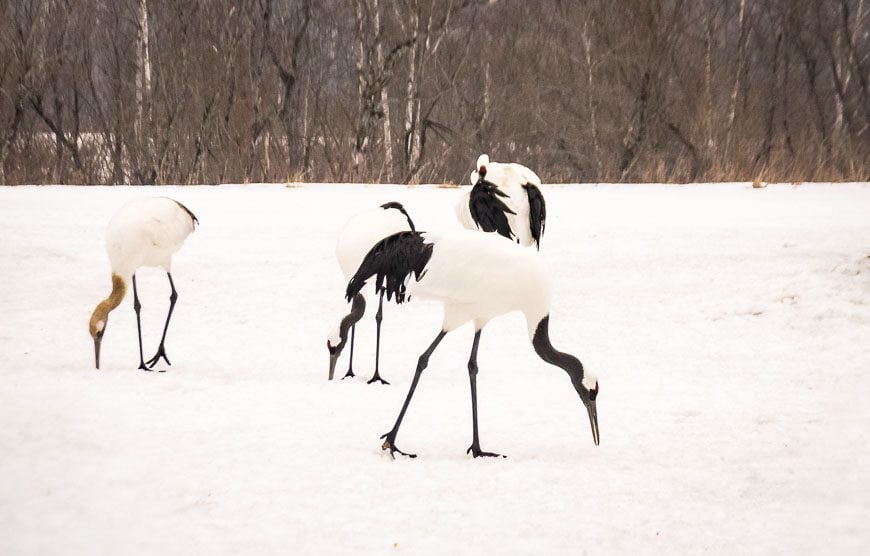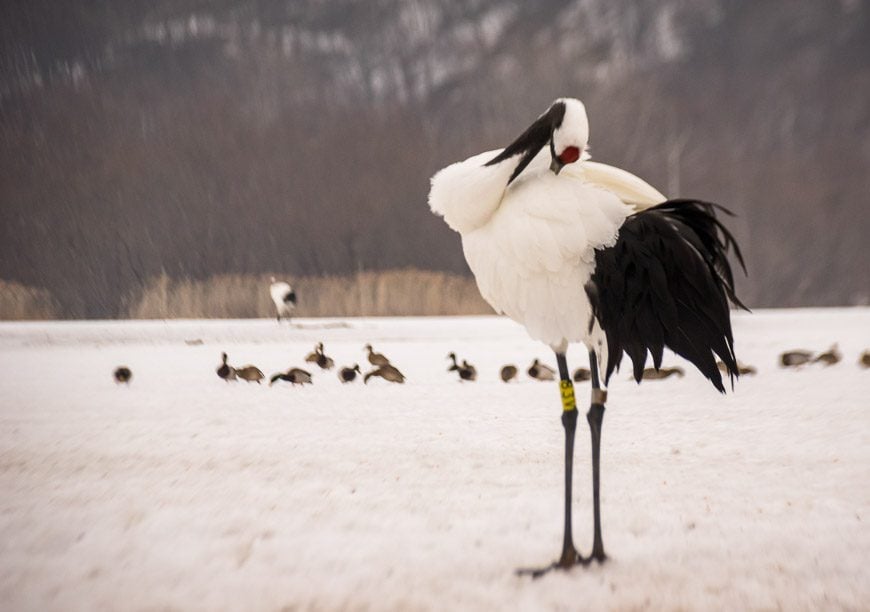 4. Fat bike through the Akan Forest
I've done my fair share of winter fat biking in Canada – but never on a lake in the shadow of a large mountain – nor in the quiet of a forest with unfamiliar trees. I signed up to do what was called a difficult 10 km ride through the Akan Forest and onto Lake Akan.
The bike ride with an Ainu guide lived up to the difficulty level. Some of our gang spent more time getting back on their bike than riding it – but fortunately landings were soft with all the snow. Still it turned out to be one of the top fun things to do in Hokkaido in winter and it was interesting too. We had an Ainu guide who shared his knowledge of the woods – and some of their customs.
If you stay at Lake Akan Tsuruga WINGS, they can help you with organizing a bike guide.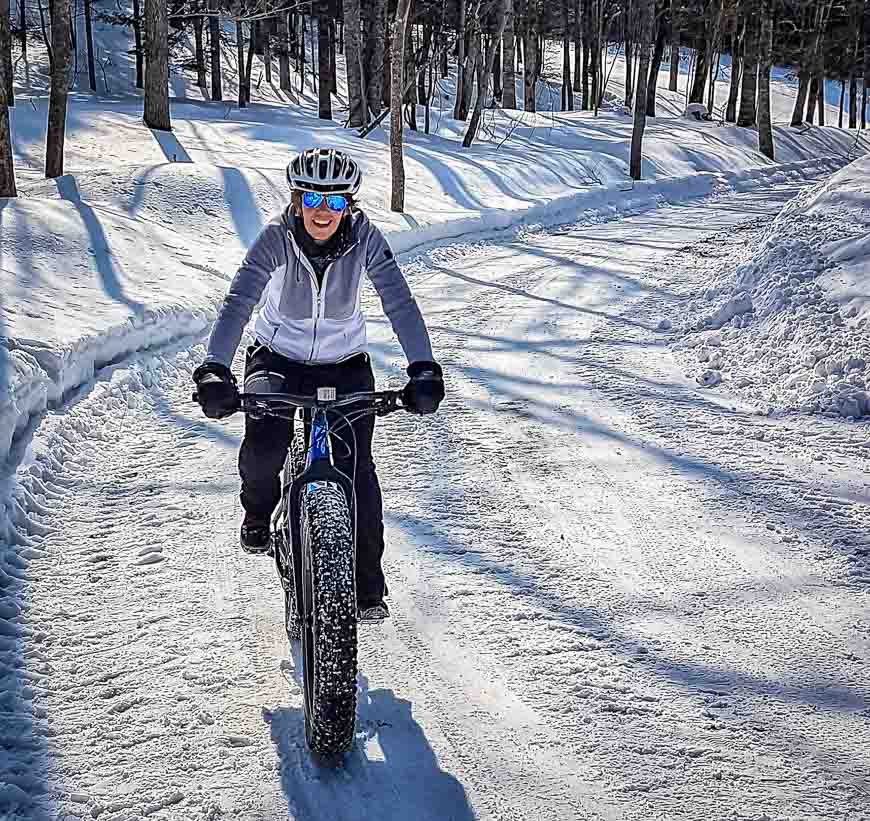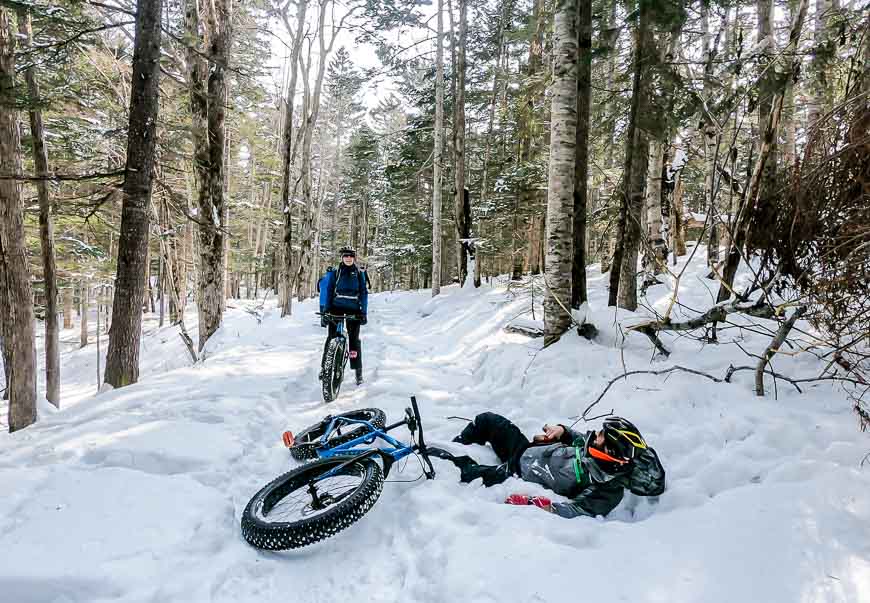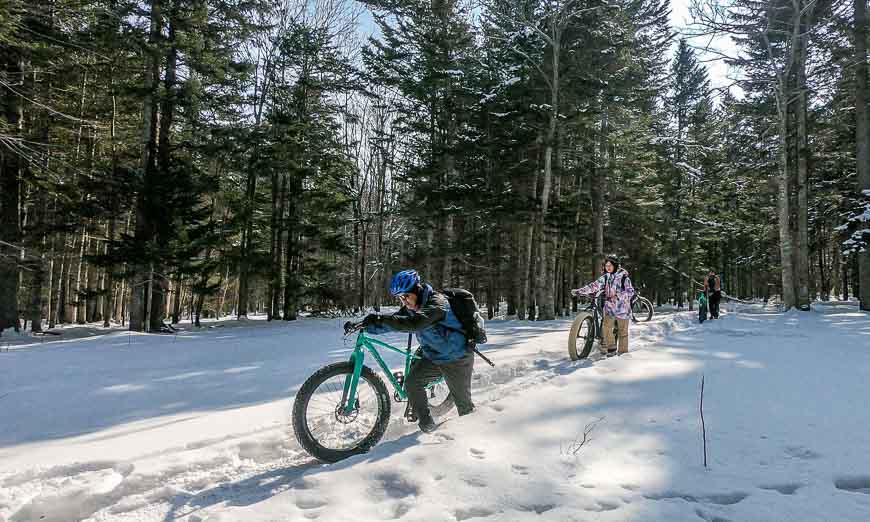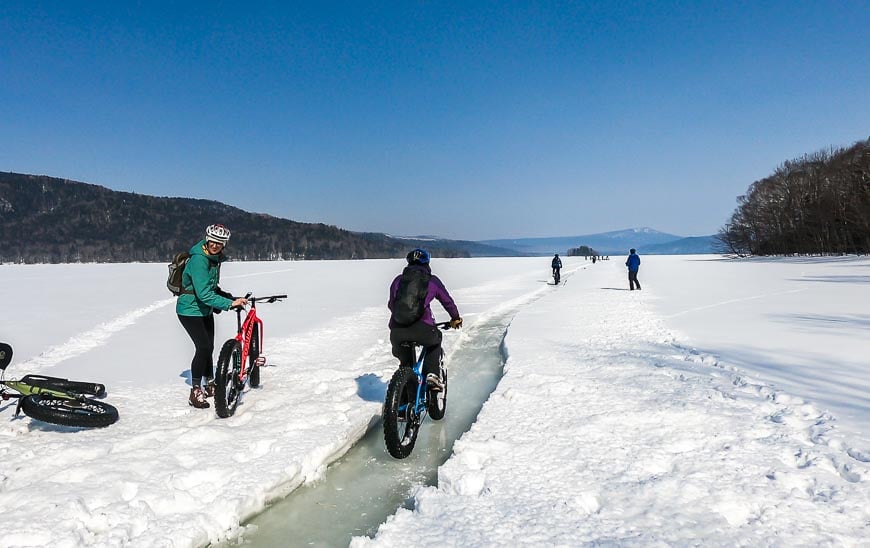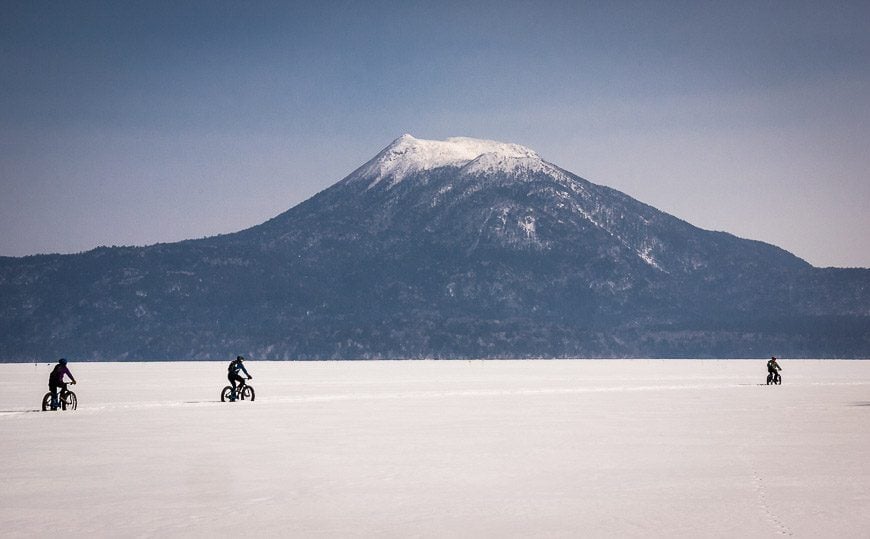 5. Go skiing at Kiroro Ski Resort – one of the notable things to do in Hokkaido in winter
If you used to love skiing but have got away from the sport, I think I can safely say that your love of it will be reignited if you go skiing in Hokkaido.
I had a day at Kiroro Ski Resort – and fell madly, deeply in love with skiing again. Perhaps it was the uncrowded hills or the beautiful snow conditions. Or maybe it was just the foreign beauty of the trees and vegetation. Or the unfailingly polite people. Or the group of women I skied with who were all at about the same level and a whole lot of fun to be around.
Here's the thing. We all commented on how we loved our ski day and it had been a long time since we'd all had one that combined beauty and fun.
After my one day initiation into skiing in Japan, I wish I could have had a solid week of skiing across several more resorts including Niseko and Furano. Niseko receives on average 14 metres of snow every winter so I can only dream about what a few powder days would look like here. It would rank up there as one of the top things to do in winter in Hokkaido.
Furano, bordered by Daisetsu-zan National Park, receives on average 9 m of snow per year and with the quality of its snow, it's been the host site for 10 FIS Downhill World Cups. Sign me up!
Read: The Fabulous Kiroro Ski Resort Experience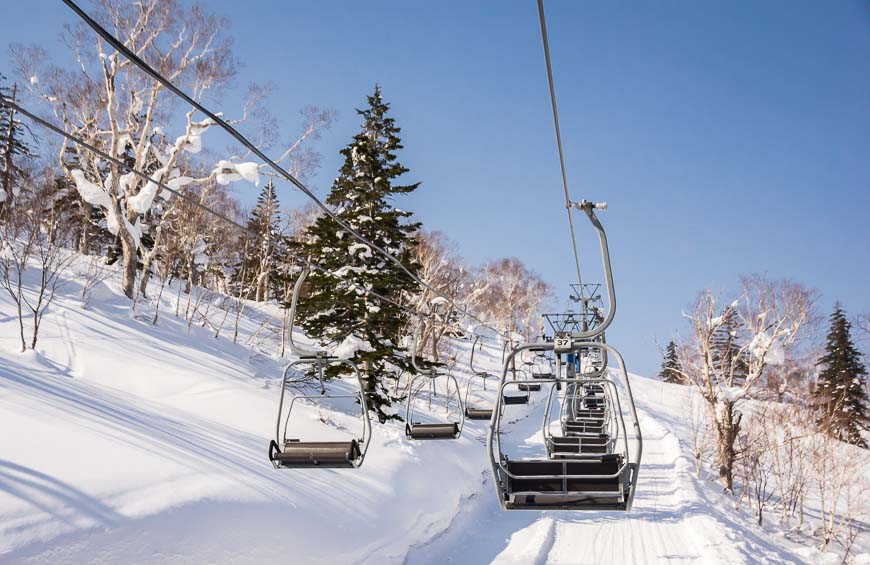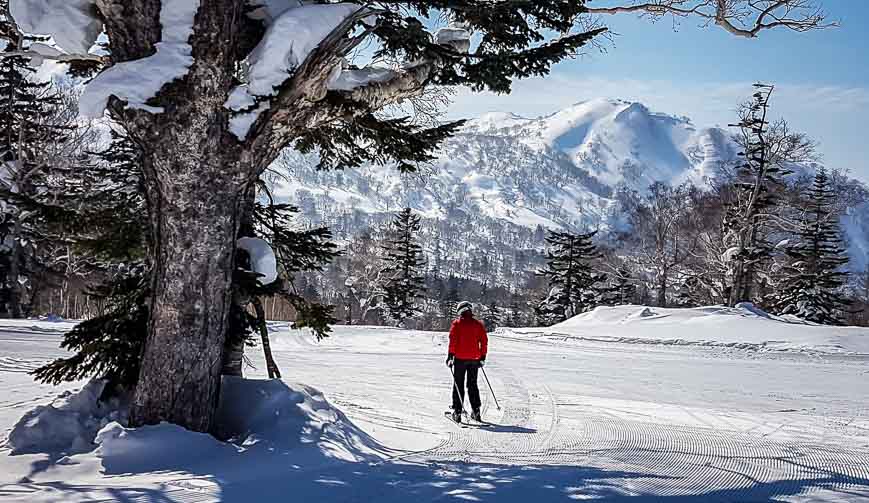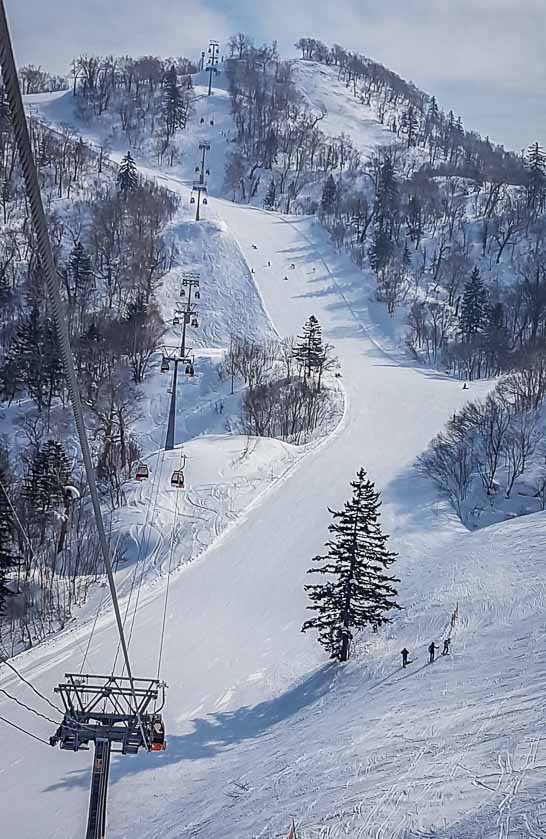 6. Snowshoe at Lake Mashu
Lake Mashu, a caldera lake in Akan National Park, reportedly vies for the title of "clearest lake in the world." It's deep, with clear blue water though on a day in late February we didn't appreciate that. Fog did engulf the far shore – something the lake is also famous for.
Lake Mashu is not accessible to the public but there are a couple of viewing platforms. It's pretty obvious that it's a caldera lake from above. In summer there is a hiking trail that runs along the rim of the caldera to the summit of Mount Mashudake. In winter, it's a stunning place for snowshoeing.
The terrain is rolling so I'd classify the snowshoeing as easy. You can do a loop that includes the trail high above the caldera, returning to the parking lot by a closed-off road. It's a superb outing and definitely one of the top things to do in Hokkaido in winter.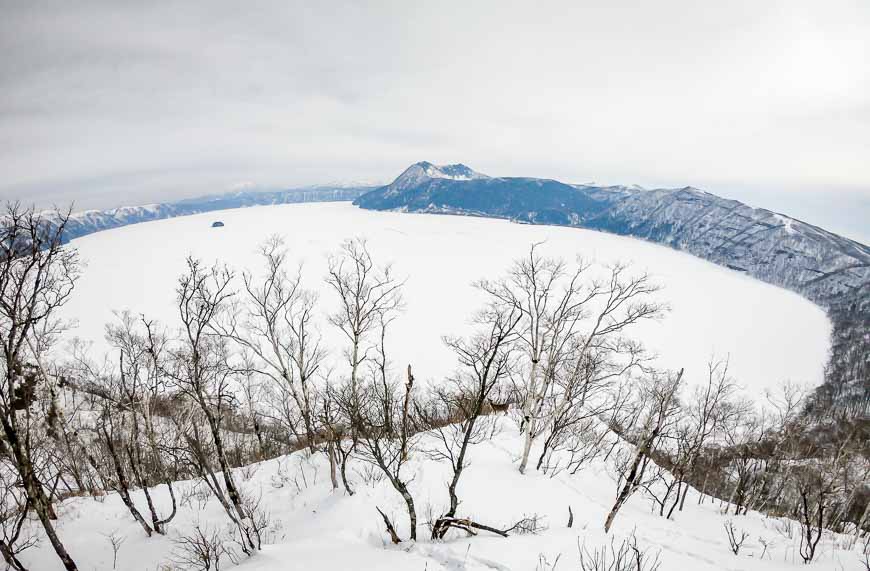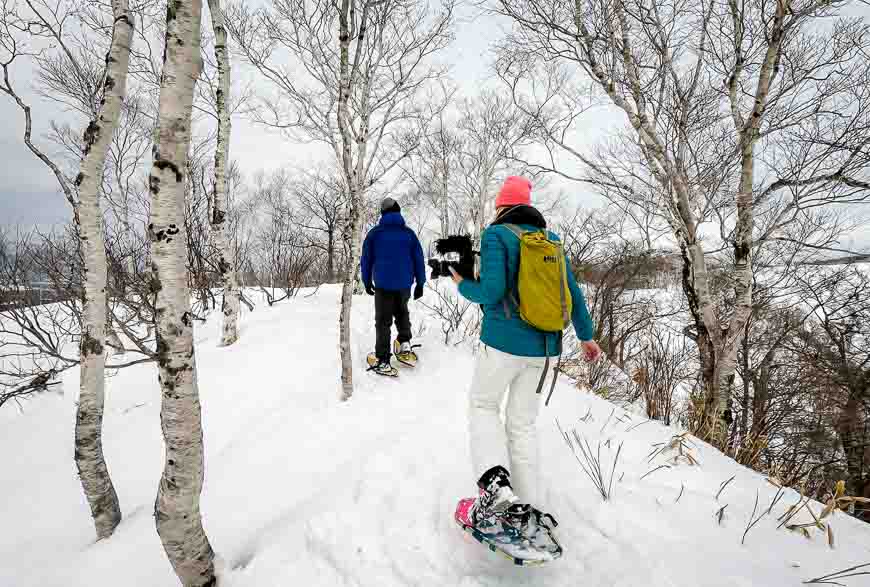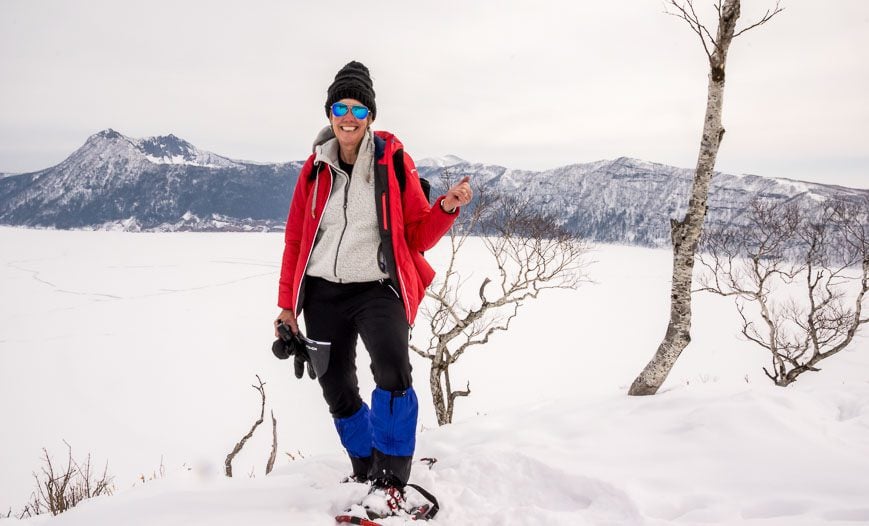 7. Catch an Ainu dance performance – one of the culturally interesting things to do in Hokkaido in winter
The Ainu people are the indigenous people of Japan but weren't officially recognized as such until 2008. If you are anywhere on Hokkaido where you have the chance to see the Ainu people sing and dance, I highly recommend the experience.
My short video on a contemporary Ainu Dance might give you goosebumps. The music based on traditional Ainu folk songs is haunting and the dance, incredibly beautiful.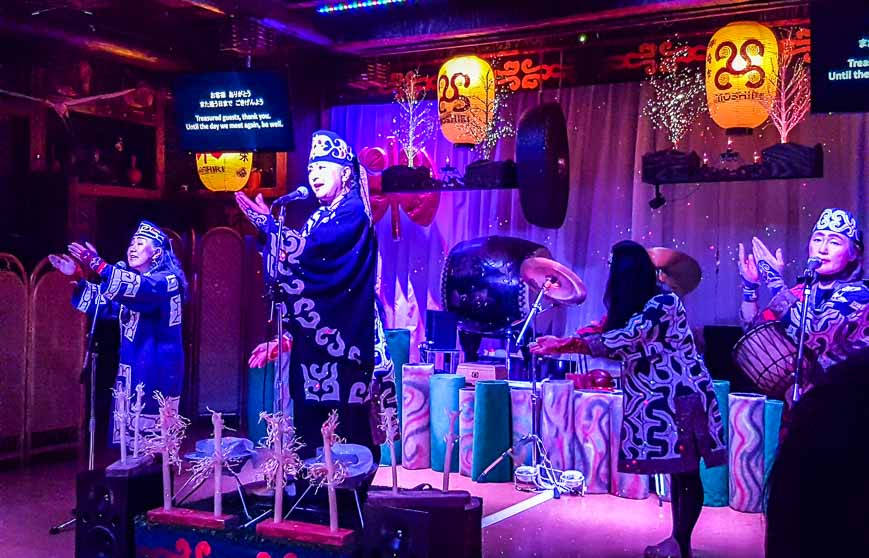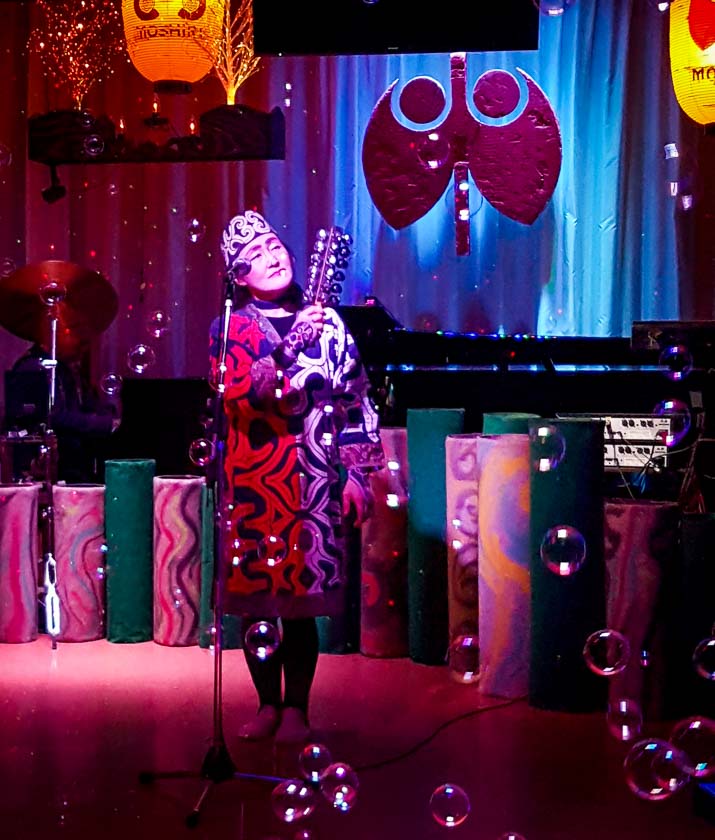 8. Hike to the sulfurous Mt. Iwo on Hokkaido
It's a short hike from the parking lot along an easy trail to reach the sulfurous Mt. Iō on Hokkaido. The air smells as one would expect of rotting eggs. You only need 30-40 minutes to check out the steaming springs and take some photos. Reportedly you can have an onsen steamed egg in the café. We missed that.
Our stay for the night was nearby at the friendly Kinkiyu Hotel – with its sulfur smelling onsen and traditional rooms. I highly recommend the hotel and its location as it's but a short walk away from the theatre where the contemporary Ainu dance performance is held.
Book a room at the hotel here.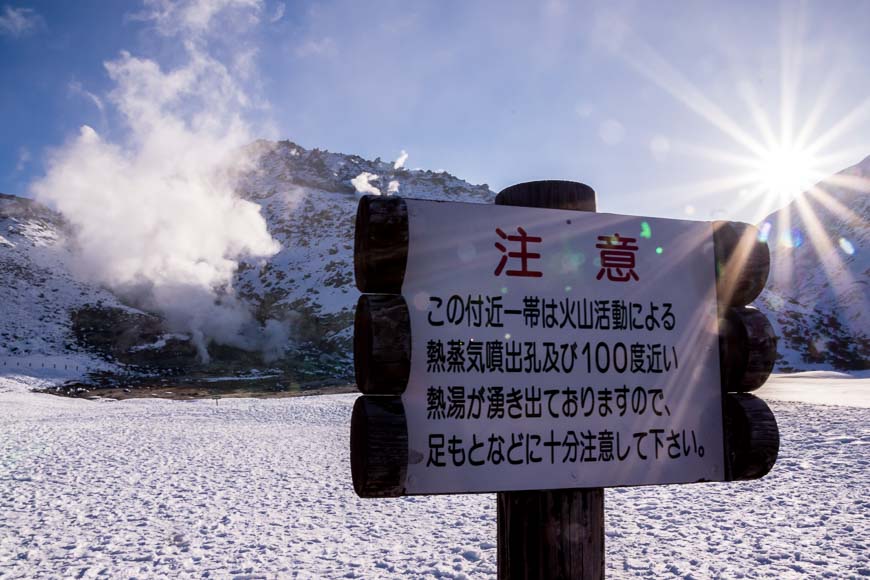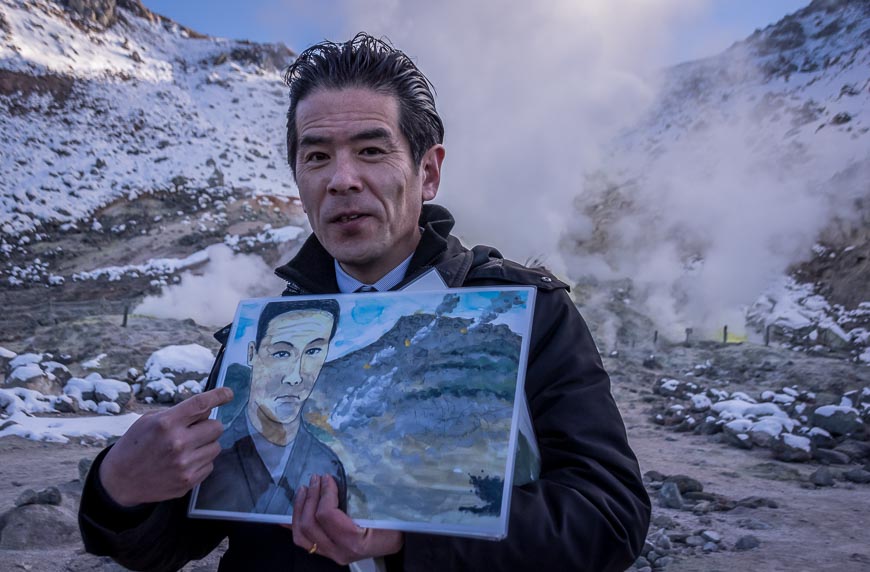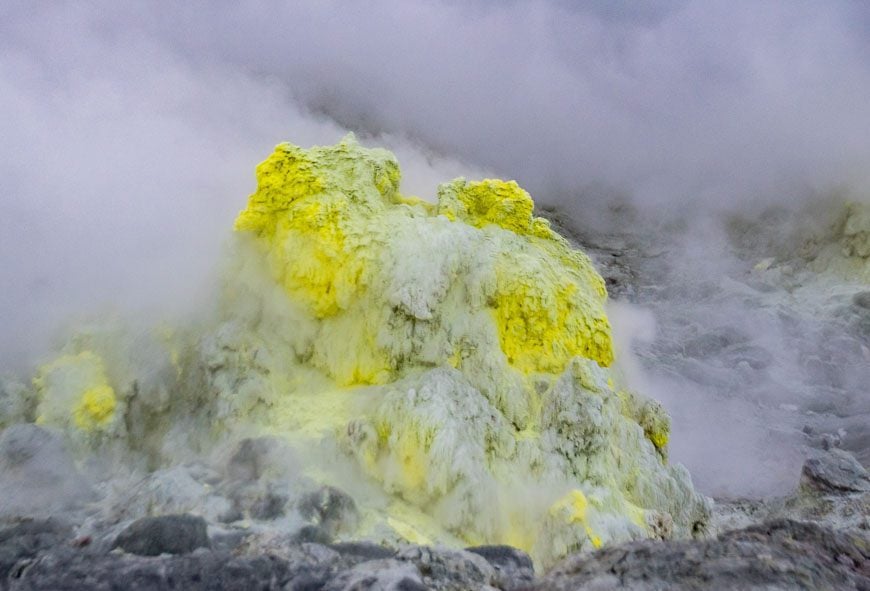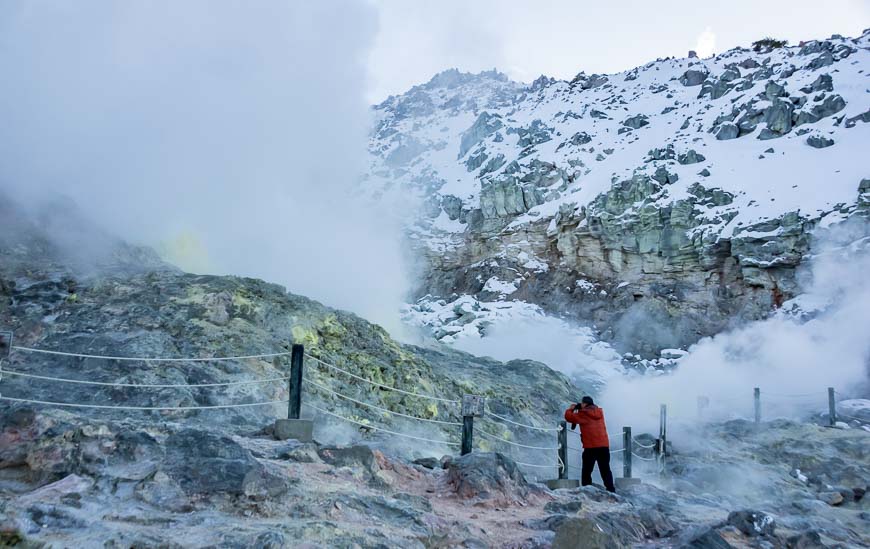 9. Snowshoe in Shiretoko National Park
Shiretoko National Park, a UNESCO World Heritage Site sits at the northeastern tip of the island of Hokkaido. The peninsula is remote with much of it accessible only by boat or on foot. Its home to mountains and rugged coastal cliffs along with forests filled with species of trees I'd never seen before like Erman's birch, Mongolian oak, and Sakhalin fir.
On our Hokkaido snowshoeing adventure we did the easy Furepe Waterfall Trail to the coast on a gorgeous sunny day. Again we were with a local Ainu guide who took pleasure in sharing his knowledge about the trees and the animals.
The snowshoe trail meandered through woods and fields to arrive at the edge of the Sea of Okhotsk. From there we wandered to the frozen waterfall, and back up through open fields with a mountainous backdrop. There aren't enough adjectives out there to describe how wonderful the experience was.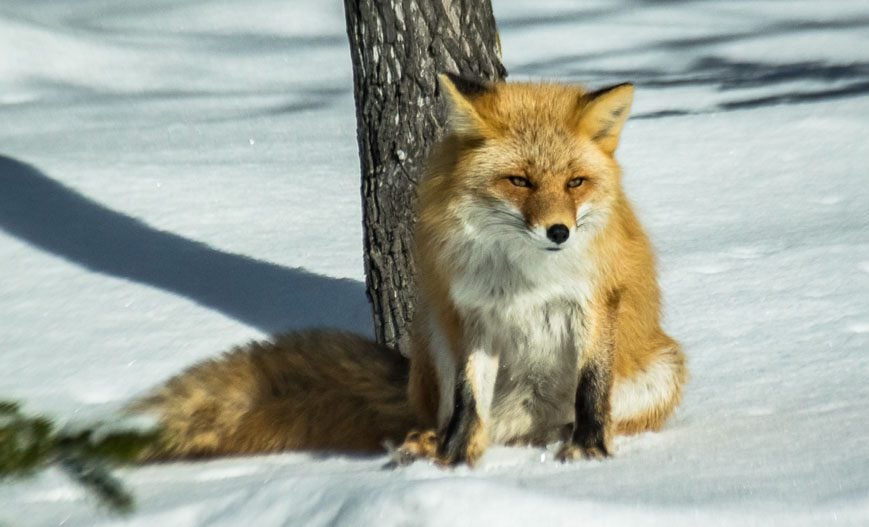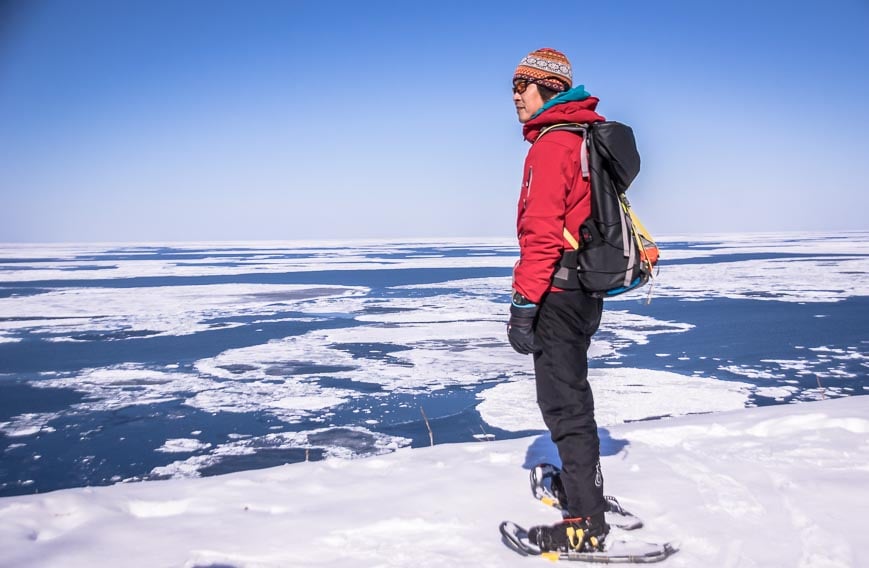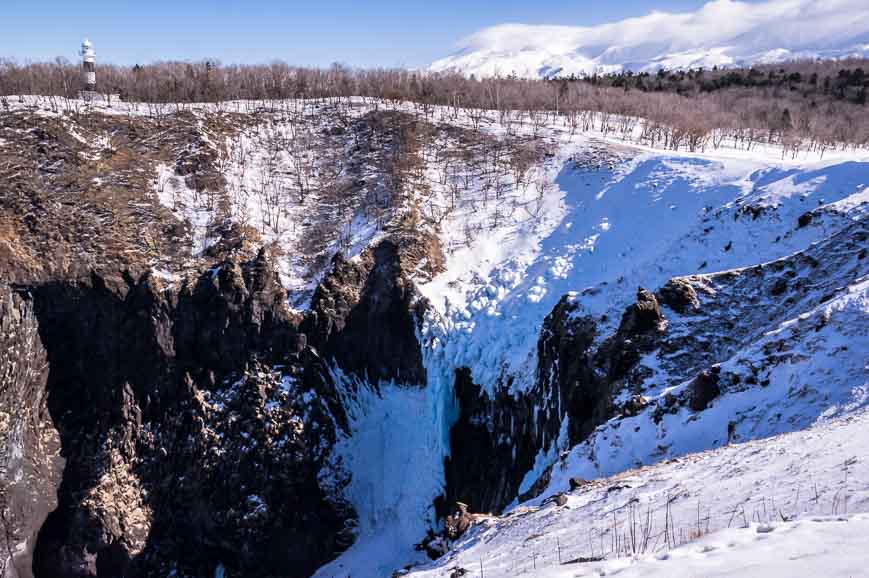 10. See the frost flowers and catch the sunrise over Lake Akan
Before I visited Hokkaido I'd see beautiful images of "frost flowers." They are distinctively shaped ice crystals that can cover swaths of the surface of Lake Akan. However you need Lady Luck on your side to see them for they are considered a rare natural phenomenon.
Frost flowers form when the lake isn't covered in snow – under windless conditions when the temperatures dips to -15°C. They can form individual petals or sparkling flowers – but they are ethereal and can melt with just a minor change in wind or temperature.
Our group got up early one morning to catch both the stunning sunrise over Lake Akan and the exquisite ice crystals. We were with local guides – which is a good idea as the ice is thin in places on the lake and you definitely want to know where it's safe to go.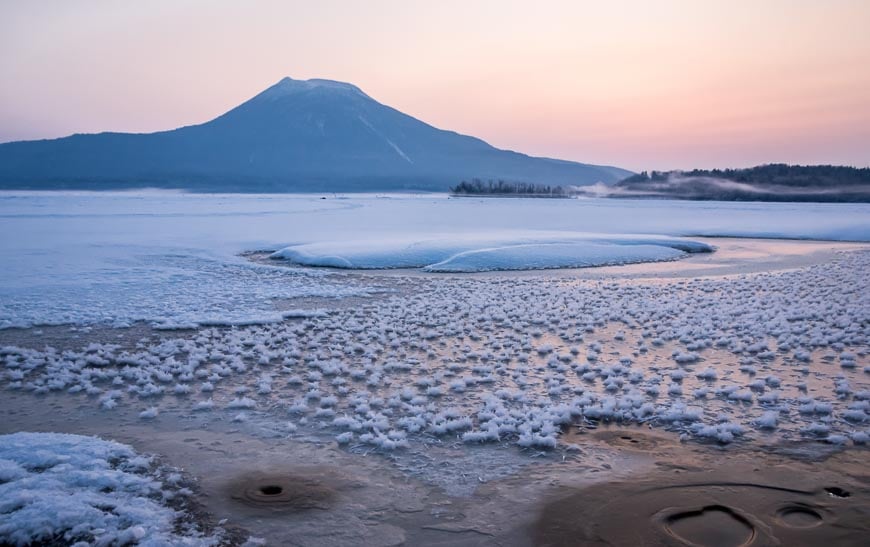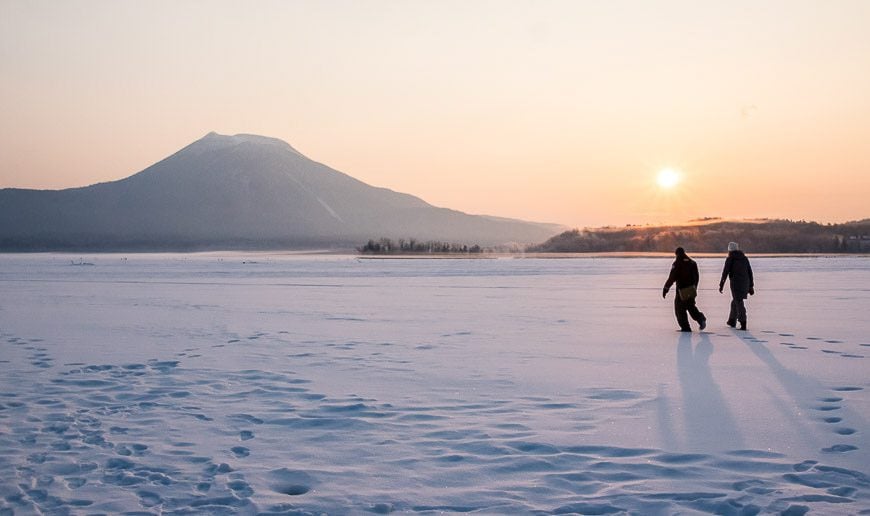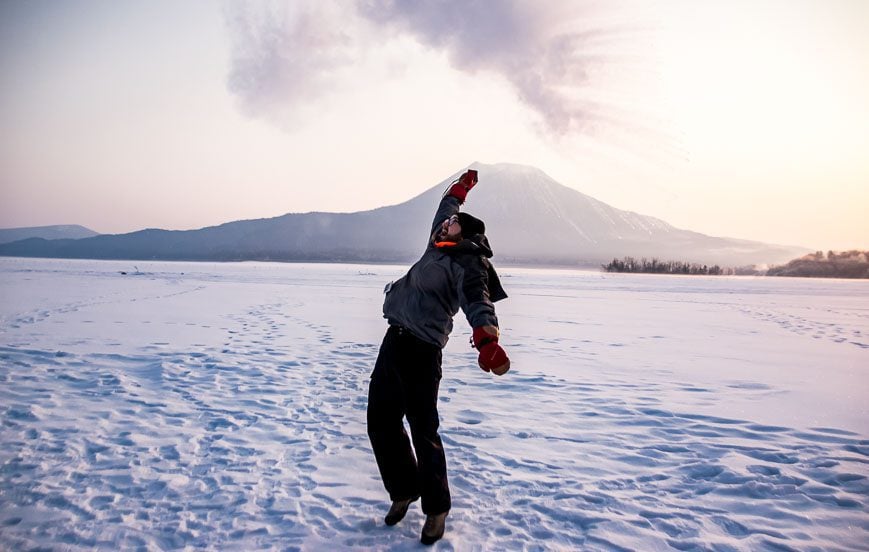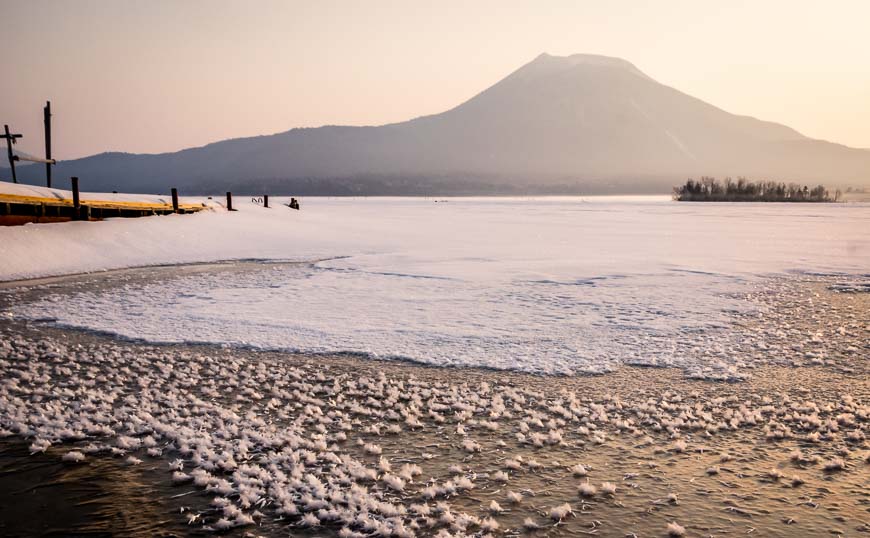 Video on things to do in Hokkaido in winter
Check out the video on things to do in Hokkaido here.
My trip to Hokkaido in winter far exceeded my expectations. It's still an undiscovered part of Japan that doesn't see a lot of tourists but offers a wealth of unique experiences.
A big thank you to the Adventure Travel Trade Association firstly choosing me as one of six media members to visit Japan – and secondly for hosting me on such a memorable trip of a lifetime.
Click on the photo to bookmark to your Pinterest boards.