Excitement mounts on my bus filled with fellow outdoor adventurers from around the globe as we follow the Shiretoko National Highway north to the Shiretoko Peninsula on the eastern shore of Hokkaido, Japan's most northerly island. Hugging the shore for miles, the empty highway offers views of drift ice as far as the eye can see. It's particularly beautiful in the soft glow of a setting sun over the Sea of Okhotsk, a name that conjures up exotic images of bearded, vodka swilling Russians.
We're about to go drift ice walking, a first for all of us and what will end up being one of the highlights of our time in Hokkaido Japan.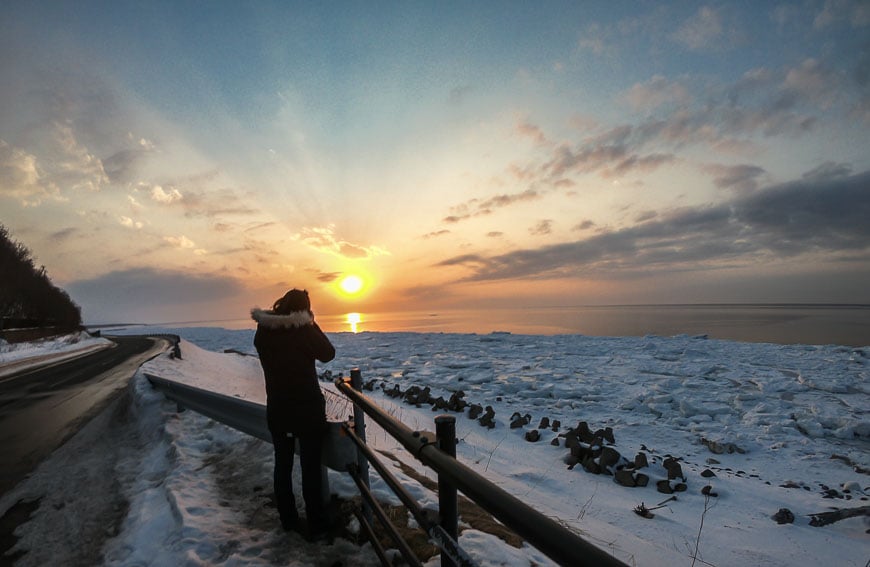 What is drift ice?
Drift ice is a foreign concept to me, a landlocked Albertan. It turns out it's nothing more than frozen river water that gets its start in life on the Amur River (the world's 10th longest river) that forms the natural border between China and Russia.
As the temperature drops over the winter, a drift icefield forms and follows the currents showing up 1,000 kilometres later on the eastern side of Hokkaido in late January through to the end of March.
The drift ice brings with it a lot of plankton which sets the stage for some interesting nature viewing opportunities. Interestingly the drift ice you see in Hokkaido is at its southern limit in the northern hemisphere.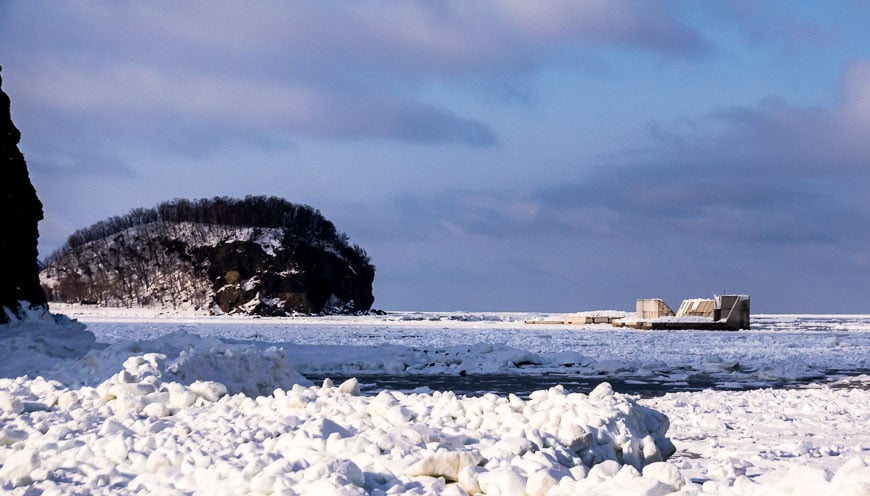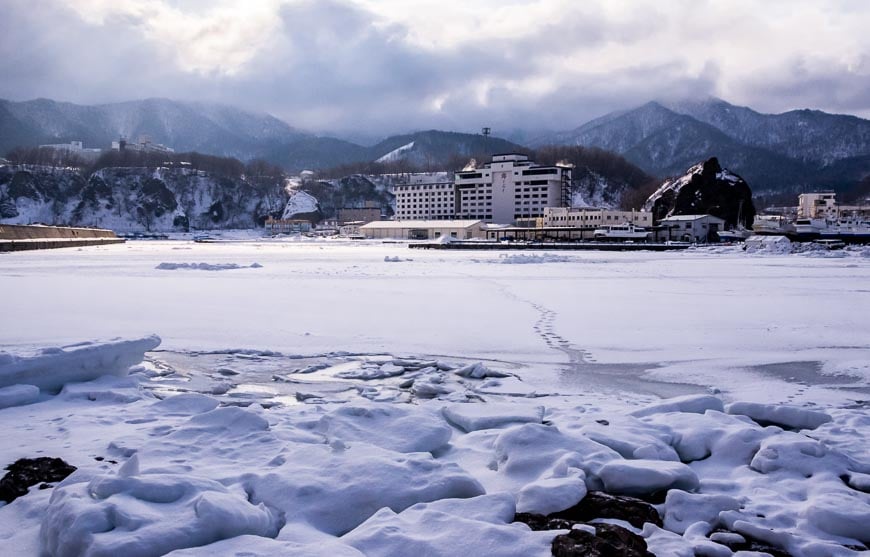 This post includes some affiliate links. If you make a qualifying purchase through one of these links, I may receive a small percentage of the sale at no extra cost to you. Thank you for your support.
Where can you see drift ice on Hokkaido?
On Hokkaido, drift ice is primarily seen in three locations – Abashiri, Monbetsu and Shiretoko-Utoro/Rausu where we are heading.
The ice gets shoved up onto shore, onto beaches and against cliffs – so it's quite accessible in places. From our hotel, the fabulous Kitakobushi Shiretoko Hotel & Resort, the ice is but a short walk away. However, one shouldn't be heading out willy-nilly onto it without being fully prepared – as in dressed from top to bottom in a dry suit in case the ice gives way.
You can book the Kitakobushi Shiretoko Hotel & Resort here.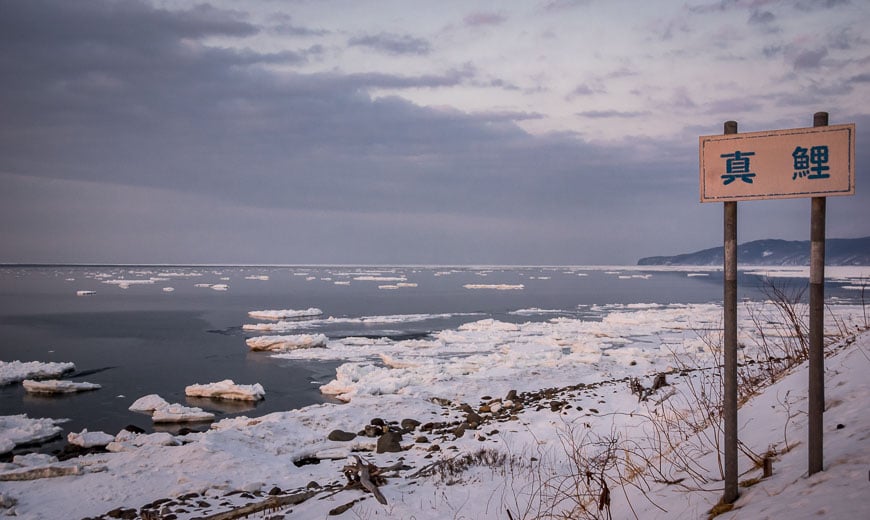 After breakfast on our first morning on the peninsula I make a jaunt out to an area where large chunks of rock making up a UNESCO site are surrounded by ice.
I spy a red fox heading out onto the ice and ravens galore – but I'm a three hour drive and a one hour boat ride away from seeing the hundreds of Steller's Sea eagles that visit the sea ice.
The video will give you a sense of what it was like to walk on the drift ice – along with some other highlights of my time in Hokkaido.
The guided drift ice walking experience
I'm one of the lucky ones that gets the full guided drift ice walking experience. There are several companies offering a walk – and a swim in the freezing waters. If there's one thing you should do on Hokkaido this is it (though skiing is unbelievable too!)
Jessica Roberts, a Seattle based tour designer remarks "that's it's the best experience of the week with a high fun factor." And Claire Peters a Boulder based tour designer "laments the fact that she chose the biking on drift ice experience over the walk" – and as she said "it's not that I didn't have fun but the swim in the water is one of those truly memorable experiences."
There's something surreal about seeing the contrast of beautiful white ice in an infinite number of shapes and sizes against a backdrop of the blue open water of the sea.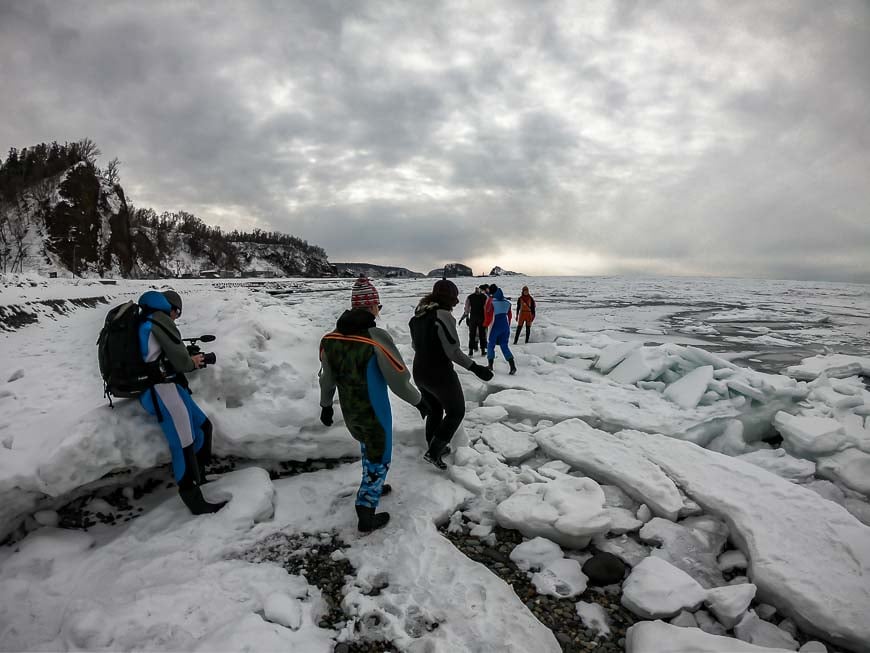 Getting dressed for drift ice walking is as close to an aerobic activity as you'll get on this outing. Its hard work pulling on the thick rubber boots attached to a neoprene drysuit. Beware – the only thing that doesn't get insulated is your hands. While you wear gloves I can guarantee cold hands if you enter the water.
Once everyone is suited up we walk across the ice following the instructions of our guide and avoiding dark ice where we might step through. While we were warned off of bringing a camera in case we fell in, I'd recommend it as the images you'll capture are spectacular.
We don't walk far- perhaps 600 metres – but then we spend a half an hour getting into the water and floating. I also enjoy watching a couple of groups that were offered a little more free rein than we were. They'd jump on the ice until they crashed through, often getting fully submerged and coming up sputtering and laughing.
After about an hour out on the ice, simply taking in the beauty along with the swim we retrace our steps. While the drift ice walking experience isn't a long one it sure is a memorable one!
The Coastal Kitchen Experience
While not part of the drift ice experience I do have to mention the memorable open-air lunch put on by Coastal Kitchen overlooking the drift ice. What a way to enjoy a sunny, bluebird day
Trip planning in Hokkaido
If you're planning a visit to Hokkaido getting the details of your travel arrangements organized can be a tad tough. While I was in Japan I met Yuki Homma – a long time director of Hokkaido Treasure Island. In fact one of the participants on our trip has worked with her for over 10 years so she would be a good resource for trip planning – including the drift ice walking experience.
Further reading on Hokkaido, Japan
Click on the photo to bookmark to your Pinterest boards.
A huge thank you to the Adventure Travel Trade Association and and all their partners on the ground in Hokkaido, Japan for hosting my stay. All thoughts are truly my own and the experience was one that will stick with me forever.