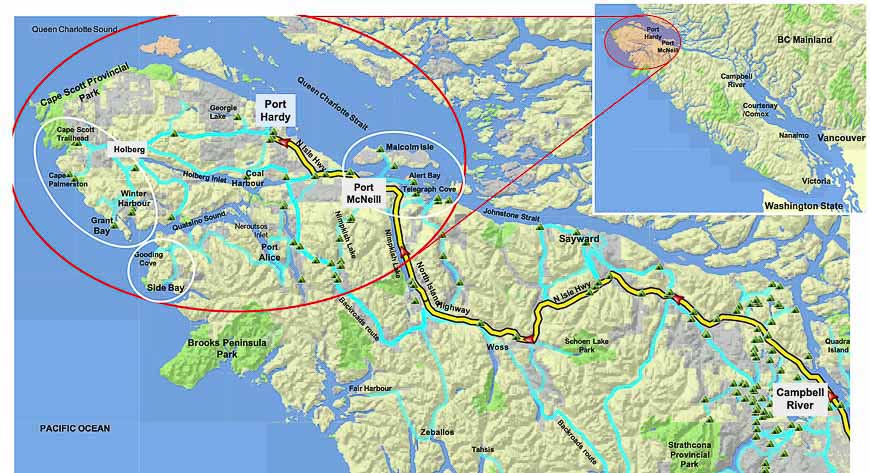 Way Out There: Cycling Northern Vancouver Island
The North Island has a hold on me, and I keep going back. Northern Vancouver Island is vast, sparsely populated, and you're more likely to meet a bear than a tourism spot. A super destination if you like the great outdoors.
This article shares three favourite spots. Two are rough and remote (don't expect pavement!), while the third is a mellower cluster of tourist gems.
I'm a cycle tourist and bikepacker (a rare breed up here), but the info here will appeal to all travelers. If you want more info or details on routes, see the short profile and links at the end.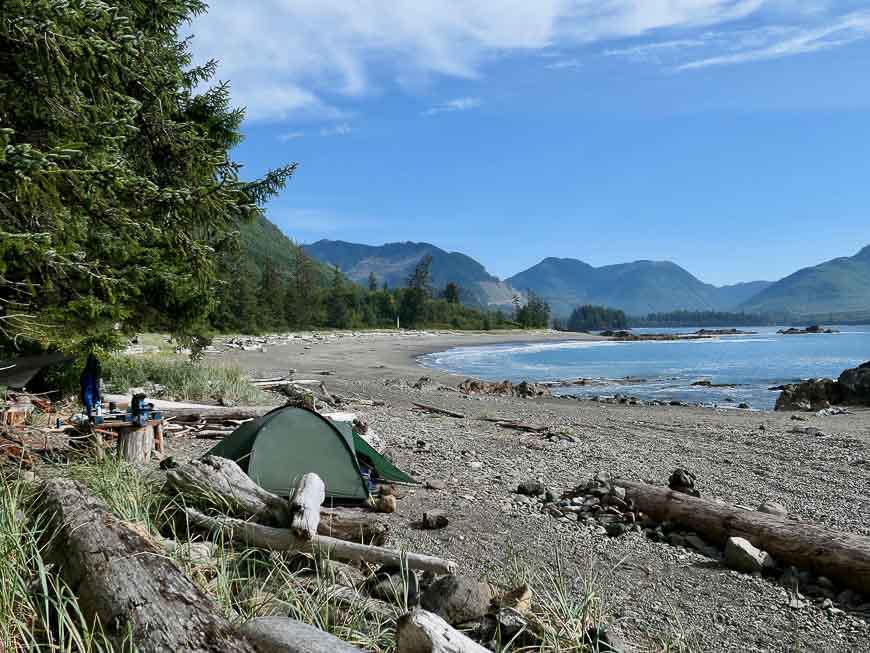 Malcolm Island, Alert Bay & Telegraph Cove – awesome stops when cycling northern Vancouver Island
There's some mellower gems near Port McNeill.
Catch the ferry to Sointula, Malcolm Island. Last visit, I popped into a coffee shop, and in no time had a whole team sharing local advice.
Check out Bere Point Regional Campground on the north shores, with grand views over Queen Charlotte Strait, and killer whales who cruise in near the shores for a belly rub on the smooth pebbles.
Next, a ferry to Alert Bay on Cormorant Island, in traditional Kwakwaka'wakw territory. Formerly a fishing and shipping hub. Today, a thousand people, over half First Nations. Museums, adventure tourism, hotels, restaurants, campground, and a fine seaside boardwalk.
From Port McNeill, it's 20km south to Telegraph Cove, looking over stunning Broughton Archipelago.
Telegraph Cove reminds me of a theme park that switches into gear for summer. The boardwalk around the picture postcard cove hums with boats, hotels, restaurants and adventure outfitters. Lots to do, and a chance to kick back and indulge.
Top right above shows my trusty wheels at a remote Forestry campsite. Bottom right, a stretch of the North Island Highway. Bottom left, a logging truck on the backroads.
Finally, top left: for travelers who like their journeys epic, you can catch a ferry sailing north from Port Hardy through the spectacular Inside Passage, to Prince Rupert and beyond.
Further reading on exploring Vancouver Island
Click on the photo to bookmark to your Pinterest boards.
Thank you to Gregg Strong the author of this guest post.
Gregg Strong has worked and traveled in many countries. Home today is Courtenay, Vancouver Island. He built and now manages the website, Cycle Touring Vancouver Island with visitors coming from around the world. Here's some direct links for more info related to this article: Port Alice Loop biking, Side Bay bike route, Cape Scott and Winter Harbour bike ride, Malcolm Island, Alert Bay and Telegraph Cove bike ride, and Safe riding in logging country.