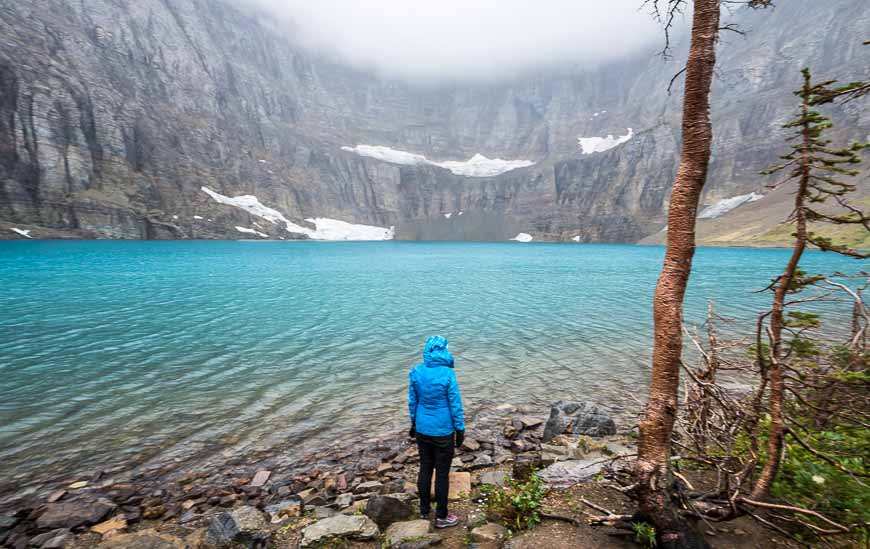 Iceberg Lake Hike in Glacier National Park
On a busy trip to St. Mary and Glacier National Park in Montana, John and I squeezed in the Iceberg Lake hike in the Many Glacier area of the park. We did it in mid-September when the colours had started to change and after the summer crowds had left.
The Iceberg Lake hike is 9.8 miles round trip and the elevation gain is a very manageable 1,275 feet or 389 m.
Iceberg Lake trailhead location
From St. Mary, Montana drive 9 miles north to Babb. Turn west onto Route 3 and follow it for 12 miles. The winding, narrow road is in bad shape with lots of broken pavement – though in 2020 it's supposed to be getting a complete face-lift.
Look for the trailhead for Iceberg Lake hike behind the Swiftcurrent Motor Inn. It's very well signed.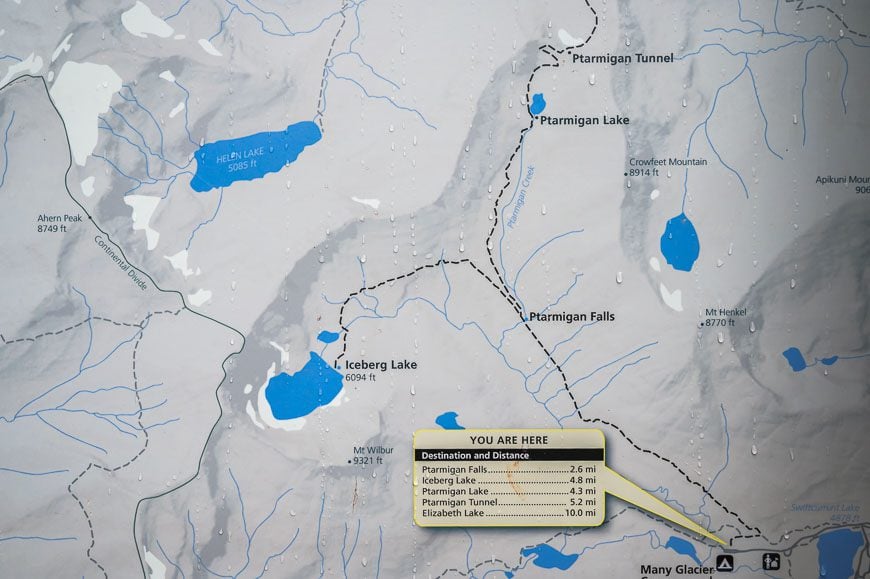 Route description of the Iceberg Lake hike
The first part of the hike is the steepest on the trail. Over just a quarter of a mile it climbs 200 feet. But for the rest of the hike it moderates and it's not until you're on the descent that you really notice how much you climbed. However, compared to most mountain hikes of this calibre, the elevation gain is modest.
At the first fork on the trail, bear left. In no time you're into open terrain with beautiful mountain views. Continue for a total of 2.6 miles to reach Ptarmigan Falls, crossing numerous streams along the way. The only real wooded sections of the hike are immediately at the beginning of the hike and in the middle section before the falls.
Ptarmigan Falls is a nice place for a break. Hang out on the rocks, have a snack or soak your feet in the water on a hot summer's day.
Look for a trail junction at Ptarmigan Falls. Stay left and head west to continue to Iceberg Lake. It's another 2.3 miles to reach the lake and the views are terrific. You don't see Iceberg Lake itself until the last minute as it sits tucked behind a knoll and beneath the cliffs of Iceberg Peak and Mt. Wilbur. Here's a detailed map.
The trail ends at Iceberg Lake. In mid-September it didn't have a single iceberg in it but if you visit earlier in the season, you can expect to see a lake with both icebergs and bergy bits.
The wind blew up on our arrival and the rain started so it got incredibly cold quickly – true hypothermia weather. We had a fast lunch huddled under some trees before starting our descent. On a nice day I could see hanging out by the lake for an hour or two. All told it took us about four hours round-trip to hike.
Don't forget your 10 hiking essentials and bear spray. This is grizzly country you're in – and so you do need to be very bear aware. We didn't so much as see bear scat but you never know when a bear is going to pop onto the trail, especially in berry season.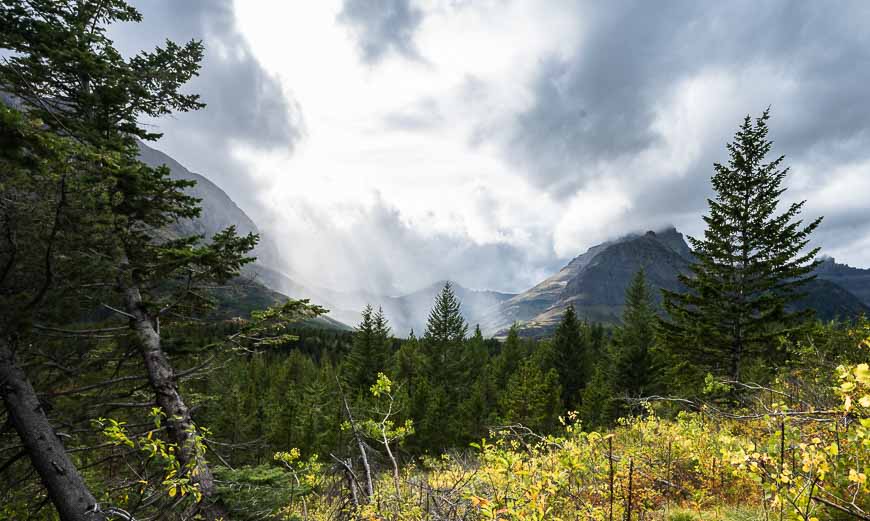 Where to stay nearby
This post includes some affiliate links. If you make a qualifying purchase through one of these links, I may receive a small percentage of the sale at no extra cost to you. Thank you for your support.
St. Mary is a 21 mile drive away via Babb and a great place to overnight with its location at the east entrance to the Going-to-the-Sun Road. I'd recommend a stay at the cute Tiny Homes in St. Mary Village.
Further reading on things to do in and near Glacier National Park, Montana
I highly recommend the book Hiking Glacier and Waterton Lakes National Park by Erik Molvar.
For more information on Glacier National Park, visit their website.
Click on the photo to bookmark to your Pinterest boards.