I had a trip to Whitefish, Montana in my sights for some time. I didn't have specific plans other than to see what sort of outdoor adventures one could do in the area. And then I found out that hiking and biking the Going to the Sun Road in Glacier National Park was available to hikers and cyclists in the spring before cars are allowed on the road.
What a treat one late April weekend to be biking the Going to the Sun Road without the threat of being smushed into a rock wall. You can bike worry free with no cars for almost two glorious months. The road stretches for 50 miles from West Glacier to St. Mary.
John and I made the five hour drive from Calgary to Whitefish on a Friday night. After a leisurely start the next morning – as we had no clue what we were really getting ourselves into, we made our way to the west entrance of Glacier National Park. We parked about a mile outside the park by the Travel Alberta information booth and started biking from there. In hindsight, one should drive into the park as it costs $US15 per cyclist for a seven day park pass (winter rate from November 1 – April 30), and only $US25 per car if you get the winter rate and we would have saved a lot of time.
This post includes some affiliate links. If you make a qualifying purchase through one of these links, I will receive a small percentage of the sale at no extra cost to you. Thank you very much for your support.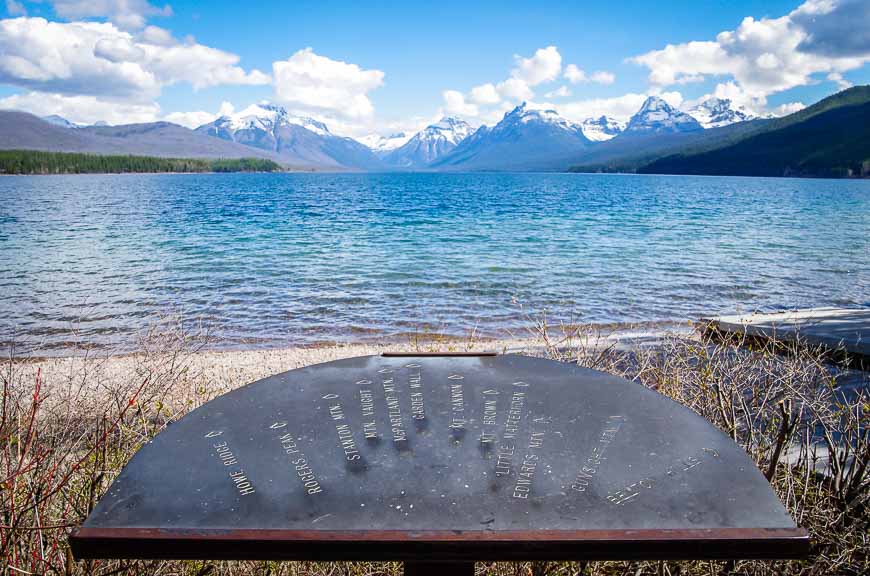 Biking Going to the Sun Road summary
Opening dates for the full Going to the Sun Road vary from year to year – based on snowfall and plowing operations.
You can check the real time status of the road here.
Saturday, April 22, 2023 is the first day of National Park Week so entrance for everyone is free.
Most people start biking Going to the Sun Road at Lake McDonald Lodge (which opens May 12 in 2023.)
Enjoy a car free bike ride from some time in April until the road opens to cars, usually in late June.
Don't bring your dog during biking season as they are not permitted on the Going to the Sun Road, even on a leash.
Glacier National Park has a healthy population of grizzly bears. I would recommend taking easy to access bear spray, just in case.
You can rent ebikes and regular bikes from Glacier Guides. They will also organize a bike shuttle.
Once the road opens to car, bicycles will only be permitted on the road before 11 AM and after 4 PM.
Beware that there may be up to a 30-minute wait because of construction along Lake McDonald starting in June 2023.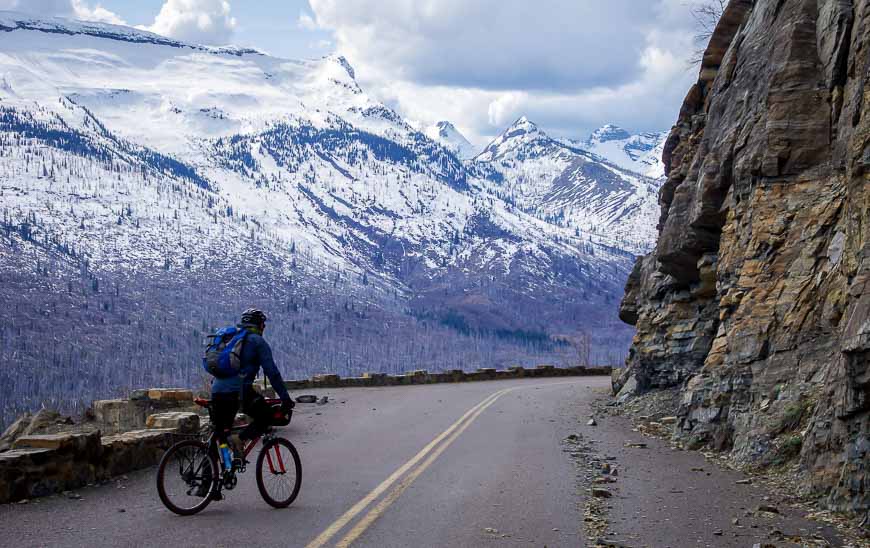 Going to the Sun Road – a National Historic Landmark
The Going to the Sun Road, a National Historic Landmark, cuts a 53-mile swath through the Rocky Mountains, across Glacier National Park in Montana. The narrow, winding road is only open seasonally.
Typically it takes about ten weeks to plow the length of the Going to the Sun Road. In big snow years, up to 80 feet of snow has been reported at Logan Pass but the snow depth is usually between 6 feet and 20 feet.
Ride distances/elevation gain from Lake McDonald Lodge
There is a parking lot at Avalanche Creek if you don't want to ride the 17 miles from the Visitor Centre at the west entrance, something we did, but that burned a few hours coming and going. Even though the exercise was great, and there were lots of pretty sections, we were both tired and sore by the time we got back to our car at 6 PM – because stupidly neither of us had done a serious bike ride before this one.
From the Visitor Centre and Lake McDonald Lodge it's an easy bike ride to Avalanche Creek. It's not until you round the bend and head northwest for the loop that the grade increases.
From the west side of the lodge, the riding distances are as follows:
Avalanche Creek – 5.5 miles (8.9 km) and 219 feet
West Tunnel – 12.7 miles (20.4 km) and 1,030 feet
the Loop – 13.3 miles (21.4 km) and 1,100 feet
Big Bend – 18 miles (29 km) and 2,545 feet
Logan Pass – 21 miles (33.8 km) and 3,427 feet
From the road closure on the east side at Rising Sun, the riding distances are as follows:
Sun Point – 3.5 miles (5.6 km) and 181 feet
Sunrift Gorge – 4.2 miles (6.8 km) and 223 feet
St. Mary Falls Trailhead – 4.7 miles (7.6 km) and 295 feet
Jackson Glacier Overlook – 6.9 miles (22.2 km) and 846 feet
Siyeh Bend – 8.9 miles (14.3 km) and 1,421 feet
Lunch Creek – 10.9 miles (17.5 km) and 2,110 feet
Logan Pass – 11.5 miles (18.5 km) and 2,313 feet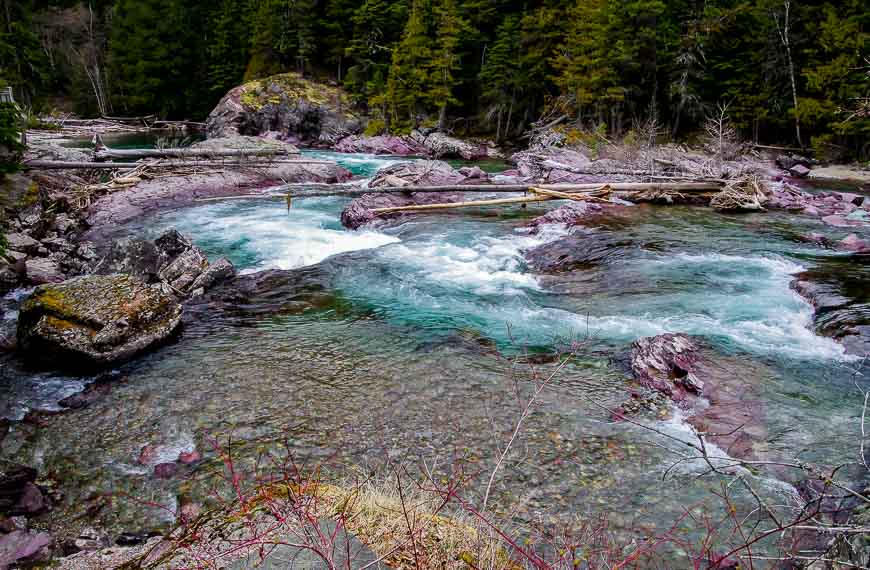 Can you ride an ebike?
Electric bicycles or ebikes are permitted if the motor is less than 750 watts (1 hp) and only used while pedaling.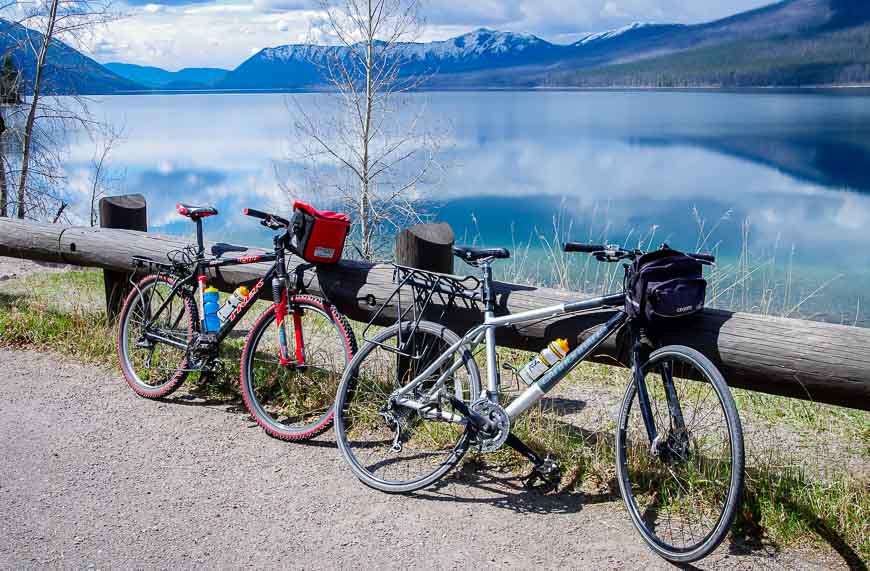 Spring shuttles
In the spring biking and hiking season, shuttles are usually available at the Apgar Visitor Centre from around May 7th until the last week of June to take you and your bike to where the road is restricted to vehicles. This is a good option if you arrive late as parking lots fill quickly. The shuttle is first come, first served and runs from 7 AM – 3 PM.
What days in spring can you bike the Going to the Sun Road?
During the spring hiking and biking season, there are closures in place Monday to Thursday while the road is being plowed. In theory you can still bike part of Going to the Sun Road, but you are not permitted to pass road crews at any time. And you will always have to turn back at the Avalanche Hazard Closure. Their progressive closure locations are determined on a week to week basis every Thursday. If you go past these closures you're liable for fines and jail time.
Your best time to be biking Going to the Sun Road is on Friday, Saturday, and Sunday when there are no road crews. The later you go in spring, the further you'll be able to bike but you won't be able to get to Logan Pass until all avalanche danger is gone and the road is snow free.
On the east side of Logan Pass, similar directives are in place.
When does Going to the Sun Road close to bikes?
There are annual closures to bikes on most of the Going to the Sun Road from June 15 to Labor Day between 11 AM and 4 PM. The areas affected include:
the Apgar Loop Road turnoff located at the south end of Lake McDonald to the Sprague Creek Campground and
east bound from Logan Creek to Logan Pass.
It is recommended that you start early so you get through these areas. It takes about 45 minutes to bike from Sprague Creek to Logan Creek and upwards of 3 hours to bike from Logan Creek to Logan Pass.
Tips for biking in Glacier National Park
If you're not used to biking in heavy traffic, give the Going to the Sun Road a pass and plan to come back when you can enjoy a car-free experience.
There are no bike lanes on the Going to the Sun Road – and in fact much of the road is narrow. Drivers are often distracted by the scenery or all the vehicles. Be sure to wear high visibility clothing like lime green vests or cycling jackets so drivers can't miss you.
Bring a headlamp if you're biking early in the morning or late in the day.
In times of low visibility and between sunset and sunrise, bicyclists must have a white light or reflector on the front of their bike and a red light or reflector on the rear.
Take patch kits, an extra inner tube and a bike pump so you don't get stranded. Make sure your bike pump matches your bike valve!
Let someone know when you're expected to be back.
Be sure to pack extra warm clothes for after the ride. Most bikers get very wet and chilly on the descent from all the snowmelt kicking up from the tires.
Take enough high energy food and water to get through the day. I would also suggest packing water purification tablets so you can safely drink water from streams and rivers.
What it's like biking the Going to the Sun Road?
As you can see from the photos, the road is very narrow and there are some big drop-offs. I'd rather be on a bike than in a car any day. Plus the views you get at the edge of the road are sublime. And you can stop and go as you please. But don't linger by the avalanche chutes that are still packed with snow.
Biking the Going to the Sun Road ranks up there as one of the top bike rides of my life. I'd love to come back another time and cycle all the way to St. Mary's. Right now the road in from St. Mary's is completely inaccessible.
Watch for hypothermia
The conditions on the Going to the Sun Road in spring are often perfect for hypothermia – cool temperatures and lots of moisture, be it precipitation or snowmelt kicking up from your bike wheels.
Be sure to pack warm layers, including a hat and gloves for the descent. A neck gaiter can also help a lot in keeping you warm. I'd also suggest a waterproof jacket and pants as you can get quite soaked from snowmelt alone.
Also be prepared for a range of temperatures as you climb several thousand feet. Pack for changing weather conditions as they can happen rapidly in the mountains. And be sure to leave some warm dry clothes in the car so you have something cozy to change into.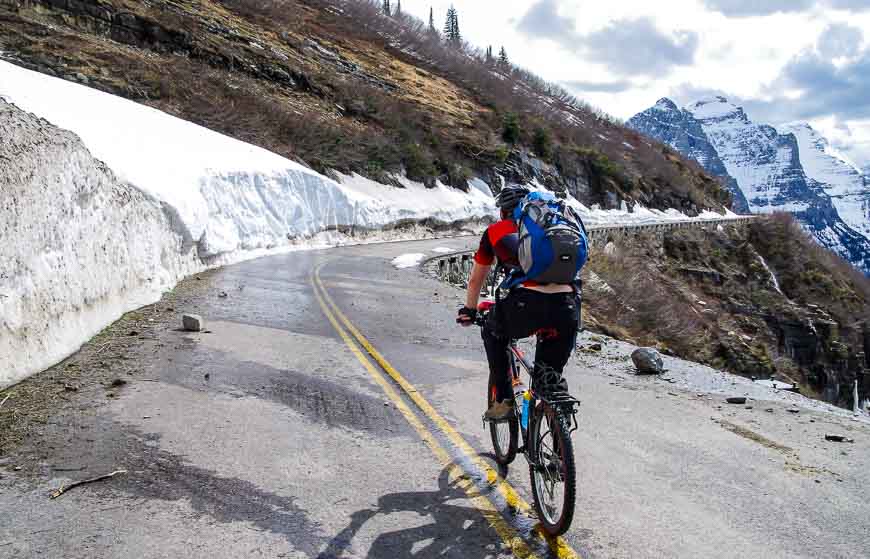 Hiker – Biker Only Campsites
If you arrive on foot or by bike, and want to camp, you can do so for just $US5 per night at Apgar, Sprague Creek, Avalanche, and Rising Sun Campgrounds. Sites are shared and can accommodate up to 8 people.
Scenes from biking Going to the Sun Road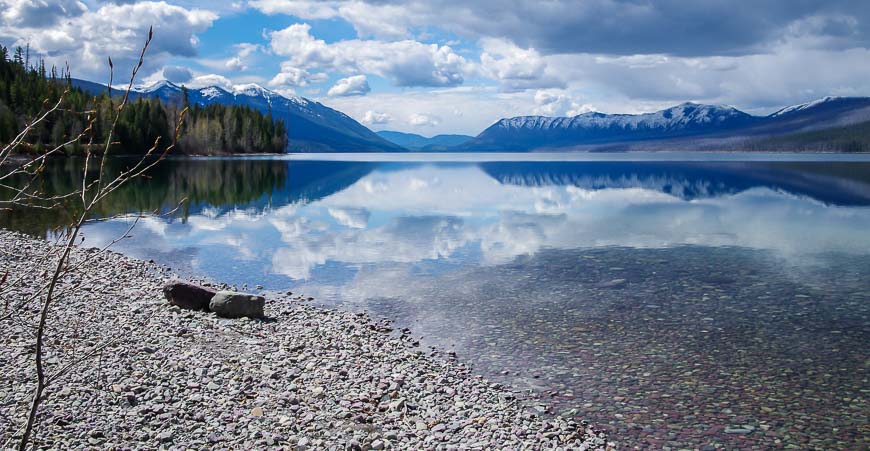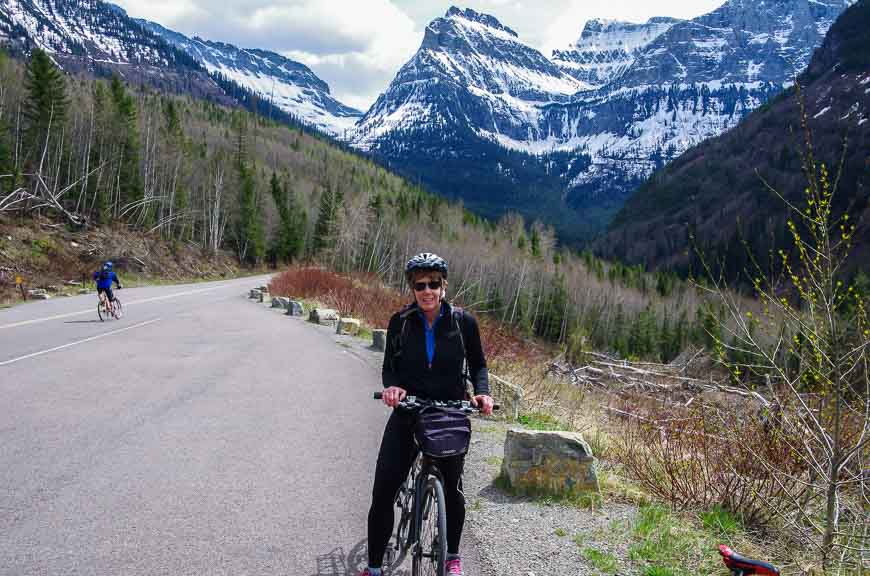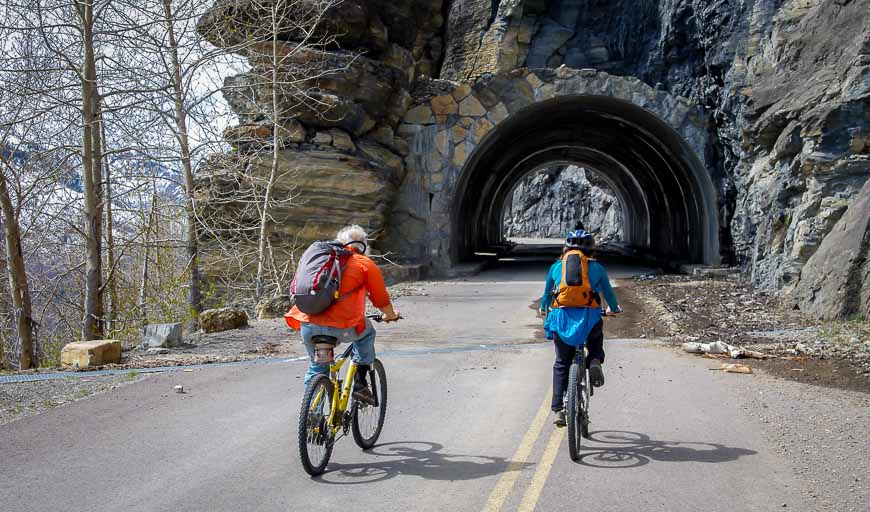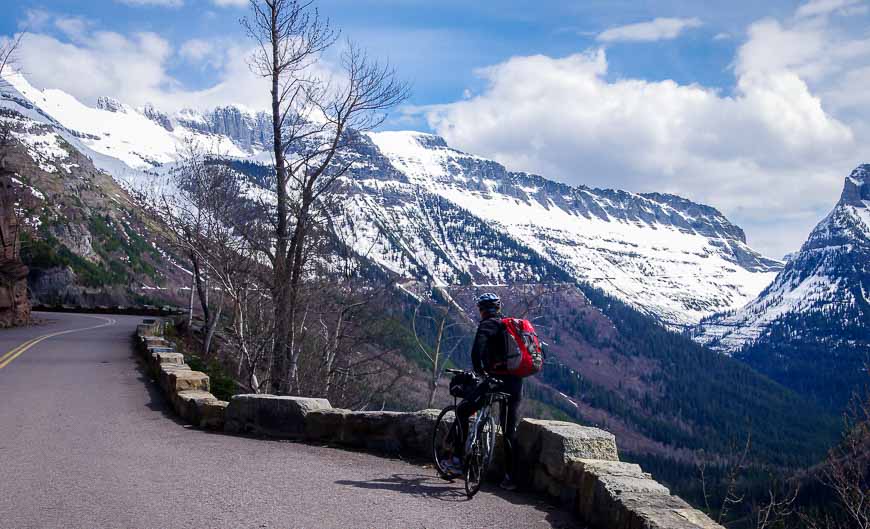 How far we cycled Going to the Sun Road
John and I figured we cycled about 90 km (56 miles) in total and climbed at least a few thousand feet – though it felt like more. I highly recommend this bike ride!! But go prepared with extra food, water, gloves and a warm jacket for the descent.
A new option for overnight and rentals
Roam Beyond is a newer company offering a selection of products that are perfect for biking the Going-to-the-Sun Road. Need to rent an e-bike? They've got you covered.
Want to stay in a cool cabin close to to the bike ride? Again Roam Beyond would be perfect. And if a weekend of catered, chef-prepared meals with bikes and accommodation sounds like a fun way to kick-start your summer, then check out their options – only available on weekends.
Where to stay in nearby Whitefish
There are lots of options in Whitefish from staying on the ski slopes, to in town to on the lake.
Top rated properties include the Lodge at Whitefish Lake, The Farmhouse Inn & Kitchen and The Firebrand Hotel.
Location map of the Going to the Sun Road
Further reading about things to do in Montana
Click on the photo to bookmark to your Pinterest boards.