For a scenic drive in the western United States, do an East Glacier road trip, exploring the country between St. Mary and East Glacier and beyond. It's an easy three hour drive if you're coming from Calgary – and for those already in Glacier National Park, it's a worthwhile add on. You'll be exploring the Crown of the Continent ecosystem and enjoying world-class mountain scenery at the eastern edge of one of the most beautiful national parks in the Lower 48.
The drive to East Glacier from Calgary starts with far-reaching views of the plains and grasslands to the east. But as you travel south from Cardston, the Rocky Mountains pop into view. Look for The Chief, a noteworthy landmark near the Alberta – Montana border. Once you start your East Glacier road trip in Montana, you'll find the mountains to be at their most magnificent from just before you reach St. Mary through to East Glacier.
This post includes some affiliate links. If you make a qualifying purchase through one of these links, I will receive a small percentage of the sale at no extra cost to you. Thank you very much for your support.
East Glacier Road Trip – use St. Mary, Montana as a base
Did you know the driving time from Calgary to St. Mary, Montana, the eastern entrance to stunning Glacier National Park, is just shy of three hours? And that includes the time needed to cross an international border? My husband was in complete disbelief that we knocked it off so quickly.
St. Mary is just a little bit of a village and a seasonal one at that. It's got a gas station, a grocery store and a handful of accommodation options. St. Mary owes its existence to the park and the fact that it's the easternmost entrance to one of the most stunning drives on the planet – The Going-to-the-Sun Road.
St. Mary is a perfect base camp for exploring the Many Glacier and Two Medicine sections of Glacier National Park along with East Glacier Village. It's also a great base to drive (or bike) the Going-to-the-Sun Road.
Accommodation in St. Mary
St. Mary Village sits at the junction of US Highway 89 and the Going-to-the-Sun Road. Its home to a motel, cabins, Great Bear Lodge and 10 Tiny Homes, the most recent addition to the Pursuit Glacier Park collection, launched in 2018.
John and I enjoyed one night in the yellow Tiny Home pictured below. It's surprisingly roomy and not for a second did it feel cramped. A family of four could easily spend the night in here.
The Tiny Home features a bedroom with a queen bed and plenty of storage space along with a kitchen-dining-sitting room. I loved the cheerfulness of the accessories, the retro-looking microwave and mini-fridge and the fact you could do a bit of cooking if you were so inclined. (We weren't.)
Not pictured is the oversized bathroom that comes with each Tiny Home. It's not actually attached to the Tiny Home but it's all of a 3 second walk away. In it is a fast-acting heater (we needed it in September), a toilet, two sinks with lots of counter space and a large tub-shower.
The washroom buildings are the same colour as your Tiny Home, so you don't have to worry about going into the wrong one – and besides they're locked.
Where to eat in St. Mary
Originally I thought I'd buy a bottle of wine and pick up some food for a meal in St. Mary. But once we got there we nixed the idea of cooking – though not the idea of drinking wine.
Across the street from the Tiny Home Village is the Snowgoose Grille and Curly Bear Café. You can also eat in the Mountain Bar off the same menu that's offered at the Snowgoose – so that's exactly what we did. Mountain views from the bar are terrific – as are the portion sizes!
In the morning there's a coffee shop on the premises of the St. Mary Lodge serving excellent espressos. Load up on sandwiches or baked goods here for any hikes you plan to do. If you're more of a sit-down-to -a-plate-of-eggs kind of person, the Snowgoose Grille should fit the bill quite nicely.
Things to do near St. Mary on a road trip to East Glacier, Montana
Drive the Going-to-the-Sun Road on an East Glacier road trip
The obvious thing to do if you're in St. Mary is to drive the Going-to-the-Sun Road. You need a minimum of two hours to drive the 50 miles. But there are so many places to explore and hike that ideally you should allow a full day. There's no point being frustrated with the slowpokes in front of you. Sit back and enjoy the world-class mountain scenery unfold before your eyes.
Be sure to book your Going-to-the-Sun Road vehicle reservation between July 1 – September 10th, 2023.
Do a short, easy hike in Glacier National Park
If you want a short hike – 90 minutes to two hours max, pick the 3.0 mile Beaver Pond Loop – with a total elevation gain of only 150 feet. The trailhead was all of a five minute drive from our Tiny Home in St. Mary. The hike takes you pass a century old ranger station, a beaver pond and along a short section of St. Mary Lake.
Check out the Many Glacier Trails on an East Glacier road trip
The Many Glacier section of Glacier National Park is accessed via the village of Babb to the north of St. Mary. From there it's a fairly bumpy drive into the hiking trailheads – though that will change in 2020 when the road finally gets repaired.
John and I chose the 9.0 mile return hike to beautiful Iceberg Lake. We started from the Iceberg Ptarmigan trailhead, climbing 1,200 feet VERY gradually to reach the lake in about two hours including plenty of stops. It's a popular trail and extremely well-marked.
In September the combination of golden leaves and turquoise lake make for a particularly stunning landscape. Be bear aware and don't forget the bear spray on this hike.
East Glacier Road Trip to St. Mary
You're in for a treat on the one hour drive between East Glacier and St. Mary. Wiggle your way along Highway 89 enjoying superlative views to the west of Glacier National Park. I never cease to be amazed at the beauty of the Rocky Mountains ….or the sheer number of curves on this road. Keep your eyes peeled for wildlife too, especially at dawn and dusk.
There aren't many places to pull over on this narrow highway but one I would recommend as a photography/history stop is immediately south of St. Mary – and pictured below. There's a pull-off with lots of parking.
East Glacier Park
East Glacier Park Village lies immediately to the east of Glacier National Park. It's served by Amtrak so if a road trip isn't in the plans and you like to travel by train, you're in luck.
John and I stayed for the night in the historic, 102 year old Glacier Park Lodge. Guests here can easily organize excursions into Glacier National Park with the help of the concierge. Shuttles are available to Two Medicine and Many Glacier – and from there you can take boat rides or hike. There is also a golf course.
What I would suggest to all the non-golfers is this. Either do a boat cruise on Two Medicine Lake or choose one of the nearby hikes. The one to Twin Falls via a trail along the lakeshore would be a good choice.
Our room in Glacier Park Lodge
Our room at the lodge came with a deck and a view along with a couple of rocking chairs. I can't remember the last time I relaxed in a rocking chair. Once again I missed my opportunity with my focus on eating not relaxing after our hike to Iceberg Lake.
Painted in cheerful, warm tones, our bedroom was comfortable though not luxurious. I got a great night's sleep though I would have liked a bigger pillow. If you want to work there's a desk along with plenty of closet space for those traveling with more than a carry-on.
What there isn't in this room is an updated bathroom. Ours hearkened back to another era when bathrooms were small and functional. But I can cut this old building (100+ years) some slack and live for a night or two without a designer bathroom.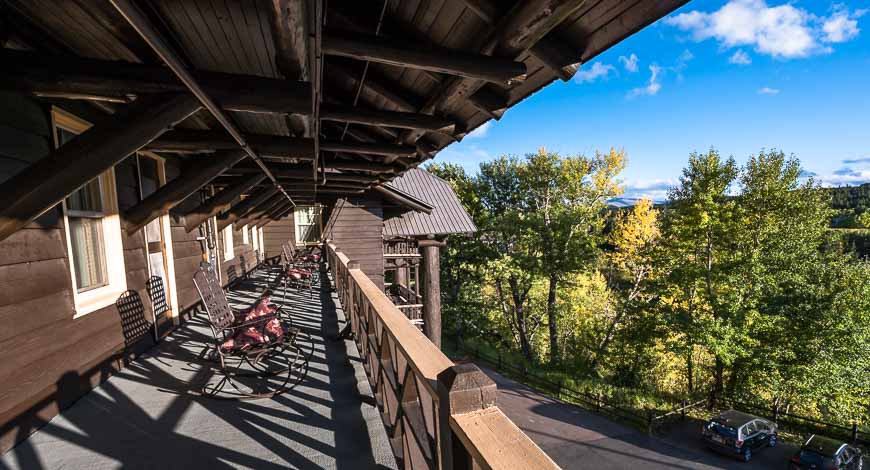 The public spaces at Glacier Park Lodge
Massive fir tree beams, a grand old fireplace and lots of seating make for a fantastic Great Room experience at Glacier Park Lodge. And the breezeway between buildings, filled with comfy chairs – all with a view, certainly beckon you to linger.
In the evening people sat with a book and a glass of wine. The same scene was repeated in the morning – but with coffee and computers. There is WiFi throughout the lodge so never fear that you'll be disconnected.
Both of these public spaces are very well used – and to me the highlight of the lodge. Enjoying conversations with people from around the world is truly one of the great pleasures of travel.
There are also a couple of dining rooms – the less formal Empire Lounge and the Great Northern Dining Room, a full service restaurant for all three meals.
We opted for the lounge, a glass of wine, and an informal dinner. If you visit, be sure to have the memorable roasted red pepper soup.
When should you do East Glacier road trip?
There is a seasonality to Glacier National Park. The park is never closed but access between the eastern and western sections of it via the Going-to-the-Sun Road is typically only between mid to late June and mid to late October – depending on the year. My recommendation is to go either in late June or in early fall to beat the crowds.
How do you book accommodation on an East Glacier road trip?

Get out that credit card and click on one of the links. If you like what you see, book away knowing that you can easily cancel.

Choose from the Glacier Park Lodge or Tiny Homes in St. Mary Village and then start dreaming about your road trip.
More ideas for travel in the western United States
Click on the photo to bookmark to your Pinterest boards.