One spring my husband and I had an intense weekend of traveling that included a 17 hour drive from Jackson Hole, Wyoming to Calgary via Grand Teton and Yellowstone National Parks. We'd visited Yellowstone years ago in the dead of winter to cross-country ski out of the lodge near Old Faithful. (I highly recommend this multi-day trip.) But we'd never seen Yellowstone National Park without a blanket of snow. Although we'd been warned that the traffic would be horrendous, and it was, we still wanted to see some of the iconic sights. Here's what you can do in Yellowstone when you only have a day.
This post includes some affiliate links. If you make a purchase via one of these links, I will receive a small commission at no extra cost to you. Thank you so much for your support.
Location map of things you can do in Yellowstone National Park in a day
The drive from Jackson Hole to Mammoth Hot Springs
It's only 147 miles to drive between Jackson and Mammoth Hot Springs on the far side of Yellowstone National Park. According to Google maps you should allow about 3.75 hours, so I wouldn't recommend and out and back trip. But, if you can drive through the park and keep going or stay in Mammoth, you can knock off some of the prime sights in Yellowstone and save yourself a lot of traffic headaches.
Where to stay if you want to visit Yellowstone
Stay in Jackson one night and at Old Faithful Inn another – and then head to your next destination. A day and a night is perfect if you're crowd-adverse and you just want a taste of the sights in Yellowstone in the summer months.
The Old Faithful Inn, built in 1903-1904, offers a great location. It's an hour's drive back from Mammoth Hot Springs – and a perfect spot to spend a night with its unbeatable location. Then you can cover off Old Faithful and a handful of other geysers too – if you go for an evening or early morning walk.
Where to stay in Jackson Hole, Wyoming
In Jackson Hole a few ideas on where to stay include Inn on the Creek, just 3 blocks from the town square.
For a luxury boutique hotel check out The Wort Hotel. There is also a Hampton Inn in Jackson Hole.
Where to stay in Gardiner (near Mammoth Hot Springs)
Yellowstone Treasure Guest Houses is rated superb.
Yellowstone Gateway Inn is a 2-minute drive from the north entrance – and is rated as superb.
Walk the boardwalks at West Thumb Geyser Basin
West Thumb Geyser Basin was one of our stops in Yellowstone National Park. Although we only spent a short time in the area walking the outer loop, it was a treat to see all the thermal features.
You have a choice of walking a couple of loops – all on boardwalk. Both get you good and close to springs, mud pots, vents and pools. The outer boardwalk takes you on a section along Yellowstone Lake – a huge lake, 20 miles long by 14 miles wide with an average August temperature of just 60°F.
Along the shore you can see the Fishing Cone, Big Cone and Lakeshore Geyser – just below the surface.
There are geysers in the area but the eruptions are less intense than other thermal areas in the park. Abyss Pool in particular shouldn't be missed with its' vivid colours. The birding is surprisingly good in the area too.
Even if you're short on time, I'd recommend the 30 minutes or so it will take you to leisurely walk around the West Thumb Geyser Basin.
Do the Uncle Tom's Trail hike to Lower Falls
It's a short but strenuous hike via Uncle Tom's trail to the base of stunning Lower Falls in Yellowstone National Park. Between paved inclines and 300 steps, you'll descend more than 500 feet to get some wicked views of not only the falls but the superlative canyon scenery.
Look for wildlife as you drive through Yellowstone
Yellowstone National Park is home to more than 200 species of animals including bison, wolves, elk and bears along with more than 300 species of birds. Wolves were only reintroduced in 1995 and they now number approximately 370. I saw my first moose ever in Yellowstone in the middle of winter but I don't know how easy they are to spot in summer.
Elk are the most common large animals, so no doubt you'll spot some of them. Approximately 20,000 elk that make up seven unique herds call Yellowstone home.
Two of the hardest animals to spot are the lynx and the wolverine. Buy a lottery ticket if you see either one of these.
Use common sense especially when you're driving. There are so many animals in this park that it would be very easy to hit one. The speeding car in front of us missed a bison by mere inches. It's just not worth it. And for heaven's sake don't feed the animals ever!
And be bear aware. I'd suggest familiarizing yourself with these tips for staying safe in bear country.
Visit Mammoth Hot Springs in Yellowstone National Park
A highlight of any visit to Yellowstone National Park has got to be Mammoth Hot Springs. Allow at least an hour. The area will wow you with its travertine terraces, gurgling hot springs and ghost like trees.
The area is best appreciated on foot. If you have the time, walk all the boardwalks and trails in the area as each offers a slightly different vantage point. Visit in the off-season if possible as this is one busy park. It's one area in the park that is open year round.
The hot springs have been around for thousands of years. Today over two tons of calcium carbonate in solution flows daily via a fault from the Norris Geyser Basin. The travertine comes in a variety of colours – green, red, brown and orange – tinted by warm water loving algae.
The flow of the hot springs changes – sometimes daily. Small earthquakes have closed some vents so no two visits will ever be exactly the same. Look for the limber pines – some of which are reportedly over 500 years old.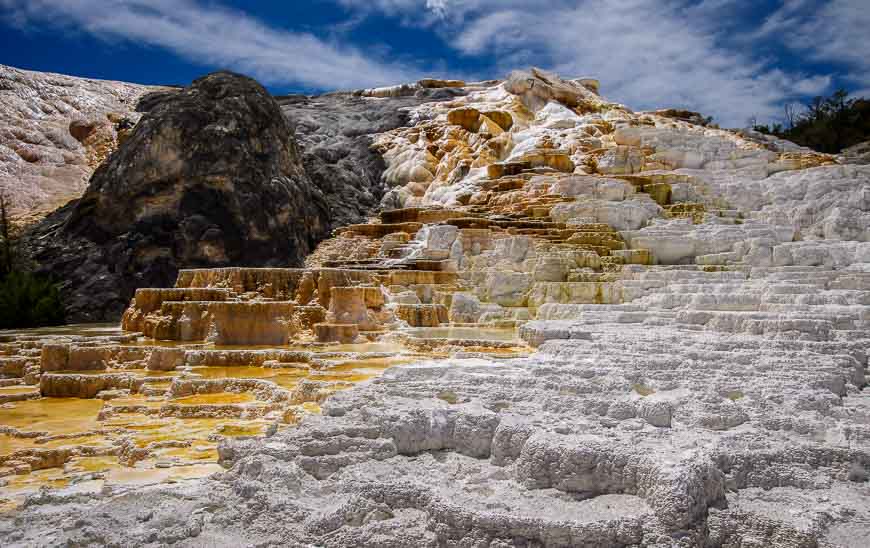 Location of Mammoth Hot Springs
Mammoth Hot Springs are located at the north end of Yellowstone National Park and accessed via the north entrance off of Highway 89. The road to the hot springs remains open all year round. In the "town" of Mammoth Hot Springs you'll find the Albright Visitor Centre, the Mammoth Hot Springs Hotel, gas, food and other amenities.
Final thoughts
Yellowstone is truly one of America's great national parks but in my opinion it is best visited outside of the summer months when highways get jammed with traffic. Still the sights are like nowhere else you've probably been, so Yellowstone National Park makes it one of the must see sights in the United States.
Further reading on things to do in the United States
Click on the photo to bookmark to your Pinterest boards.