Did you know Flathead Lake Montana is the largest freshwater lake west of the Mississippi River? It's deep, clear and lovely for swimming and boating. If you're on Instagram you've probably seen pictures of the lake. It reminds me of Lake Okanagan without the wineries.
What it does have is six state parks at various locations and in different ecosystems scattered around the lake. Each park offers quite a different experience. Here's what a summer visit to Flathead Lake Montana can look like.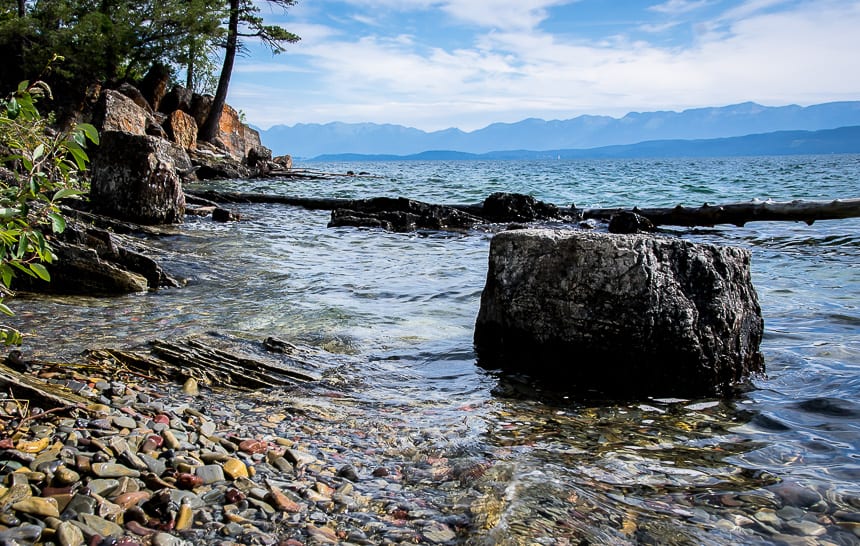 Flathead Lake Montana – West Shore State Park
We stayed at West Shore State Park at the northwest end of the lake about 30 minutes south of Kalispell. It's not a big park but it does offer many miles of lovely hiking and some lake access – for both swimming and boating.
There's also plenty of tent camping and hookups are available for RV's.
Activities in West Shore State Park
As a ranger I spoke with stated "People come to the park because of the lake. The hiking is secondary."
With that in mind, in hindsight I wish we'd brought our kayaks. We did hike the trails in the park and they were truly lovely but the crystal-clear water kept calling me.
If I were to return I would kayak out to Wild Horse Island State Park – which we were told was about four miles away. This approximately 2,000 acre park, which is for day use only, is known for its lovely hiking trails and abundant wildlife including big horn sheep, mule deer, wild horses and even a cougar.
There are boat shuttles out to the park but at $US 170 per person I found the price tag to be on the high side.
Near the boat launch you can rent SUP's, kayaks and paddle boats by the hour. And of course there is plenty of swimming.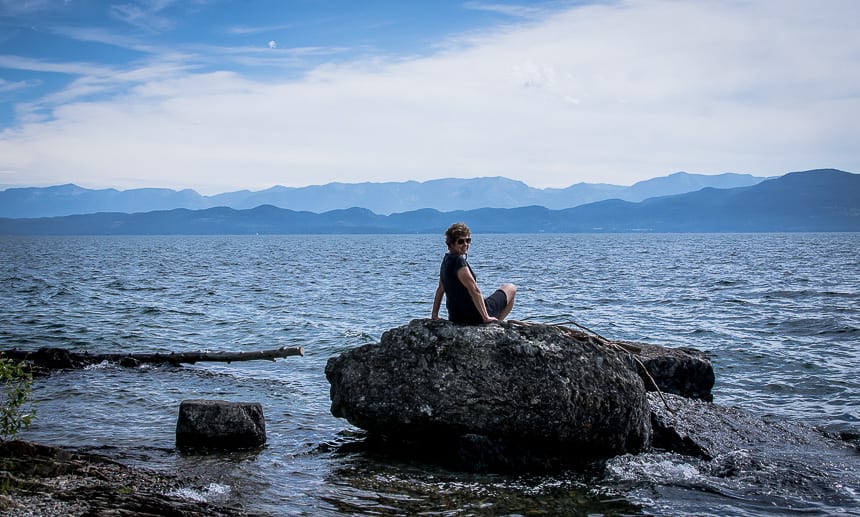 The camping experience in West Shore State Park on Flathead Lake in Montana
I was a guest of Montana State Parks and as such they had booked a campsite for John and I on Loop A. It was large, private, well treed (helpful when the thermometer is above 30°C) and very clean though you really needed a mallet to pound in the tent stakes.
Nearby was a super clean outhouse (no smell), potable water and a picnic table. It was about a five minute walk to the lake. The downside to any campsite in Loop A is highway noise – and it continues throughout the night.
Based on that reason alone I would recommend choosing a campsite off of Loop B.
Pick a walk-in tent only campsite right beside Flathead Lake in Montana
In our exploration of the park we also found walk-in tent only campsites (off of Loop B) right beside the lake such as the one pictured below. This would be ideal as you could go for a swim right in front of your tent. And there is zero highway noise.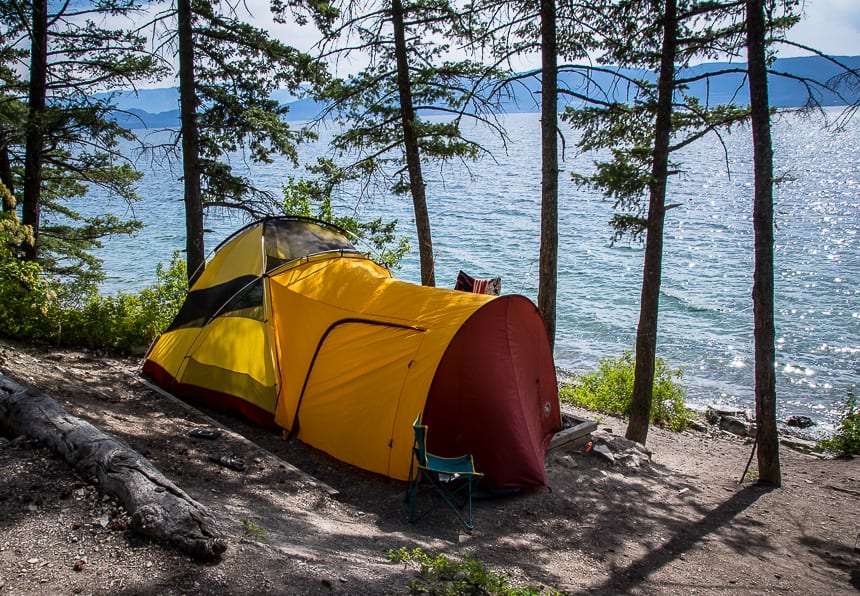 All told the six state parks on Flathead Lake receive about 300,000 visitors per year with Wayfarers State Park on the east side of the lake receiving about half of those visitors. We decided not to check it out despite being told that it's considered to be the prettiest of all the lake parks. I'm always after the park that has the fewest visitors.
A range of eco-systems around Flathead Lake
As you drive around the lake you can really see the difference in the eco-systems. The west side of Flathead Lake is very dry and more prairie like whereas the east side of the lake is wetter and more forested. It's also known for its cherry orchards and those delicious cherries are available in July.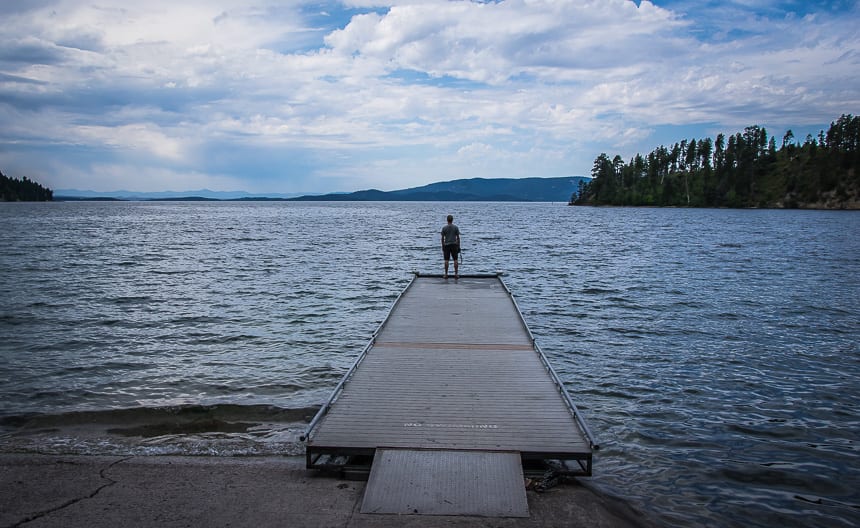 For more information on all of Montana's state parks visit their website here.
Further reading on things to do in Montana
Click on the photo to bookmark to your Pinterest boards.