Jasper National Park is an awesome part of Alberta to visit. But it can get busy and at certain times of the year just getting accommodation can be tough – and expensive. Fortunately there are a number of alternatives to Jasper including provincial parks that are within a few hour's drive of Jasper (tops). In my humble opinion they are overlooked. Put them on your radar. They all see a fraction of the traffic that Jasper National Park gets.
All four provincial parks described are accessed from Highway 40 just west of Hinton, the gateway city to Jasper if you're driving from Edmonton. While they don't all deliver the same Rocky Mountain scenery as Jasper National Park, I think they are all superb alternatives to Jasper, especially if you're crowd adverse.
This post includes some affiliate links. If you make a qualifying purchase through one of these links, I will receive a small percentage of the sale at no extra cost to you. Thank you for your support.
Alternatives to Jasper National Park –
Whitehorse Wildland Provincial Park
Whitehorse Wildland Provincial Park lives up to its name. It's wild, beautiful, totally off the radar and the sort of place that will appeal to people that love remote feeling, empty spaces.
Just getting there via Highway 40 through Cadomin makes you feel like you're heading off into the unknown, even though it's only about an hour's drive south of Hinton. Along the way you pass a major coal mining operation which might make you question if you're on the right track. You are.
Whitehorse Wildland actually shares its western border with Jasper National Park. The park is also one of the few places in Alberta where it's actually possible to drive to an alpine meadow. And its home to Alberta's largest bat hibernation cave, though at present that is off limits to the public.
What can you do in the park?
There is some great hiking available from two different areas of the park. If you drive to the Cardinal Divide at an elevation of 1,981 m (I'd recommend a high clearance vehicle because of one washed out area) you have the option of a couple of hikes.
Trails are unmarked but obvious and you can see for miles so just keep track of where you are in relation to the parking lot. One option is to hike east up the ridge for superb views of the upper foothills. The other hike heads for the closest mountain through a wildflower dotted landscape. You may see wildlife; we didn't but the park offers prime habitat for elk, moose, mule deer, bighorn sheep, black and grizzly bears along with wolves.
The other option is to explore the backcountry trails from the Whitehorse Creek Provincial Staging Area, where the only camping in the park is found.
You can do it on foot or by horseback. You'll enter prime grizzly country if you take the Lower Whitehorse Trail so go prepared with bear spray. There's also the option for a longer backpacking trip over Fiddle Pass into Jasper National Park to end at the Miette Hot Springs.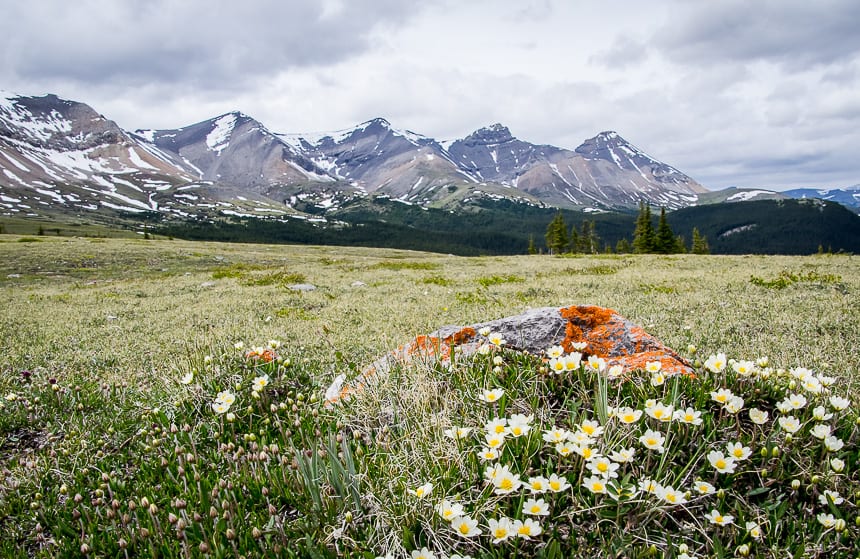 Pierre Grey's Lakes Provincial Park
Pierre Grey's Lakes Provincial Park is just a 75 minute drive north of Hinton. It's easy to combine a trip here with a visit to the Sulphur Gates Recreational Area.
This park is home to five beautiful lakes, three of which are easily accessible – Moberly Lake, Desjarlais Lake and McDonald Lake. These three lakes have hiking trails at least part way around them as well as boat launches. Kayaking and SUP are popular and because the lakes are stocked with both rainbow and brook trout, fishing is excellent.
Hikers will also love the 24 km of easy, family-friendly trails. Don't miss the hike out to the end of the spit in Desjarlais Lake where you can see an osprey nest high in the tree. Listen for loons and if you get lucky you might see a bald eagle.
You can also visit what's left of an historical trading post on the shores of Moberly Lake. The trading post was used between 1886 and 1894 by Pierre Gris (whom the park is named for) and his wife. They traded with native trappers and were reportedly more successful than the Hudson's Bay Company, because of Pierre's indigenous family connections and ties to the land.
Sulphur Gates Recreation Area
You visit the Sulphur Gates Recreation Area for one main reason – the awesome views of the confluence of the Smoky and Sulphur Rivers. In theory you could visit the area in 15 minutes; run up the trail, snap a photo and go back to your car. Instead, take your time. Savour the view at each of the viewpoints especially as each one gets increasingly better the higher you go.
The Sulphur Gates Recreation Area is also one of only three access points to Wilmore Wilderness Park. It's for this reason you might want to camp overnight here, though it tends to be more popular with the horsey crowd.
There are 14 rustic, first come-first served campsites immediately beside the parking lot. What you get is an outhouse, picnic table and fire pit unless you're a horse. Then you get drinking water too. Campsites are $26 each and an extra $9 per horse.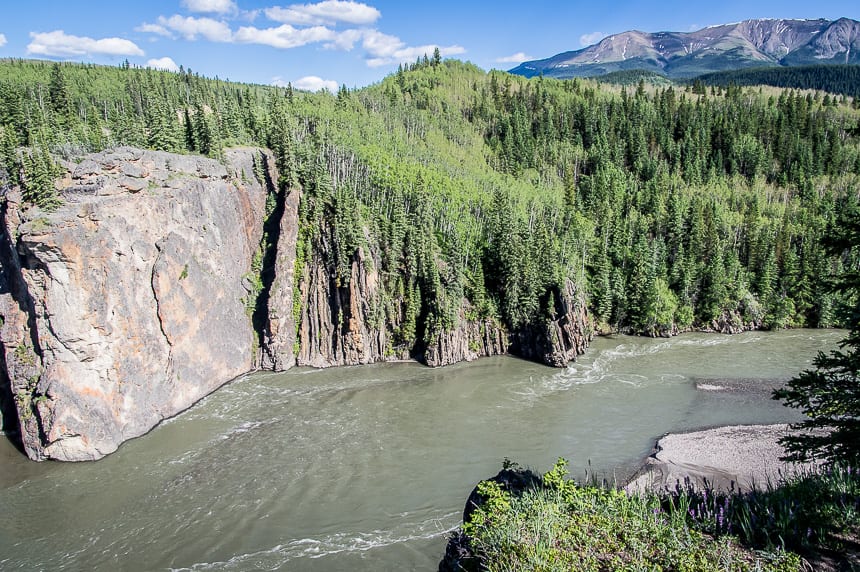 Alternatives to Jasper –
Wilmore Wilderness Park for superb hiking
The Wilmore Wilderness Park is the LARGEST wilderness park in Alberta. As such it needs a block of time to properly appreciate it. With 750 km of trails, there's lots to explore. It can be done on horse or on foot.
The most common way to access the park is via Rock Lake Provincial Park, a 90 minute drive from Hinton via Highway 40 and 30 kilometres on a gravel road.
From here you can embark on backpacking trips where the recommendation is to set up base camps and do day trips. Valley bottoms in the summer can be muddy because of the horses. Aim to get high onto the ridges so you can enjoy the views the park is so famous for.
Once into the park you can expect to be wowed by a vast expanse of wilderness – filled with rivers, waterfalls, alpine meadows, mountain peaks, glaciers and broad, grass-covered valleys.
The park is also known for its wildlife. There are lots of black bears, grizzly bears, wolves, moose, bighorn sheep, mountain goats and elk. Take all necessary precautions including making noise when the vegetation is thick and packing a can of bear spray.
It's easy to get a small taste of the Wilmore Wilderness by hiking to Eaton Falls from the Sulphur Creek parking lot. It's only 3 km one way with about a 120 m elevation gain. Eaton Falls were far more impressive than I expected. There is a viewpoint part way along that's worth the short detour. Allow about two – three hours to do the full 6 km return hike.
If you love adventure and exploring new country, Wilmore Wilderness Park is just the ticket.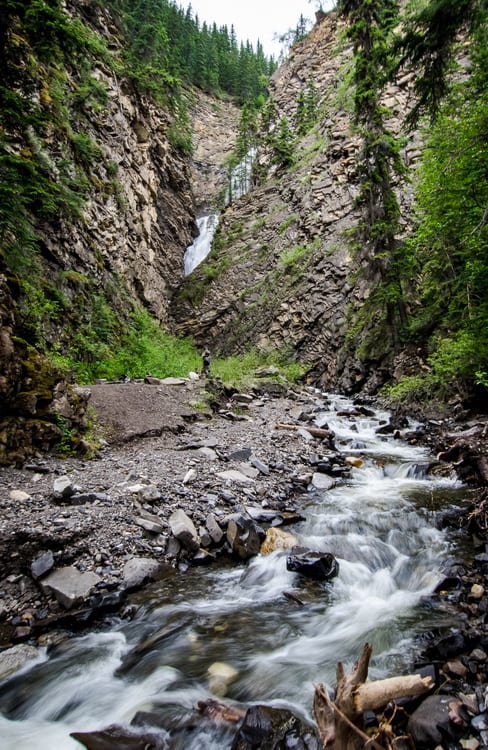 Where to stay just outside of Jasper National Park
Just outside of the eastern entrance to Jasper National Park is the Overlander Inn. It offers the choice of a mix of rooms with a gorgeous view into Jasper National Park or six unique chalets, all fully equipped. There's a cozy lounge with a lovely fireplace that invites you to relax and the dining room has an incredible wine list.
Further reading on things to do in Alberta
Click on the photo to bookmark to your Pinterest boards.
Thank you to Travel Alberta for sponsoring this post. All opinions as always are mine.