I have been very lucky to spend a lot of time doing hikes in Canada – across all provinces and territories. What I look for in a great day hike is superlative scenery – with my preference being coast, lake or mountain views or even something that makes the hike unique. The Mingan with its fantastic eroded rock monoliths would be a great example. I'm not a fan of hiking miles through forests without a view.
From decades of hiking I think these are 35 of the greatest day hikes in Canada. Granted it's a subjective list and many noteworthy hikes are missing. At the bottom of the post I have included hikes that I also recommend or still hope to do.
Please note that these are day hikes in Canada – not multi-day hikes. Some are short and very family-friendly while others can get into the epic category. I have tried to offer some variety geographically so as an example, not all hikes in Alberta are in Banff and Jasper National Parks.
I have not included backpacking trips here but you could read this post – 37 Long Distance and Backpacking Trails in Canada.
This post includes some affiliate links. If you make a purchase via one of these links, I will receive a small commission at no extra cost to you. Thank you very much for your support.
Best day hikes in Canada – Yukon edition
Auriol Trail, Kluane National Park
The Auriol Trail is an easy hike with a trailhead close to Haines Junction. In short order you're rewarded with wildflowers (in season) and gorgeous alpine scenery. Allow three to five hours to cover the 15 km with an elevation gain of just 397 metres. There is a rustic backcountry campsite at the turnaround point.
Read: Hiking the Auriol Trail in Kluane National Park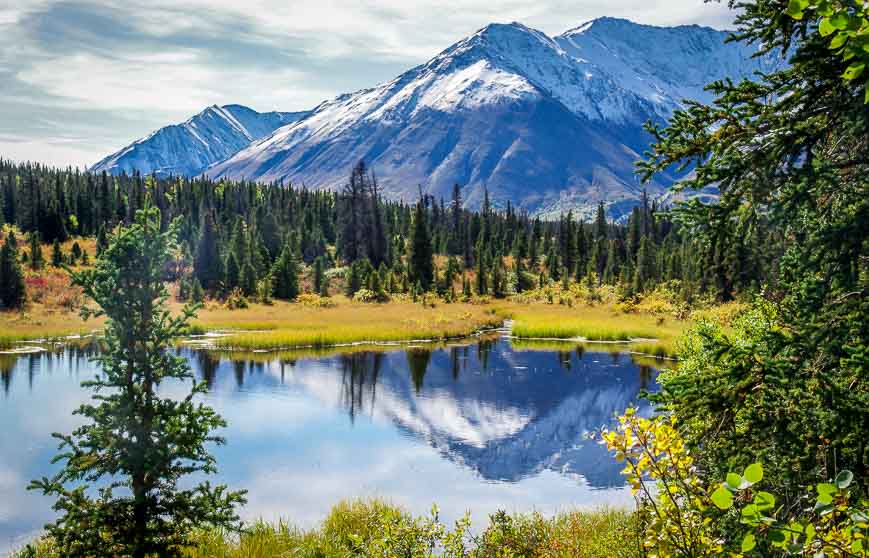 Goldensides Trail, Tombstone Territorial Park
The Goldensides hike starts at the 74.5 KM sign on the Dempster Highway, only a 10 minute drive north of the Tombstone Territorial Park Interpretive Centre. This is a great family friendly hike or for anyone who wants to stretch their legs while driving the Dempster Highway. It's all of 3.4 km round-trip with a vertical gain of 210 m. Allow 90 minutes.
If you're looking for an epic all day hike nearby I highly recommend Grizzly Lake though I think it's better done as a backpacking trip.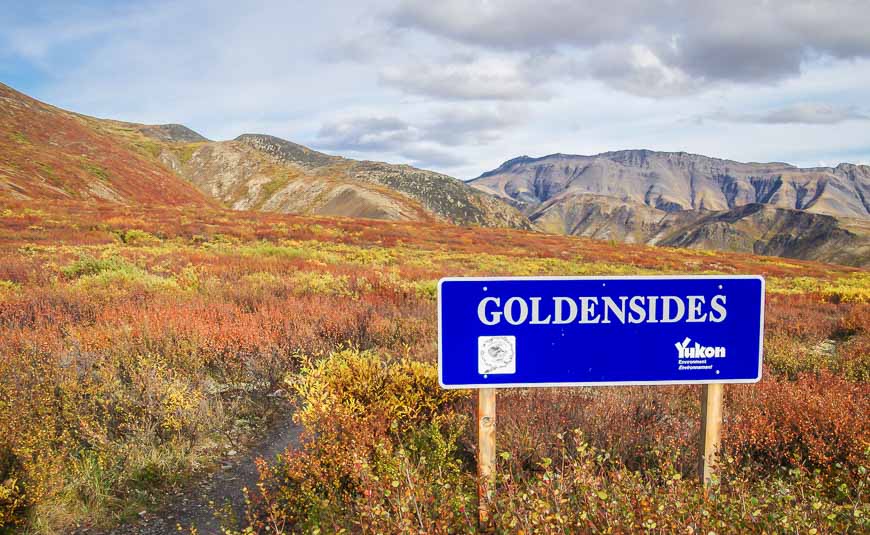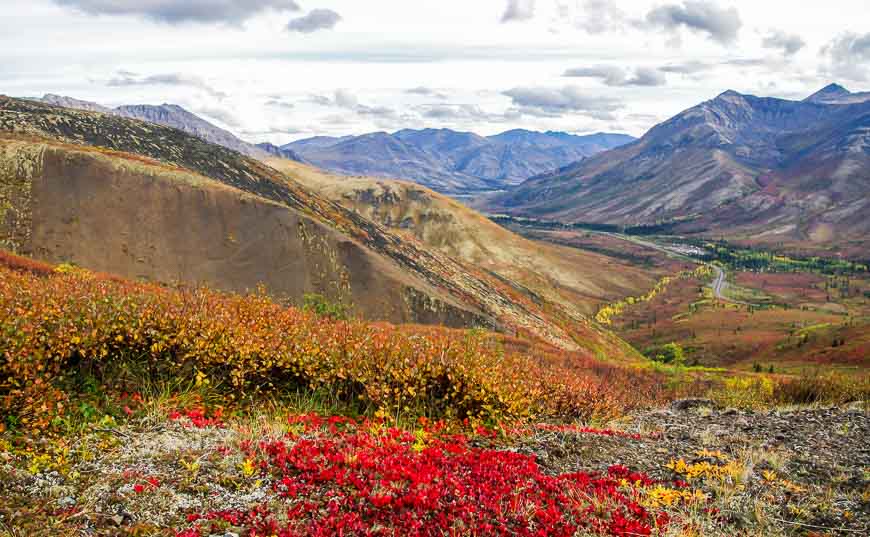 Best day hikes in Canada – British Columbia edition
Coast Trail, East Sooke Regional Park
If you don't have time to do the West Coast or Juan de Fuca Trails, spend a day hiking 10 km one way on the Coast Trail in East Sooke Regional Park. Don't turn up your nose at its length.
Like all coastal trails, this one is way harder than you'd expect. Allow 5 – 6 hours one way. If you can't arrange a shuttle do it as an out and back, going as far as you have time. Enjoy wonderful coastal views, massive trees and wildflowers.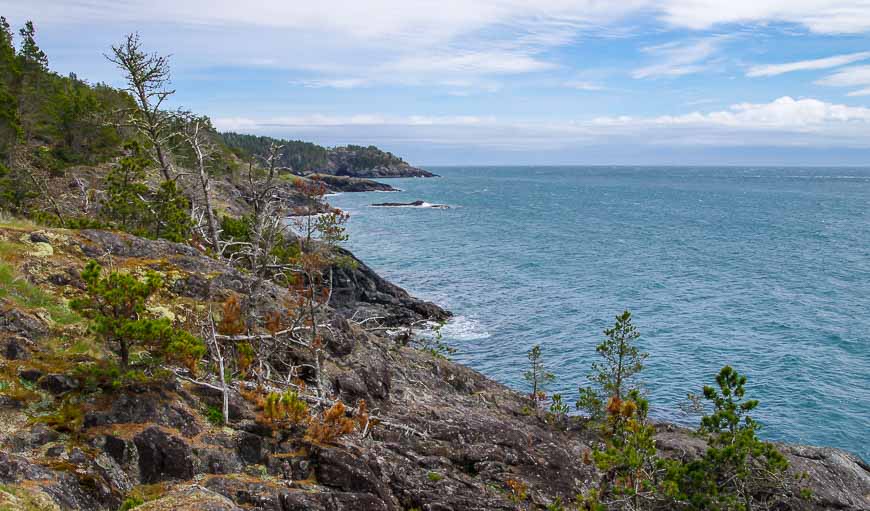 Black Tusk, Garibaldi Provincial Park
The Black Tusk hike is one of the top day hikes in Canada – but you'll need a full day if you want to summit the Black Tusk – or even if you want to go as far as its top flank. Its 29 km return from the Rubble Lake parking lots – and there's a lot of elevation gain – 1,735 m. Allow a solid 8 – 10 hours and go well-prepared.
The reward apart from the spectacular views at the top are high alpine meadows, great views of Garibaldi Lake and loads of wildflowers.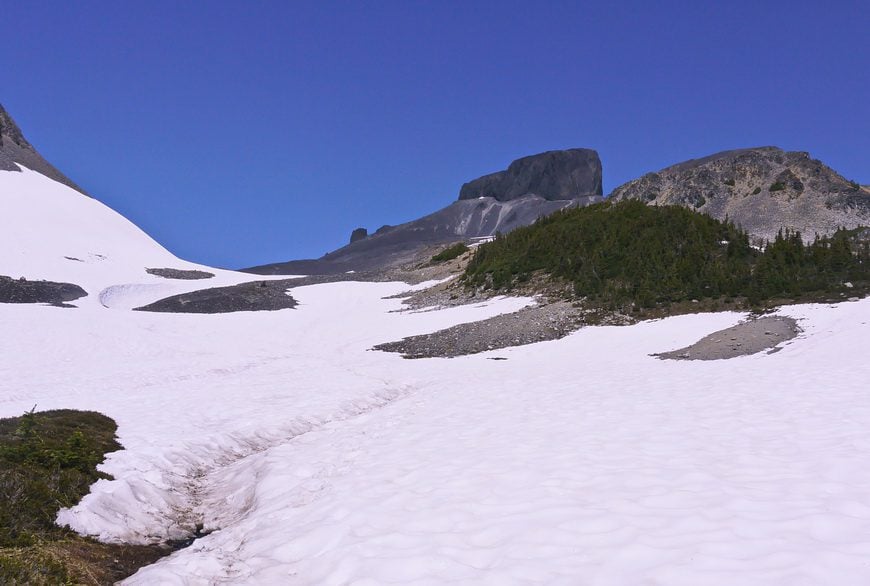 Rainbow Mountain hike, Tweedsmuir Provincial Park
If you make it into the Chilcotin and you don't mind hiking with nary a soul around, then the Rainbow Mountains hike is for you. It's a moderate hike climbing 300 m over 8 km. The scenery once you're out of the trees is unreal – deep blue tarns and mountains in almost every colour of the rainbow.
It's possible to continue off trail and even spend a night or two up here exploring. When we did it, we didn't see a single hiker – only some horse-packers.
Read: Rainbow Range Trail Hike in Tweedsmuir Provincial Park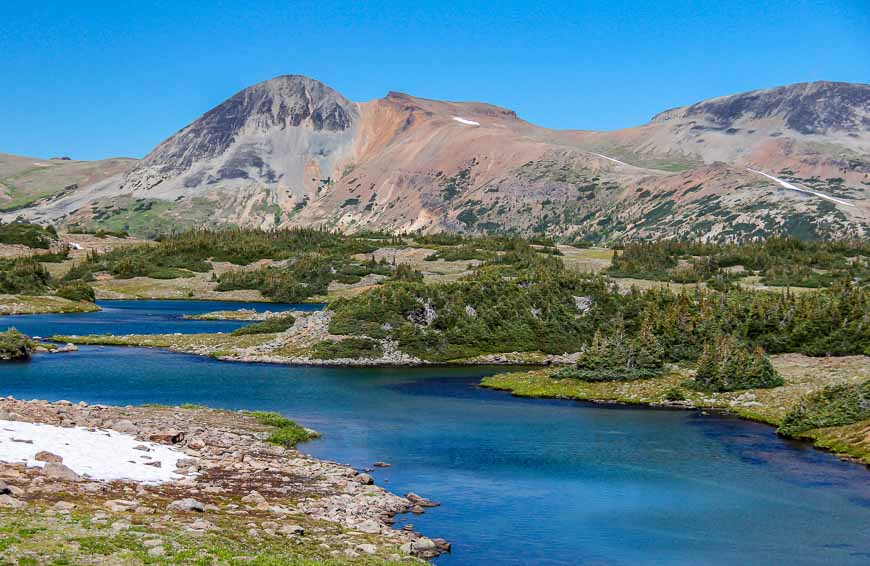 Iceline Trail, Yoho National Park
As one of the top day hikes in Canada, you can be assured of spectacular scenery once you've reached treeline.
You can do the Iceline Trail hike as an up and back affair or as a loop. Weather may dictate your choices. Hike anywhere between 13 and 21 km with a vertical gain in the order of 690 m. The reward is a superb view of Takkakaw Falls – the second highest waterfall in Canada. As you hop across glacier-fed streams you'll catch views of the Yoho Valley and Emerald Glacier.
It's possible to extend the trip and either camp or stay at Stanley Mitchell Hut. If you do that I highly recommend some off-trail exploring in the President Range.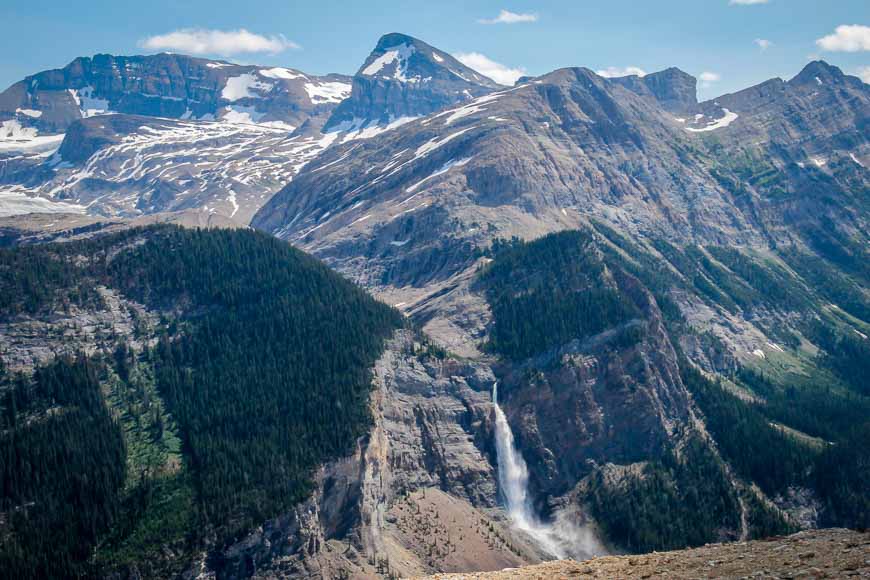 Lake O'Hara trails, Yoho National Park
The Lake O'Hara trails offer some of the most accessible, jaw-dropping mountain views in Canada. Although the area is just 11 km in from the Trans-Canada Highway, most people take the school bus and the crux of your hike might just be nabbing a reservation on the bus. Check out the Parks Canada website for all the details.
You are best off overnighting in the area – either camping, staying at the Alpine Club of Canada Hut or trying to nab a reservation at the pricey Lake O'Hara Lodge. But then you have days' worth of day hikes on your doorstep. I highly recommend the Alpine Circuit though even going to Lake Oesa or Lake McArthur are good choices.
Read: Lake O'Hara Alpine Circuit, Yoho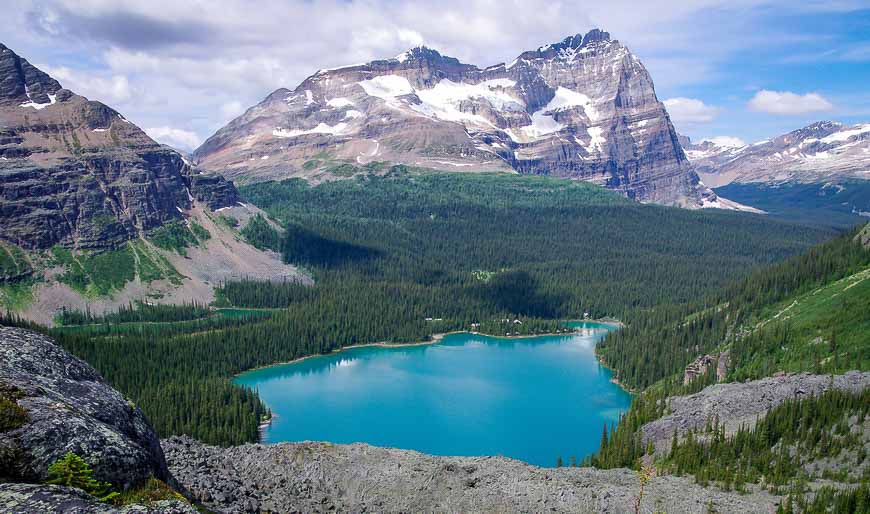 Top day hikes in Canada – Alberta edition
Helen Lake hike, Banff National Park
It's just 12 km return to reach Helen Lake and the scenery is pretty darned amazing within a few kilometres of leaving the parking lot. Enjoy great views of Bow Lake and the Crowfoot Glacier once you've hiked about 50 minutes.
Some hikers will reach Helen Lake within 90 minutes. If you've got the time and energy continue climbing up to Cirque Peak. It's a total of 1,043 m to summit the peak. Even if you go up to the ridge below the peak, the views are rewarding.
Helen Lake is very much worth visiting in wildflower season – one of the hot spots in the Rockies – and considered one of the top wildflower hikes in Canada.
Read: Helen Lake Hike in Banff National Park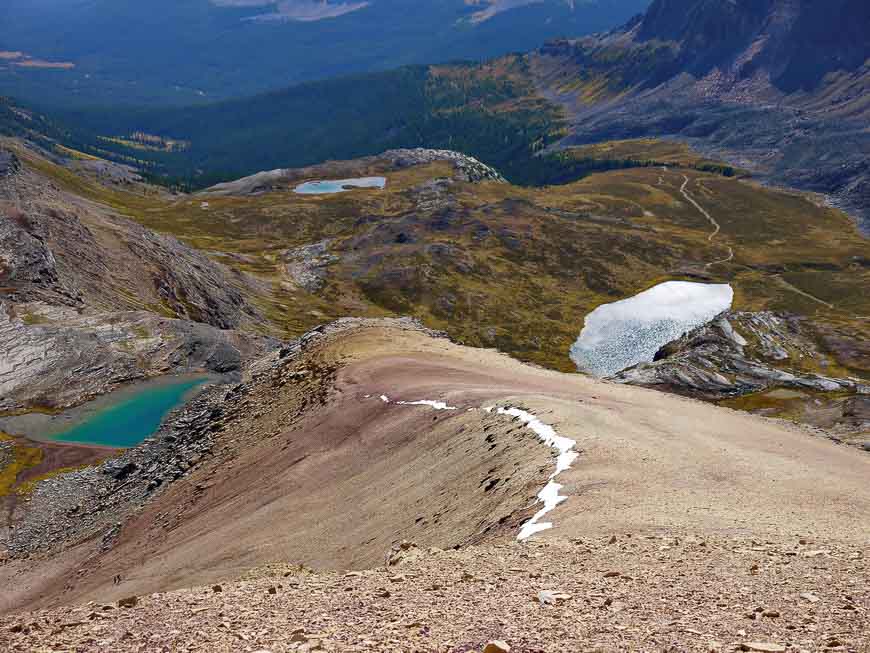 Aylmer Lookout hike, Banff National Park
The 23.4 km Alymer Lookout Trail is a great early season hike to do in Banff National Park.
It's easy hiking as far as the Aylmer Pass junction. At times there are some excellent Lake Minnewanka views. At the signed turnoff it's time to start climbing. It's another 4 km and 570 m of climbing to reach the lookout. But what a treat it is offering views up and down the length of Lake Minnewanka.
Allow 7 – 9 hours round-trip, depending on your pace. There are campsites along the shoreline of Lake Minnewanka through reservations are needed. This area is also known for its healthy bear population so don't forget the bear spray.
Read: The Aylmer Lookout Hike in Banff National Park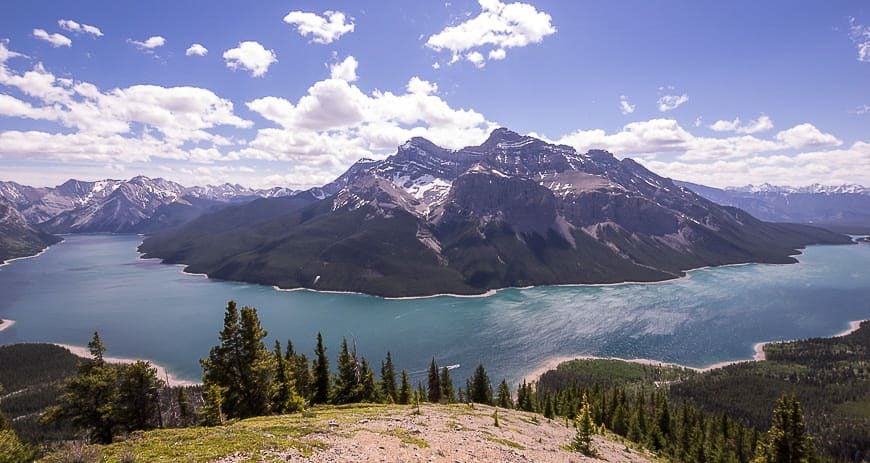 Prairie Mountain, Kananaskis Country
Prairie Mountain is my go to hike from Calgary – especially in the winter when I want a real workout with a view. It's a stiff hike of 7.6 km round-trip with a vertical gain of 726 m. Once you break through tree line, the views of the prairies and the mountains are excellent. It's a popular trail but a tough one. Allow 2.5 – 4 hours return.
Read: The Year Round Prairie Mountain Hike near Bragg Creek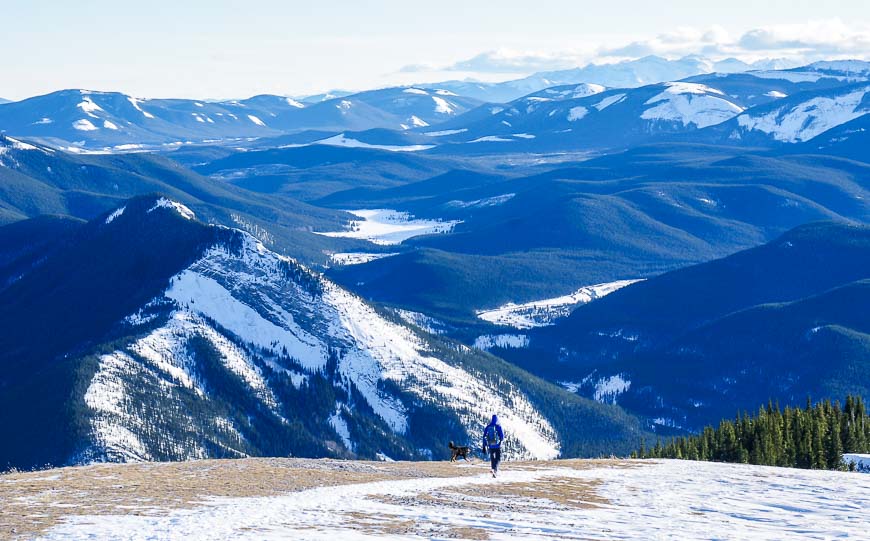 Pocaterra Ridge, Kananaskis Country
If you want your heart to sing, do this 8.7 km one way hike in September when the larches are ablaze in yellow. It's one of the best larch hikes in Alberta. If you start at Highwood Pass (the top of the highest paved road in Canada) it's a 950 m elevation gain and a 640 m loss to finish at the Little Highwood Pass parking lot.
The hike is best done as a shuttle and it's easiest from Highwood Pass. Once you gain the high point it's a long ridge walk above tree line with amazing views in all directions.
Read: The Pocaterra Ridge Hike in Kananaskis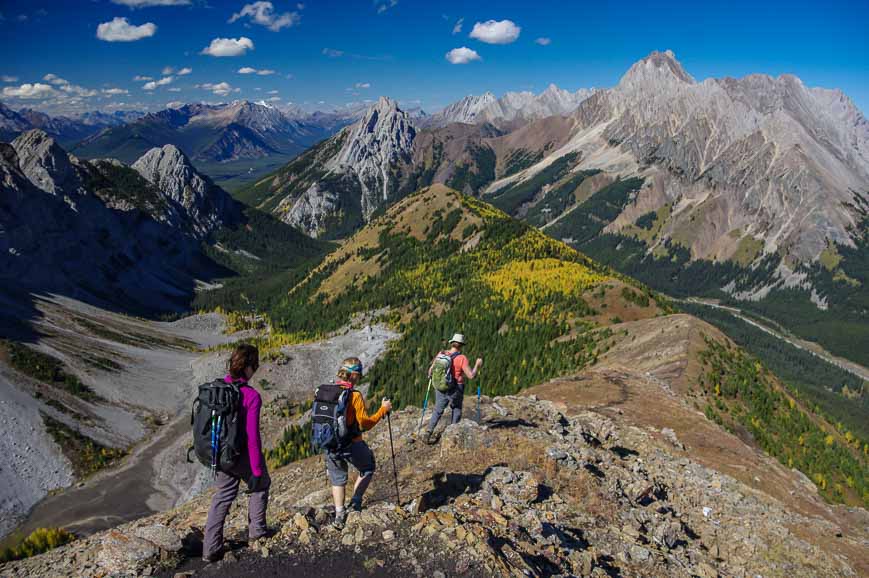 Lake Agnes – Big Beehive Hike, Banff National Park
The Lake Agnes Teahouse is a very popular hike and destination. But rather than stop there, continue around Lake Agnes and climb up to the Big Beehive. You'll be rewarded with great views of Lake Louise – on a far easier hike than Fairview Mountain – seen across the lake.
The hike is 10.3 km return with an elevation gain of 540 m. It's one of the day hikes in Canada that rewards with spectacular views of Lake Louise.
Read: The Lake Agnes – Big Beehive Hike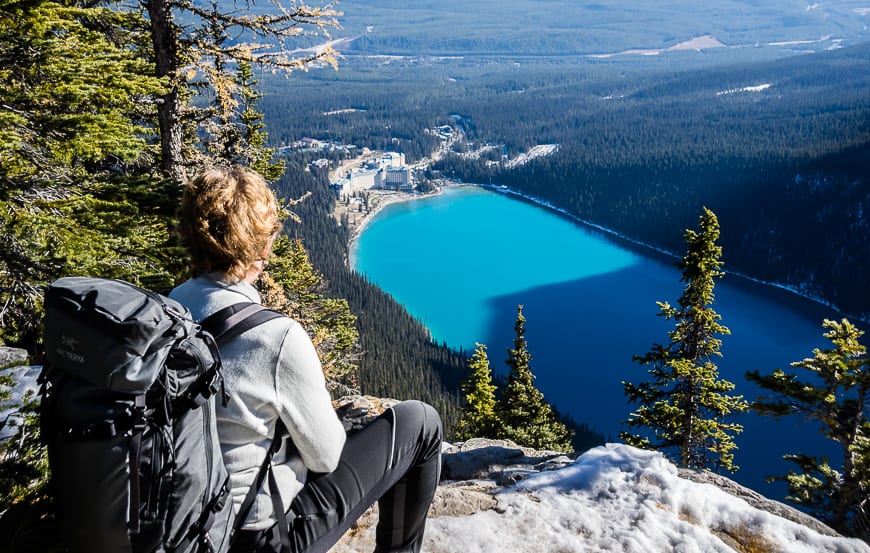 Crypt Lake, Waterton Lakes National Park
The Crypt Lake hike offers a variety of experiences you won't find on other hikes in Canada. After crossing a narrow scree slope, you must climb a ladder, make your way through a 20 metre tunnel and then inch along a rocky trail with a steel cable for a handhold – with a drop-off on the other side that may scare some people. (It's not as bad as it sounds.)
The 17.4 km round-trip hike starts with a scenic boat ride to the trail head. Allow 5 to 7 hours to tackle the hike with its moderate 690 m of elevation gain.
Read: The Crypt Lake Hike in Waterton Lakes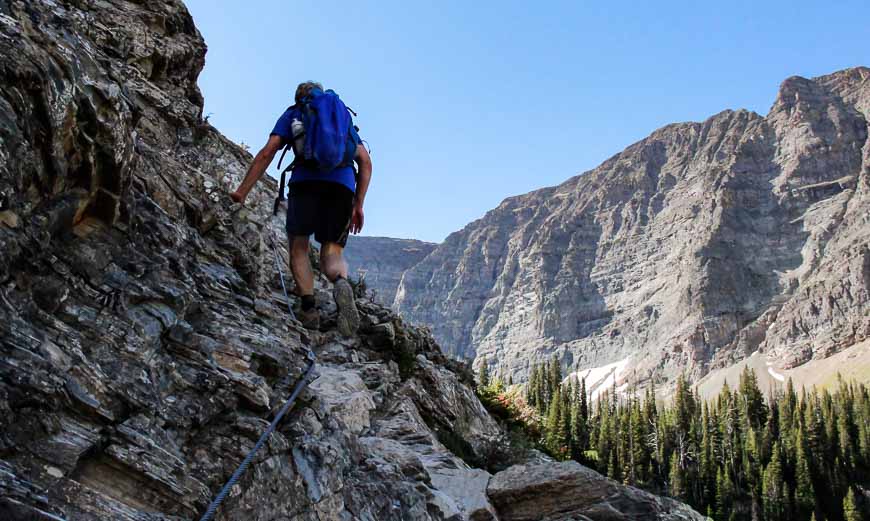 Turtle Mountain, Crowsnest Pass
You won't have a lot of company on the hike up Turtle Mountain and yet it's well worth doing. Start in the town of Blairmore in the Crowsnest Pass area and follow the unmarked though obvious trail 3.1 km one way to the summit of Turtle Mountain. This is where Canada's second largest landslide occurred on April 29, 1903.
You still feel some tension on this hike as you look down at the carnage wrought by the Frank Slide. At some point the mountain will slide again, though there is monitoring equipment on top to provide a warning. Forget the threat and enjoy the views instead!
Read: 5 of the Best Hikes in the Crowsnest Pass Area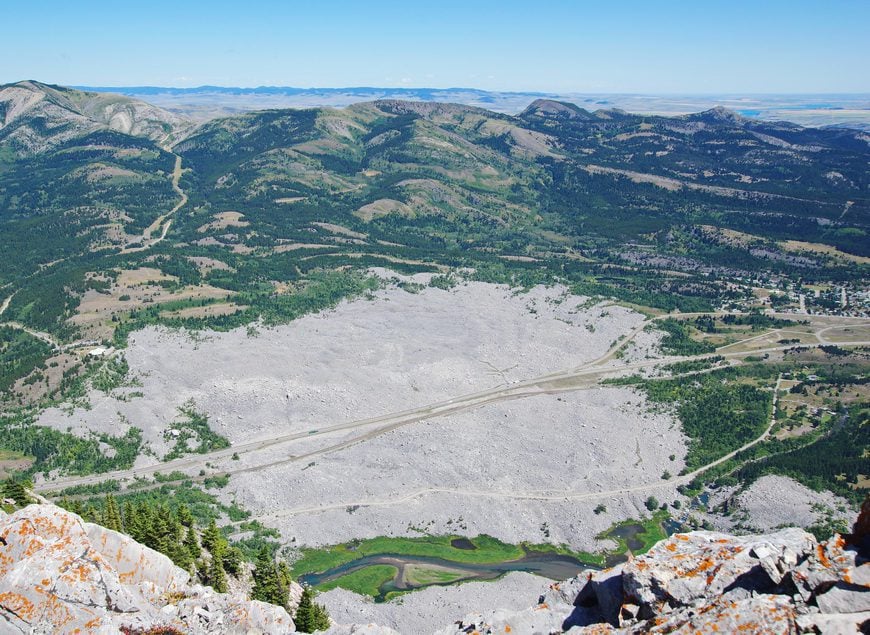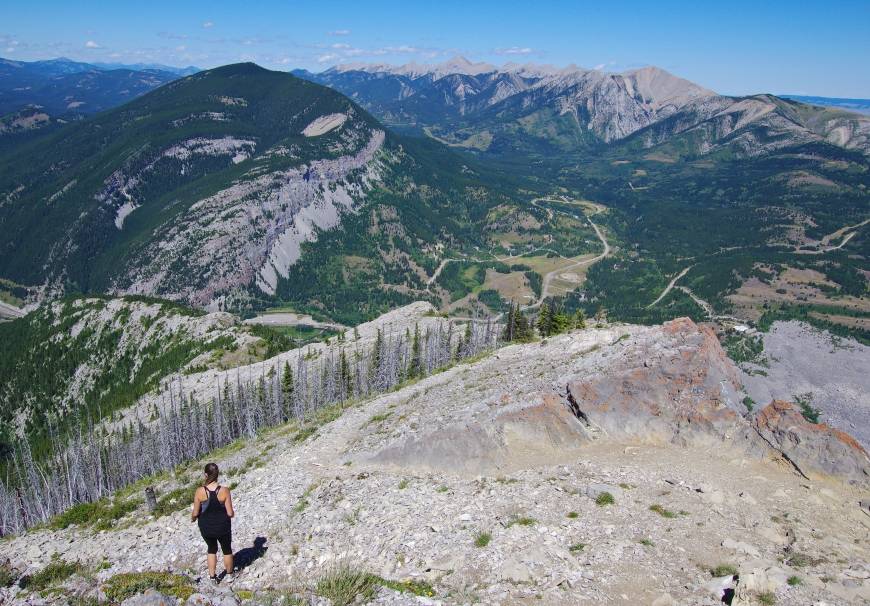 Table Mountain hike, Castle Provincial Park
For a hike that offers a lot of variety do the mostly steep hike up to flat-topped Table Mountain in Castle Provincial Park with its exceptional views of the prairies.
The hike is reportedly 10 km return with approximately 700 m of elevation gain. We made it to the summit in 90 minutes but I think the average time is closer to two hours. From the summit allow another couple of hours for wandering to the peak beyond Table Mountain. It's easy hiking once on top with 360 degree views. I recommend poles for the descent.
Read: Alberta's Fabulous Table Mountain Hike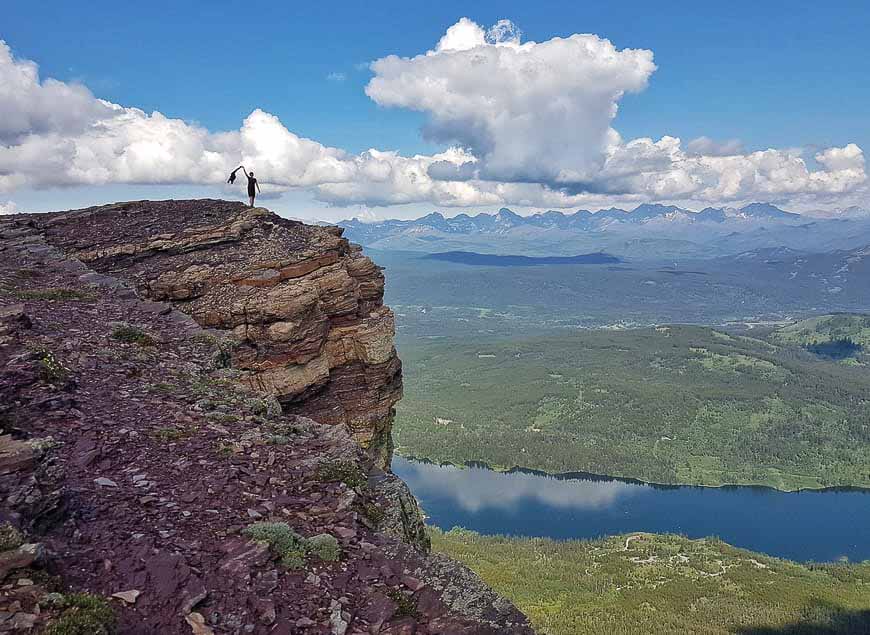 Top Day hikes in Canada – Saskatchewan edition
Boreal Trail hike Meadow Lake Provincial Park
The Boreal Trail is Saskatchewan's longest hiking trail – but most people don't do the whole thing. Instead they bite off chunks of the trail that can be done in a day. If you're with a group, even better as you can arrange a shuttle and cover more ground.
The trail showcases the beauty of the Boreal forest. I think it's particularly pretty at the western end of the trail. Hike through lovely stands of birch trees, past the odd lake – and listen for the bird song. Some of the trail feels wild and remote – and some does not, especially any sections you share with the ATV crowd.
Check the Meadow Lake Provincial Park website before you go as some sections of the trail suffered significant damage in summer 2019.
Read: The Boreal Trail in Meadow Lake Provincial Park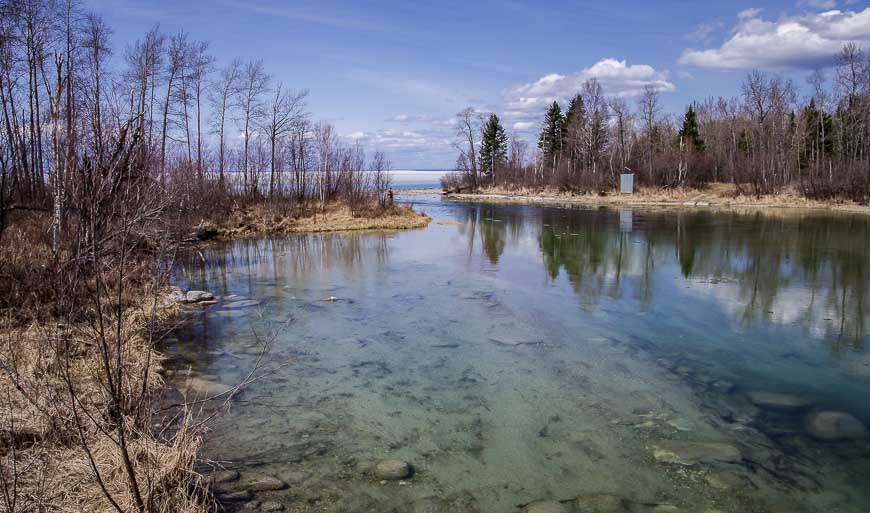 Grasslands National Park in Saskatchewan
You'll find both front-country and backcountry hiking in Grasslands National Park down in southern Saskatchewan. If you like solitude this is the park to visit.
Front-country hikes are accessible and you don't need strong navigation skills – just common sense. Some of the trails to consider include 70 Mile Butte Trail which gets you to the highest point in the park. It's particularly lovely – in its quiet way – with loads of grasses and lichen-covered rocks about.
Two other choices in the west block of the park include the Two Trees Trail and the Riverwalk Trail. Fall is lovely as its cooler and the bugs are gone. Night skies here are amazing.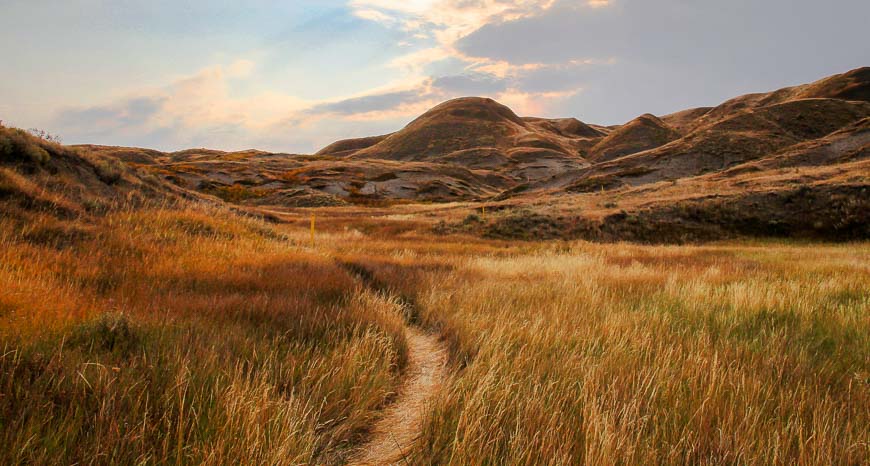 Day hikes in Canada – Manitoba edition
Gorge Creek Trail, Riding Mountain National Park
Called one of the top hikes in Riding Mountain National Park, this is one of the hikes in Canada that will surprise you with its range of ecosystems. Hike up and down the Manitoba escarpment – keeping an eye out for poison ivy and black bears.
Enjoy swaths of wildflowers as tall as a human, views of the plains and a forest so lush you may think you're in another country and not a prairie province.
Allow 3.5 – 5 hours to hike the 12.8 km return trail with its 300 m of elevation gain and loss.
Read: Gorge Creek Trail, Riding Mountain National Park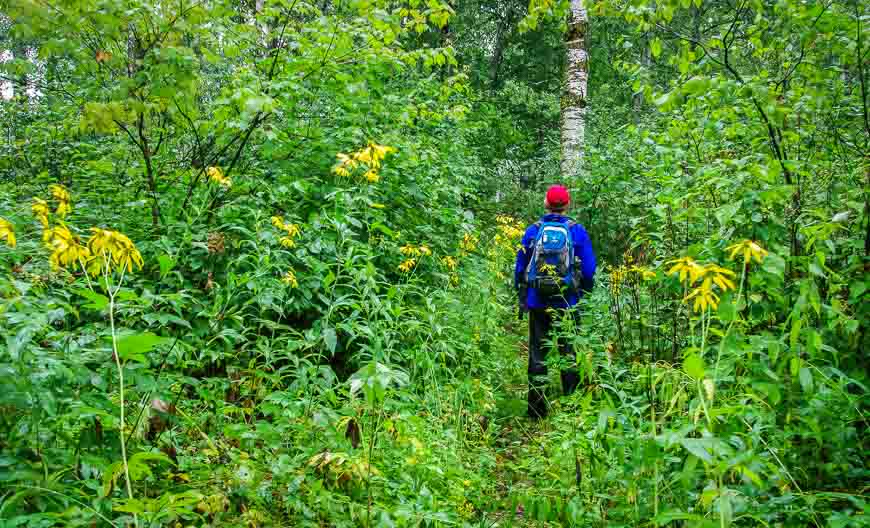 Spirit Sands hike, Spruce Woods Provincial Park
Near Brandon Manitoba is Spruce Woods Provincial Park, the home of Manitoba's only sand dunes – located where the Boreal forest meets the Assiniboine River.
Allow three to four hours to explore all the trails that make up the Spirit Sands – Devil's Punch Bowl combination. While the hiking is easy on the Spirit Sands trail, it can get very hot by noon on a summer day. All the hiking trails could be covered in as little as 90 minutes but at a meandering pace it could easily take three hours.
This is a great place to take kids. If you were driving the Trans-Canada Highway it would be a fine stop.
Read: Spirit Sands Hike in Spruce Woods Provincial Park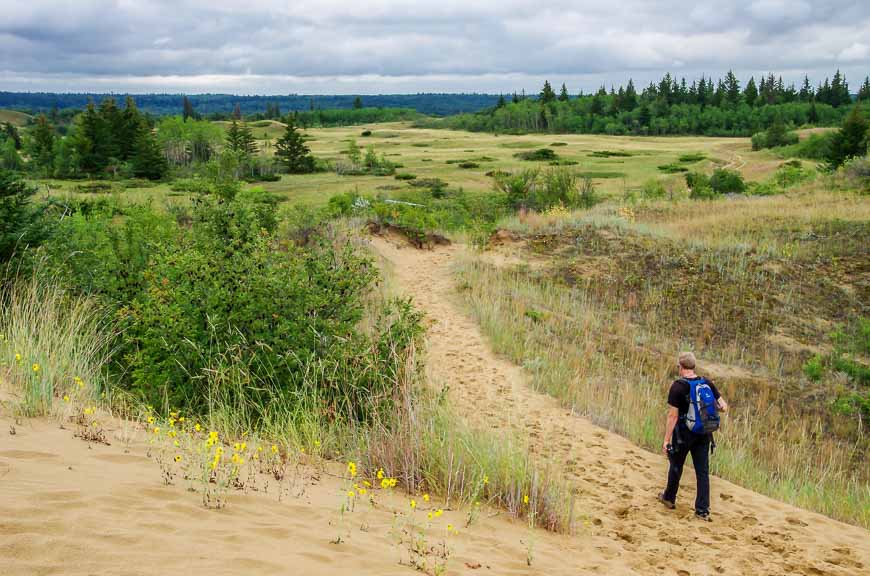 Day hikes in Canada – Ontario edition
Top of the Giant hike, Sleeping Giant Provincial Park
If you want to enjoy superb views of Lake Superior do the 24 km return hike to the Top of the Giant. Even though it's a long hike, there is only 290 m of elevation gain. The first 8 km are completely flat so you can knock them off in a couple of hours.
Interestingly, when you reach the Top of the Giant you're still 45 minutes away from the high point. Be sure to go to the very end of the hike so you get the thrilling view over the cliff. At this point you're at one of the highest points in Ontario overlooking the largest freshwater lake in the world by area. It's quite a sight!
The hike is easily accessible from Thunder Bay as a day trip or you can camp in the park.
Read: The Top of the Giant Hike in Northwest Ontario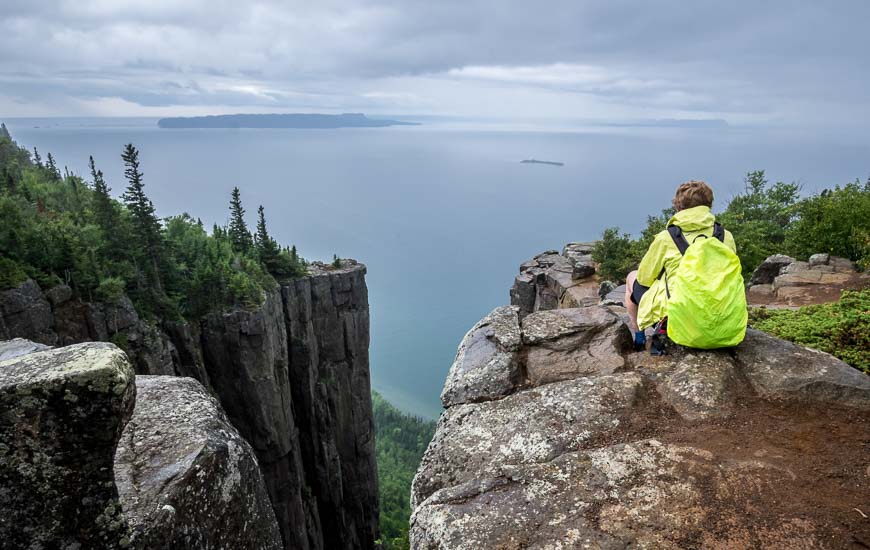 South Headland Trail hike, Pukaskwa National Park
The Southern Headland Trail is a mere 2.2 km long but it packs a punch over its short length. Enjoy boardwalks, views of Lake Superior and beautiful beaches. You can knock it off in under an hour.
For a full-day hike, head to White River Canyon and Suspension Bridge on the Coastal Trail that runs for 60 km. This is the easiest part of the longer hike and very enjoyable. Boardwalks, some lovely flat stretches through woods, and beautiful Playter Harbour are some of the highlights between the parking lot and the suspension bridge.
Read: A Hike on the Southern Headland Trail in Pukaskwa Park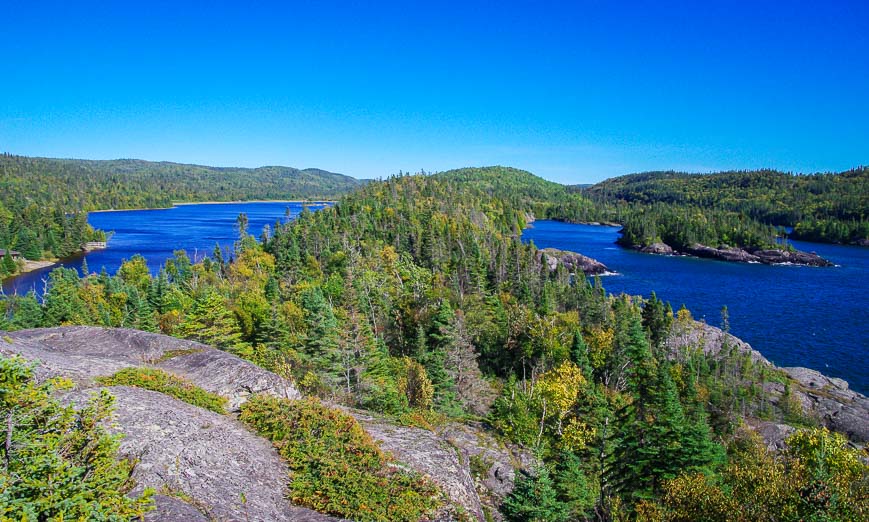 Bruce Trail in Bruce Peninsula National Park
For a hike on the most scenic section of the 894 km Bruce Trail, head to Bruce Peninsula National Park. Look for the 21 km section of the Bruce Trail that jogs through the park. Don't forget to reserve a parking spot before you go.
Either arrange a shuttle or do out and back hikes, perhaps over a few days. The trail often runs close to the cliff edge where you can look down at an otherworldly colour of turquoise blue water. Don't miss a stop at the Grotto and Indian Head Cove. It's also worth hiking on the sharply pointed rocks to the fantastic lookout of Overhanging Rock.
This park is far busier that when I visited, so aim to come early or visit on a weekday. There are some really lovely campsites too.
Read: Highlights of Hiking the Bruce Trail in Bruce Peninsula NP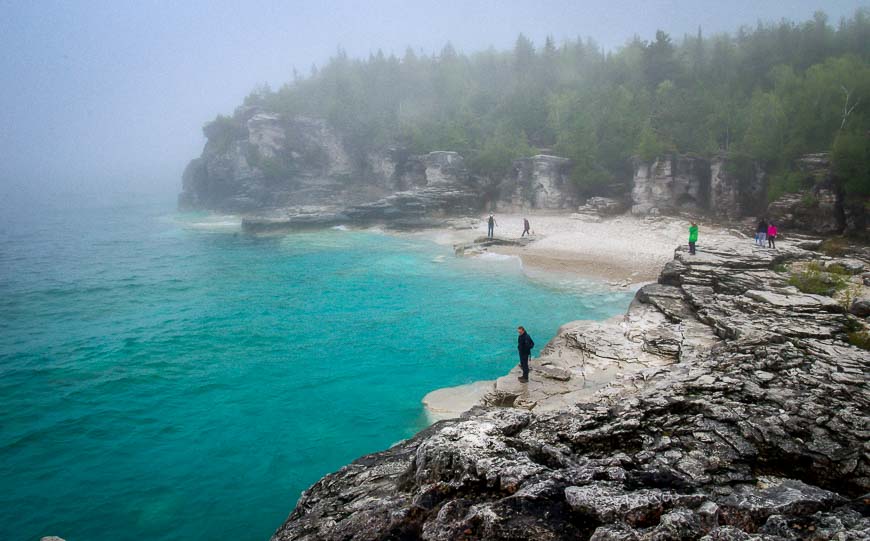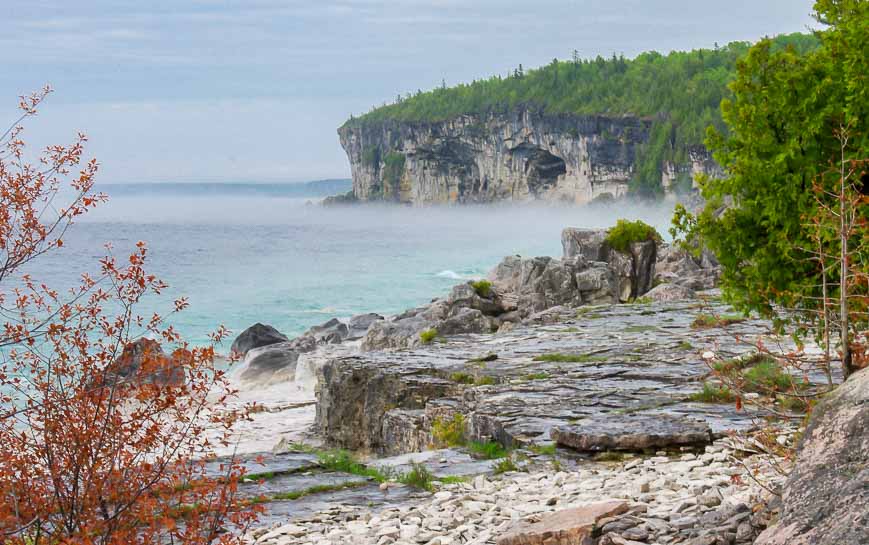 Day hikes in Canada – Quebec edition
Mont Albert hike in the Chic Choc Mountains
This is one tough but rewarding hike. Over 17.4 km climb 885 m on a trail that feels like it's on the steep setting of a Stair Master. Hike up the short, steep section so that once you reach the massive plateau you've got views for hours and a slightly easier descent.
If you're lucky you might see a caribou or two. I was not. But still the hike delivers fabulous scenery that includes tundra and waterfalls. There is a shelter on top if a storm moves in.
Read: Hiking to the Summit of Le Mont Albert in Quebec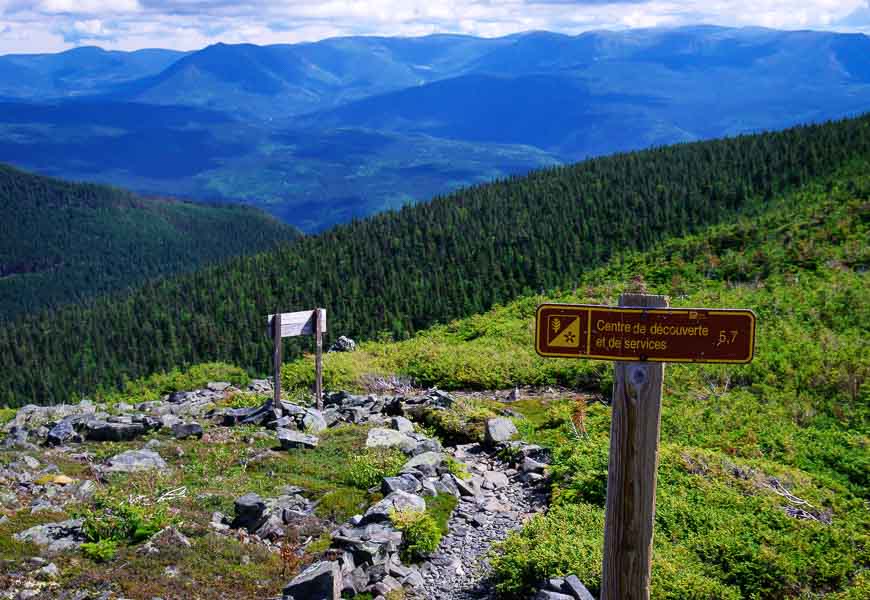 Les Graves hike, Forillon National Park
Follow the coast on Les Graves – a 15.2 km out and back hike that takes you by quiet coves, along a stretch of the Appalachian Trail to ultimately end at the Cape Gaspé lighthouse. Along the way stop to enjoy the beaches and admire the wildflowers. Find a bench and enjoy the sweeping views.
Allow up to a full day depending on how many stops you make.
Read: A Coastal Hike in Forillon National Park, Quebec
Mingan Archipelago National Park hiking
Head to Quarry Island via a boat trip (you can charter or check for a guided tour) and hike one of four trails. The longest – Les Cypripèdes is a 10.8 km loop while the shortest is a mere 0.6 km. Be sure to hike the shore trail as a loop via Les Falaises so you can walk around the natural monoliths made of rock. They are like nothing I have ever seen and there is nowhere else in Canada where the monoliths are in such abundance. This is one of the most interesting day hikes to do in Canada.
Read: A Trip to Mingan Archipelago National Park in Quebec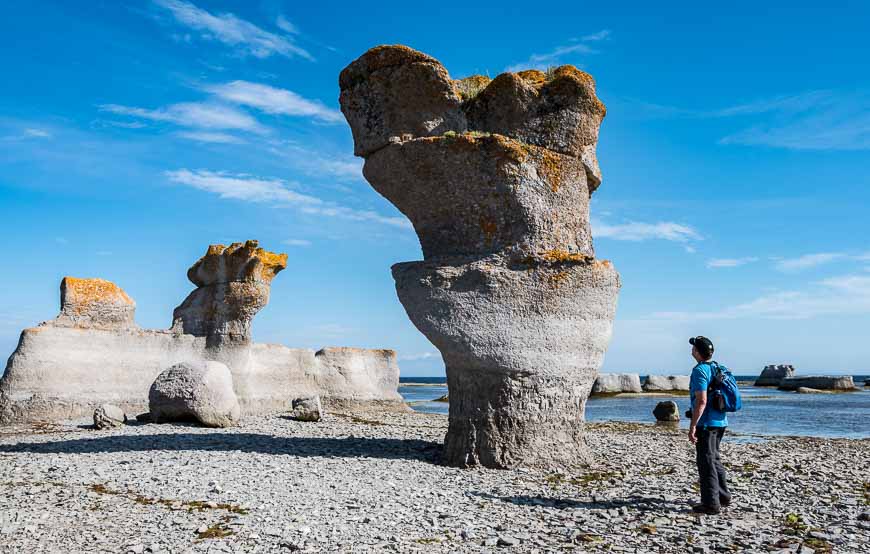 Trail of the Summits, Charlevoix Area – a great hike for blueberries in the fall
After hiking 4 km in on a flat road you arrive at the Squirrel Hut – the first stop on the Charlevoix Traverse. The Trail of the Summits is accessible from the hut and offers stupendous views of the hilly area.
The full Trail of the Summits hike is 17.6 km long though the main trail is just 7.2 km return. Trails branch off the main trails to reach the various summits including Sommet de la Grive, Sommet du Mont du Lac a l'Ecluse, Sommet de PV Coulee and Sommet de PV Pic de l'Aigle. You can pick and choose what side trails you want to do, based on how much time you have.
Read: Hut to Hut hiking on the Charlevoix Traverse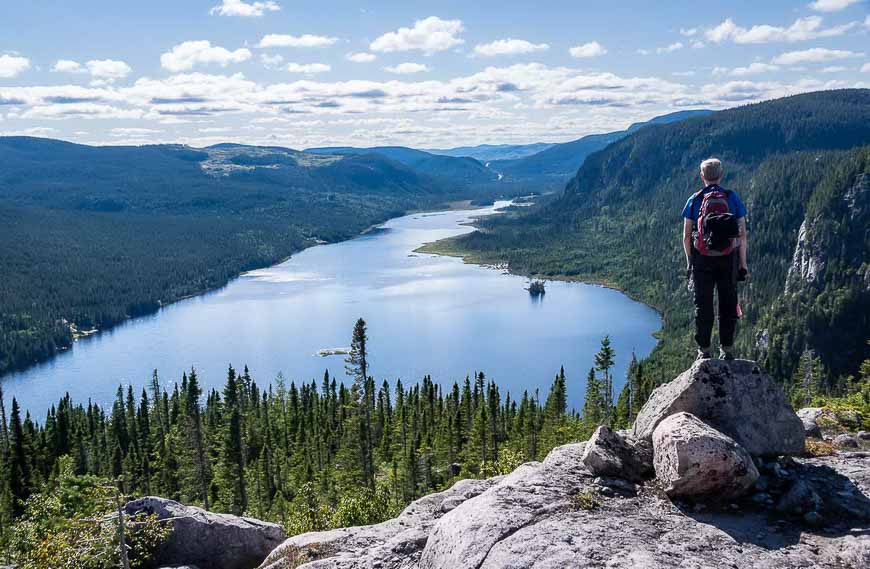 Day hikes in Canada – New Brunswick edition
Mount Sagamook, Mount Carleton Provincial Park
If you have ever wanted to see 10 million trees from one perch, the Mount Sagamook trail is the one to do. It's just 5.8 km as a loop with a few short side trails to viewpoints. It's steep but so worth it for the views.
Chances are you'll have the trail to yourself – and all the blueberries you can eat – at least in late summer.
Read: Sagamook Peak Hike, Mount Carleton Provincial Park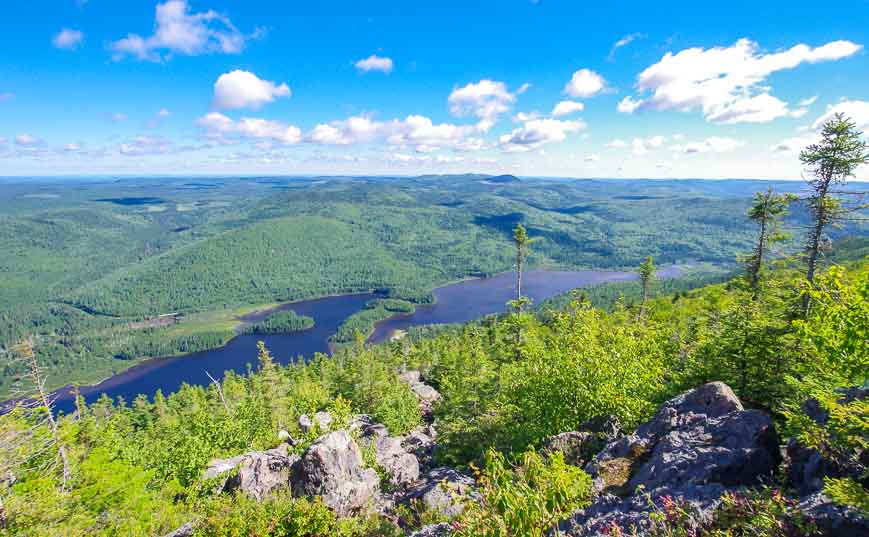 The Hole in the Wall Hike, Grand Manan Island
Grand Manan Island is one of three Fundy Isles off the New Brunswick coast. Its home to several hikes but perhaps the most interesting one is the easy hike to the Hole in the Wall on the east side of the island.
It's an easy family-friendly trail that is only 3.1 km long. While you can get to it from roads in a campground, take the trail that follows the coast, even if it is slow-going at times.
Pay to park in the Hole in the Wall Park and pick up one of their maps. Enjoy excellent views of fishing weirs and of the Bay of Fundy. If you're lucky you might spot seals or a whale.
Read: A Visit to Grand Manan Island, New Brunswick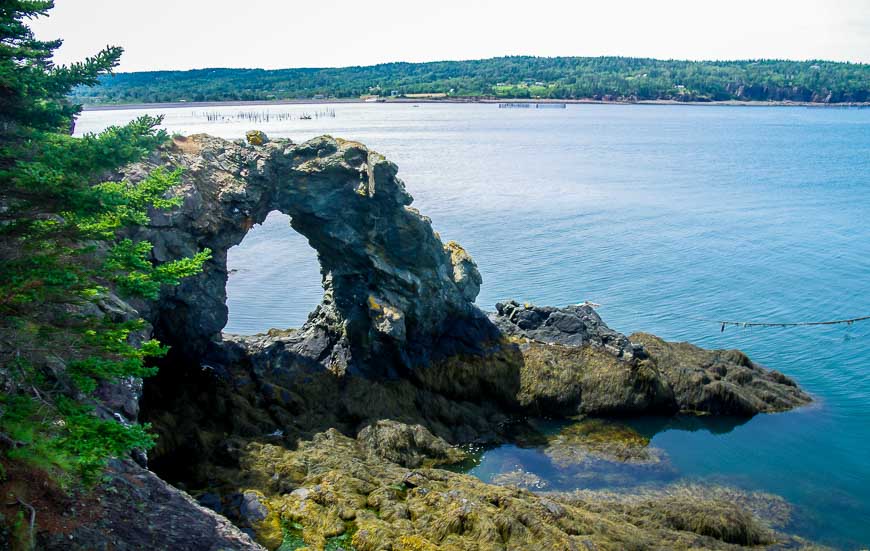 Day hikes in Canada – Nova Scotia edition
Cape Split hike, Cape Split Provincial Park
Although the hike out to Cape Split may be underwhelming at times, it's worth it just to see Cape Split. The approximate 16 km hike (probably high) will take you 2.5 – 5 hours depending on your pace and how long you stay out at the end.
Cape Split at the tip of the Blomidon Peninsula, offers stunning Bay of Fundy views and loads of bird action. In the spring the wildflowers are excellent too.
Look for lots of side trails running off the main trails to lookouts but be very wary as the drop-offs can be extreme.
Read: The Hike to Cape Split in Nova Scotia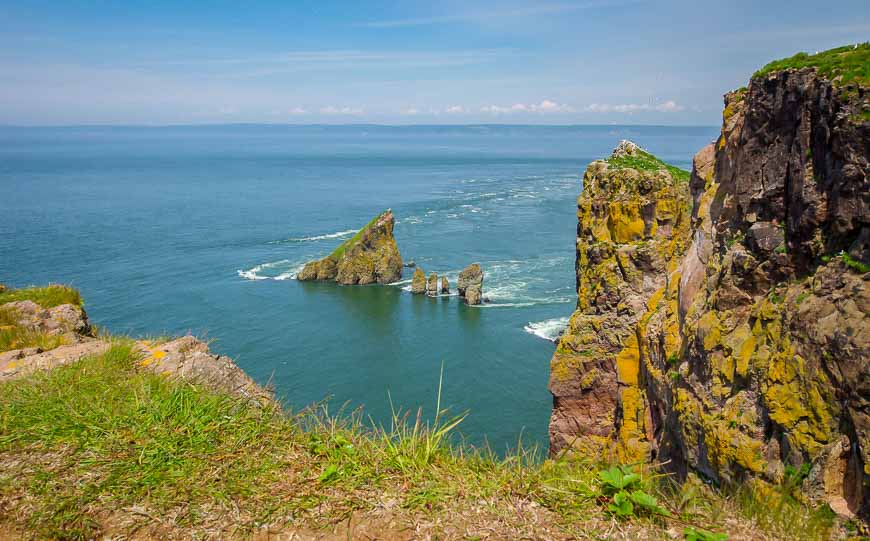 The Port Joli Head Loop hike, Kejimkujik National Park
The 8.7 km Port Joli Head loop trail is a gem. It takes you to the coast via a boardwalk and gravel paths through a forest of stunted balsam fir and white spruce. Wildflowers are outstanding, especially the clumps of pitcher plants and wild iris. Orchids grow here too.
Keep an eye out for black bears. I came upon a mom and her two cubs when I was hiking alone – without bear spray. Around Harbour Rocks look for basking seals and seabirds. Allow a half-day to do the whole trail but it's worth lingering and bringing a picnic.
Read: Hiking in Kejimkujik National Park Seaside
Hikes in Canada – Prince Edward Island edition
Greenwich section of Prince Edward Island National Park
It's just 4.5 km return to hike to the Greenwich Dunes and beach from the Interpretation Centre. That includes a section on a beautifully built 0.75 km boardwalk. Once you arrive at Greenwich Beach you can continue walking for about 6 km.
This area isn't particularly busy but it's lovely. Don't forget the bathing suits or a picnic.
Read: Boardwalks, Beaches & Sand Dunes: Greenwich: PEI National Park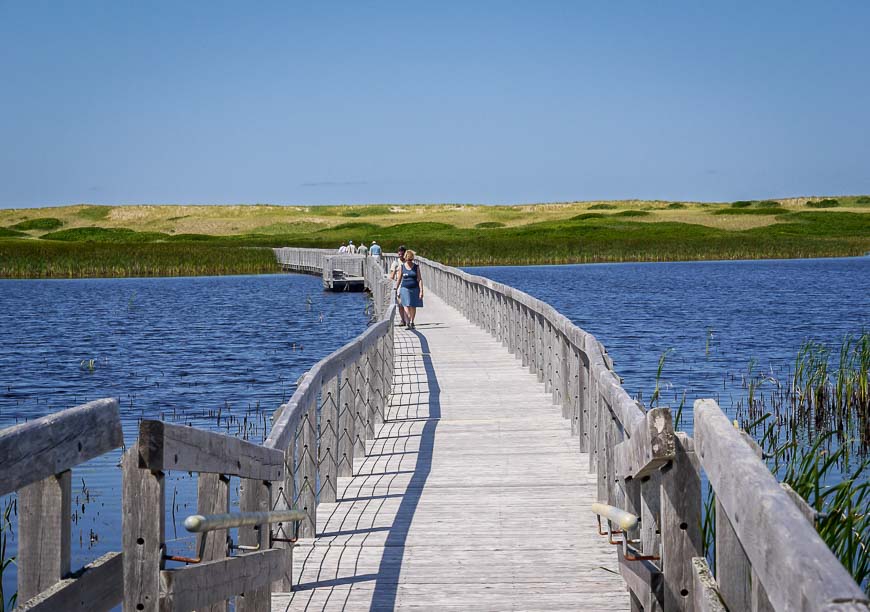 Day hikes in Canada – Newfoundland edition
Sugarloaf Path, East Coast Trail – one of the best coastal hikes in Canada
The East Coast Trail is one of Canada's premiere long distance hikes. But it's broken into sections and each section can be done as a day trip. One of the best one day sections is the 8.9 km Sugarloaf Path. We hiked it from Logy Bay all the way back to downtown St. John's via Quidi Vidi Village.
Enjoy fantastic bird life, rugged coastal scenery and icebergs in season.
Read: Hiking the Sugarloaf Path on the East Coast Trail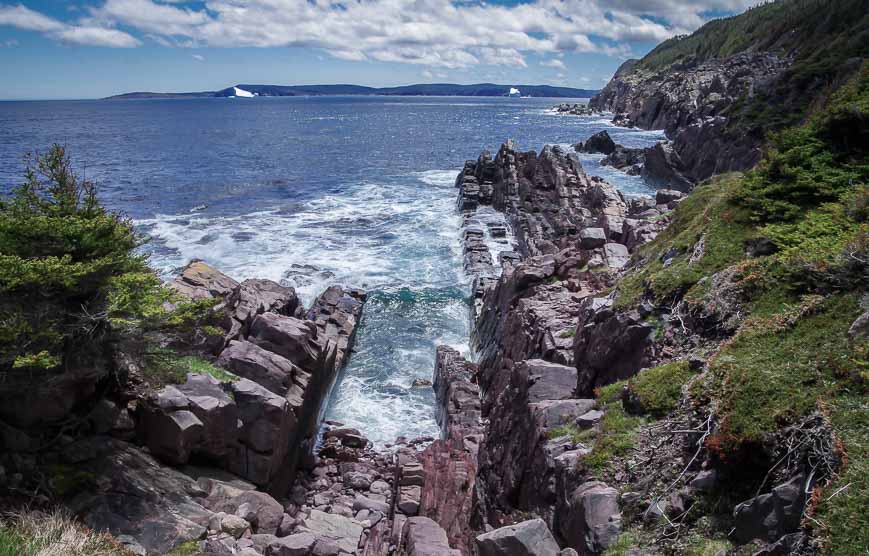 Skerwink Trail, Trinity Area
One of the fun day hikes in Canada is the Skerwink Trail – a 5.3 km loop hike that offers fantastic coastal scenery. The well-built trail takes you by sea stacks, sea caves and arches, past capelin beaches and onto a promontory with a bench and a view where you might spot a minke whale or an errant iceberg.
Signage is excellent. You only need 1.5 to 2.5 hours to do the whole trail.
Read: Hiking the Skerwink Trail near Trinity, Newfoundland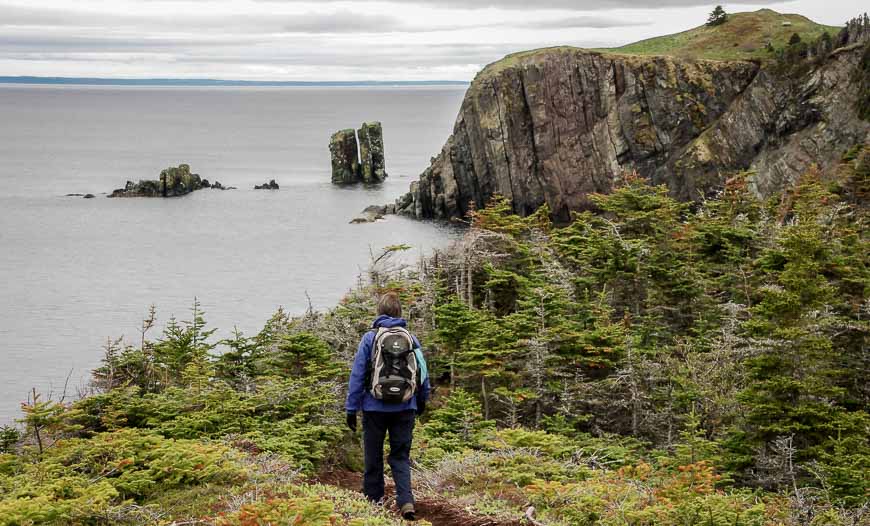 Alexander Murray Trail in King's Point
Do you like stairs? If your answer is no then give this hike a pass. But if you can handle the thought of 2,200 stairs then you will be much rewarded at the top – called Haypook. In June we could see icebergs off in the distance. It's a great hike that takes 3 – 5 hours – and perfect for breaking up a drive if you're on your way to Deer Lake.
Gros Morne Mountain in Gros Morne National Park
If you only have time for one hike in Gros Morne National Park, make it this one. It's a 16 km day hike to get to the summit of Gros Morne Mountain with 800 m of elevation gain. But the rewards are sublime ….on a clear day. Enjoy views of Ten Mile Pond, the Long Range Mountains, and Arctic tundra. Look for animals like moose and woodland caribou.
Again there's a steep section of stairs – 177 of them – on the descent. Camping is possible at the Ferry Gulch Campsite. This is truly one of the exceptional hikes in Newfoundland and in Canada.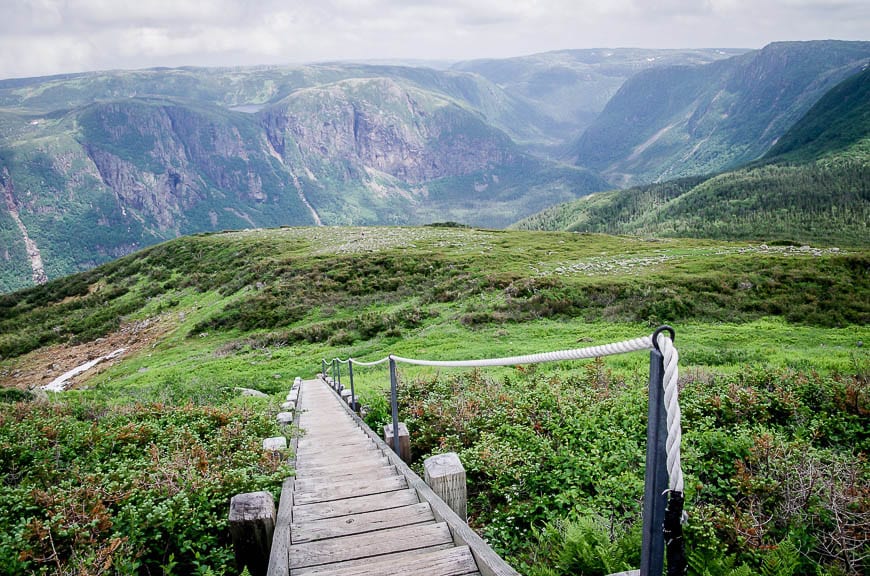 Other day hikes in Canada either on my wish list or I've done
5 things I take on almost every hike
I love my almost weightless inflatable seat cushion so I can enjoy a comfortable lunch stop.
I like using hiking poles for stream crossings and on steep descents. Pay for a good pair that are collapsible, preferably made of carbon because of their weightless quality.
Carry rain gear along with a brim hat with a chin strap for the hot sunny days.
Pack a buff – a multi-purpose piece of cloth that will keep your hair out of your face, dust out of your eyes or nose or will warm your neck.
In summer half gaiters are ideal for keeping pebbles, sand and even some rain out of your shoes.
Click on the photo to bookmark to your Pinterest boards.