Forillon National Park located at the eastern tip of the Gaspé Peninsula, sandwiched between the Gulf of St. Lawrence and Gaspé Bay, is a great place for hiking. The park's diverse landscape can be experience on their many trails. The Coastal Trail in Forillon National Park is particularly beautiful as it follows the coast past cobble beaches and tiny coves.
On a clear day, the views on the Coastal Trail in Forillon National Park are impressive. You stand a good chance of seeing marine wildlife including seals, whales and seabirds.
Although a variety of mammals inhabit the park, including moose, black bears, beavers, coyotes, ermine, snowshoe hares, mink and lynx, consider yourself lucky if you see any of them. The best I could do was a few porcupines in the vicinity of the lighthouse.
Coastal Trail in Forillon National Park
The park offers eight hikes from an easy 0.6 km hike to a challenging 17.6 km wilderness hike. One called Les Graves, a trail which largely follows the coast, is the one I chose to hike. You can start at any number of spots depending on your energy level and enthusiasm.
Les Graves hike
I started at Grand-Grave and ended up doing an out and back hike in four hours that totaled 15.2 km (9.4 mi). I could have started at Mont Saint-Alban and added 4 km (2.5 mi) to the day or shortened it and just done the hike to the lighthouse for a total of 8 km (5.0 mi) return.
For the truly energetic hiker, there is the possibility of adding a 7.8 km (4.8 mi) loop that also begins at Mont Saint-Alban. It heads up a hill and offers sea and cliff scenery from an observation tower. The loop could be done at the beginning or end of the Les Graves trail but you'd need another three hours to do it.
Lots of diversions on the hike
Les Graves is an outstanding hike and very family friendly because it offers so many diversions. In Grand-Grave, a fishing village in the late 19th and early 20th century, guides dressed in period costumes demonstrate some of what life's day to day activities looked like back then.
Once you're finished with Grand-Cave, the trail meanders along grassy paths to meadows bursting with wildflowers. Interspersed are pretty, cobble beaches and spectacular views of eroding cliffs.
Any birders in the group should be on alert for great blue herons, gulls, double breasted cormorants, terns, black-legged kittiwakes, razorbills, black guillemots and sandpipers.
Pick a picnic spot with a view
This trail has loads of spots that are perfect for a picnic. Choose one of the beaches or wait until you reach the lighthouse and snag a picnic table with a view of rugged 95 m (312 ft) cliffs.
The lighthouse can be reached by one of two trails; either via a coastal road or an inland, forested trail. The forested section seems less taxing to ascend than the road.
And once at the top, there is the option for those with energy to burn to descend on a trail past the lighthouse to a viewpoint over the water. Also near the lighthouse, is the zero marker for the Canadian portion of the International Appalachian Trail. Forillon is the endpoint – or start, depending on your perspective.
I truly loved the hike. It was easy walking for the most part and between expansive, wildflower filled views, stops at pebble beaches and a visit to a lighthouse overlooking dramatic cliffs, it was a winner.
Here's a look at Les Graves trail in Forillon National Park.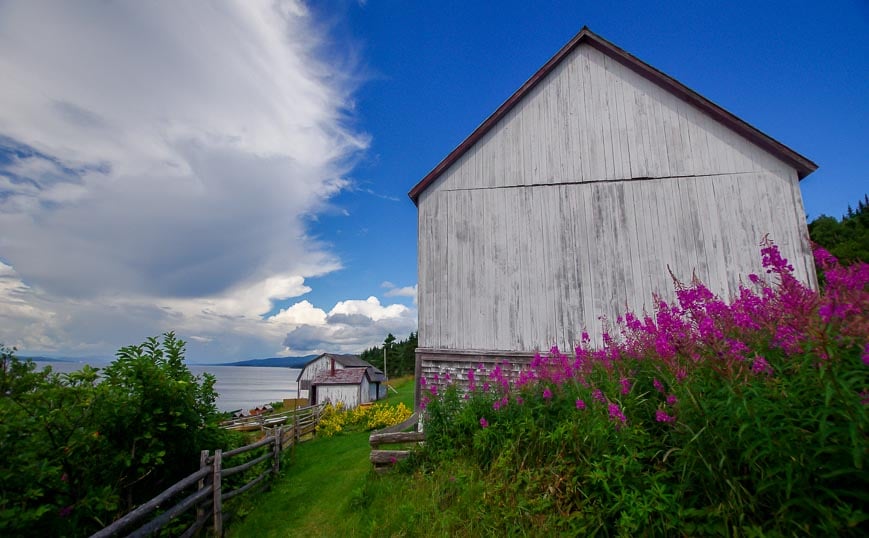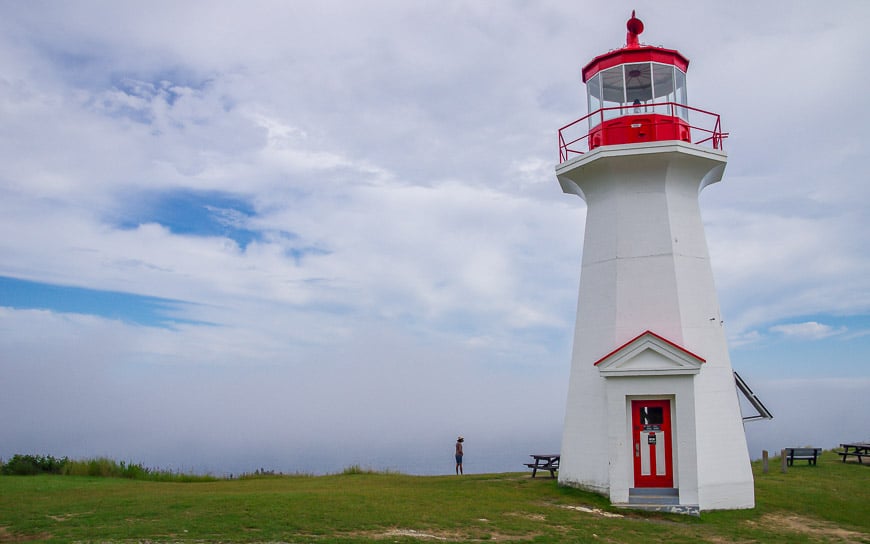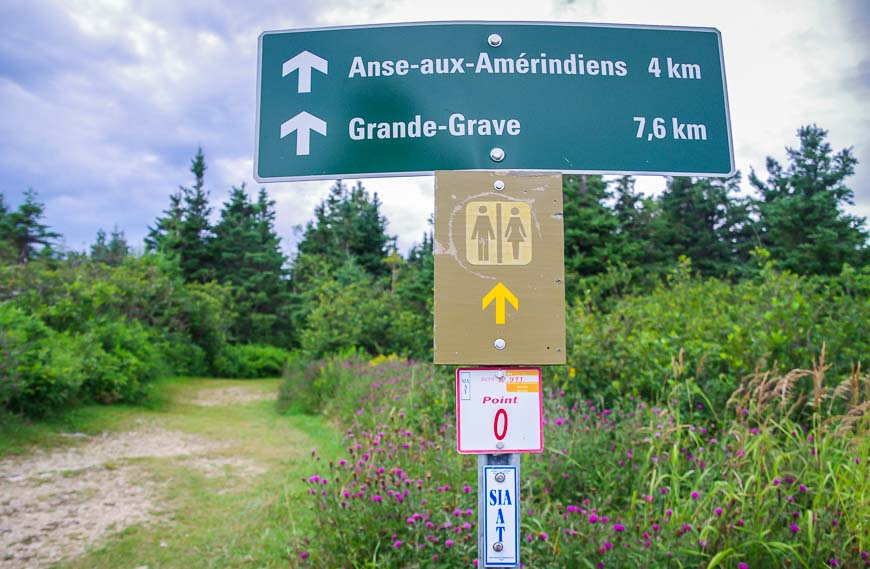 Information for a visit to Forillon National Park
The entrance fee is $7.80 per adult.
The visitor center is open from June 21st until September 2nd.
Wilderness camping is open all year round. The Petit-Gaspe campground is open the longest – from May 17th until October 13th.
Bring food and water with you.
The town of Gaspé is only a 40 minute drive away. Percé Rock and Bonaventure Island is another hour from there.
There are lots of pretty, small towns on the Gulf of St. Lawrence side to stay in.
For more information visit the Forillon National Park website.
Further reading on things to do in Quebec in summer
Click on the photo to bookmark to your Pinterest boards.