I hadn't even heard of Forillon National Park until I started doing some research about hiking in Quebec a few months ago.
Forillon sits at the eastern tip of the Gaspé Peninsula, sandwiched between the Gulf of St. Lawrence and Gaspé Bay. It's a mountainous area with dramatic cliffs, phenomenal views and loads of chances to see offshore wildlife – seals, whales and seabirds.
Hiking in Forillon National Park
Forillon National Park offers eight hikes from an easy 0.6 kilometre hike to a challenging 17.6 kilometre  wilderness hike. I chose to do a hike called Les Graves. On this hike you can choose how far you want to go depending on your energy level and enthusiasm. I started at Grand-Grave and ended up doing an out and back hike that totaled 15.2 kilometres. I could have started at Petit-Gaspe and added four kilometers to the day or shortened it and just done the hike to the lighthouse – a total of eight kilometers return.
I truly loved the hike. It was easy walking for the most part and between expansive, wildflower filled views, stops at pebble beaches and a visit to a lighthouse overlooking dramatic cliffs, it was a winner.
Here's a look at what's in store for you along the Les Graves trail.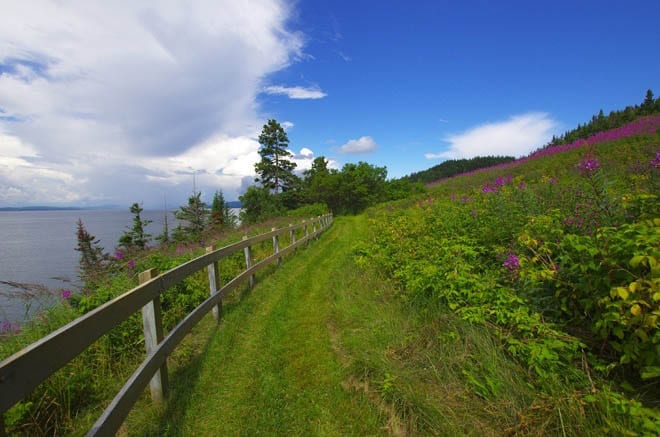 Should you be lucky enough to visit Forillon National Park here are some pointers.
The entrance fee is $7.80 per adult.
The visitor center is open from June 21st until September 2nd.
Wilderness camping is open all year round. The Petit-Gaspe campground is open the longest – from May 17th until October 13th.
Bring food and water with you.
The town of Gaspé is only a 40 minute drive away. Percé Rock and Bonaventure Island is another hour from there.
There are lots of pretty, small towns on the Gulf of St. Lawrence side to stay in.
Have you ever been to Forillon National Park?
Click on the image below to pin.
Leigh McAdam
Author of Discover Canada: 100 Inspiring Outdoor Adventures
HikeBikeTravel
Follow me on Facebook, Twitter, Instagram and Pinterest