A few years ago I did a canoe trip on the remote Thelon River in Canada's Arctic for 11 days. I got the proverbial bee in my bonnet about seeing this part of Canada that few ever do – perhaps only a few dozen people a year – after reading Discovering Eden: A Lifetime of Paddling Arctic Rivers by Alex Hall.
He wrote from the heart about the largest single wilderness left on the continent – wilderness that makes Texas look puny. Descriptions of great caribou herds, bears, musk oxen, wolves and millions of geese and other birds suggested there was more than meets the eye from the seat of a plane. And there's really only one way to experience the Arctic – I think – and that's by canoe. I went to the Thelon River to experience raw wilderness, to see wildlife and to follow the footsteps of some of Canada's early explorers.
This post includes some affiliate links. If you make a purchase via one of these links, I may receive a small commission at no extra cost to you. Thank you very much for your support.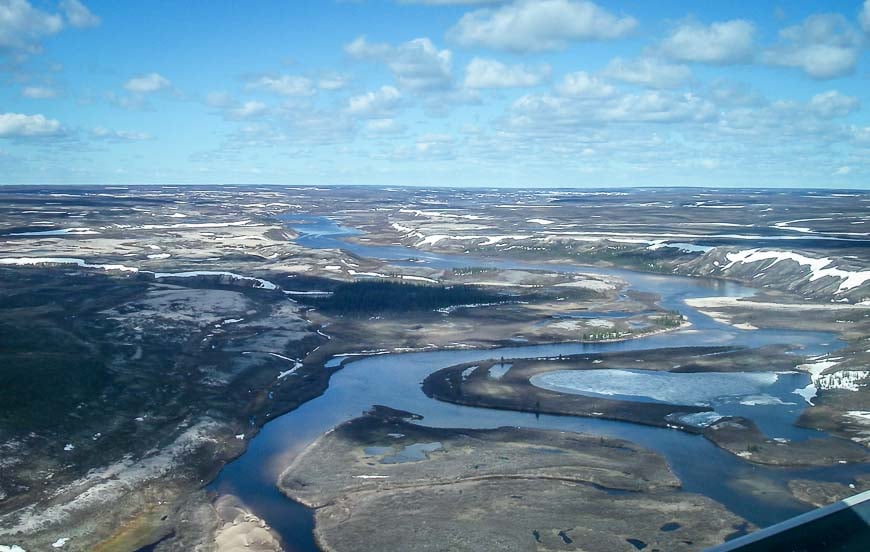 Thelon River – guided versus self-guided
My husband and I chose a guided trip because the logistics of organizing your own are formidable. Picking which river to canoe in the Arctic wasn't easy either.
On some trips you're highly likely to see caribou herds, while others have excellent fishing. Some are great for swimming, while others host spectacular Northern Lights displays late in the summer.
Two other considerations – bugs and portages
There was no way I was going smack dab in the middle of the summer because of the bugs. And I prefer to paddle and not carry my canoe. That's how I ended up choosing to paddle 170 miles on the Thelon and one of its tributaries – the Clark River.
There are several companies running trips on the Thelon but Canoe Arctic was the first and the one we chose. Another possibility is Canadian River Expeditions. Unfortunately these trips get more expensive every year because of long float plane flights in and out.
The start of our canoe trip
Our trip started in Fort Smith, Northwest Territories – which is accessed by flights from Edmonton, Alberta. The highlight of that town was a walk down to the river to watch the white pelicans diving for fish in the rapids.
On the first morning, our group of 10 – a South African doctor and his wife who called Medicine Hat home, a British couple, two Americans, one local and our guide Alex, headed off in three planes – a Caravan, Beaver, and a Cessna Five canoes were loaded along the way.
We couldn't put in where Alex had planned; ice was late leaving – though this was the third week of June.
On our second day of paddling we ran into pack ice. We canoed through what felt like ice cubes, until we were forced to portage. It was around here we ran into a lone woman – out for two months – who didn't know how to use her SAT phone. We all shook our heads and didn't think she'd get very far.
From there our lives on the river fell into a rhythm
Apart from the predictability of the meals, you'd never know what you'd see around the next bend. Alex had studied wolves extensively and knew the location of most of the dens in the area we traveled – so we did a lot of looking but never found a den in use.
We did see musk oxen on several occasions – and at one point a few bolted into the river immediately in front of us. Where was my camera then? No bears were sighted either – though if they'd ventured into camp they would have tripped wires hooked up to an airhorn. But we did see 10 caribou run by us one night.
Birds were in abundance, especially molting Canada geese. They'd hope we didn't see them as they ran along the banks, flattening themselves with their heads down.
We'd hear the meow of the rough legged hawk and saw a sharp shinned hawk attacking a peregrine falcon. We found nests with eggs and heard the call of the loon.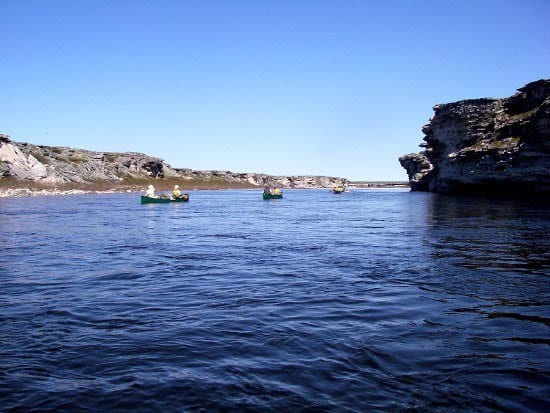 And then the mosquitoes came
The mosquitoes showed up on day three. Most of the time there was enough wind to keep them at bay. On only a few occasions did I have to wear my bug jacket fully zipped up. Even then I see-sawed between avoiding the bugs and cooking inside the jacket. It's hot – like 80°F hot in the Arctic in the summer!
Our experience with bugs on this trip was quite different than the one endured by my husband in his youth. He recounts slapping a leg and getting a hundred mosquitoes with a single slap.
The scenery changed dramatically over the course of the 10 days. Early on there was lots of relief with many a hill to climb but after 170 miles of paddling the river was flat with nothing but stunted trees. Ultimately the Thelon drains into Hudson Bay at the Chesterfield Inlet.
We found artifacts on the river – actually Alex found them in past years. The Inuit people have long occupied this land but it was Samuel Hearne who was the first known white man to explore it in 1770-71.
We visited the cabin where John Hornby and his two companions starved to death during the winter of 1926-27. They set off to hunt a migrating caribou herd but never found them. The crosses mark their graves in the photo below.
One of the most amazing phenomena in the Arctic I enjoyed was watching, in what felt like time-lapse photography, the flowers go from being snow covered to being in full bloom over just 11 days – all because of the heat and nearly 24 hours of sunshine. I really couldn't believe my eyes.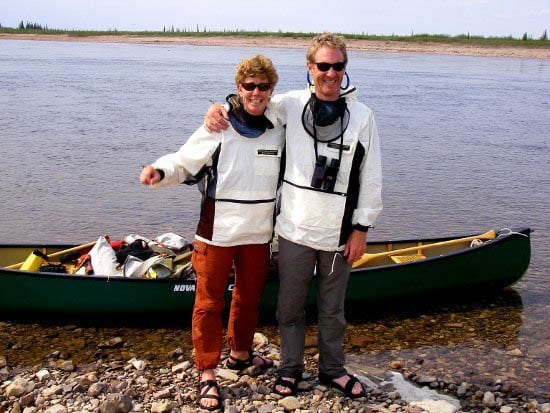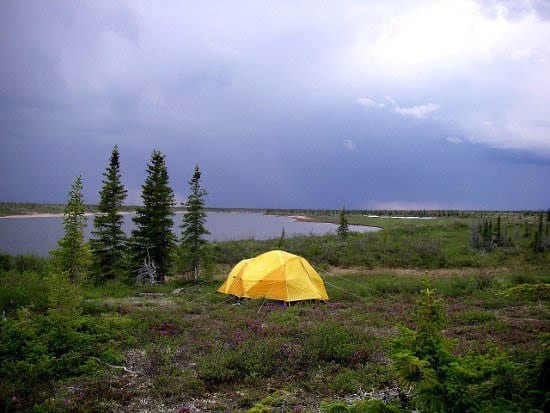 Canoeing the Arctic isn't for everyone but if you have a sense of adventure and want a true wilderness experience then there are few trips that compare.
Have you considered a canoe trip on the Thelon?
I highly recommend reading Tundra by Farley Mowat as well as Discovering Eden mentioned earlier.
Further reading on paddling trips in Canada
Click on the photo to bookmark to your Pinterest boards.