Chances are when you think of Alberta you don't think of the province in terms of a paddling destination. Yet it has its fair share of rivers and lakes in both prairie and mountain settings. All routes and experiences outlined below offer something for the beginner through to the advanced paddler. Here's a list of what I think are some of the best places to paddle in Alberta – whether it be in a kayak or a canoe.
I am always learning about more places to paddle in Alberta and every year I try to knock off another river or lake on my wish list. Scroll to the bottom of the post for my latest paddling in Alberta wish list.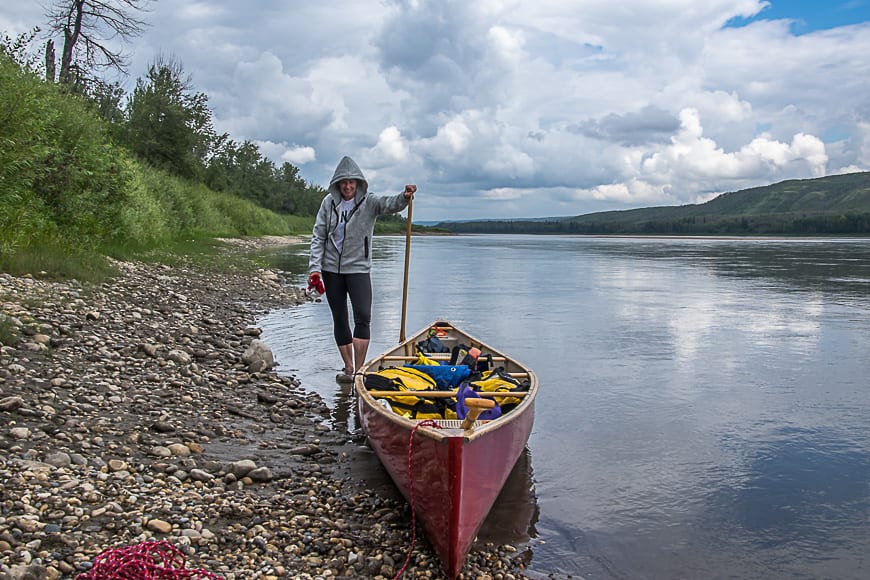 This post includes some affiliate links. If you make a qualifying purchase through one of these links, I may receive a small percentage of the sale at no extra cost to you. Thank you very much for your support.
Where can you rent canoes and kayaks in Alberta?
Check out the following places.
Banff National Park
RADVENTURES – inflatable and rigid options
Calgary
Calgary Canoe Club – for the Glenmore Reservoir only
Edmonton
Elk Island National Park
Lethbridge
Lakeland – Lac La Biche area
Best places to paddle in Alberta summary
Check out river and water warnings before you go.
Read Alberta Parks Safe Boating Guide.
Before you start your trip read: A Kayaker's Checklist – 100 Items to Pack
If you're canoeing in bear country – which is most of Alberta, I would also suggest taking a bear barrel

like this one that I have to keep your food and toiletries out of harm's way. I also use it as a seat in the wilderness. Don't forget the bear spray either.
Check weather reports for the area you plan to paddle in Alberta so you reduce your chances of getting caught in a storm.
If you're paddling in very cold water, consider wearing a wet suit. Always wear your PFD.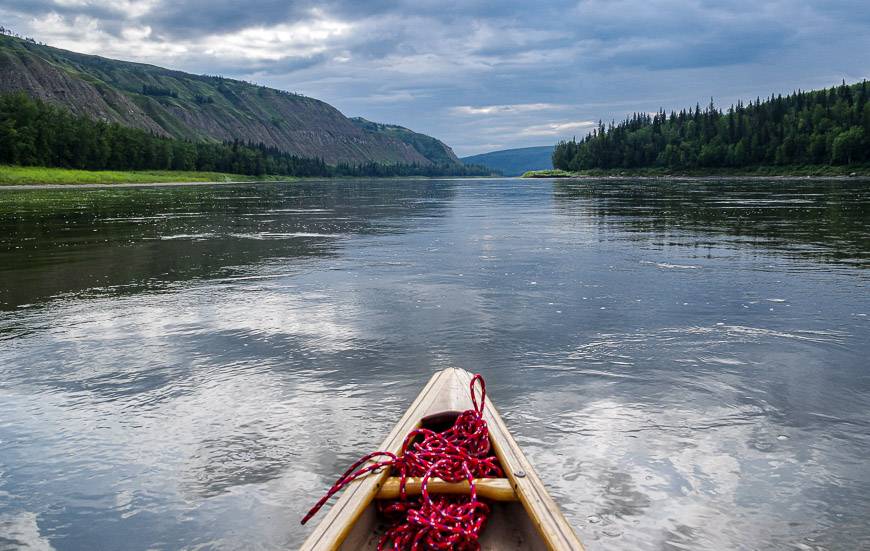 More ideas for paddling in Canada
Location map of places to paddle in Alberta
Milk River canoe trip, southeast Alberta
The 1,173 km Milk River, named for its milky colour by explorers Lewis and Clark travels from Montana into Alberta and back to Montana again. In southeastern Alberta there's an outstanding 73 km section of river that can be comfortably paddled in three days.
Start in the town of Milk River (where you can hand over your car keys so it's waiting at the end) and finish canoeing in beautiful Writing-on-Stone Provincial Park.
You need some experience to kayak or canoe the Milk River as there are occasional Class III rapids, some Class II and lots of Class I rapids. Go early in the season (June and early July) when the flow is good or you'll end up dancing around boulders on part of the river called the Rock Garden.
While campsites are hardly private, both the one at Gold Springs and at Poverty Rock offer some nice hiking and stellar views of the river. Bird life is excellent along the river. Expect to see loads of swallows darting in among the sandstone cliffs and Great-horned owl sightings are a distinct possibility.
The final few hours of the trip in Writing-on-Stone Provincial Park are very special as you travel through a hoodoo-filled landscape.
A shorter Milk River paddling option
Paddle the Milk River from Gold Spring Park Campground to the Coffin Bridge.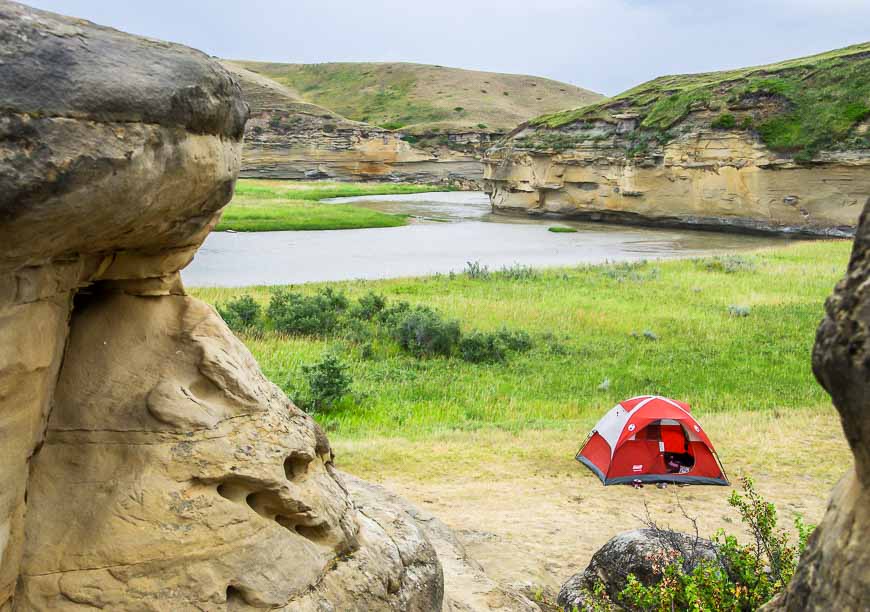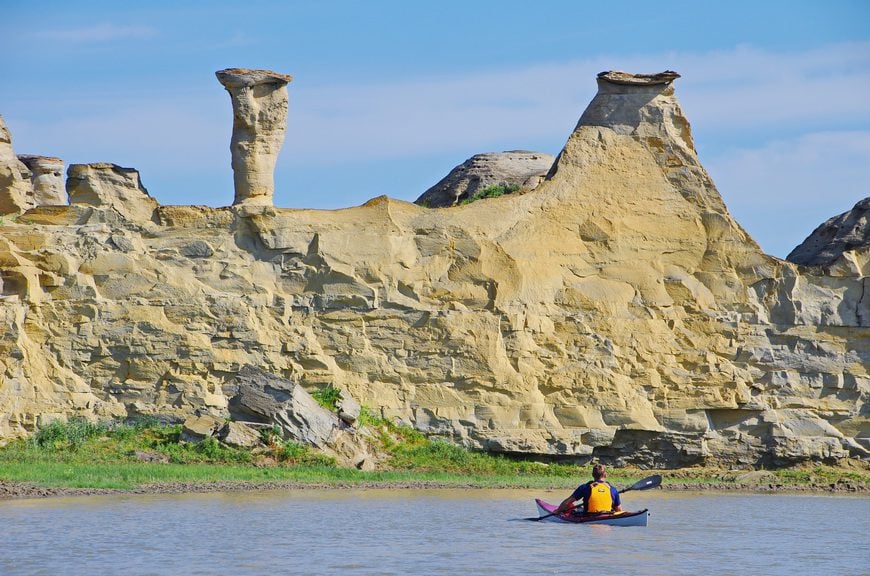 Kayak or canoe Maligne Lake in Jasper National Park
You've seen the photos of Spirit Island in Maligne Lake whether you know it or not. It's one of the most photographed spots in the world because it's so beautiful. Most visitors check out Maligne Lake via a tour boat but there is the option to canoe or kayak for a day or better yet on a multi-day paddling trip with a stay at one or two of the three campgrounds.
One of the best places to paddle in Alberta is Maligne Lake. It will take your breath away with its beauty, but it's a lake that needs to be taken seriously because of unpredictable wind and very cold water. There is one family-friendly campsite – Hidden Cove a 3.5 km paddle from the launch site, via protected waters but the other two require at least some experience.
Fisherman's Bay, near Spirit Island is 13 km from the launch site and the Coronet Creek Campground at the far end of the lake is a 21.3 km paddle. The further you paddle the more dramatic the mountain scenery becomes.
This is a very POPULAR paddle so I'd recommend booking campsites the day they open. Phone (780) 852-6177 (MST) or book a backcountry reservation in Jasper National Park starting on March 20, 2023 at 8 AM MST.
Read: Kayaking Maligne Lake in Jasper National Park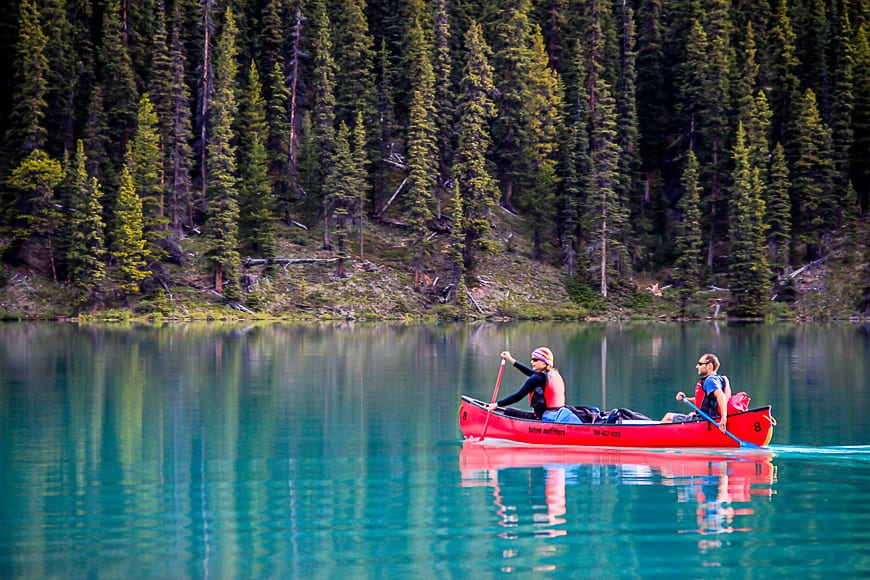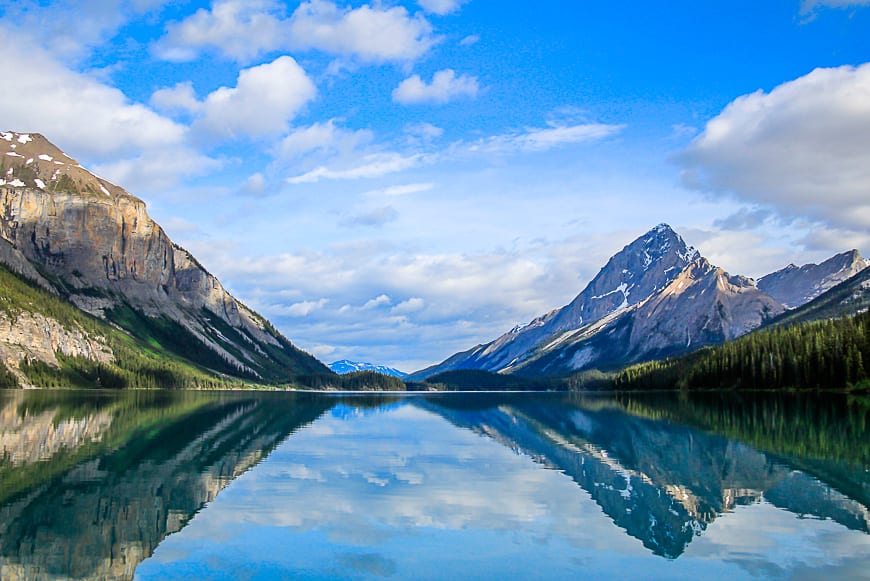 Kayak the Bow River from Castle Junction to Banff
There are no commercial paddling trips on the Bow River and nor is it all that easy to rent a kayak. But if you can score a couple of plastic kayaks through friends (or perhaps through the University of Calgary Recreation Centre) and you have a couple of cars then you're in for a treat.
Park one car near Castle Junction just north of the bridge and the other at whatever end point you choose but somewhere near Banff that is accessible. Go out and enjoy a full day on fast water with one major rapid.
At times it's a Class III but when I paddled it, it felt more like a Class II. Scout it beforehand. The rest of the day is a delight with mountains as a backdrop and lots of gravel beaches for lunch stops or rests.
Read: Done in a Day: Kayaking the Beautiful Bow River in Banff
Lac la Biche canoe trip in Lakeland Provincial Park
The Lac la Biche canoe circuit is the only one of its kind in Alberta. Located in Lakeland Provincial Park in central Alberta, it offers a 38 km route over three lakes along with a couple of portages including a 3 km one at the start. (Fortunately portage carts are available.)
Plan on three days to paddle the circuit. There is no moving water so strong beginner paddlers would have fun on this trip. Just beware of the wind as it can blow up suddenly. You'll see plenty of wildlife and birds and the night skies are perfect for stargazing.
Read: The 3 Day Lac la Biche Canoe Circuit in Alberta
Paddling the Red Deer River in Alberta
If you're a novice canoeist or kayaker the Red Deer River is a great choice – though really its a fun river for anyone to paddle. The river is gentle, warm and not very deep. In fact there are places where you have to drag the canoe over gravel bars.
I recommend a weekend trip that starts at Tolman Bridge and finishes in a municipal park in Drumheller via a shuttle. There are other variations depending on how much time you have.
Start in Red Deer and paddle all the way to Dinosaur Provincial Park if you have the time. Once you get past Drumheller you probably won't see a soul.
What you'll get on the river is a lot of badlands scenery, great birding, some wildlife and perhaps even some fossil finds the closer you get to Dinosaur Provincial Park. This is definitely a family-friendly trip. Camp in either dedicated campgrounds or find a gravelly beach in the shade of giant cottonwood trees.
North Saskatchewan River canoe trip
There are lots of ways to paddle the North Saskatchewan River, an important river during Canada's fur trade. In theory you can paddle from Nordegg to the Saskatchewan border but most people pick a section of the river to explore.
Years ago we paddled a 40 km section east of Nordegg on the way to Rocky Mountain House. This section of river is beautiful – the colour, a stunning aquamarine.
It's not like that around Edmonton where it's a muddy brown colour but in the Edmonton area it's easy to arrange shuttles and do a day or a weekend trip. The river is classified novice to intermediate, except the Nordegg to Devon section where there are some rapids to run. Check out Edmonton Canoe for information on rentals and shuttles from early June until September.
Astotin Lake canoeing in Elk Island National Park
Canoeing, kayaking or even SUP is a great way to experience Elk Island National Park in the summer. You can bring your own boat but it's also possible to rent at the Astotin Lake Recreation Area.
Explore the islands or plan a picnic at Beaver Bay. A pair of binoculars comes in handy as the birding here is excellent. I've never seen so many avocets at one time.
Read: Elk Island National Park: 5 Fantastic Things You'll Want to Do
Peace River, northern Alberta – one of the quietest places to paddle in Alberta
The Peace River traverses the central part of the province for over 1,000 km cutting through a landscape made up of boreal forest, prairie, grasslands and rolling hills. If you have only a day you can paddle in the vicinity of the town of Peace River and rent and organize a shuttle with Peace River Cabins & Outdoors but you can easily spend a week on the river too.
The river is not a hard one to paddle as its Class I. There are no rapids or portages, just errant boulders, some shallow gravel bars and a variable flow rate depending on what is discharged from the W.C. Bennett Dam in BC.
I recommend camping at designated campsites as the alternative is lugging gear up steep, slippery banks – an exhausting and dirty exercise.
The river is not well traveled so there's a good chance you'll have campsites to yourself unless you spend a night in historic Dunvegan, in sight of Alberta's only suspension bridge. Wildlife is common along this river so be prepared to see black bears, wolves, deer and coyotes.
Read: Paddling the Peace River in Northern Alberta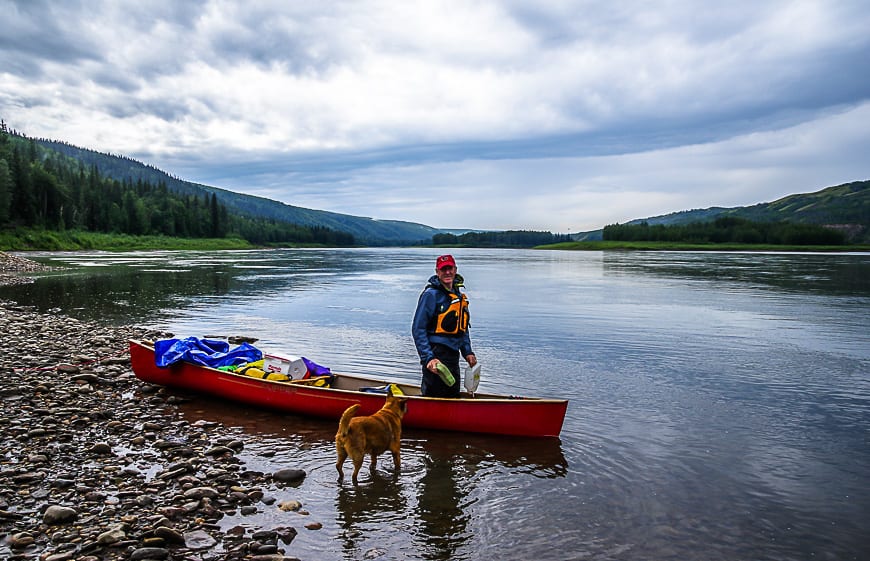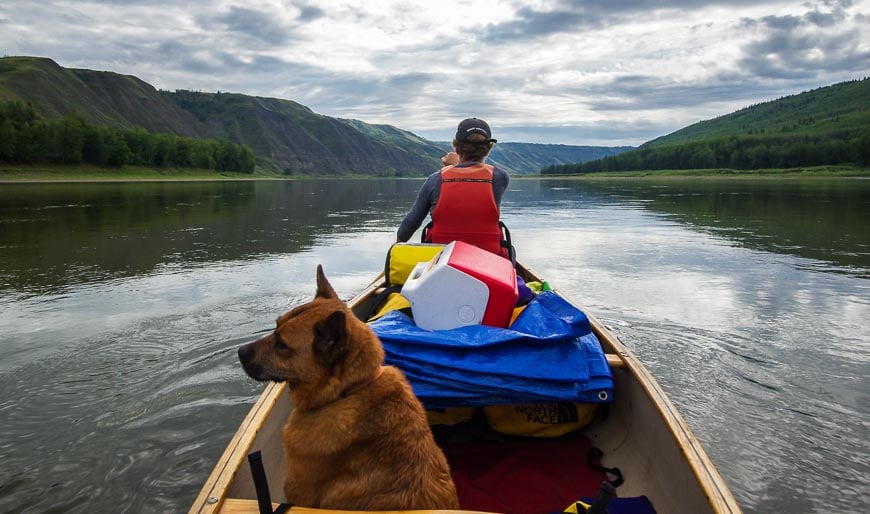 Lake Louise and Moraine Lake canoeing, Banff National Park
For a quintessential, romantic canoeing experience rent a canoe at either Lake Louise or Moraine Lake and enjoy an hour or two surrounded by majestic mountains and glaciers while paddling turquoise coloured lakes.
The only caveat is the experience is not inexpensive. You only have two options – rent from either the Fairmont at Lake Louise or Moraine Lake Lodge on Moraine Lake. If you're not a guest of the properties be prepared to spend upwards of $100 an hour – but splurge because how often are you likely to do this?
2023 update: Since writing this I learned that you can use your own boat but you'll have to transport it from the parking lot and put in on the shore of Lake Louise or Moraine Lake. For Moraine Lake in 2023, that's just about an impossibility since you can no longer drive up. You still have half a chance at Lake Louise.
Paddling the Glenmore Reservoir in Calgary – one of the easy places to paddle in Alberta
Are there any other places in Alberta you'd recommend paddling? I know in Calgary I'm happy to go out after dinner and kayak on the Glenmore Reservoir but I'd be interested in hearing about other lakes or rivers, even if they are in the northern part of the province.
Remember, if it's Maligne Lake you're interested in paddling, you must book campsites very early and you can only spent a maximum of two nights in each campsite. The other paddling experiences are easier to organize at the last minute unless it's a long weekend and you need a canoe rental and a shuttle. Plan accordingly.
Upper Kananaskis Lake – one of the scenic places to paddle in Alberta
If you're looking for either a day paddle or SUP experience then head to Upper Kananaskis Lake in Peter Lougheed Provincial Park. If it's a calm day, then it's a gorgeous spot to paddle, but the lake does have a reputation for being windy – so you should be competent under those conditions.
There are no services on the lake so you'll have to bring your own canoe or kayak or rent one in Calgary or through Kananaskis Outfitters near Nakiska Ski Resort.
I did an easy 3 km paddle to the Point Campground – one of the nicest I've visited. It makes for a great 24 hour getaway! We had big wind and white caps on the way over but calm water on the return – and if we'd had more time it would have been a treat to explore more of the shoreline by kayak.
Read: Kananaskis Kayaking to the Point Campground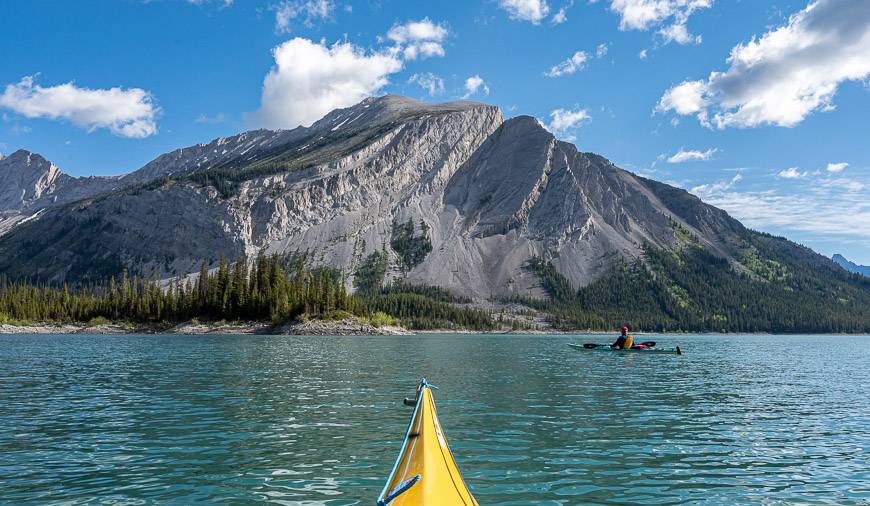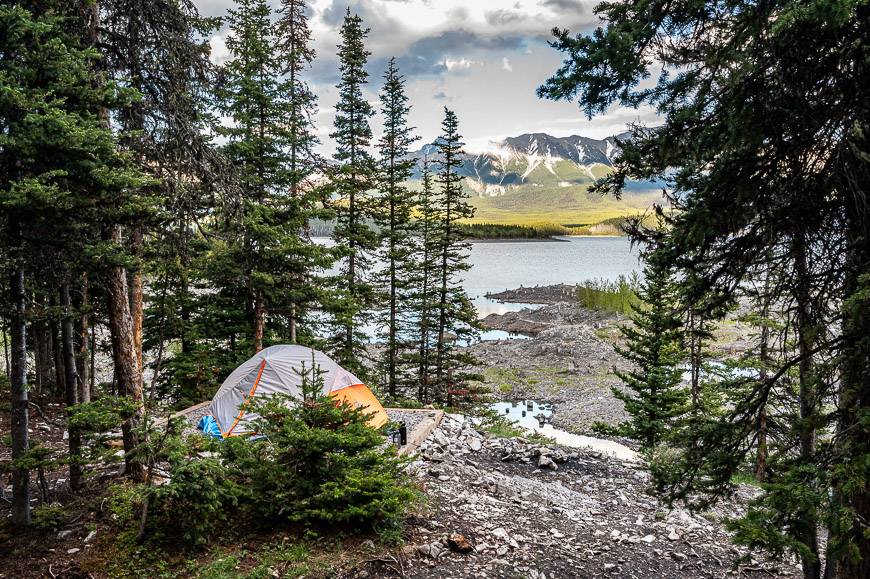 More places to paddle in Alberta
There are lots more places to paddle in Alberta, especially if you just want to go out for a few hours. Be careful of wind and cold water on the big lakes.
Elkwater Lake, Cypress Hills Provincial Park
There's a marina on Elkwater Lake where you can rent canoes, kayaks and SUP's. Then take off and paddle the largest body of water in Cypress Hills Provincial Park. If you want to avoid the motorboats, go around the dinner hour, and you may get the lake to yourself.
Beauvais Lake Provincial Park
Beauvais Lake Provincial Park is located a short distance west of Pincher Creek. Bring your own canoe or kayak and paddle the circumference of Beauvais Lake, while enjoying the divers landscape that includes woodlands, wetlands and grasslands. Don't forget your binoculars as there is great birding from your kayak or canoe.
Places to Paddle in Alberta: Pyramid Lake, Jasper National Park
On the shores of Pyramid Lake, located 6 km north of the Jasper townsite, you can rent kayaks, canoes, and paddleboards. Enjoy a few hours of easy paddling with Pyramid Mountain as a scenic backdrop. You can pull in at Pyramid Lake Island and have a wander around or just a break.
Keep an eye on the weather, as the paddling is much more difficult if the wind blows up.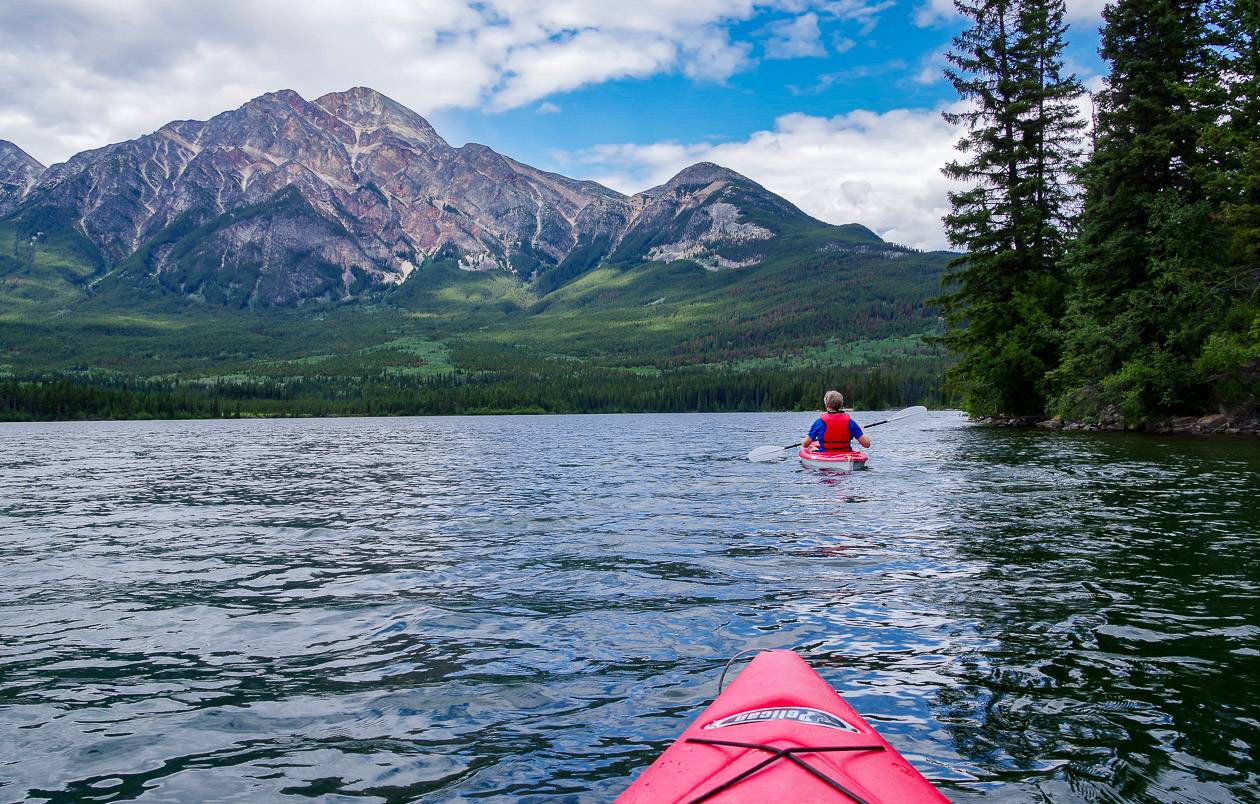 Upper Waterton Lake, Waterton Lakes National Park
If you're a strong paddler with experience, you might enjoy paddling Upper Waterton Lake as a day or overnight trip. There are two backcountry campsites that can be reserved, Bertha Bay and Boundary Bay. The downside to the trip is the famous winds the lake can get. But if you're smart and you paddle either very early or late in the day, you can have a terrific adventure.
More suggestions on places to paddle in Alberta – that I haven't yet tried
The following are ideas for trips I'd like to do.
Paddle Lake Minnewanka to the very end, about 31 km one way. There are lots of campsites along the way, but it's a cold lake, famous for being windy.
Enjoy an easy day's kayaking on three lakes close to the Banff townsite – Vermilion Lakes, Two Jack Lake, and Johnson Lake.
Paddle the accessible lakes along the Icefields Parkway including Herbert Lake, Waterfowl Lakes, and Honeymoon Lake.
Paddle to Athabasca Island via a short paddle across the Athabasca River from 12 Mile Bridge on Highway 16. It's a short trip but not an easy one as you can run aground and capsized into very cold water! Spend the night. You can book a backcountry reservation here.
Paddle the Bow River from the dam on Ghost Lake to the Cowboy Trail Bridge in Cochrane.
7 things I always take on a paddling trip
For Alberta paddlers, you might want to pick up a copy of this book – Mark's Guide for Alberta Paddlers.
I can't even contemplate paddling without my personal PFD with pockets in all the right spots. The last one I had for over 10 years. I have a Fox 40 whistle attached to my PFD and I always carry a knife.
I like a waterproof see-through dry bag for my clothes and phone.
I swear by my Chacos. They usually last me about three years but they are my go to paddling scandal. If it's going to be really cold, then sometimes I'll add a Neoprene sock.
If it's a cold, windy day I'll take a neoprene glove.
On deck I like to have my water bottle and a map case.
Click on the photo to bookmark to your Pinterest boards.