A two day kayaking trip in the Saguenay Fjord is enough time to give you a sense of the place. But if I'd had one extra day, then three days kayaking the Saguenay Fjord from L'Anse-Saint-Jean to the mouth of the fjord at the St. Lawrence River in Tadoussac would be even better. I'd up my chances of seeing beluga whales as they are often seen near the mouth of the fjord.
Here's what my trip on the Saguenay Fjord with the kayaking company Fjord en Kayak looked like. But first I thought a few quick facts about the fjord might be of interest.
Updated February 2021. This post includes some affiliate links. If you make a purchase via one of these links, I may receive a small commission at no extra cost to you.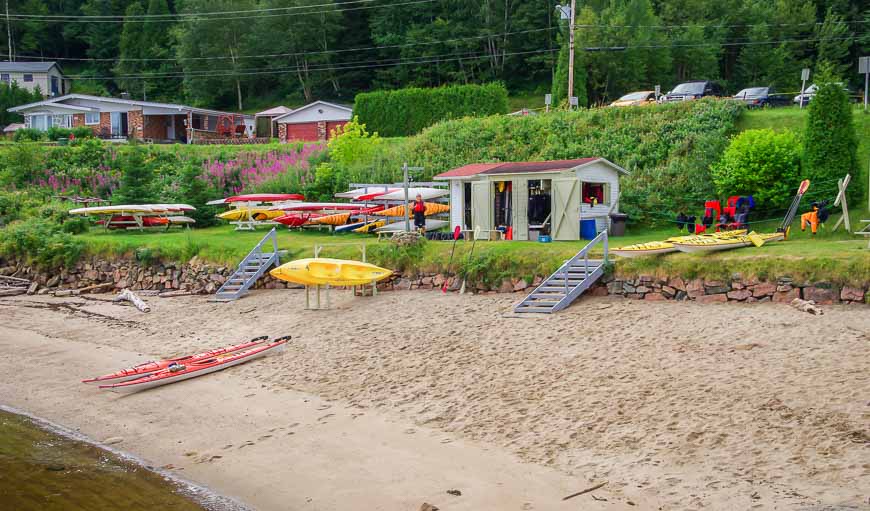 Interesting facts about the Saguenay Fjord
Much of the fjord is in the Saguenay Fjord National Park.

The 103 km long Saguenay Fjord was formed approximately 10,000 years ago at the end of the last ice age. It's one of only 38 fjords in the world that is more than 100 km long. The width of the fjord varies from 1.2 – 4.4 km. It has a maximum depth of 270 m.
The fjord runs in an east-west direction.
Baie Sainte Marguerite – close to where we stopped for the night – plays host to a great numbers of beluga whales in the summer, possibly because the sloped, sandy bottom is a great place for giving birth and teaching young belugas to hunt. (Unfortunately we didn't see any.)
Fresh water, primarily from Lac Saint-Jean flows into the fjord so the surface water isn't very salty. It's also quite warm reaching temperatures of 15-20°C though the water temperature drops the closer you get to the St. Lawrence Estuary. At the bottom of the fjord the salinity is 31% – close to the 35% found in the oceans – and the temperature drops to 1°C.
The Greenland shark – one of the largest living species of sharks has been seen (rarely) in the Saguenay Fjord.
There are 10 nesting sights for peregrine falcons on the cliffs of the Saguenay Fjord.
Where we started our Saguenay Fjord kayaking trip
Our trip started at the beach and boat launch site in the pretty town of L'Anse-Saint-Jean – in fact one of Quebec's Most Beautiful Villages. It was just a few minutes away from my B&B I highly recommend – the lovely Auberge la Fjordelaise so our 8:30 AM rendezvous time wasn't onerous.
Since we are only going out for a night there wasn't a lot of personal gear to pack so I was ready in no time. Still it would be about 10 AM before we would hit the water – as there was also a very thorough safety briefing.
Our gang for the two days consisted of Antoine – our 21 year old guide, a young couple from Montreal – Sabrina and Philippe as well as a couple, still my junior by a decade – from Trois Rivieres – Marie-Josée and Andre. And although they were all native French speakers they had enough English and I had enough French that I could take part in conversations.
Once we got launched the paddling was easy. There was barely a breath of wind and the only thing we had to look out for was the odd wave from a passing boat.
Kayaks were a mix of fiberglass and plastic – and paddles were lightweight, something you always appreciate when the paddling gets tough. Interestingly the paddles came feathered – which helps in windy conditions.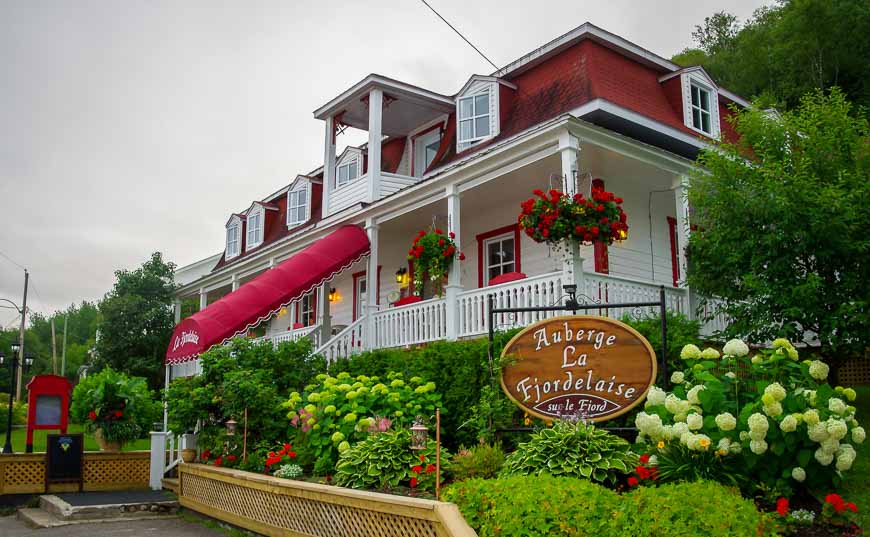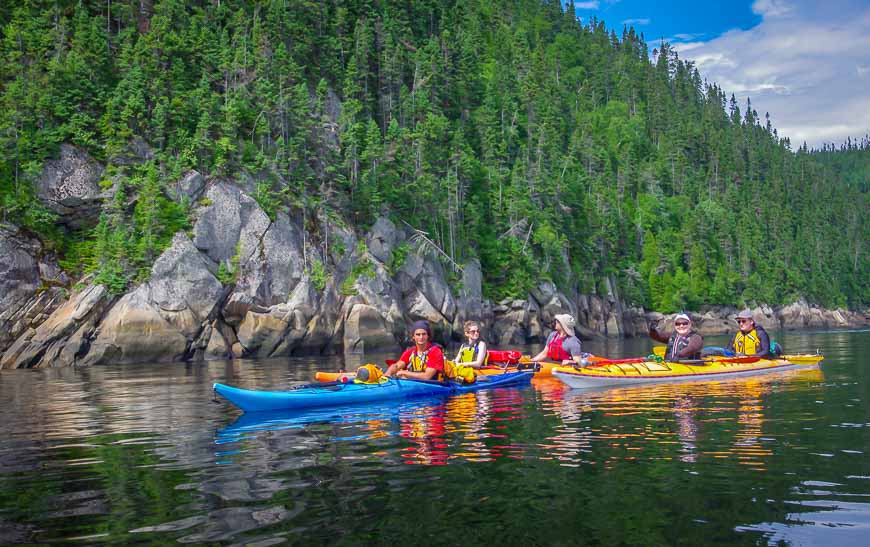 A beautiful stop on the Saguenay Fjord for lunch
By noon – though we'd been paddling for less than two hours – we were all ready for a lunch break. The skies too looked threatening so it didn't hurt to be on land either.
Lunch was delicious – a vege pate kind of spread on fresh bread with more fresh veges inside it along with a hunk of poutine cheese.
After a solid hour's break for lunch it was time to continue east. Our goal was the first campsite past Île Saint-Louis.
Since there was no rush we took our time exploring the bays – and looking for wildlife. A few harbour seals popped up behind us on occasion and one family of mergansers floated by. We heard one loon and saw loads of cormorants too.
Our campsite on the Saguenay Fjord
By about 4 PM we pulled into a campsite directly across from Île Saint-Louis. It wasn't our first choice – but stormy looking clouds and a squall warning conspired to make it our home for the night.
Camping on the Fjord
There are 13 primitive campsites – up and down the fjord – for the use of kayakers. You can reserve campsites ahead of time and fortunately the one we stopped at wasn't taken.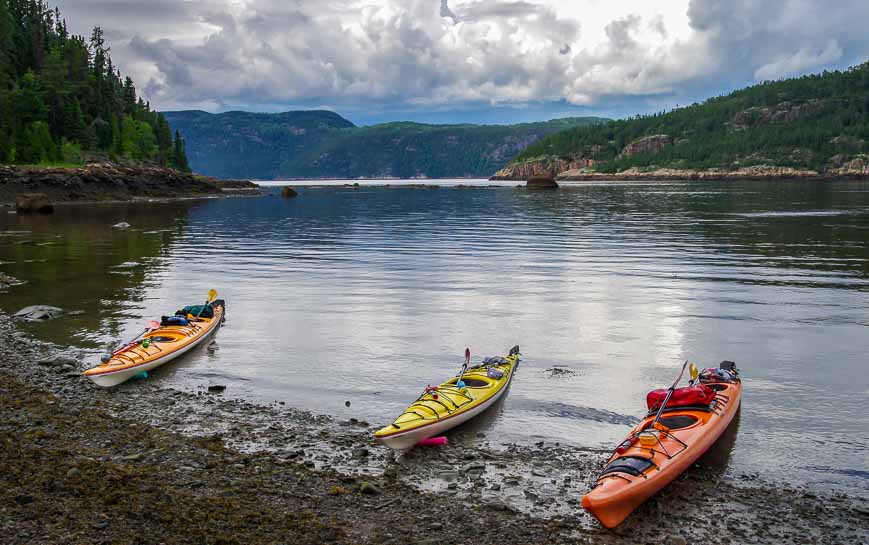 Our campsite had seven tent platforms so everyone had some privacy. An outhouse way back from the beach, a picnic table and some fresh water from streams were the only signs of civilization – well at least until Antoine worked his magic.
In no time he had rigged up a tarp, and brightened up the picnic table with a cheerful looking tablecloth. Add in a few bottles of wine, some hors d'oeuvres and Antoine in an apron smiling away and you might think you'd landed at a little French bistro instead of a wooded campsite.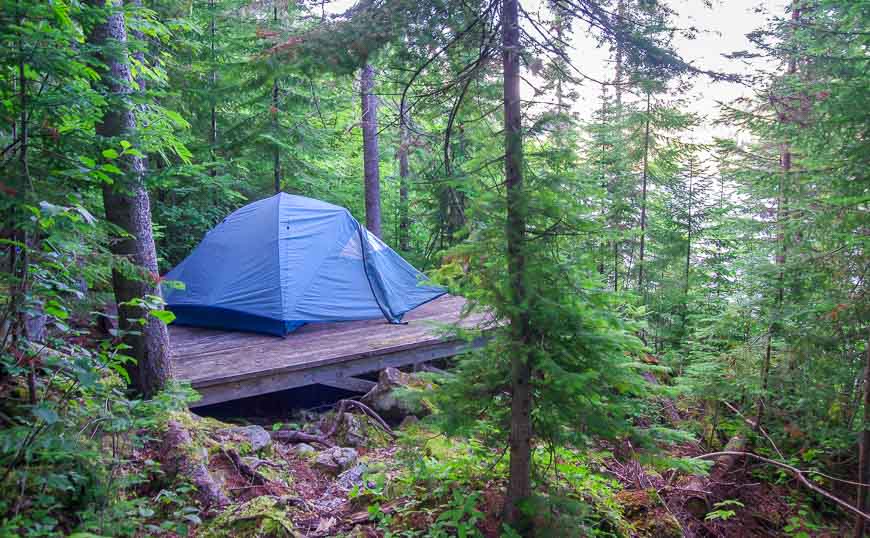 The food on our Saguenay Fjord kayaking trip
Duck confit with blueberry chutney – in keeping with the French bistro theme – was served for dinner accompanied with quinoa and fresh green beans. What a meal and one that you would only see in Quebec!
After dinner Antoine attempted to get a fire going. As it's a national park you can only collect wood on the beach for fires – but most of it is pretty darned wet. Our fire was a smoky one that needed a lot of fanning to keep the flames going.
After dinner and fire making came dessert – homemade blueberry and strawberry-rhubarb pie. Antoine adds cream and maples syrup to his so I figured I'd follow his lead. Delicious!!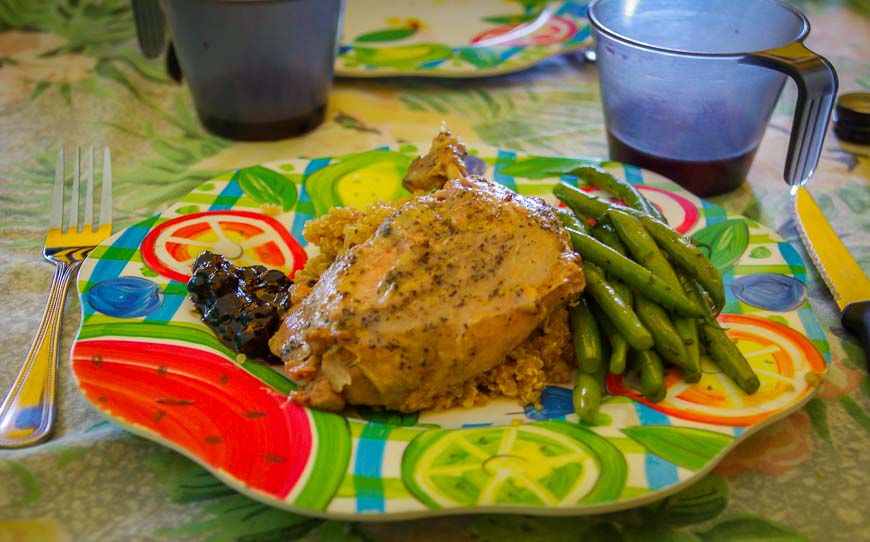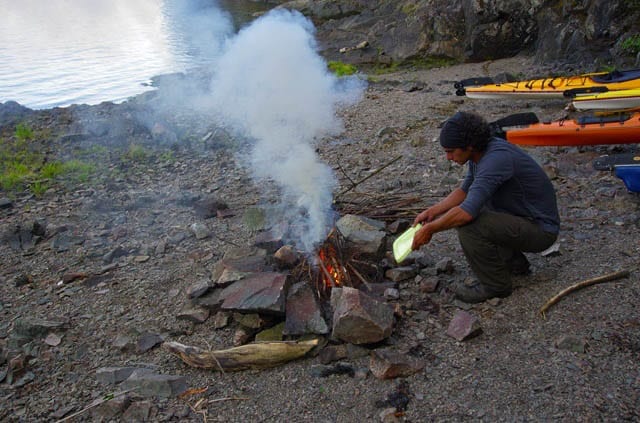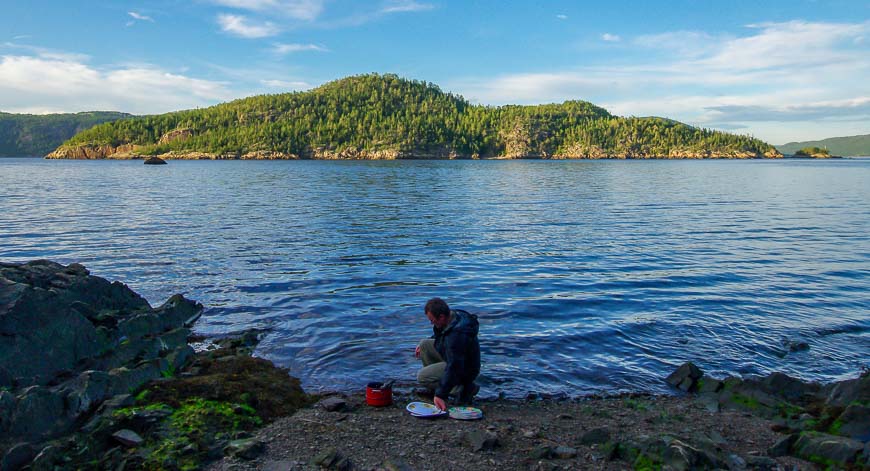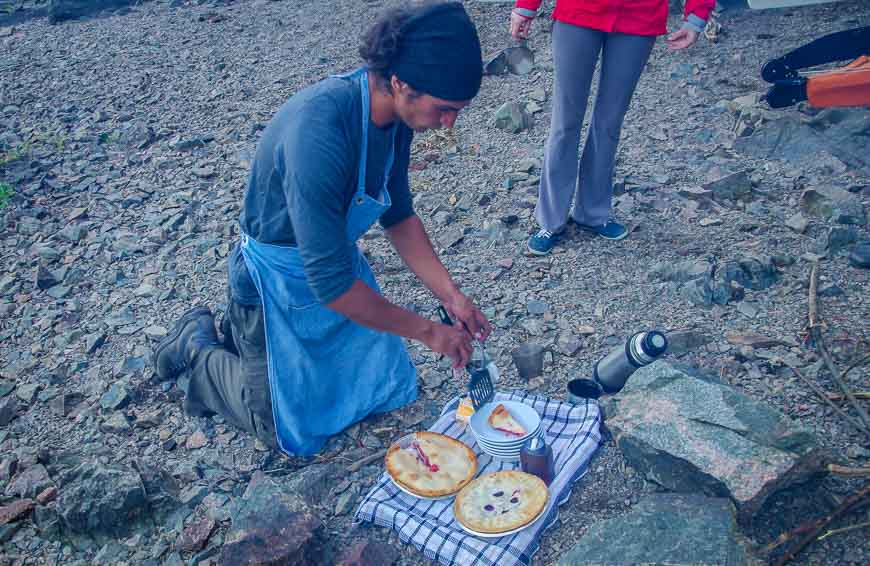 Bears aren't a problem
By 9 PM dishes were done and I – and everyone else – was ready for bed.
Interestingly in these camp sites bears aren't a problem so you never have to hang food. It makes putting the camp to bed a little bit easier and quicker.
The next morning the plan was to get an early start and paddle around Île Saint-Louis, cross to the other side, paddle west, cross back and voilà – the trip would be over.
Certainly we got off to a great start with breakfast – fresh fruit, an omelet, toast, coffee…you name it and all of it delicious.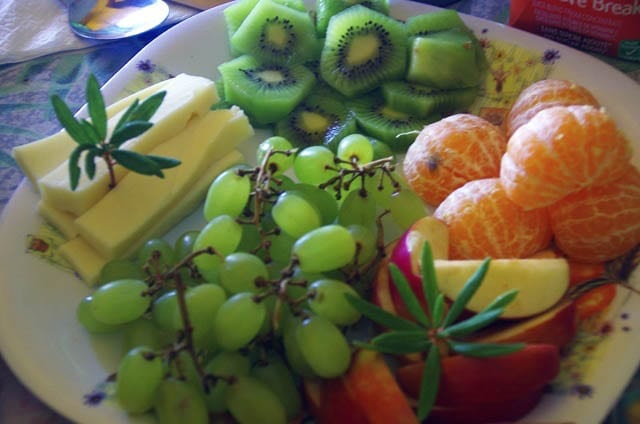 A tough morning of kayaking on day 2
The goal was to be on the water by 9:30 AM and we were close. But one look out to the fjord and I knew our early morning plans would be changed. White caps could be seen from shore – and we were in a calm area.
As we load up and head off it's fine for about five minutes – that is until we round the point. Then the wind blows and gusts and makes paddling brutally hard. Antoine figured the winds were blowing constantly at 20 knots with gusts of 25 knots. That translates into about 45 km/hour winds.
For the next 2 ¼ hours we paddled our guts out – with the odd small break behind a rock wall in the lee of the wind. Any thoughts of crossing the fjord had evaporated the minute we had a taste of the wind.
Despite the paddling being tough – and occasionally scary, it was also exhilarating and the highlight of the trip for most of us.
A stop at Petit-Saguenay
Our lunch break was at the wharf in Petit-Saguenay – a spot where people can launch their own kayaks. It was a treat just to sit in the sun and watch the world go by for an hour.
By the time we got into our kayaks again the wind had died down – not completely but enough that the final two hours of paddling was much less rigorous.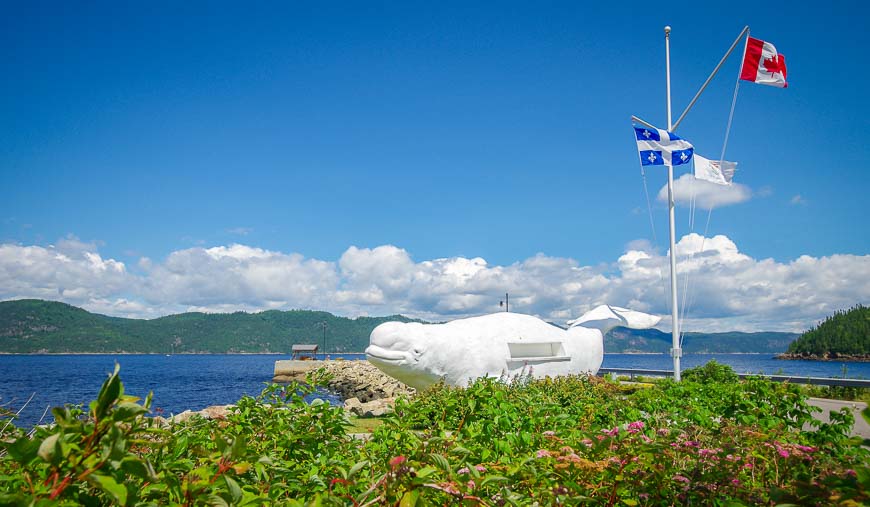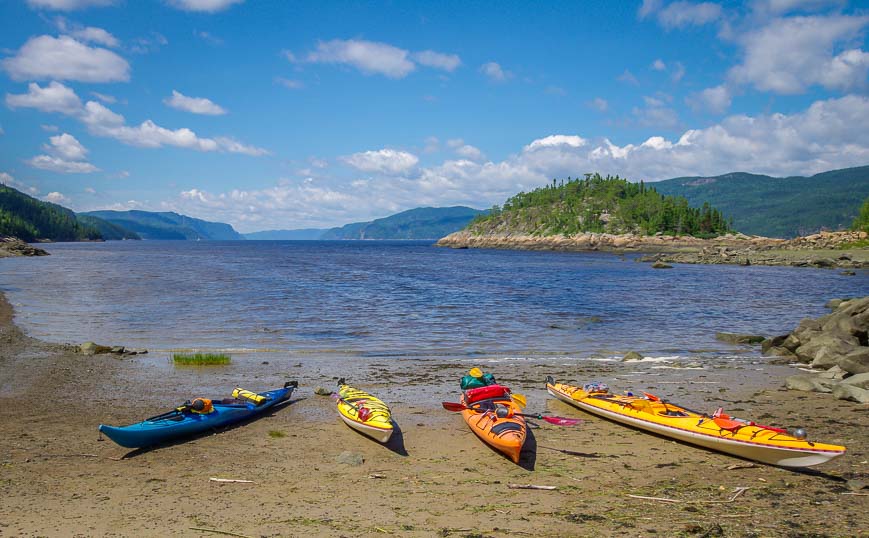 We rolled back into L'Anse-Saint-Jean at about 3:30 PM and by 4 PM we were drinking cold beer and eating chips. Now that's what I call a civilized way to end a kayaking trip.
Further reading on things to do in Quebec in summer
Click on the photo to bookmark to your Pinterest boards.