If you're looking for a Quebec road trip that's a little different, why not drive the north shore of the Saint Lawrence River from Quebec City to Havre-Saint -Pierre, the last town of any size on the north shore, with the option to continue to Kegashka, at the end of Highway 138 – a distance of 1,060 km.
In theory you could do the Quebec road trip in one long day, taking about 12 hours. But there are a lot of beautiful small towns to explore, some incredible whale watching to do and one of Canada's most beautiful and unique national parks to visit.
Planning a Quebec road trip to Havre-Saint-Pierre
Join me as I take you on a drive in Quebec that can take you over a week if you've got the time – and the notion of slow travel appeals to you. Enjoy the mix of pristine wilderness and pretty towns and villages along a highway that isn't a mainstream tourist destination. Check out what to do and where to stay in each location – largely garnered from personal experience with many trips to Quebec over the years.
Some of the highlights you'll encounter on the Quebec road trip include:
The opportunity to see many different species of whales in a variety of ways – from shore, a kayak, your car, or on a dedicated whale-watching cruise
Dine on freshly caught seafood
Be wowed by the islands and rock formations that make up Mingan Archipelago National Park Reserve.
If you want to leave your car behind and see some of the small communities along the north shore of the St. Lawrence River there is the option to hop on a working boat. You can find detailed information on the Relais Nordik website.
This post includes some affiliate links. If you make a qualifying purchase through one of these links, I may receive a small percentage of the sale at no extra cost to you. Thank you very much for your support.
Best time to do this Quebec road trip
Explore the north shore of the St. Lawrence on a Quebec road trip between June and mid-September. Weather should be good and businesses will be open. But be sure to book well in advance as there are limited accommodation options in places. If you don't mind camping, then there is a lot more choice.
Map showing stops on a Quebec road trip from Quebec City to Havre-Saint-Pierre
Day 1 on the Quebec road trip to Havre-Saint-Pierre: Start in Quebec City
Allow at least a day in Quebec City, and more time if you've never visited before. Fly in and pick up a rental car.
Suggestions on what to do in Quebec City
Wander around the old city, especially Rue de Petit Champlain. It's considered to be one of the prettiest streets in Canada. Poke in boutiques, galleries and have a drink or bite to eat in one of the many restaurants.
Pick up a detailed city map, so you can walk the ramparts (4 km one way) and enjoy scenes seeped in history.
Take the ferry over to Levi. Rent a bike and go explore the Parcour des Anses. It travels along the south shore of the St. Lawrence River for 15 kilometres along an old railway line and offers up superb views of the Quebec fortifications, the Château Frontenac and Île d'Orléans.
To book a guided walking tour with Get Your Guide click here.
Where to eat in Quebec City
I recommend Crêperie le billig at 481 Rue Saint-Jean. I have been to this restaurant a few times and highly recommend it. Order one of their delicious buckwheat crepes with a glass of local hard cider. I'd also suggest Le Tournebroche – an organic rotisserie with locally raised chickens.
Where to stay in Quebec City

For a splurge check out the most photographed hotel in the world – Fairmont Le Chateau Frontenac.

For a great B&B experience at a decent price try Auberge La Chouette in the downtown core.

I can also personally recommend the Hotel Marriott Quebec Centre-Ville and Hotel Chateau Laurier near lots of great restaurants.

For a health and wellness experience with divine food stay at Monastère des Augustines.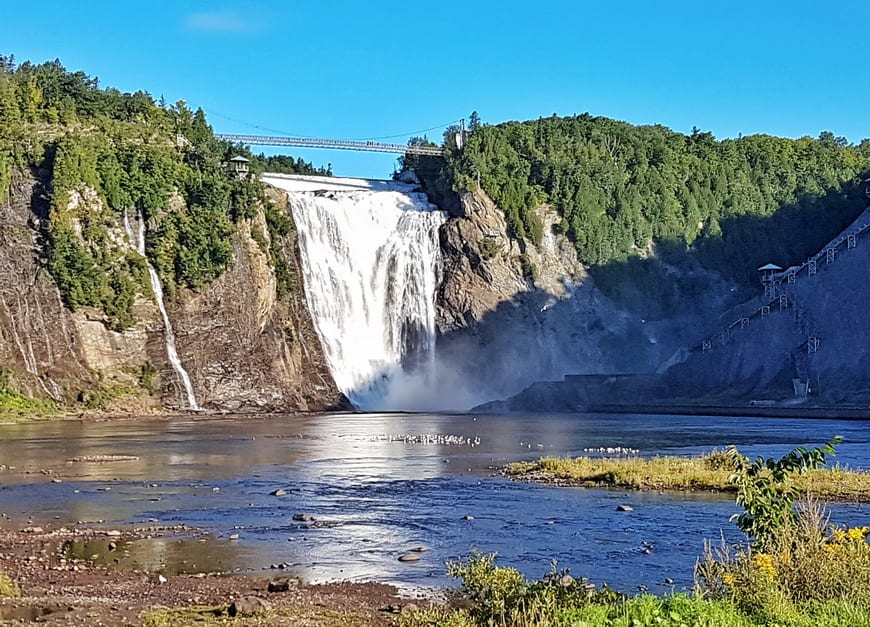 Day 2 on a Quebec road trip: Quebec City to La Malbaie via Baie St. Paul
Driving distance: 140 km
You've got a whole day to knock off the 140 km and you can comfortable drive it in less than two hours. This is one of the prettiest sections to drive on the Quebec road trip, so don't rush it.
Montmorency Falls
If you didn't make it to Montmorency Falls while you were in Quebec City, be sure to stop in and see them. They are 30 m higher than Niagara Falls and quite the sight to behold.
Baie St. Paul
Next head for the pretty town of Baie St. Paul, just 95 km from Quebec City. It's a spectacular drive, especially as you drop down into the town. I think you'll find it reminds you of Old Quebec, without the cobblestones and a tad more compact but very pretty. Browse the art galleries, and blocks of shops, all locally owned. Drive down to the park on the bay and enjoy the views.
When you're hungry either pick something up at Boulangerie à Chacun Son Pain or grab a bite at Le Germain Hotel Charlevoix, where the train comes in from Quebec City.
Where to stay in Baie St. Paul

Should you want to spend a night, stay in Le Germain Hotel Charlevoix or one of the cute B&B's.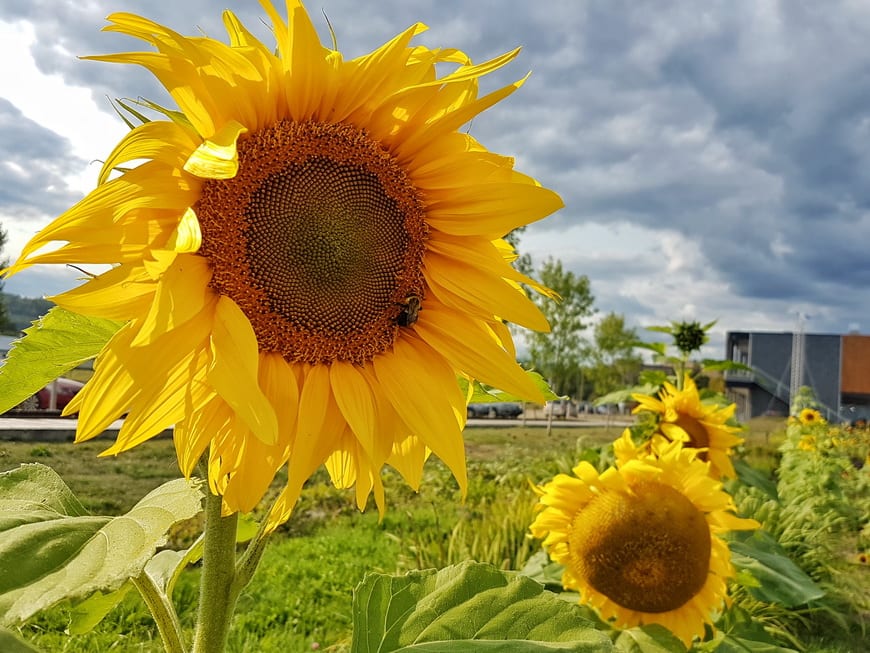 La Malbaie
The Quebec road trip from Baie St. Paul to La Malbaie along the north shore of the St. Lawrence River is a stunner. I did it in winter – under grey skies and it was still very beautiful. I guarantee if you're a photographer you'll want to stop at numerous points along this section of the Quebec road trip to Havre-Saint-Pierre.
Once in La Malbaie you can visit the Gardens of Quatre Vents. Tours only take place four times in a summer so plan accordingly if you love visiting gardens.
Head to Mont Grand-Fonds for some hiking. It's the end point of the week long Charlevoix Traverse – and a downhill and cross-country ski destination in winter so you can count on a large network of trails.
Where to stay in La Malbaie

Fairmont fans will want to stay in the beautifully situated Fairmont Le Manoir Richelieu. It's unlikely you'll want to leave the premises.

For a less expensive option that comes rated as superb check out Hotel-Motel Castel de la Mer.
Day 3 on a Quebec road trip: La Malbaie to Tadoussac
Driving distance: 74 km and a 10-minute ferry crossing
The distance from La Malbaie to Tadoussac is short – just 74 km, but it does involve a 10 minute ferry crossing from Baie-Saint-Catherine to Tadoussac. There is another option if you want to detour to Saguenay via Highway 170 and 172. It's a beautiful drive and I do suggest it seeing at least part of Saguenay Fjords National Park on the return trip (see Day 8 below).
Tadoussac, a small village located at the mouth of the Saguenay River where it meets the St. Lawrence River, is famous as a centre for whale watching. Beluga whales are commonly seen at the mouth of the river – or even up the Saguenay River, but unfortunately I never saw them on my visit.
What you can do in the Tadoussac area (including Les Bergeronnes)
Visit the Marine Mammal Interpretation Centre.
Wander the boardwalk in front of the colourful Hotel Tadoussac, stopping to check out the equally colourful Petite Chapelle, a wooden church – and one of North America's oldest, dating back to 1747.
Do the beautiful walk on the Sentier Pointe-de-l'Islet viewpoint trail where you might get lucky and see whales from shore.
Check out the Chauvin Trading Post, a must for history aficionados. It's a replica of the first fur trading post in Canada, built in 1600.
There are several whale watching cruises that offer a high potential of sighting some of the 13 varieties of whales that live in these waters. Visit Croisières AML and see what tour might appeal to you.
Stop at the Cap-de-bon-désir Interpretation and Observation Centre. Bring you warm clothes, a camera with a long lens and binoculars as this is a great place to spot whales. Sunrise or sunset is a particularly good time to go as the light is soft and beautiful.
If you want something more adventurous drive north 20 minutes to Les Bergeronnes. Book a trip with Mer et Monde to go kayaking with whales. They're popular so book well in advance.
Take a kayaking tour into the Saguenay Fjord.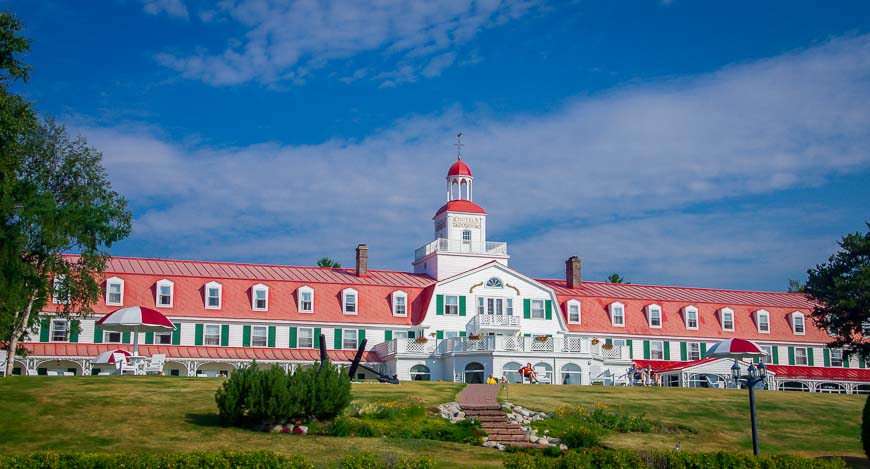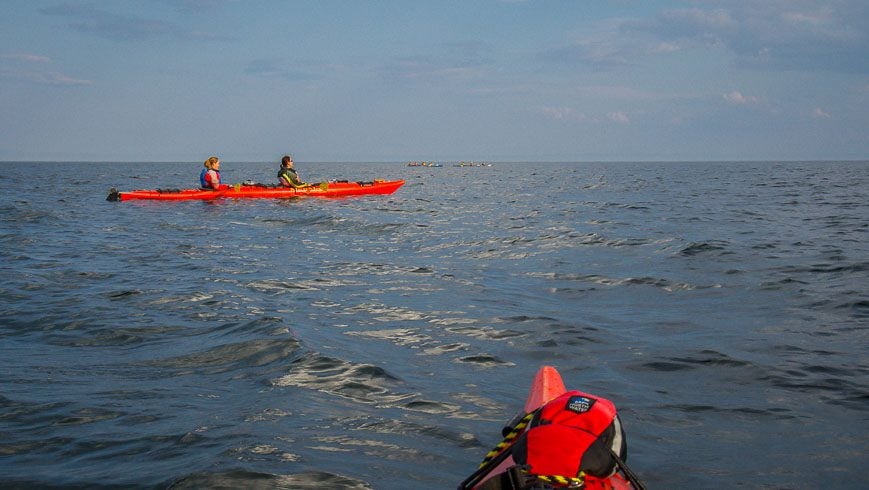 Day 4 on the Quebec Road Trip: Tadoussac – Baie Comeau
Driving distance: 200 km
It will take you just 2.25 hours to reach Baie Comeau without stopping. It's another five hours to Sept-Îles from Baie Comeau so it's certainly possible to do this part of the Quebec road trip comfortably in a day, but you'd have to nix a lot of the suggested stops.
On the way to Baie Comeau visit Parc Nature in Pointe-aux-Outardes – a peninsula with over 30 kilometres of beaches and sandy areas. Try and spot some of the 200+ bird species and 300 plant species that have been sighted here. And end the day if you're so inclined, sleeping in a bird's nest.
There's a new bike path on the peninsula to explore that ends in Pointe-Lebel. It sits at the confluence of the St. Lawrence and Manicouagan Rivers – a place where the tides work their magic forming massive sandbars – so it's also a perfect spot for a beach walk.
With Baie Comeau at the entrance to the Manicouagan-Uapishka UNESCO World Biosphere Reserve, there's plenty of nature to explore if that's what you're after. Check out the fascinating Jardin des glaciers where you can "feel the 4 kilometre Laurentian ice sheet under your feet".
Otherwise, stroll through Baie-Comeau's pretty downtown checking out the boutiques.
Where to stay in Baie Comeau

If you're after river views choose Hôtel le Manoir Baie-Comeau. See the photo below.

Le Grand Hôtel is a great choice if you want a downtown location.
Day 5 on the Quebec road trip: Baie Comeau – Sept-Îles
Driving distance: 230 km
Seventy five minutes and 94 km east out of Baie Comeau is the road to Pointe-des-monts. The 98 foot tall lighthouse, built in 1830, is the second oldest along the St. Lawrence River. Enjoy superb views up and down the river. You can also spend the night in the lightkeeper's cottage on the property.
Continue to Sept-Îles, about a two hour drive away. Plan to spend the night in the city so you can take advantage of a boat trip and explore the seven island archipelago. This is prime whale watching country again, but even if you don't see anything, it's fun to check out the deep-water port from the water and to explore Grand Blasque Island.
Grand Blasque Island
Grand Blasque is the only island in the archipelago that offers campsites. Though they are beautiful, be warned that they look across to an industrial complex, off in the distance – and you can hear some noise.
If you don't plan to camp, you can hike the trails on the islands, do some beach combing and take advantage of all the photographic opportunities. Birding is excellent too.
Where to eat in Sept-Îles
You can eat inside a giant lobster trap called the Le Casse-Croute du pêcheur lobster shack. It's down on the water and definitely worth doing. Les Terrasses du Capitaine is another solid choice.
Where to stay in Sept-Îles

I stayed in Hôtels Gouverneur Sept-Îles on the main strip. Rooms aren't fancy but they are comfortable. And the hotel is minutes away from everything.

Another good choice is Hôtel Sept-Îleswith its own private beach area.
Day 6 on a Quebec Road Trip: Sept-Îles to Havre-Saint-Pierre
Driving distance: 219 km
It's a 2.5 to 3 hour drive, depending on road construction, to cover the 219 km on this section of the Quebec road trip that ends in Havre-Saint-Pierre.
On this part of the Quebec road trip be sure to stop at the impressive 35 m high Manitou Falls, about 35 minutes north of Sept Îles. There's a walk from the parking lot past the upper falls – which are remarkable in themselves – down to thundering Manitou Falls. Bring a plastic bag to protect your camera as there is a lot of mist from the falls, even along the trail.
Also be sure to stop in at the Mingan Island Cetacean Centre, a research organization dedicated to studies of both marine mammals and marine ecosystems. Visit the centre to learn about the whales that live in the St. Lawrence River via several rooms with very interesting displays.
There is the opportunity on occasion to join researchers on their vessels. If that is of interest be sure to contact them well in advance of your Quebec road trip.
If you're hungry – coming or going to Havre-Saint-Pierre, I'd recommend a stop at the food truck outside the cetacean centre for a delicious lobster sandwich.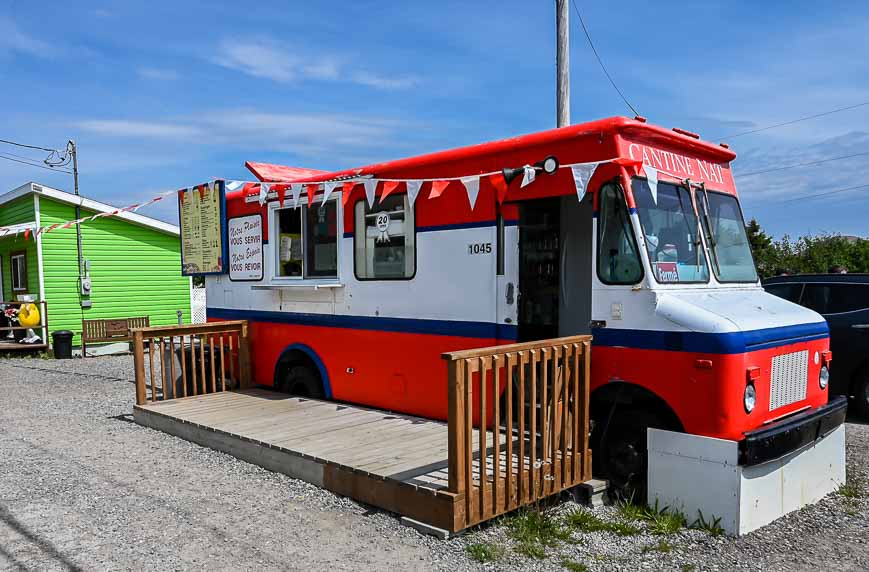 Where to stay in Havre-Saint-Pierre

In Havre-Saint-Pierre stay in Auberge Boreale.

In Mingan Archipelago National Park Preserve you have three overnight options – camping on a number of the islands, an oTENTik experience or best of all – a stay in a beautiful lightkeeper's cottage on Îles aux Perroquets.

Visit the Parks Canada website to learn the details about camping and overnight stays on the islands in the Mingan Archipelago.
Day 7 on the Quebec road trip – Option 1: Havre-Saint-Pierre to Kegaska return
Driving distance: 404 km return
I admit that I have not done the drive on the Quebec road trip to Kegaska, the easternmost village at the end of Highway 138. But I'd love to. This looks like such a pretty area and for me there's always something special to get to the end of a very long road. Note that the highway changes from pavement to gravel, 8 km east of Natashquan.
Get into exploring mode on your Quebec road trip and stop where the wind blows you. Enjoy fabulous views of the St. Lawrence River as it widens. If you could see for hundreds of miles, the shore near Corner Brook, Newfoundland would pop into few.
Some things you can do on a lonely stretch of Highway 138.
Stop in the small fishing village of Baie-Johan-Beetz and explore the rocky shoreline. Keep an eye out for seabirds.
Visit Natashquan, the birthplace of Gilles Vigneault, known for his songs and poetry.
Admire"Les Galets" fishermen's storehouses
Check out Natashquan River Falls
Visit the Innu village of Pointe-Parent.
Stop in at Le Bord du Cap interpretation center and admire the reconstruction of Natashquan's first general store
Enjoy a meal at L'Échourie Café & Bistro. Try and catch one of the evening live music or storytelling performances.
Where to stay between Havre-Saint-Pierre and Kegaska

There are places to camp and some B&B's along the route. Check out the Cote Nord website for a full listing of campgrounds.

Visit the Quebec Original website for a listing of B&B's in Natashquan.

In Kegaska stay in Auberge Brion. You can find them on Facebook or call them at 418-726-3738.
Day 7 on the Quebec Road Trip – Explore Mingan Archipelago National Park Reserve
The Mingan Archipelago National Park Reserve is comprised of close to 1,000 islands and islets scattered off the coast of eastern Quebec. Look for an abundance of large limestone monoliths, some dating back 450 million years. These fantastically shaped rocks, carved by nature are a big reason to visit the park for nowhere else in Canada "will you see such an abundance of these rocky sentinels."
Two towns provide boat access to the Mingan Archipelago – Longue-Pointe-de-Mingan and Havre-Saint-Pierre. In Longue-Pointe book a tour with Famille Loiselle. Apart from seeing whales and other marine creatures, one of the big highlights is all the puffins you'll see especially on Île aux Perroquets.
Read: A Trip to Mingan Archipelago National Park in Quebec
Day 8 – 9 on the Quebec road trip: Return to Quebec City – with a stop in L'Anse-Saint Jean
Driving distance: Approximately 750 km
While not technically along the north shore of the St. Lawrence River, a continuation of the Quebec road trip to the Saguenay area is highly worthwhile. You can access it from Tadoussac via Highway 172. If you do that you could drive to Saguenay and return along Highway 170 to meet Highway 138.
What to do in the Saguenay area
Go kayaking – for a day or longer. I highly recommend my 2 day Saguenay Fjord kayaking adventure. Even though we didn't see a single whale, we still enjoyed incredible scenery and I had an exceptional experience – cue the divine food on the trip.
Bike a section of the Blueberry Route. I cycled the whole route over three days.
Check out the boardwalk in Chicoutimi.
Where to stay near Saguenay
I stayed in one of Quebec's Most Beautiful Villages – L'Anse-Saint-Jean – and would highly recommend it. This is where my kayaking tour started. I stayed at Auberge la Fjordelaise, across from the beach and loved the ambiance of the hotel.
Day 10: The end of the Quebec road trip – L'Anse-Saint Jean to Quebec City
Driving distance: 250 km
Today is an easy drive back to Quebec City. It's time to reflect on all the places you've visited, the people you've met and the nature you've been privileged to see.
If you're already thinking about another Quebec road trip I'd recommend the Gaspe region. My friend's at Offtrack Travel have written a detailed post that takes you from Montreal to the Gaspé so check them out if you're into road-tripping.
Click on the photo to bookmark to your Pinterest boards.