Did you know that Alberta's only canoe circuit is located a few hours north of Edmonton in Lakeland Provincial Park, one of the Alberta parks most people in the southern part of the province are unfamiliar with. It's called the Lac la Biche Canoe Circuit and it's something any outdoor adventurer will love. Allow 3 to 4 days or more if you want to hang out in campsites.
Before you hit the water you will have to organize a canoe (or kayak), assuming you don't own one. Although you can rent one in nearby Lac la Biche, you must be able to tie it down to your car and transport it to the park – about a 40 km drive away.
And a map would obviously be helpful as well. There is a downloadable version of the map in miniature you can get off the park website but it's the bigger version you'll want. Phone 780-623-5235 and they'll mail you a copy or head to the park office at 9503 Beaverhill Road in Lac la Biche, Monday to Friday, 8:15 AM – 4:30 PM to pick one up.
This post includes some affiliate links. If you make a qualifying purchase through one of these links, I will receive a small percentage of the sale at no extra cost to you. Thank you very much for your support.
Lac La Biche Canoe Circuit summary
All told we paddled 38 kilometres (23.6 miles) and portaged about 12.5 km (7.8 miles). Although the first two days were very easy, the last had the bulk of the portaging and a longer paddle. For this reason many people like to add another night so it's a little less physically taxing.
The ice usually leaves the lake around the May long weekend. If you go early in the season, be very aware of hypothermia, and paddle to your comfort level.
Start at the Jackson Lake staging area. You can paddle the Lac la Biche Canoe circuit in either direction.
If you're into fishing, don't forget your gear and a fishing license.
You can rent canoes or kayaks from Off Road Rentals in Lac la Biche. Canoes rent for $65 per day, single kayaks for $45 per day and doubles for $55 per day. If you want them delivered to the trailhead, the cost will be approximately $50 but you can also pick up in town and avoid the cost. Don't forget a few Styrofoam noodles so you won't damage the roof of your car. Lakeland Expeditions is another company you can rent from.
You can't reserve campsites. Sixteen backcountry campsites are available on a first come first served basis. Many of the campsites can handle larger groups. I would recommend paddling on weekdays as there is less competition for campsites.
Camping is free.
You need a water filter or water purification tablets!
As you can see from the photos, dogs are allowed.
Be bear aware and bring a bear-proof container or a couple of carabiners, a length of rope, and some waterproof bags to hang your food.
It's a treat to be able to do a multi-day canoe trip in Alberta, especially one that is so accessible.
Some bad news
Before you even put a paddle in the water or catch sight of a lake, you must portage three kilometres along the Jackson Lake Trail to reach Jackson Lake.
Fortunately there are loads of canoe carts at both ends so it's easier than it might sound. We did it in 40 minutes, with a few short stops to eat raspberries that lined the trail near the parking lot. The trail is car-width wide with an easy grade.
The start of the Lac La Biche canoe circuit on Jackson Lake
When you arrive at Jackson Lake, put on your sandals as part of this dock sinks with any weight. Expect some biting insects here – but you lose them the minute you're on the lake. Also, part of the dock is extremely slippery so be careful unless you're looking for a swim.
Paddling the Lac la Biche Canoe Circuit
We chose to paddle the canoe circuit in a clockwise direction – as most seem to, but you can do it either way. Choosing which campsites you want to stay in may dictate the direction you go.
We were told that the campsite on the peninsula into Kinnaird Lake was a beauty by a couple of guys in the parking lot so we decided to aim for that one on the first night. If you get a late start or the weather is iffy, there is a campsite for three parties near the Isthmus Bridge, just 30 minutes into the paddle and it's a good one.
Our campsite like all that we saw has been heavily used with little bits of garbage like bag ties lying around. If everyone took a few small pieces of garbage out, it would be cleaned up in no time. Please follow Leave No Trace principles.
Campsites do come with a privy – though they're all a little too close for comfort and quite visible from the picnic tables.
Bear boxes should be at every campsite though the campsite south of Blackett West Island is missing one. There is a fire ring and a picnic table and some like the first we stayed at had a couple of chairs which was actually a treat – as it was the perfect place to watch the loons and the beaver swim by.
Read: Tips for Staying Safe in Bear Country
The first campsite had a sandy beach, a small one only but it made the landing easy. There are some that are difficult to land and launch from particularly the campsite for four parties on the east side of Jackson Lake. It's almost like a small cliff.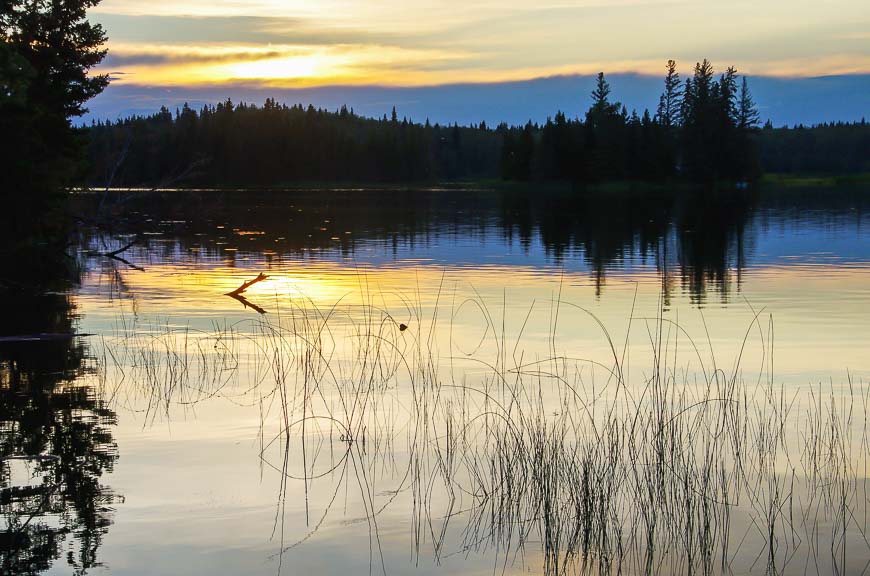 Heavily used campsites on the canoe circuit but still a great experience
Despite the fact the campsites are heavily used, the experience being out on a lake in the woods with barely a biting insect is a stellar one. The paddling is easy unless the wind blows up and as you can see in the photo below, it's a great family trip even if your child is only 16 months old. (Their friends had a 10 month old with them.)
We went to sleep listening to the loons. We woke to the loons. The beaver around the peninsula kept us entertained for a couple of hours and on several occasions we enjoyed the sight of deer wandering through our campsite, including a family of three. Our dog was none the wiser.
Day 2 paddling the Lac la Biche Canoe Circuit
On the second day we decided to skip the 0.6 km portage from Kinnaird to Blackett Lake and opted instead to canoe to the south end of Kinnaird, through the grassy narrows and into Blackett Lake.
This is a great choice as it's very pretty. Once on Blackett Lake you have a choice of five campsites. We made our way to the one on the north side of Blackett West Island as we figured it would have more expansive views and more wind – to keep any insects away. Fortunately a party of two canoes was just leaving as we pulled up. It was a prettier campsite than the first and the only thing missing was a sandy beach.
It took us only 2.5 hours to paddle here – at a steady pace. Since it was so early, I wondered about continuing. But the next campsite was on McGuffin Lake and we had no idea if it would be taken already. So rather than risk losing a great campsite we stayed put and enjoyed a relaxing afternoon of reading and napping.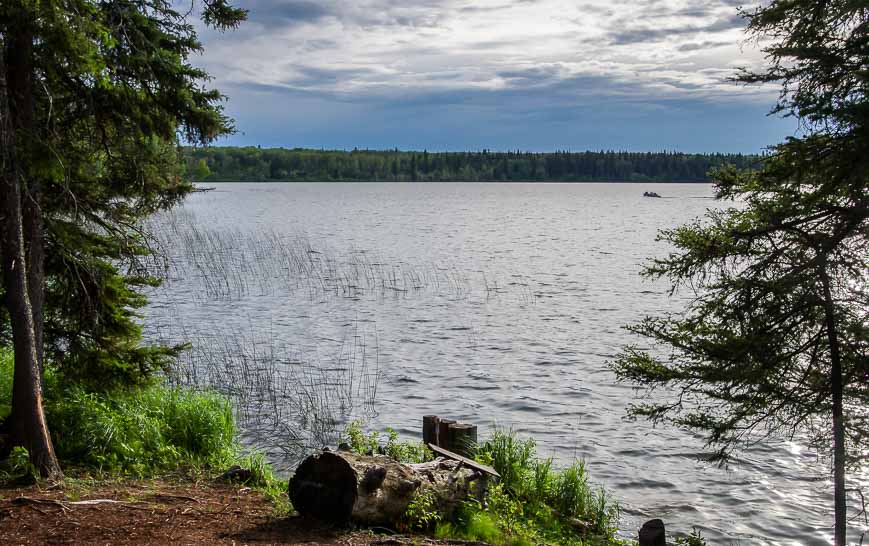 In hindsight, it's just as well we stayed put.
Although it's an easy paddle across Blackett Lake the portage took us longer than we expected. Its 1.6 km one way and we had to do it three times – once to drop off the first load and pick up the cart – because it was on McGuffin Lake and a second time to take the canoe and the rest of our gear. We didn't end up using the cart at all as the two families with babies were also at the portage. We figured they needed the cart more than we did.
This portage is not as easy as the first despite the distance being shorter. It's got a few more bumps and hills as well as some mud patches and overgrown bushes – but it's doable.
You can see the dock at McGuffin Lake sinks with any weight but at least it provides an easy place to launch.
It's delightful paddling across McGuffin Lake to the next portage.
The map says the portage from McGuffin to Jackson Lake is 300 metres but the sign at the portage says 600 metres. I have no idea what the real length is but it's a pretty quick trip. We still had to do it three times – though at least we could use the canoe cart on the final hike to Jackson Lake. (It would be really nice to have a few more canoe carts at these portages!)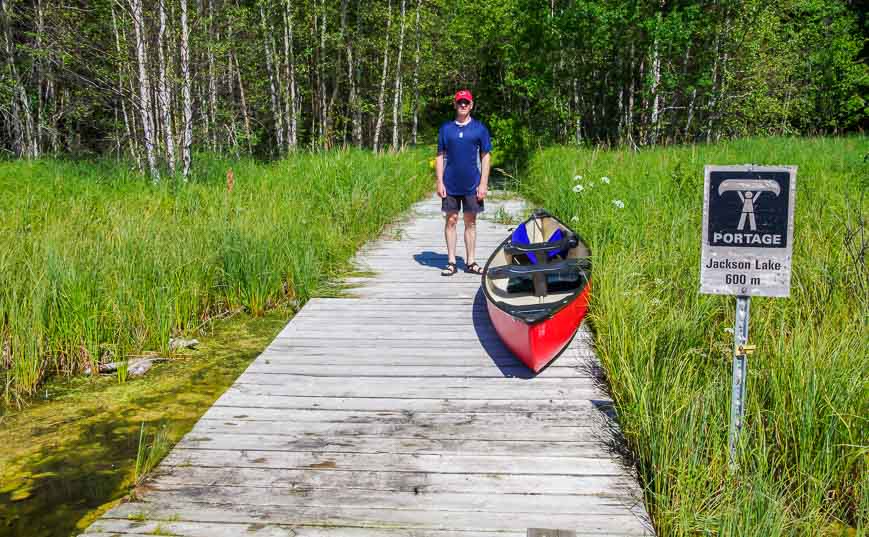 The paddling is particularly beautiful through the sheltered section of Jackson Lake. Look for merganser families and beaver houses galore.
On our trip the wind picked up on the final leg back to the launch site. Out of nowhere the skies darkened and you could hear thunder. Whitecaps formed within minutes so we had to make a call – pull over and wait out the storm or make a dash for it. We had a really good look at the direction the clouds were moving; as it seemed to be away from us so we decided to go for it.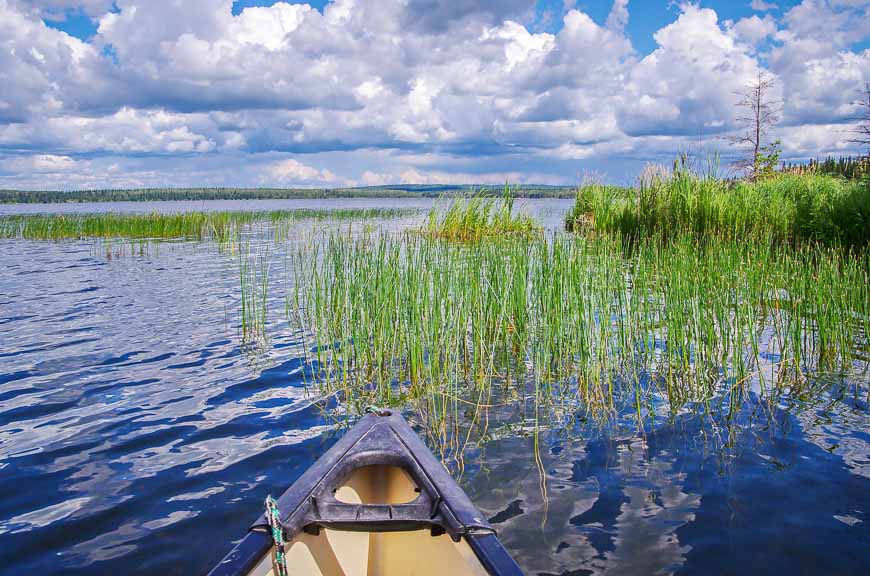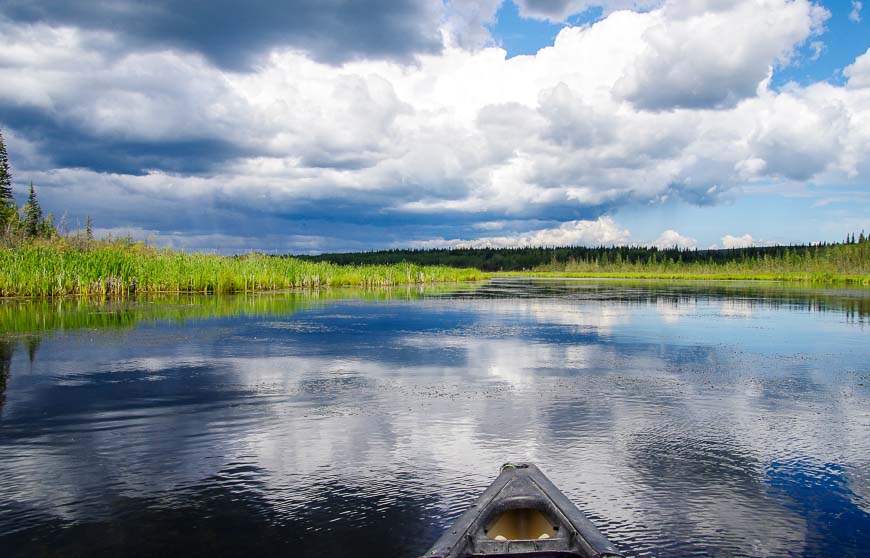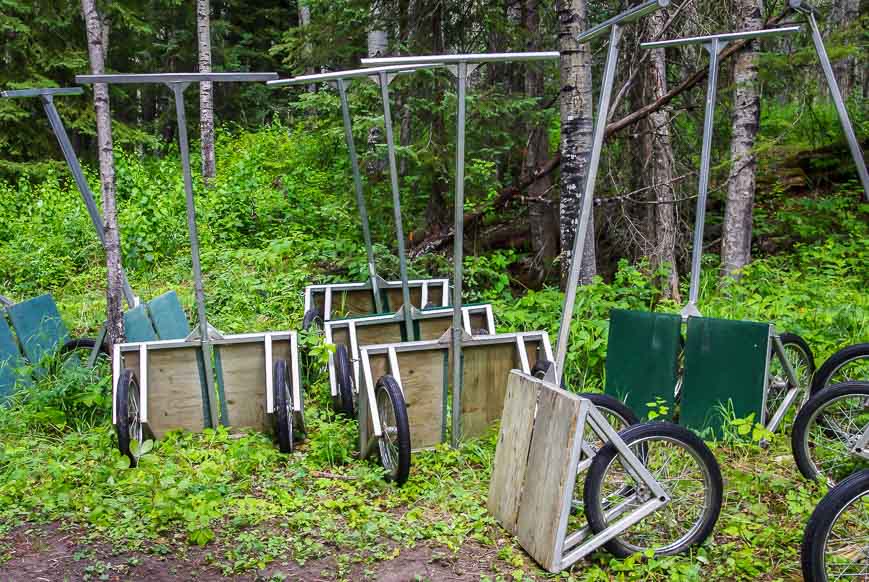 Use common sense on the lakes
As you can see we made it out without so much as getting a drop of rain on us. On other canoe trips we have pulled over and set up a tent for hours at a time to let a storm pass. Know your limits and be prepared to find a safe landing spot on short notice. On this circuit you're never far from shore so it's easy to do.
A few things I'd recommend for the canoe circuit
Is the Lac la Biche canoe circuit something you'd like to do?
Further reading on Alberta paddling trips
Click on the photo to bookmark to your Pinterest boards.
Thank you to Travel Alberta for supporting this post. It was a real pleasure to explore the area north of Edmonton and all thoughts/opinions as always are my own.