It took me six years of living in Calgary to do the Tunnel Mountain hike in Banff. Now that I've done it I wonder why it took so long. This short must-do hike delivers a workout if you go fast enough, panoramic views of Banff and the valley including the Fairmont Banff Springs Hotel from above and red chair moments on the summit. And you can do the Tunnel Mountain hike in spring, summer, fall or winter.
Tunnel Mountain hike summary
Distance: 4.8 km return4.8 km (3.0 miles)
Elevation gain: 260 m or 853 feet
Difficulty: Easy
Time needed: Allow about 2 hours to do the return hike. The trail is well graded with switchbacks that give you lots of different views.
Dogs: Leashed dogs are allowed on the trail.
Bears: Even though the Tunnel Mountain hike is a popular one, I'd still recommend taking bear spray. You can rent bear spray in Banff at Snowtips-Bactrax, Ultimate Sports, Radventures and the SkiBig3 Adventure Hub.
Best season: It's a great year-round hike. I love it best in winter when the view from the top showcases the mountains draped in snow.
If you only do one hike in Banff, I think it should be Tunnel Mountain as it's short but delivers great scenery and its ideal for understanding the layout of Banff and the Bow Valley.
You do need a National Park pass to visit Banff – and it must be prominently displayed on your car's windshield.
You can walk to the start of the Tunnel Mountain hike from downtown Banff. It's about a kilometre one way.
Check Banff trail reports before you go.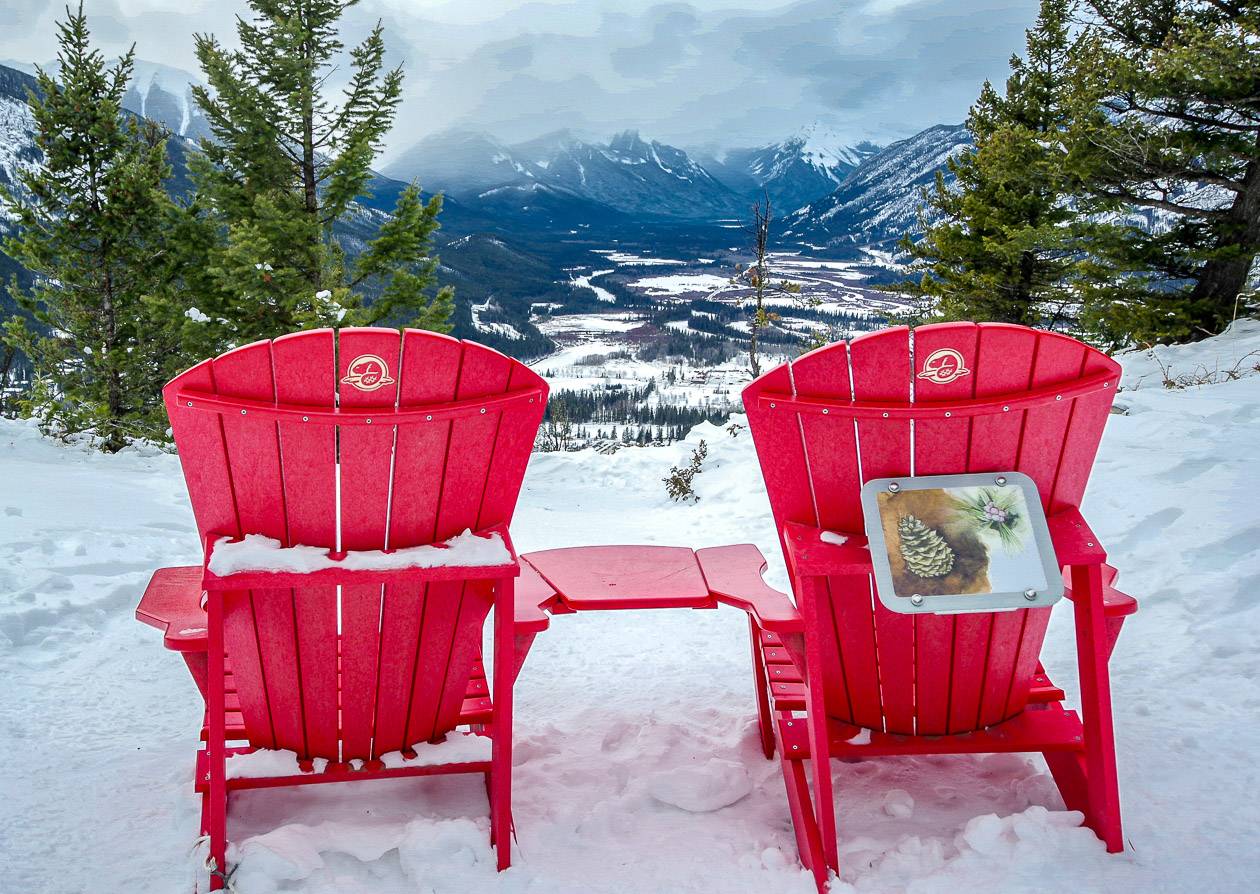 Finding the trailhead for the Tunnel Mountain hike
In theory you can easily access the trailhead on foot from downtown Banff (add extra hiking time of about 15 minutes each way) but you can also drive to a large parking lot. To get there take Banff Avenue to Wolf Street and go east until you reach the end of the road. Turn right onto Grizzly and then almost an immediate left onto St. Julien Road. Follow it to the Tunnel Mountain Trailhead – lower parking area.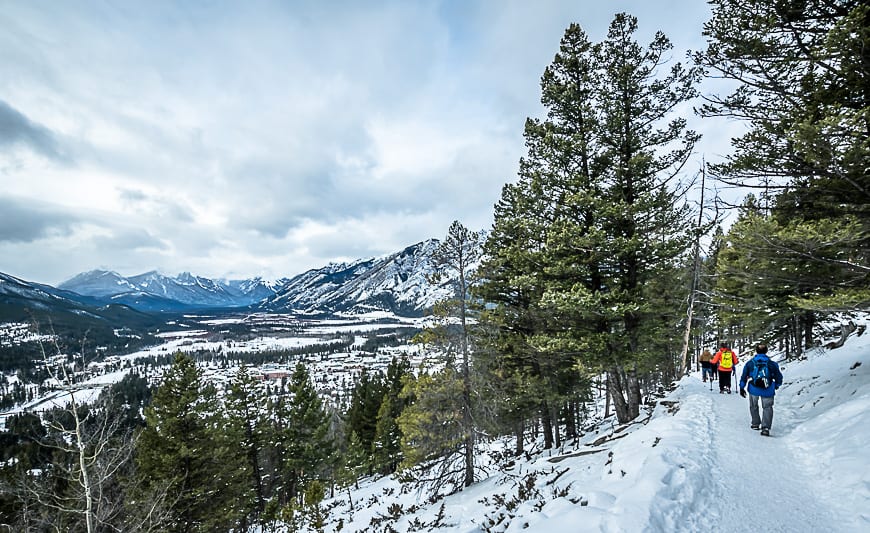 This post includes some affiliate links. If you make a qualifying purchase through one of these links, I may receive a small percentage of the sale at no extra cost to you. Thank you for your support.
Tunnel Mountain hike details
The Tunnel Mountain hike is a popular year round hike with both locals and visitors alike. The trail is only 2.4 km one way with a total elevation gain of 260 m (853 feet). The first 0.5 km switchbacks up a trail from the lower parking lot to a signed trailhead on Tunnel Mountain Road. This part of the road is closed in winter – but there is the option of adding to your hike by walking up or down it.
As you can see in the photo below the grade of the trail is moderate and it's certainly family friendly.
Once you reach tree line the views unfold. Looking west over Banff you can see the Mt. Norquay ski area along with the walking/biking/snowshoeing trails through the marsh and along the Bow River.
Climb a little more and you get a glorious view of the Fairmont Banff Springs Hotel along with the skating rink – not pictured. A few minutes later the views of Mt. Rundle unfold – along with the valley looking east towards Canmore. On a bluebird day this would be an incredible place to be.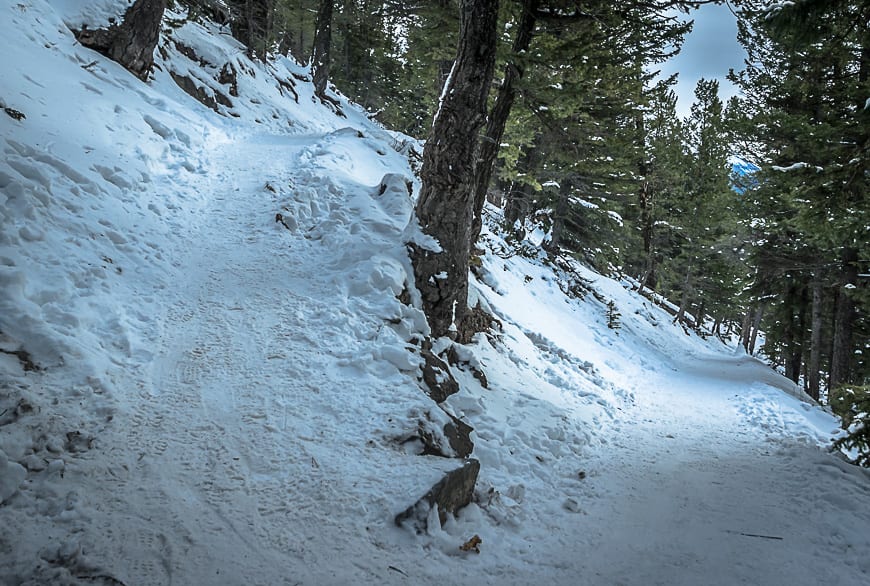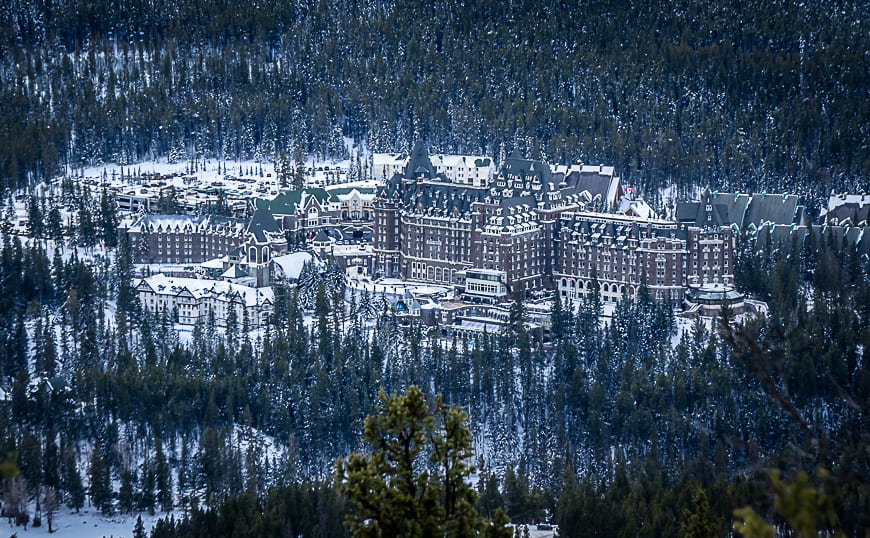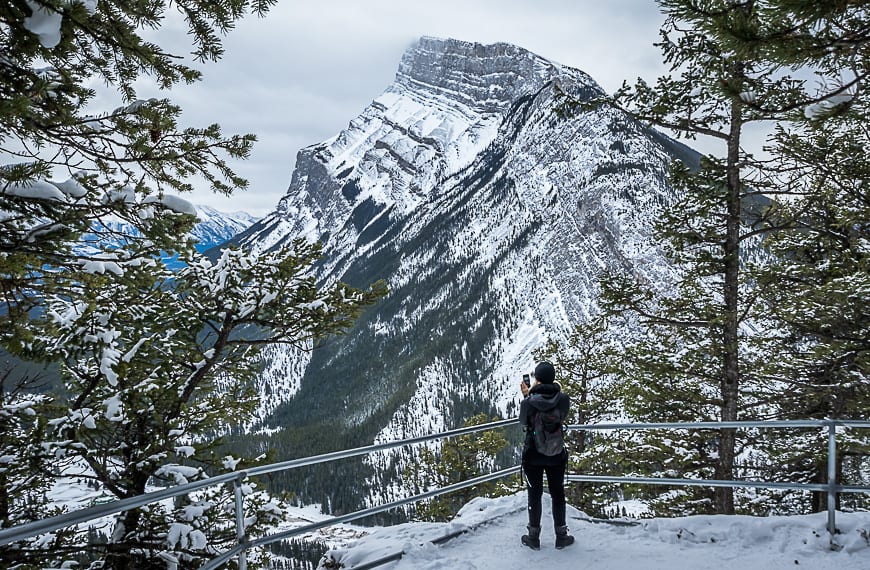 Red chairs on the summit
On the summit (elevation 1,690 m/5,543 feet) you'll find some of Parks Canada's red chairs. Sit back and enjoy the panorama – at least on a warm day.
This young couple are learning about the endangered limber pine – a relative of the whitebark pine. According to the sign "the population is in serious decline due to the effects of white pine blister rust (a fungus that attacks the tree) along with reduced wildfire and climate change."
From there you can loop around the summit – sticking to trails to prevent erosion. On the east side there was noticeably more snow on the trees, a veritable winter wonderland.
The descent can be speedy especially if it's icy. Consider bringing some icers or microspikes if it hasn't snowed in a while. I always carry a pair in my pack in winter, just in case I run into ice.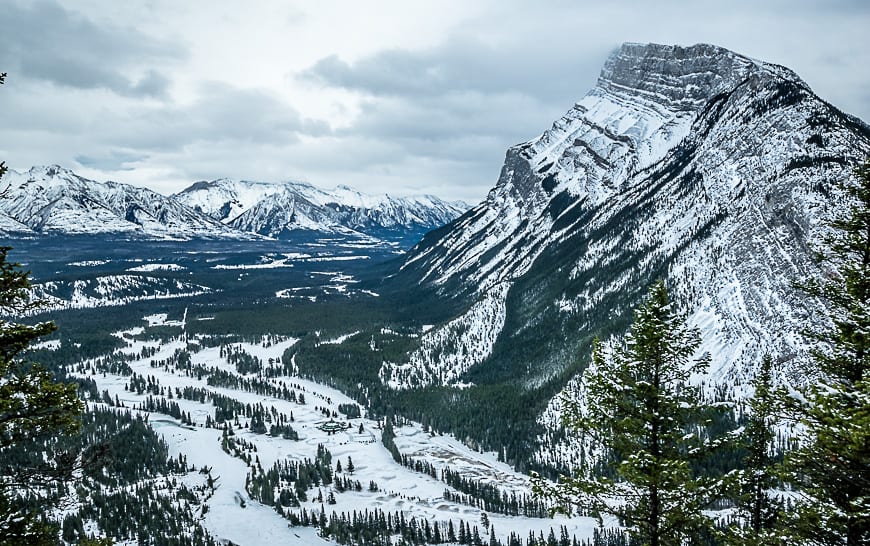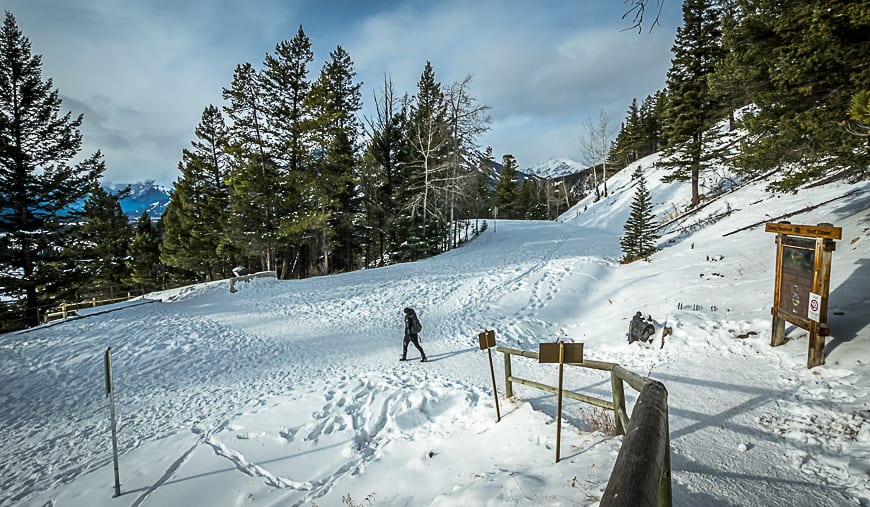 Tunnel Mountain hiking record
One of the signs you'll come across on the hike describes the accomplishment of Banff resident, Anne Ness. Reportedly she climbed Tunnel Mountain more than 8,000 times over 40 years. Sometimes she'd do it twice in a day!
History of Tunnel Mountain
Originally called Sleeping Buffalo Mountain by the Stoney Nakoda people because its shape resembles a buffalo sleeping on its side, its name since 1882 has been Tunnel Mountain. (There is some talk about changing the name back to a traditional name.)
The Canadian Pacific Railway proposed blasting a route through the mountain and while that never happened the name Tunnel Mountain stuck.
I recommend every visitor hike to the summit of Tunnel Mountain, not only for the experience but to get the lay of the land from above. All the Banff landmarks can be seen and you'll have a better visual map.
Further reading on hikes in the Banff area
For up to date information visit the Banff National Park website.
What to take on the hike
Use a dose of common sense and take water, a protein bar or two and extra clothes or rain gear if the weather looks cold or bad. It's not a long hike but you should still go prepared. If it's winter the one thing that will make the walking easier if there is any ice is a pair of trail crampons or microspikes. You might also find a pair of hiking poles helpful on an icy day.
Where to stay in Banff
The following are suggestions across all price points.
The Fairmont Banff Springs Hotel is always a beautiful place to stay – even if it's on the pricey side.
I'd suggest The Mount Royal Hotel if you want to be in the thick of things. Also they have an outdoor hot tub on an upper floor with a great view.
The Buffalo Mountain Lodge never fails to impress. Enjoy an outdoor hot tub and a great onsite restaurant. Free bikes for guest's use are available in summer.
On the hotel strip I like the Moose Hotel. If you're traveling in a group or as a family then the cheerful and relatively new Canalta Hotel is a superb choice.
For a hostel experience check out Samesun Banff.
Location map of the Tunnel Mountain hike
Click on the photo to bookmark to your Pinterest board.