June to August is the most popular time for sea kayaking in Canada, especially if you're heading for the west coast and the waters around Vancouver Island. With luck the weather will be dry or drier and summer-like.
The big question is where you should go when there are so many fantastic spots around Vancouver Island to paddle. Here are 5 sea kayaking adventures in BC that I can personally recommend.
This post includes some affiliate links. If you make a qualifying purchase through one of these links, I will receive a small percentage of the sale at no extra cost to you. Thank you for your support.
Kayaking adventures in BC – Johnston Strait accessed from Vancouver Island
Highlights: The largest concentration of Orca whales on the west coast; interesting island paddling around West Cracroft Island all the way to Mamalilaculla
Hazards: Be prepared for strong tidal currents, wind and boat wake. The weather system here is colder and rainier than the area south of Campbell River. The water is freezing cold and I recommend a wet suit for this trip. Johnstone Strait is two miles across. It can be very choppy and currents can be a problem for novice kayakers.
***Kayak Weynton Passage and Blackney Passage at slack tide only.***
Camping: Spots can be hard to come by. Try the Blinkhorn Peninsula or Kaikash Creek (it can get busy with groups). On the other side of the strait try Pig Ranch, Growler Cove or Weynton Island.
Number of Days Needed: 3 or more depending if you include the Broughton Archipelago
Launch: At Telegraph Cove. You'll likely have to pay a fee to launch and to leave your car. You can pick up last minute supplies in Telegraph Cove.
Desolation Sound accessed from the Sunshine Coast
Highlights: Spectacular mountain scenery, warm water, warmer weather than most of the other kayaking options, swimming possibilities, pretty islands, oysters
Hazards: Boat traffic and wake
Camping: In prime time camping spots can be very hard to find, and some campsites require negotiation of sharp oyster beds to get your kayak above the high tide mark. Try the Copeland Islands (beautiful), Curme Islands (outstanding), Martin Island (lots of room here), Kinghorn Island (a tough place), Forbes Bay, Roscoe Bay
Number of Days Needed: Three to 10 days depending on whether you do a loop up to Toba Inlet and around East or West Redonda Islands
Launch: From the town of Lund on the Sunshine Coast. There's a great bakery here if you want to stock up on goodies before you head out. You could launch from Cortes Island too if you were coming from Vancouver Island.
Tofino and Clayoquot Sound Area
Highlights: Beautiful beaches, virgin rain forest, Hot Springs Cove (the hot spring is beside the ocean), lots of bird-life, grey whales, excellent fishing
Hazards: Boat traffic, swells, heavy surf, shoals, fog
Camping: Lots of choice though the outer beaches are accessible only via a surf landing – unless you want to hump your gear across the islands
Number of Days Needed: 3 to 10 depending on how far you want to paddle and how many lazy days you want to enjoy
Other: You can easily do a week's kayaking trip on the calmer inside passage. In fact we kayaked all the way up to Hot Springs Cove and had a beautiful white sand beach about a mile from the cove to ourselves for a few days. You should be a competent paddler to attempt the outside route.
Launch: Right from the wharf in Tofino
Read: A Kayaking Trip in Clayoquot Sound, BC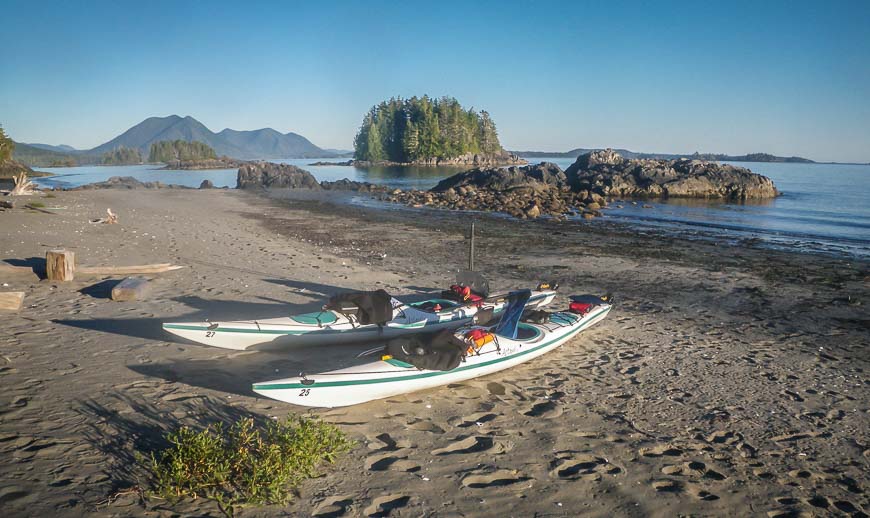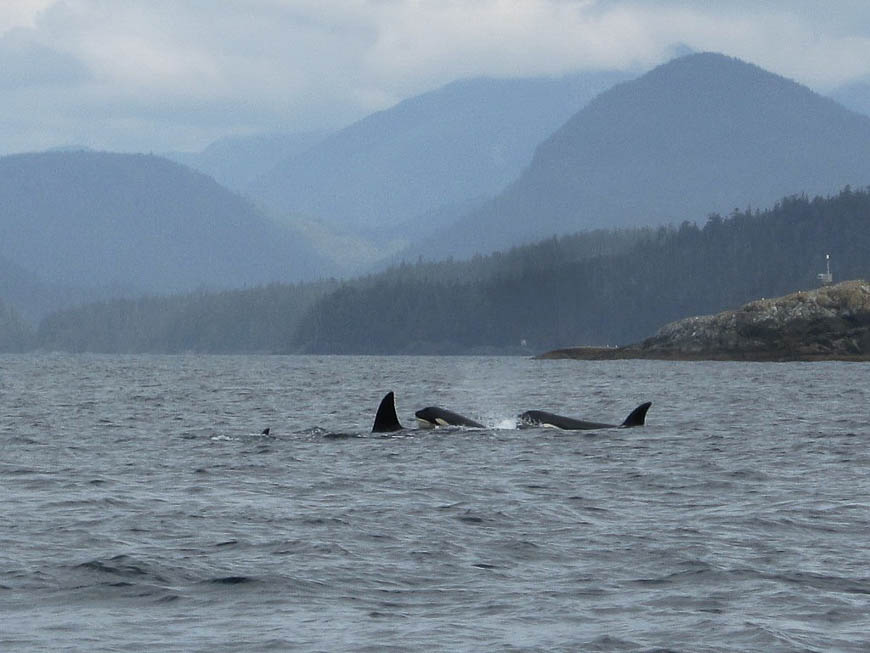 Kyuquot Sound, the Bunsby Islands, the Mission Group all the way up to the Brooks Peninsula
Highlights: Fantastic variety and amount of wildlife, large seabird colonies, remote coast of the Brooks Peninsula with its beautiful beaches and freshwater streams, beautiful islands, majestic scenery, fewer people, excellent fishing
Hazards: Challenging, exposed coast paddling, fog, heavy seas
Camping: Camping near Spring Island, on the Bunsbys (I've never been able to get a spot there), Mission Group and the brooks Peninsula
Number of Days Needed: 7 – 10 ideally, especially considering the difficulty of just getting to Zeballos and Fair Harbour
Other: This area ranks right up there as one on my all-time favourite places to paddle. Fortunately the two times I kayaked to the Brooks Peninsula the seas were calm. It's not a place you want to be caught out in! Island paddling is delightful and there is a ton of exploring to do. Some people get a boat ride out to the Brooks Peninsula from Kyuquot and just use it as a base. I understand that there's a paddle up espresso bar in Kyuquot now.
Launch: Launch from Fair Harbour if you want an uninteresting one day paddle out to Kyuquot Sound. Otherwise get a boat taxi and start in Kyuquot or on Union Island.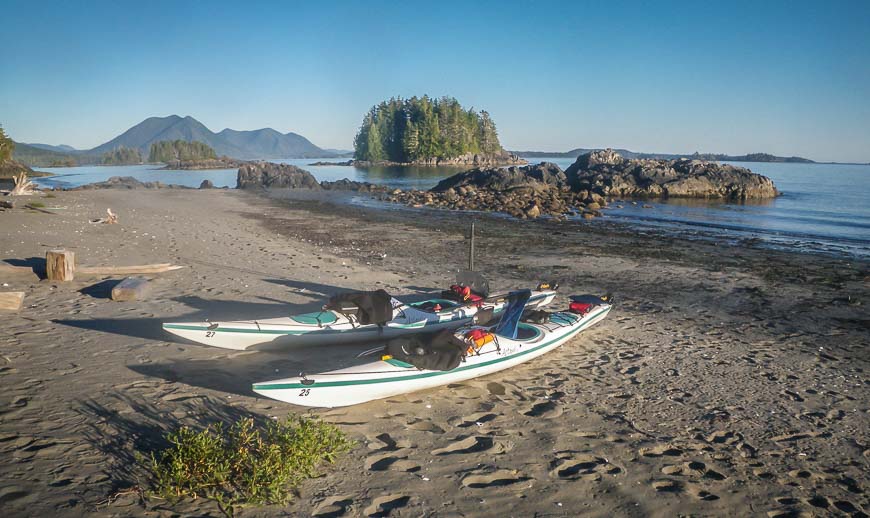 Broken Group of Islands, Pacific Rim National Park
Highlights: Beautiful scenery, sand beaches, west coast experience in sheltered water, the ride on the boat to the launch, coastal rainforests, eagles, tide pools
Hazards: Swells on the outer islands can be a problem, fog
Camping: Concessionaires collect fees at each campsite. It costs $9.80 per person per night plus the National Park entrance fee. The maximum length of time you can camp at any one spot is four nights and you can't camp any more than 14 days in total on the Broken Group. Summer is VERY busy here and you can expect to share campsites. There are eight official campsites. If you stay at Gilbert, Benson, Clarke or Turret Islands you will have easy access to the open ocean.
Number of Days Needed: 3-14 depending on how much exploring you'd like to do
Outfitters: There are loads of companies offering tours of the Broken Group. Going with a tour is certainly a good introduction to sea kayaking. Some you could consider are – Majestic Ocean Kayaking, Batstar Adventure Tours and Vancouver Island Kayak.
Launch: Park your car in Port Alberni and take the boat out the Alberni Inlet to launch. Contact the Lady Rose Marine Services to book your three hour boat ride.
Things to take on kayaking adventures in BC
Some things I'd highly recommend that I always have with me on multi-day paddling trips include the following:
Check out The Kayaker's Checklist – 100 Items to Pack for a full list of what to take.
Further reading on paddling adventures in BC
Click on the photo to bookmark to your Pinterest boards.