A four night, five day trip kayaking Murtle Lake in British Columbia's Wells Gray Park gives you a taste of the beauty in this waterfall-filled park, but you'll likely leave wishing you'd planned on a longer stay.
Murtle Lake isn't a place many have heard of, but if you like kayaking or canoeing, make it a point to visit one summer. Murtle Lake is pristine. The setting, ringed by mountains is gorgeous, especially at the end of the north arm. While it is heavily forested around the lake, there are loads of white sandy beaches that make perfect camping sites. And interestingly, Murtle Lake is the largest canoe or kayak-only lake in North America.
This post includes some affiliate links. If you make a qualifying purchase through one of these links, I will receive a small percentage of the sale at no extra cost to you. Thank you very much for your support.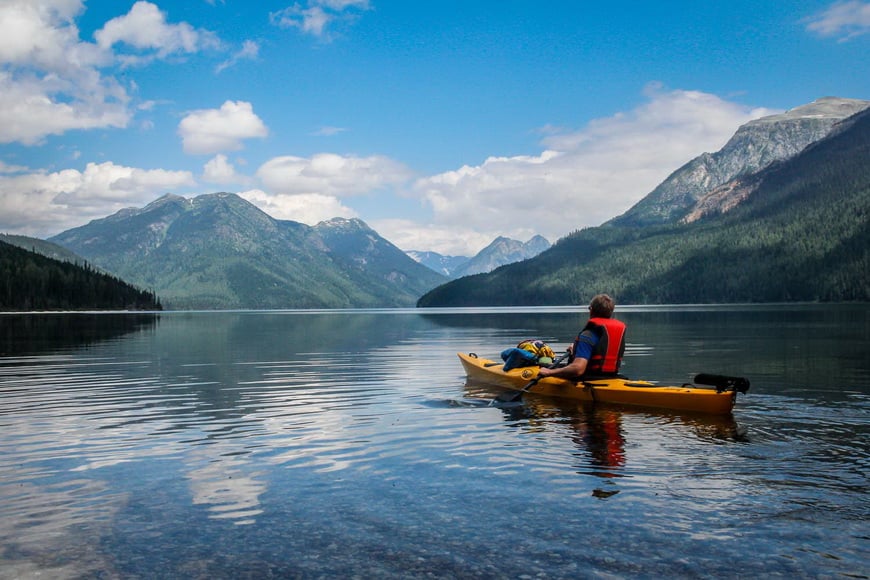 Murtle Lake kayaking trip summary
You'll find 69 campsites spread over 19 camping areas.
You can visit Murtle Lake for free, but if you want to spend a night in the backcountry, it's $5 per person per night.
Prime season for canoeing or kayaking Murtle Lake is June until September. July and August are the warmest months, but this area can see every kind of weather in summer, so pack the rain gear and warm clothes, should the temperatures drop and the snow falls.
You won't have to worry about the wake from motorboats as they aren't allowed.
In the summer, pack bug spray as the mosquitoes can be quite ferocious in places.
Murtle Lake is a large lake, so kayaking can be challenging when the wind blows up.
Murtle Lake is home to over 100 km of shoreline!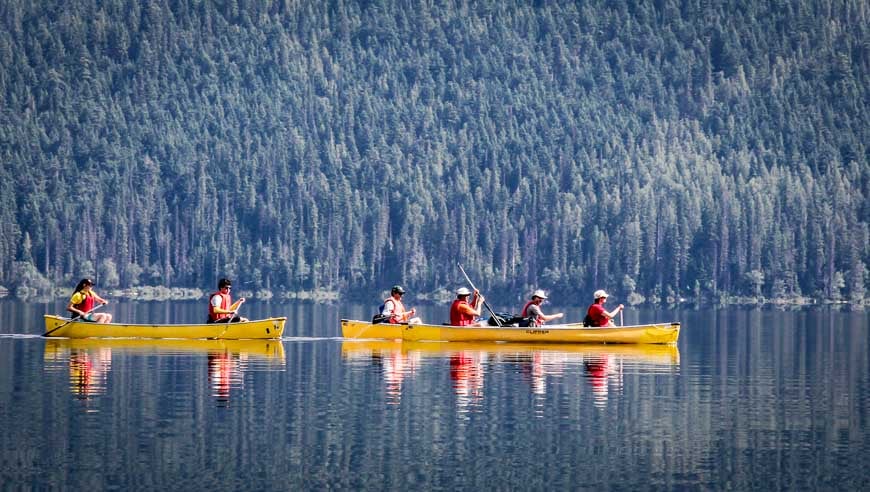 The largest lake in North America that doesn't allow motor boats
Murtle Lake may be the largest lake in the world that doesn't allow motor boats – with one exception, the ranger's boat. You can paddle over 100 km of shoreline and hike on six marked trails ranging in length from 3 km to 15 km round trip.
You can swim too though it takes some time for the water to warm up. And, if you're into fishing you'll want to bring a rod and try your luck. (Buy a fishing license ahead of time.) Murtle Lake is famous for its rainbow trout and kokanee, also known as freshwater salmon.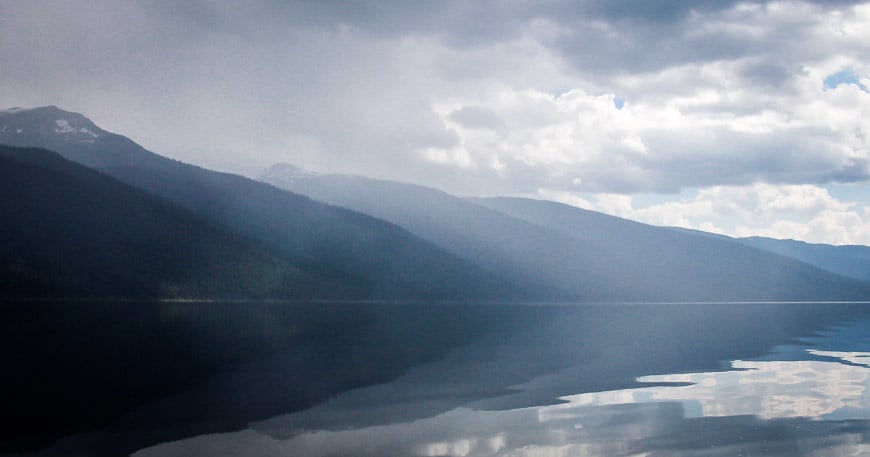 How to get to Murtle Lake in Wells Grey Park
First, you need to drive to the town of Blue River, probably best known for being the base of Mike Wiegle Helicopter Skiing. Blue River sits on the Yellowhead Highway, about three hours west of Jasper or three hours north of Kamloops depending on where you're coming from. From there it's a 27 km drive on a rough but passable gravel road that winds its way up thousands of feet to a parking lot.
You're still not there.
It's a 2.5 km portage on a wide trail from the Phyllis Lake parking lot to the put-in at the Murtle Lagoon through old-growth forest of cedar and hemlock. We elected to rent kayaks from Murtle Canoes for this trip. It simplified the portage since they're waiting for you at the other end. Plus, we didn't have to worry about unlocked kayaks on top of our car for the next 10 days of our holiday.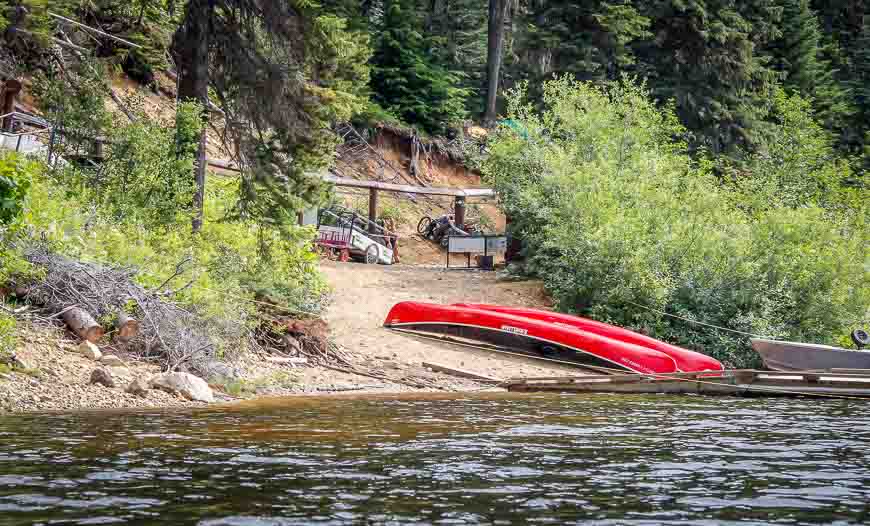 However, you do still have to portage the rest of your gear in. Fortunately Murtle Canoes made it easy by providing large carts for anyone that rents a canoe or kayak. They're just sitting there in the parking lot.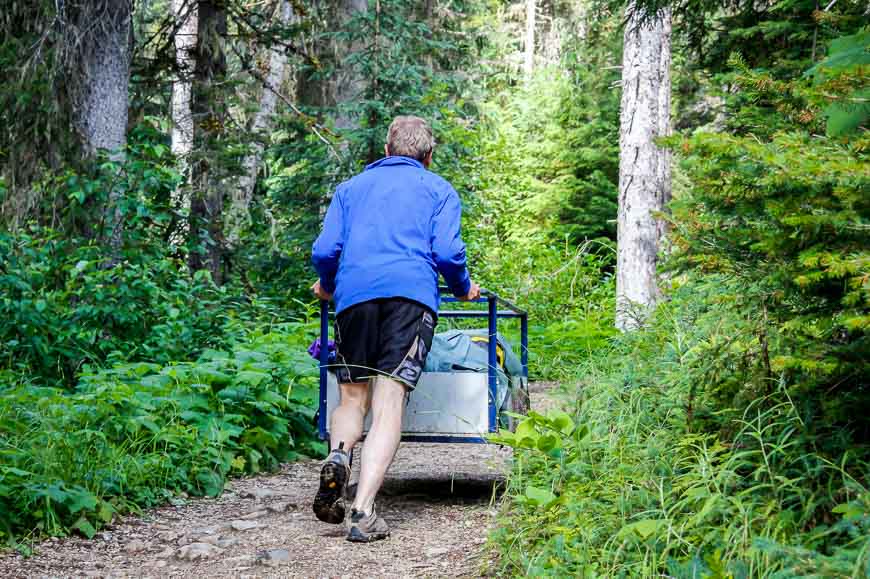 The Park Ranger showed up with our kayaks about 10 minutes after we got to Murtle Lake. If you are renting a boat you have a narrow window to show up – between 11 AM and 12 noon. Sign the waivers, load up your boats and then make the decision on where to paddle. And don't forget to pay – $5 per person per night in cash at the put-in.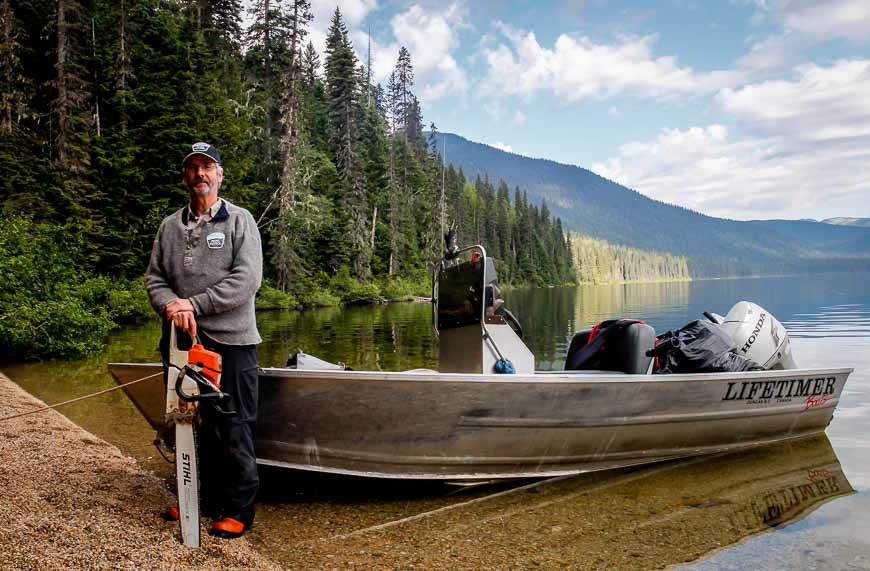 Kayaking the north arm of Murtle Lake
We chose to kayak the north arm of Murtle Lake only. It's a big lake and unless you have a week or more it's probably best to focus on either the north arm or the west arm.
We chose to paddle to the end of the north arm – mostly because fewer people paddle here but also because it can be less windy. Plus Daryl the ranger said that some of the best campsites were in the north arm.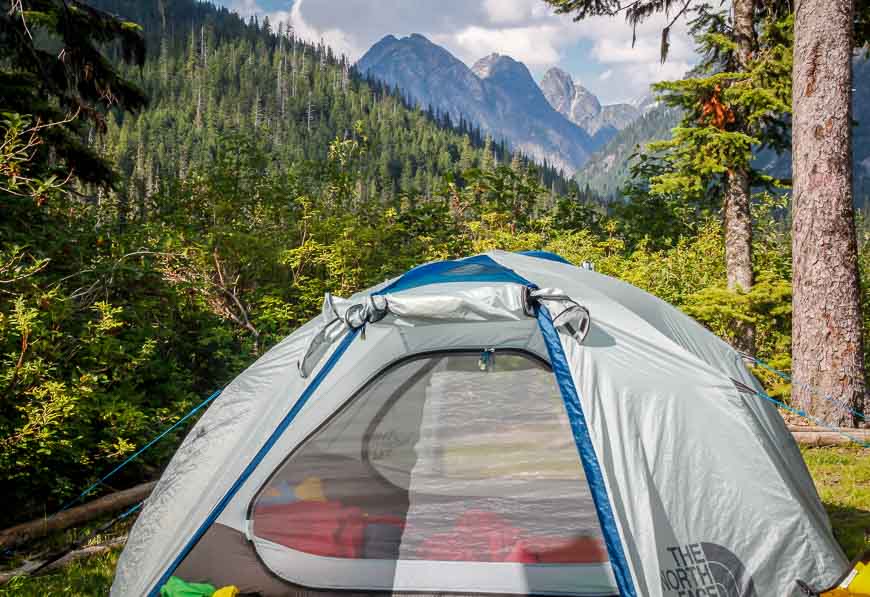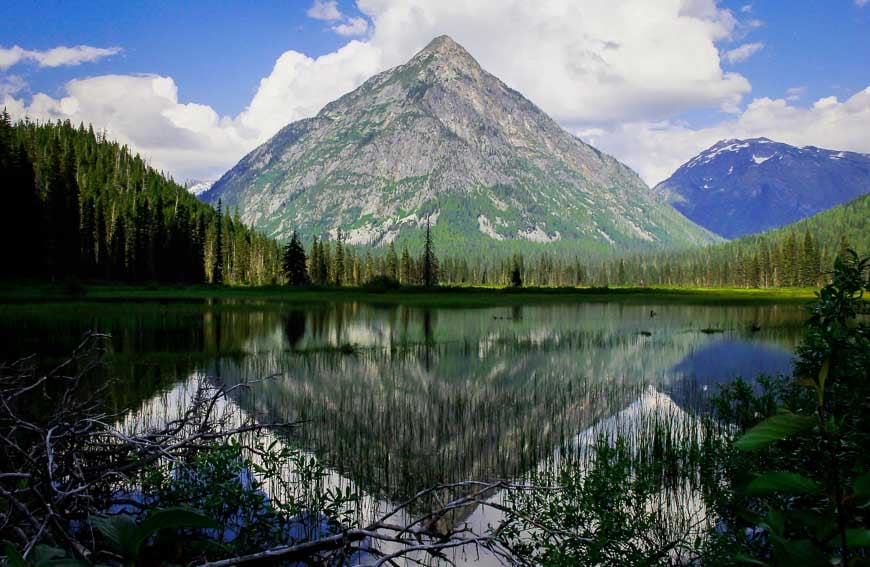 Campsite 19 on Murtle Lake
We spent the last few nights at campsite 19. It's a big campsite that can accommodate multiple groups. Even though we had to share the space it was worth it. It's that beautiful! Plus it's just a five minute paddle to the Wavy Range Trailhead.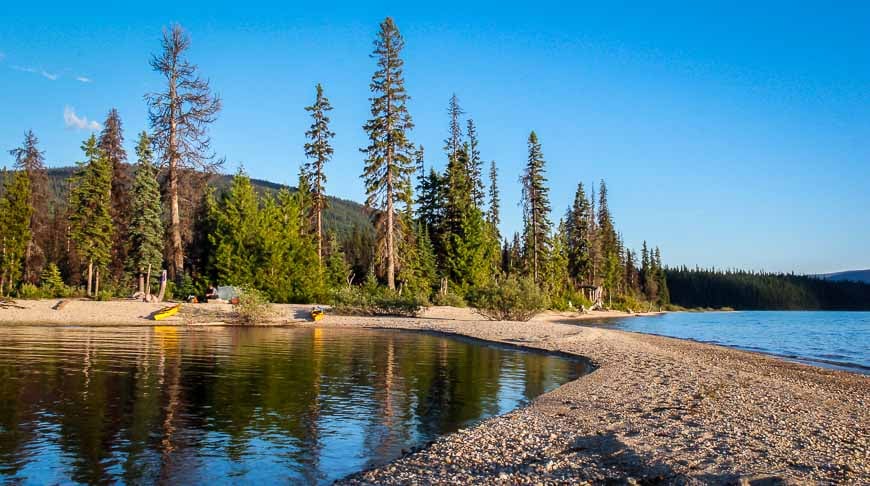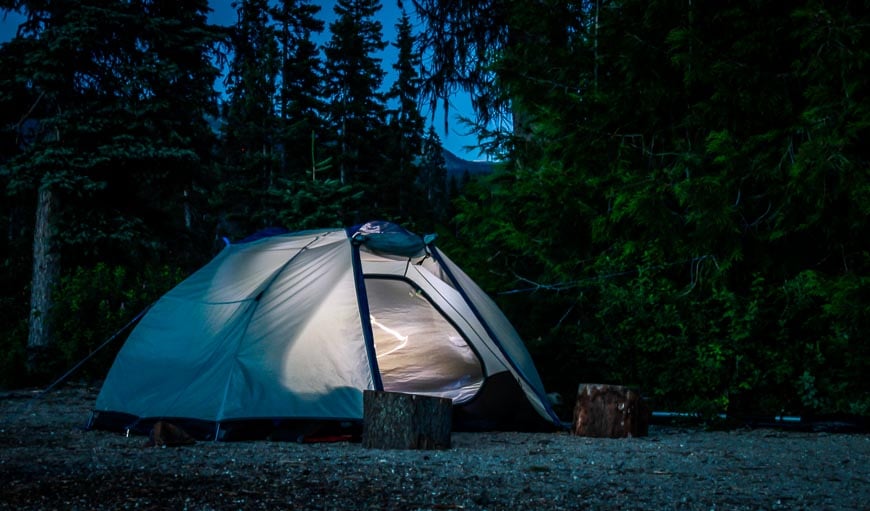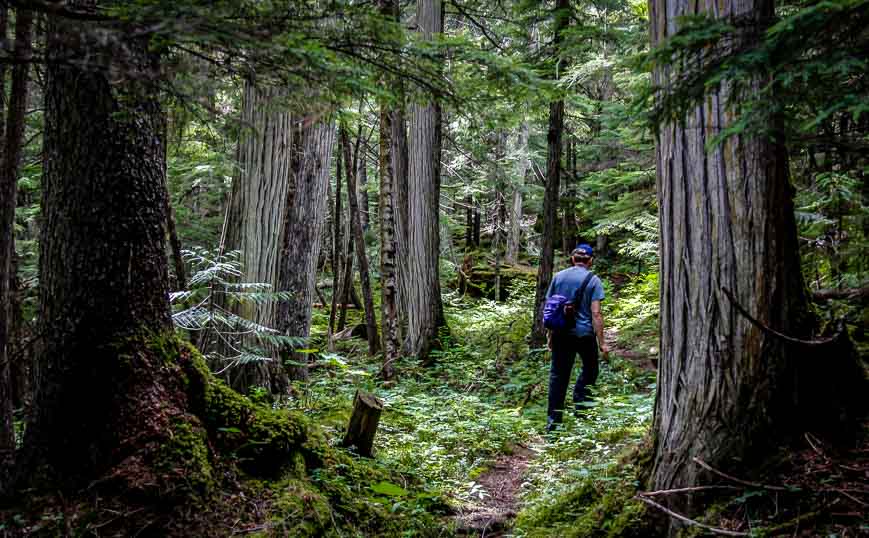 What are the best campsites on Murtle Lake?
The best campsites in the north arm are as follows: 13 (shady but no bugs), 14 , 15, 16 and 19. I have no regrets staying down at campsite 16 but I can't remember when I last saw so many mosquitoes at once.
My husband won't use bug repellent so each ankle along had about 50 bites. Fortunately the mosquitoes were much less of an issue at all other campsites on Murtle Lake.
What to bring on a paddling trip
Some things I'd highly recommend for the Murtle Lake kayaking or canoeing trip include the following:
Location map of the Murtle Lake kayaking trip
For more information visit the Wells Gray Provincial Park website.
Further reading on adventures in British Columbia
Click on the photo to bookmark to your Pinterest boards.