For the best views in the Okanagan Valley, take a hike. At town level, it can sometimes be difficult to fully appreciate the size and beauty of the sparkling lakes, rugged hills and endless vineyards of this area. Here are five great hikes in and around Penticton that showcase the best of the Okanagan Valley.
This post includes some affiliate links. If you make a purchase via one of these links, I may receive a small commission at no extra cost to you. Thank you very much for your support.
Giant's Head, Summerland
One of the most distinctive landmarks around Okanagan Lake is Giant's Head, an extinct 845 m volcano looming above the small town of Summerland. While the summit can rightfully claim wonderful panoramic vistas of the lake and nearby Penticton, the hike up also offers a glimpse of working vineyards and farms down below as well as snow capped mountains in the distance. Even on a cloudy day there is still plenty to see and be impressed by.
A short and straightforward 1.6 km ascent from the Milne Road parking lot, this is an easy hike. Greeted at the top by a huge granite boulder that holds a time capsule, hikers can also use telescopes set around the summit area for closer observation of the surrounding area.
Skaha Bluffs, Penticton
Hidden in the hills behind the eastern side of Penticton's Skaha Lake is an international climbing mecca; Skaha Bluffs Provincial Park. Some of the best sport climbing in Canada can be found here alongside a variety of hiking and mountain biking trails through the rugged terrain. The elevation of the park provides incredible vistas of both Okanagan and Skaha Lakes no matter the chosen hike.
There are a multitude of trails and starting points to choose from, so hikers can simply pick how far or how long they want to hike.
The further from the parking lot, the more technical the hike becomes, with trails travelling through crevices, along cliffs and over talus. Regular outcroppings provide lots of opportunities for a break with a view, no matter whether you choose to hike 2 km out and back or an 8 km loop.
Kettle Valley Railway trail, Penticton to Naramata
The Naramata Bench section of the Kettle Valley Railway (KVR) trail is the perfect introductory trail for any visiting hiker to the southern Okanagan region. This hike may not offer many technical challenges but more than makes up for it with stunning views of both shimmering Okanagan Lake as it travels alongside vineyards, orchards and creeks. Hikers can choose small sections or use multiple vehicles to complete the full 16 km length.
Starting from the closest trailhead to Penticton (at the end of Vancouver Place), the trail slowly climbs into the Naramata hills and beyond.
This part of the KVR features a reconstructed railway trestle, a tunnel and a handful of rock ovens. These were originally used by railway engineers to bake bread while working. Hikers these days can choose to stop for wine tasting and ice cream en-route instead.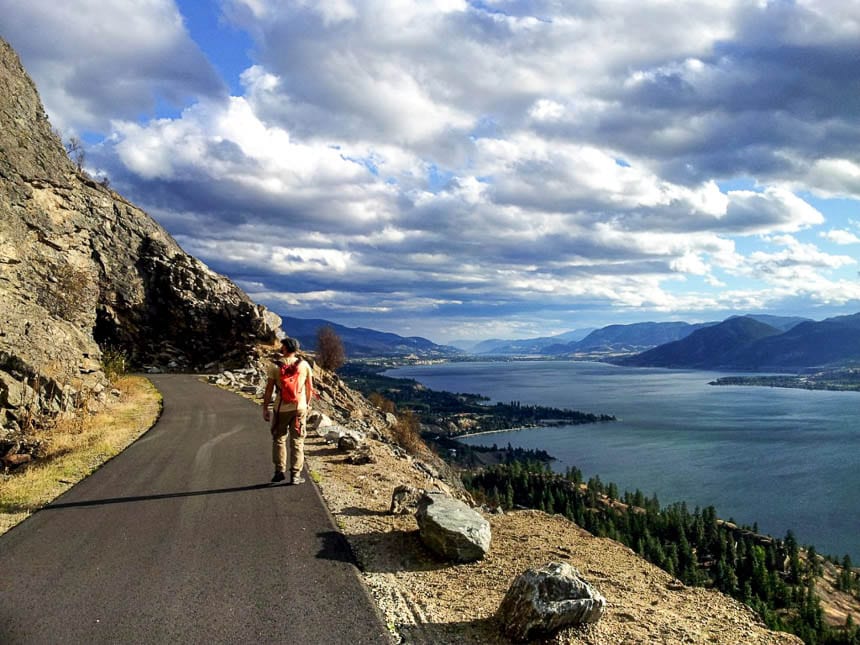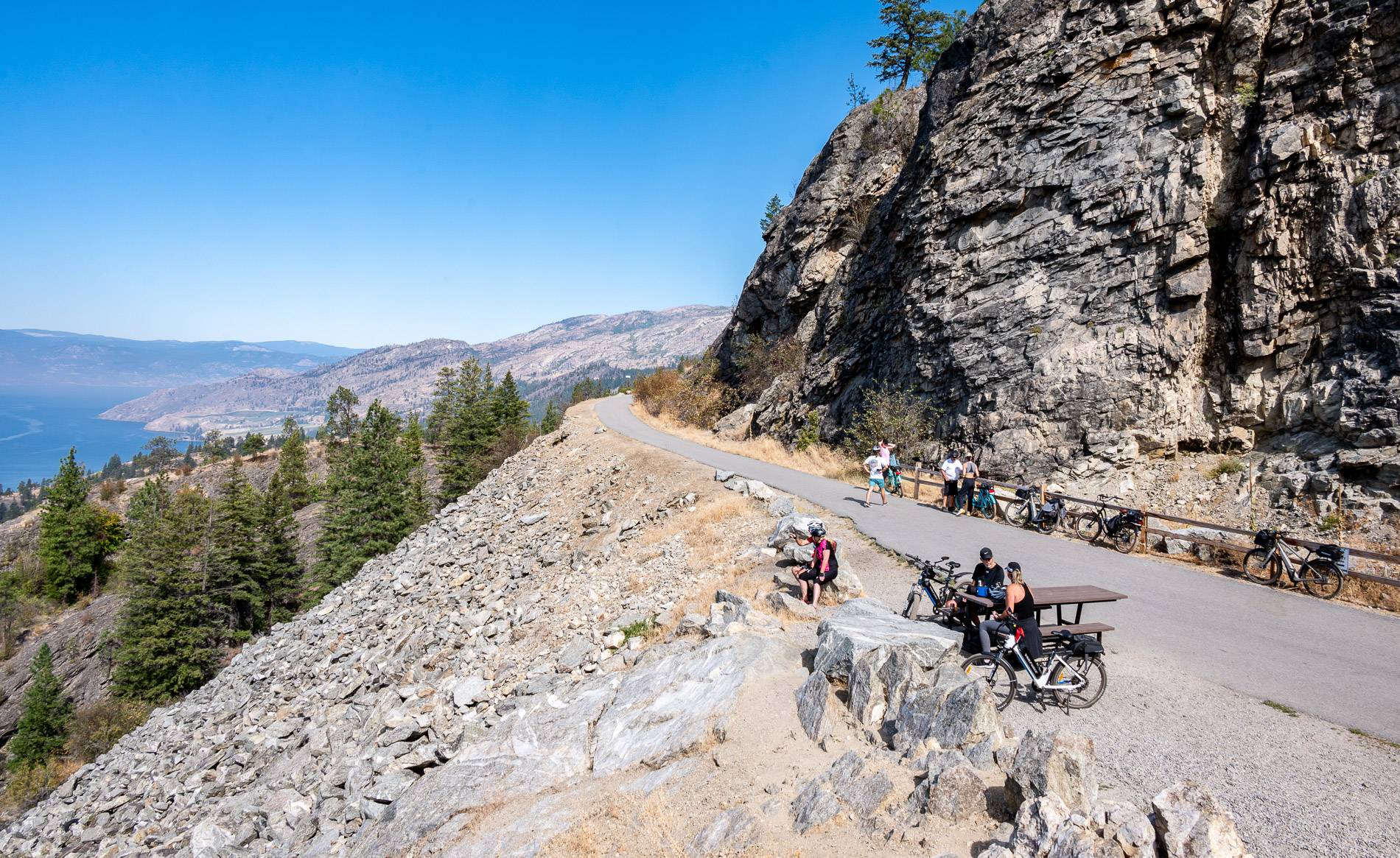 McIntyre Bluff, Oliver
There's something so appropriate about a great Okanagan hike starting in a vineyard. Being such an incredibly dry area, the views from the top of McIntyre Bluff (a large granite ridge) present an interesting contrast of lush green vineyards and orchards alongside parched brown hills.
Leaving Covert Farms' vineyards quickly behind, the 7 km return trail has a fairly gentle ascent lined by brush, rock and the occasional tree.
Turning east at the sight of the very green Rattlesnake Lake, the trail has a couple of steeper sections before the broad summit area appears. Luckily it is not necessary to go too close to the edge for fantastic views in every direction. Don't forget to stop for wine tasting on the way back.
Rim Trail, Cathedral Provincial Park, Keremeos
A short drive outside the main Okanagan Valley is the vastly underrated and incredibly picture perfect
Cathedral Provincial Park
near Keremeos. Magnificent peaks surround a bowl of glittering glacial lakes, an almost overwhelming sight whenever you are in the park. The best views however are found on the Rim Trail, a moderately challenging 15 km circular route with a top elevation of 2650 m.
The Rim Trail is one of those hikes where the early switchbacks really pay off. Once the initial elevation is done (650 m up from the 2000 m base camp), the rest of the day is just one jaw dropping view after another.
Jagged peaks in one direction, the rolling hills of the Okanagan in the other, majestic lakes below; the Rim Trail has so much to offer hikers looking for a great aesthetic payoff.
5 things I like to have on a hike
I like something comfortable to sit on at lunch time. On a summer hike I swear by my inflatable seat cushion.
I find that hiking poles come on more and more of my hikes. Invest in a good pair that are collapsible, preferably lightweight. They will save your knees from a lot of pounding.
No matter how the day starts I always carry rain gear. The Aquanator line from MEC comes in at an affordable price point.
I find a brim hat with a chin strap invaluable in the rain or on a hot, in your face sunny day.
I always pack a buff, a multi-purpose piece of cloth that works well to keep blowing hair out of your face, as a neck or head warmer, or even wrapped around your hand on a descent with sharp rocks.
In summer half gaiters are ideal for keeping pebbles, sand and even some rain out of your shoes.
More hikes in British Columbia you might like
Click on the photo to bookmark to your Pinterest boards.