Biking the Kettle Valley Railway (KVR), an old, abandoned railway bed that has a new lease on life, is one of the top things to do the Okanagan Valley in spring, summer and fall. Located in southern British Columbia, it was once named by Outside Magazine as one of the "top 10 trails to cycle."
This post includes some affiliate links. If you make a qualifying purchase through one of these links, I may receive a small percentage of the sale at no extra cost to you. Thank you for your support.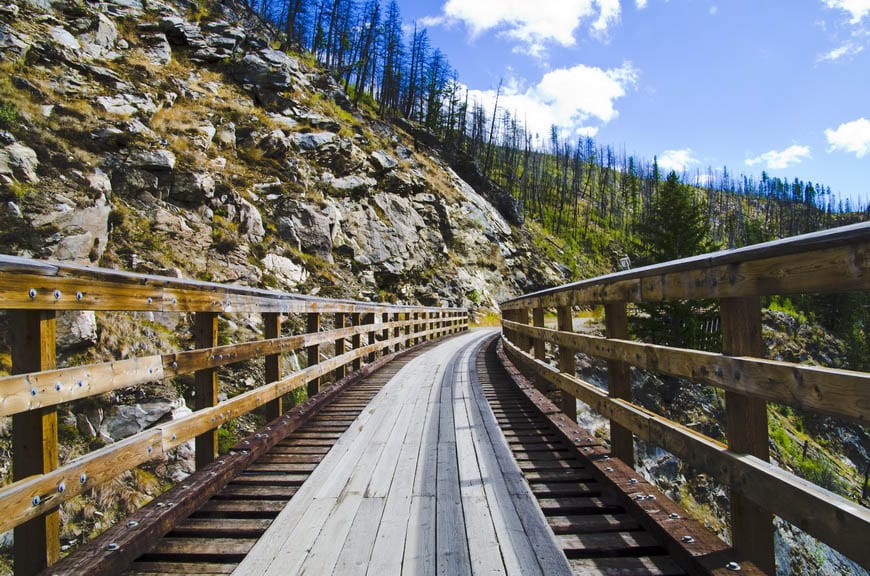 The Kettle Valley Railway is a fantastic bike trail
The KVR is especially great since it's possible to cycle it in sections depending on how much time you have.
The trail covers a wide variety of terrain. It will take you through remote backcountry, past lakes, forests, and over old railway trestles. In the Penticton area you'll find yourself cycling through vineyards and orchards.
I have cycled sections of the trail from Myra Canyon through to Chute Lake, Penticton, Okanagan Falls and into the Oliver area. It was all fabulous!
Note: There aren't a lot of resources related to the KVR but if your serious about biking a good stretch of it this book Cycling the Kettle Valley Railway by Dan Langford and Sandra Langford will be useful.
My suggestions if you want to bike the Kettle Valley Railway
Plan on a stay of a few days in the Penticton or Naramata area. There are lots of campsites, B&B's and small inns to choose from.
Some options include the CastleRock in Naramata, the Summerland Waterfront Resort & Spa, the Burrowing Owl Winery and Guesthouse, D'Vine Dreams B&B and the Sandy Beach Lodge and Resort.
Renting bikes to cycle the KVR
Either bring your own bike or rent bikes from either Okanagan Bike Rentals or the Freedom Bike Shop in Penticton. In Penticton you can also rent ebikes at Pedego Bikes Penticton. You can also rent from Myra Canyon Bike Rentals out of Kelowna.
Grab a map from a tourist information office and head off. It's an easy cycle from Penticton down along the canal, along the west side of Skaha Lake and into Okanagan Falls where you can grab an ice cream cone at Tickleberries.
For more energetic people I highly recommend riding up the road to Chute Lake from Naramata and hooking up with the Kettle Valley Trail.
The road up is steep but quiet and the views are pretty darn good. The reward is the ride down. The grade is a steady 2% for 18 km if you stop in the Naramata area or 28 km if you continue onto Penticton. Views from the Little Tunnel at Mile Marker 122 are fantastic.
Wine tasting galore along the Kettle Valley Railway
Did I mention the other reward? There's lots of wine tasting to be done at wineries found all along the Naramata Road. You can count on being able to pick up fresh picked fruit as well.
The Oliver section of the KVR
The Oliver section can be done as a day on its own, especially so if you're into wine tasting. There is a nice loop starting at the tourist information center in Oliver that takes you on bike paths which are both paved and unpaved and then along the length of Black Sage Road.
Consider a lunch stop at the Burrowing Owl Winery.
Preparation for biking the KVR
It's not all fun and games on the KVR and I believe a word of caution is in order. Once you are past the village of Naramata it will immediately feel remote so do go prepared.
Carry lots of water, food like energy bars, a map, rain gear and a cell phone. Cell coverage is very good to Naramata but then it's it or miss. Also, bring a few bike tools, a bike pump and a tire repair kit for a flat tire.
Use some common sense on the Kettle Valley Railway
There are rattlesnakes around. Never attempt to pick one up or this might happen.
Be bear aware. We saw a big black bear but it scurried off. Carrying a can of bear spray would be a good idea.
Do not touch poison ivy. To identify it, look for a plant with three shiny leaves. In the fall the leaves turn red and yellow. If you inadvertently make contact with it wash the area immediately with soap and water.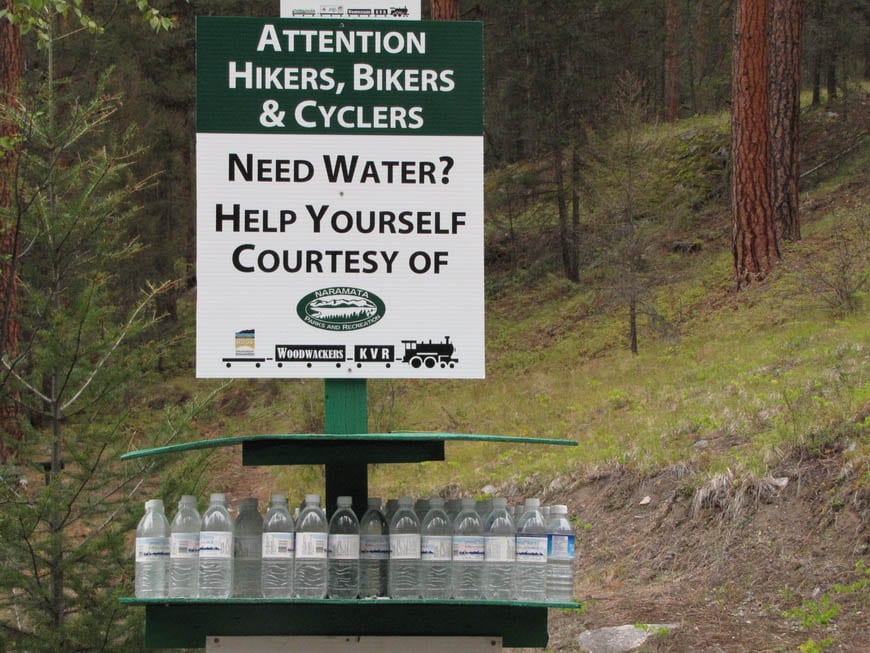 Happy trails. Biking the trails that make up the Kettle Valley Railway should put a smile on your face.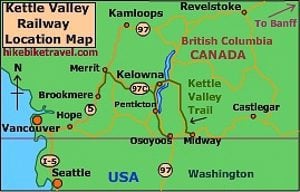 Other Okanagan area blogs that might be of interest
Click on the photo to bookmark to your Pinterest boards.